Military Veteran Tells Hillary "I Would Have Been Imprisoned" If I Did What You Did
September 7th NBC News hosted a forum with Donald Trump and Hillary Clinton. Fireworks started with a question from Navy veteran Lt. John Lester who asked:
As a Naval flight officer I held the top secret sensitive compartmentalized information clearance. And that provided me access with materials and information highly sensitive to our war fighting capabilities. Had I communicated this information not following the prescribed protocols I would have been prosecuted and imprisoned. Secretary Clinton, how can you expect those such as myself who are and were trusted with America's most sensitive information to have any confidence in your leadership as president when you clearly corrupted our national security?
As reported yesterday, Julian Assange said:
In the FBI report released Friday Hillary Clinton says that she can't remember what a (C) in brackets stands for. Everyone in positions of government, and in WikiLeaks, knows it stands for Classified/Confidential. In fact we have already released thousands of cables," he said, holding one up. "By Hillary Clinton, here she is. See, that is her signature. With a "(C)" in bracket right there. Thousands of example where she herself has used a (C) in brackets by herself. And more than 22,000 times where she has received cables from others with this (C) in brackets. So it is absolutely incredible for her to lie. She is lying about not knowing what that is. But it is a bit disturbing that [FBI Director James] Comey goes along with that game.
The post-forum polls were interesting:
[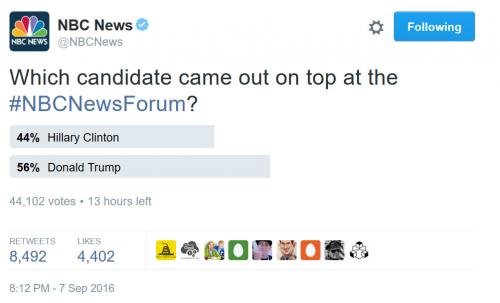 ]
What do you think? Has Hillary Clinton lied about her emails and sending classified material to those not cleared to receive it? Should the DOJ prosecute Clinton? Has Lt. John Lester hit on an important issue for the presidential election?