After spending the past decade climbing to meteoric heights of the e-commerce sector, Amazon is getting ready to expand into another highly profitable sector to join other mega corporations in the area of military contract work.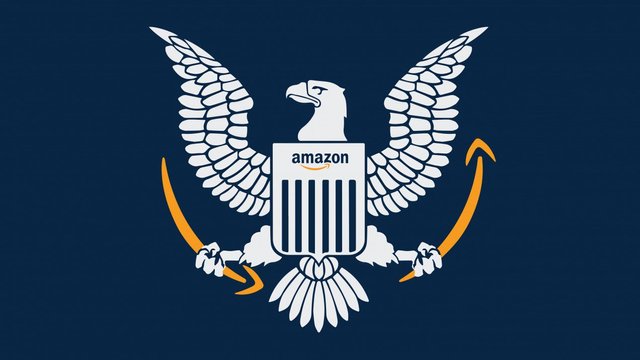 Source
The shift to a role within the National Security infrastructure is part of a likely winning bid on JEDI, the Joint Enterprise Defense Infrastructure program. This is about a $10 billion contract to add to their annual $25 billion in revenue.
The deal has been mired in controversy. Those who first heard it understood Amazon was the likely favorite in getting warded the single contract. When Chris Lynch pitched the idea to an audience at the Sheraton Hotel in Pentagon City, in March 2018. he said:
"What if we were to take advantage of all these incredible solutions that have been developed and driven by people who have nothing to do with the federal government? What if we were to unlock those capabilities to do the mission of national defense? What if we were to take advantage of the long-tail marketplaces that have developed in the commercial cloud industries? That's what JEDI is."
That spells out Amazon without saying Amazon. They are the largest cloud infrastructure poised to receive the favored contract. Oracle file a protect in August 2018. IBM followed suit after.
In 2017, James Mattis, then the secretary of defense, also visited Amazon's headquarters in Seattle, and was photographed walking with Bezos.
Amazon has already been in the security business with a $600 million contract from the CIA in 2013. This was the match to accelerate their thrust as a national security provider. IN February 2019, Amazon selected and purchased it's second headquarters right in the national security homeland: Washington, DC. Amazon also sells web services to to Palantir, the data analytics company that works with Immigration and Customs Enforcement.
Much like IBM was the giant in the past, Amazon is the new tech giant for the US government it seems. Amazon is moving towards a force for global security and law enforcement. Rekognition is one avenue by providing facial recognition for police departments, as well as Ring for "smart" doorbells that have video capture.
Amazon's PR is in full effect saying they want to protect citizens and defend the coutrny:
"We feel strongly that the defense, intelligence, and national security communities deserve access to the best technology in the world. And we are committed to supporting their critical missions of protecting our citizens and defending our country."
With the move into government and Washington, Amazon is poised to influence those who reside in the capitol. The policies that are looking to affect big tech industries will have a very influential giant and their political friends to contend with. WIll Amazon take over as the sole supplier of government data storage? What a trove of data to mine in that case, either for it's own gains of for the government to centralize data collection.