When multiculturalism hits Europe
A Multicultural society is what almost all political parties in Sweden have preached and encouraged for a long time. The true face of multiculturalism has been seen in Sweden and western Europe in general over the last decade but in this year's Swedish election it's seen as never before.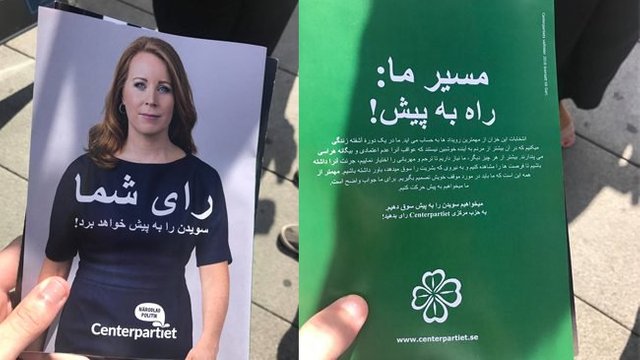 Parties are handing out pamphlets in different languages than Swedish. It's not in French or English the pamphlets are written in. It's the new languages of the west. It's Somali, Arabic and Persian. It's a new era when pamphlets are being handed out in new languages. The parties are mainly parties to the left and center while the liberal and conservative parties are handing out pamphlets in Swedish only.
This is just a smart tactic to receive more votes, some might say. They're probably right. Handing out pamphlets in other languages might be a tactic to get the voters with Arabic and Somali background to vote on their party but on the same hand it might discourage others to vote for them. People that don't want a multicultural society where pamphlets are given out in all sorts of languages. This might just be a tactic to receive more votes but there's an underlying message to all of this.
Because you need to be a Swedish citizen to vote in the general election, these parties see people that don't speak Swedish as Swedish. The problem with this is that the parties are saying that you are Swedish even if you don't speak Swedish. You can vote in the general election and being Swedish even if you can't master the language. The message is pretty clear, you don't have to speak Swedish to be considered Swedish, you are Swedish if it says so on a paper and if you can vote in the general election. If you can actually speak Swedish doesn't really matter. Is there any other country where political parties are normalizing that even if you are not speaking the official language you are just as Swedish as anyone who does speak the language?
The integration question is one of the biggest for the voters and most parties consider it to be one of the most important ones as well. To be integrated into a new society with a new culture is the language the first key in many other steps that follows. When these parties are normalizing not speaking the official language they're very far away from integrating these people. The language is vital in this process and if it's not taken more serious than this, we have a huge problem.