That's what the headline would've read if the media and our politicians were being honest with us.
Yesterday, Australian Prime Minister, Malcolm Turnbull, announced the new "defence export strategy".
Of course, that is typical political Orwellian doublespeak.
But what would you expect? Malcolm Turnbull is a politician.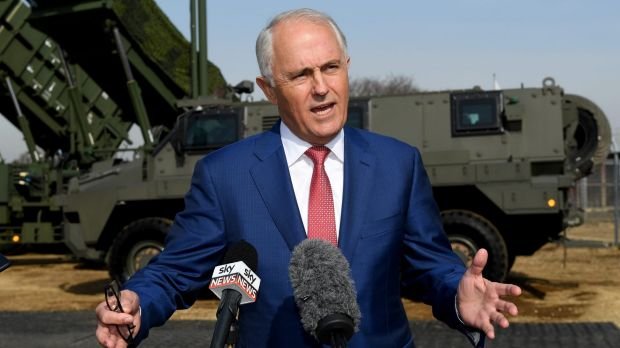 PM Turnbull explains how Australia will spread peace and love across the globe. Source: AAP
Before I go any further, a quick disclaimer. I am writing from a pure politically non-partisan perspective. I no longer vote for any politician from any party (that goes for independents too) in any election. I view Liberal and Labor, left and right as two wings of the same bird that seeks to soar high above the rest of us. Remember, in our democracy, you may get to pick a team, but you still have to play their game.
Anyway … back to our shiny new "defence export strategy". As a hint, whenever you read the Orwellian term "defence" replace it with its correct word "war". So, our shiny new "defence export strategy" is in actual fact our shiny new "war export strategy".
Sounds slightly more sinister, don't you think?
According to the Sydney Morning Herald, "Australia is set to become one of the world's top 10 defence exporters under an ambitious $3.8 billion government plan".
It will put Australia on par with other peace-loving nations (oops, I mean major arms-exporting countries) such as Britain, France and Germany within 10 years.
Of course, as the PM made his announcement, it was all wrapped conveniently in the electorally-winning guise of creating new jobs.
That's creating new jobs in the killing industry to replace the jobs successive Australian governments let slowly whither and die in our local car manufacturing industry.
"This strategy is about job creation. It will give Australian defence companies the support they need to grow, invest and deliver defence capability. It will make Australian defence exports among the best in the world," Mr Turnbull said.
Again, if our PM was being honest with us, he may have instead said something along these lines …
"This strategy is about replacing some jobs we let die over the past 20 years in the car industry. We will give the military-industrial complex (death and destruction industry in non-Orwellian doublespeak) all the Australian taxpayer dollars they need to siphon off funds, lobby governments, make political donations and perhaps even build a few weapons that will eventually be used to kill people and blow up buildings in the Middle East or Africa or Asia or somewhere else far from here."
Doesn't quite have the same ring to it does it?

Australia's ambitious plans for its latest multi-billion dollar export venture. Source The New York Times.
The centrepiece of the strategy will be a new financing facility that will make up to $3.8 billion available to Australian defence companies looking to sell overseas.
Australia's Trade Minister, Steve Ciobo, said that the $3.8 billion of our taxpayer dollars that we are handing over to the killing industry will help Australian companies achieve "significant sales".
Again, what he really meant to say was that it will help Australian companies (most likely subsidiaries of America's biggest arms manufacturers) achieve "significant deaths in countries we care little about".
"It will provide confidence to our war industry to identify and pursue new opportunities to bomb the crap out of someone, somewhere overseas, knowing that when an attack stacks up and Aussie weapons are needed, they'll be there," he (would've if he was telling the truth) said.
The Herald reports further that:
The strategy identifies the other "five eyes" countries - the US, UK, Canada and New Zealand - as top priority markets. That way sensitive technologies will be protected, while exports will support Australia's key global allies.
Yes, that's the "five eyes" countries that back in the 90s, you were considered a tinfoil hat-wearing, conspiracy theorist nutter for even suggesting that such a dastardly, shadowy organisation existed.
But I digress.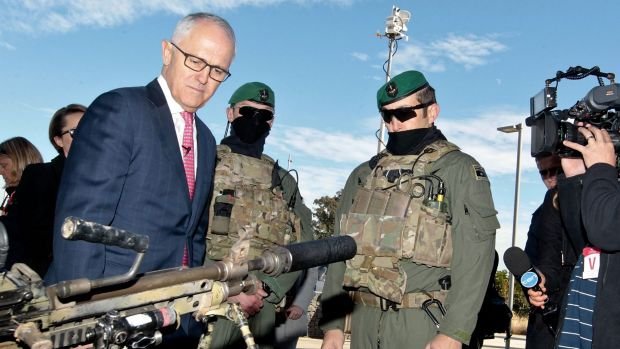 The PM admires the size of something while standing next to some men who appear to have a cold. Photo: Ben Rushton (SMH).
"But the government will also seek to boost exports in Europe, and the rapidly growing markets in Asia and the Middle East."
Of course, there are some awesome opportunities for supplying surveillance equipment to European countries for spying on their own citizens, not to mention the "rapidly growing markets in Asia and the Middle East".
Australia's shiny new "war export strategy" will provide excellent opportunities for exploiting tensions across the Middle East and Asia. It will allow us the ability to assist in the killing of perhaps hundreds of thousands of civillians, bomb some cities back to the stone age … and I almost forgot … create a few jobs for hard-working Aussies.
Disclaimer
The views expressed here are my own and do not represent the views of the Australian media industry, the Australian defence industry or the Federal Government of Australia or any of its subsidiaries.