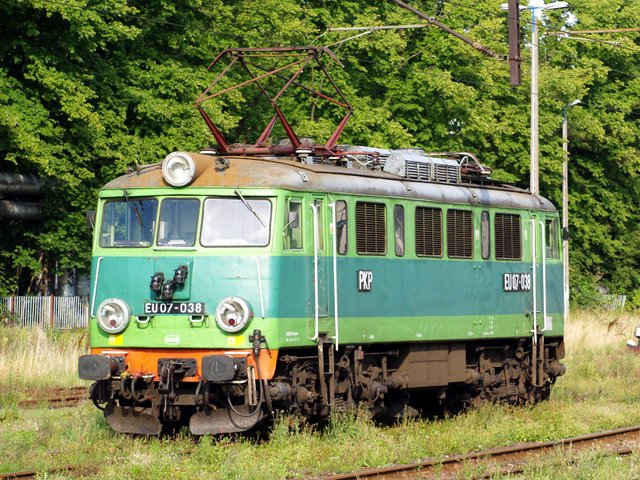 Poniższy tekst powstał jako moja odpowiedź na temat: "Linie kolejowe w Polsce"
Jako, że jestem wielkim fanem pociągów, gdy zobaczyłem, że jeden z tematów tygodnia w jakimś stopniu porusza tą tematyke, od razu serce zaczęło mocniej bić :)
Postanowiłem Wam opisać jak to jest, że pociąg skręca.
Kierownica?
Czy w lokomotywie (takiej jak na zdjęciu) jest kierownica? Tak. czy służy do skręcania? Nie!
W lokomotywach coś co przed chwilą nazwałem kierownicą to nastawnik jazdy. Masywne koło, które służy maszyniście do regulowania przełączeń między silnikami tak by można było sterować ich prędkością. Jest to temat bardzo ciekawy i być może kiedyś więcej o nim opowiem. Wróćmy jednak do tego skręcania.
Skrzynia biegów?
We wszystkich spalinowych samochodach układ kierowniczy to nie jedyny zespół urządzeń, który pozawala na skręcanie pojazdu. Bardzo dużą rolę odgrywa tutaj również mechanizm różnicowy, który sprawia, że skręcanie jest łatwiejsze. Sprawia on, że koła podczas skręcania obracają się z różną prędkością. Łatwo sobie wyobrazić, że podczas skrętu w lewo to właśnie lewe koło wykonuje mniejszą ilość obrotów niż koło prawe, które musi niejako nadrobić przebytą drogę.
Czy w pociągu taki układ ma zastosowanie?
Nie. obydwa koła napędzane są zawsze z tą sama prędkością.
Rysunek zespołu napędowego zamieszczam poniżej: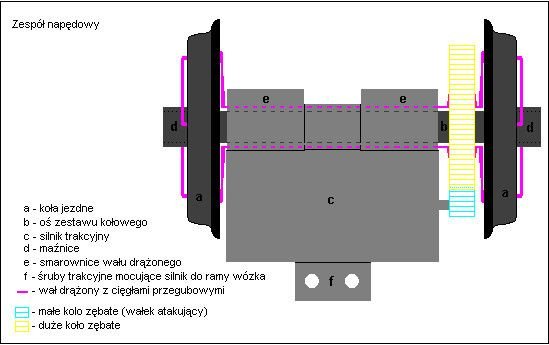 Magia?
Nie, nie ma tutaj żadnej magii. Pociąg skręca bo... tak go prowadzą tory! Chociaż nie same tory za skręcanie odpowiadają. Cała magia ukryta jest w kształcie kół, które to mają różną średnicę na całej swojej szerokości. Im bardziej na zewnątrz tym mają one mniejszy promień. Stąd też, gdy pociąg skręca na zakręcie, zestaw kołowy przesuwa się względem torów w jedną bądź drugą stronę. Różnica średnic kół jaka występuje w takim wypadku jest na tyle duża by skompensować konieczność obracania się kół z różną prędkością. Obracają się one z tą samą prędkością kątową, ale ze względu na różnicę w średnicach, pokonują różną drogę w tym samym czasie. Ot i cała filozofia. Oczywiście taki sposób skręcania ma swoje ograniczenia dlatego też zakręty na torach są tak bardzo łagodne.
A może ktoś z Was wie, jak skręcają tramwaje? :)
---
Sponsored ( Powered by dclick )
Educação e recompensas por participação no Steem