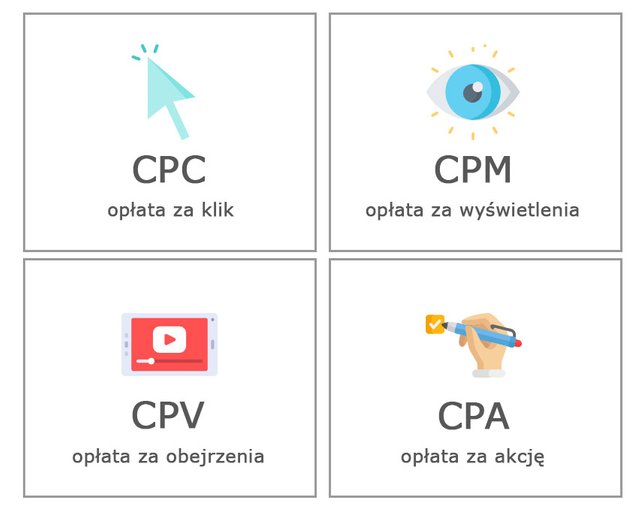 W krótkim wpisie na blogu poruszyłem systemy rozliczeń w kampaniach Google AdWords.
Czyli za co tak na prawdę płacimy promując nasze materiały reklamowe. Jest to dość proste, choć osoby nie będące w branży pewnie nie wiedzą czym są skróty:
CPC- oplata za kliknięcie w naszą reklamę
CPM - opłata za 1000 wyświetleń naszej reklamy
CPV - opłata za pełne obejrzenia naszej reklamy wideo
CPA - opłata za akcję np. wypełnienie formularza.
W ramach ciekawostki dodam, że systemów rozliczeń jest więcej, ale te są najpopularniejsze.
Chcąc optymalnie wykorzystać te dostępne metody powinniśmy znać swoją branżę i jak w niej należy się reklamować. Ważne są też cele jakie chcemy osiągnąć poprzez reklamę.
Choć ja polecam (szczególnie osobom, które nie mają czasu) powierzyć dopasowanie samego modelu i prowadzenie kampanii firmie takiej jak moja, która po prostu za niewielką opłatę ok. 250 zł netto - przy mniejszych budżetach wszystko zrobi za Was.
Mimo opłaty na prowadzenie kampanii dla mnie - najczęściej jest to lepsze wykorzystanie budżetu na reklamę niż gdybyśmy trochę więcej przeznaczyli na reklamę i sami ją prowadzili, nie mając większego o tym pojęcia. Wtedy popularnie mówiąc "przepala" się budżet reklamowy - czyli wydajemy pieniądze, a mamy stosunkowo mały zysk z inwestycji (lub jego brak).
Wpis w którym rozszerzam trochę opis powyższych skrótów.
http://www.s90.pl/dostepne-modele-rozliczen-w-kampaniach-google-adwords-cpc-cpm-cpv-cpa/