Dla osób które pierwszy raz to słyszą - może to być lekki szok.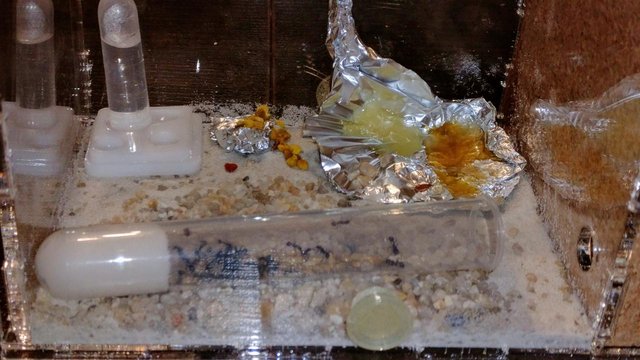 Jak to hodować mrówki - po co ?
Ja właśnie rozpocząłem moją hodowlę mrówek. Na początku odpowiem czemu akurat mrówki.
Po pierwsze napiszę, że temat nie jest aż tak egzotyczny jakby się wydawało i hodowla mrówek staje się coraz bardziej popularna. Dlaczego? Bo można zaobserwować pewne zachowania które praktycznie nie zobaczymy u żadnych zwierzątek domowych. Kolejna sprawa, to hodowla mrówek (tych powszechniejszych gatunków) jest stosunkowo prosta i łatwo wystartować z hodowlą.
Czemu hodowanie mrówek jest ciekawe? Powiem tak - mając kiedyś żółwia jakiegoś "szału" nie było jadł, spał, czasem się trochę przeszedł i generalnie tyle...
Z mrówkami możemy zaobserwować masę zachowań np.:
zdobywanie pożywienia
drążenie tuneli/tworzenie gnizada
opieka nad potomstwem
podział obowiązków wśród mrówek
Napiszę jeszcze trochę odnośnie ostatniego - czyli podziału obowiązków. Nie wiem czy wiecie ale wiele gatunków mrówek ma podział kastowy czyli jest:
królowa której głównym (a przez większość życia jedynym) obowiązkiem jest znoszenie jaj
piastunki są to najmniejsze mrówki które generalnie siedzą obok królowej i zajmują się jajkami/potomstwem
robotnice: ich zadaniem jest głównie zbieranie pożywienia
żołnierze - mają za zadanie bronić gnizda... a w chwilach gdy się "nudzą" np. rozłupują nasiona zgromadzone w gnieździe
W praktyce są jeszcze drobniejsze "role" np. takie mrówki są które głównie zajmują się sprzątaniem czyli wynoszą odchody/martwe mrówki z gniazda/łupiny po nasionach. Albo mrówki zajmujące się głównie budową one znowu znoszą kamyczki/piasek - budują nasypy by łatwiej było wejść im do gniazda itp.
No dobra tyle na wstępie - teraz jak to wyglądało u mnie
Sobota
Zamówiłem w zeszłym tygodniu terrarium dla mrówek - dokładnie nazywa się to formikarium. Doszło w sobotę. Jest podzielone na:
arene - czyli miejsce gdzie najczęściej wysypuje się piasek/kamyczki i ozdabia wg. uznania. Tam też daje się im pożywienie/wodę.
gniazdo czyli tam gdzie budują swój domek - ja mam gniazdo z korka. Są jeszcze ziemiste / betonowe / z tworzywa.
Tak jak widać na zdjęciu (jest wielkości takiego wyższego pudełka na chusteczki). Z akcesoriami - koszt ok. 140zł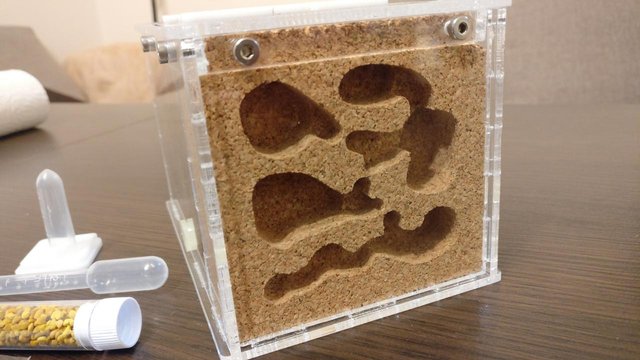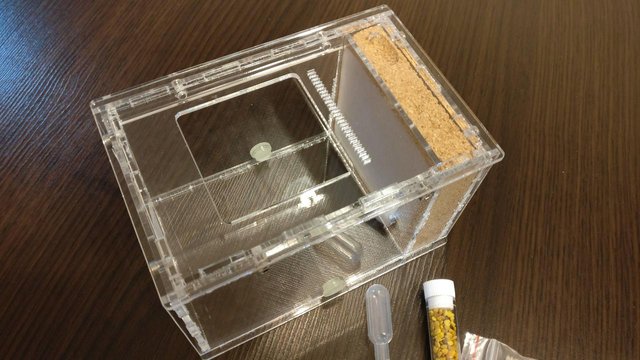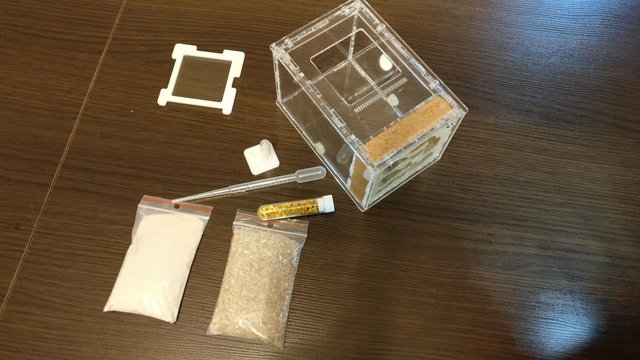 Wtorek. Mrówki do mnie dotarły.
Zastanawiacie się jak to kupuje się mrówki? Jak oni je wyślą? No tak jest kilka opcji rozpoczęcia hodowli. Od samodzielnego złapania królowej (to te mrówki które w ciepłych miesiącach mają skrzydła i latają). Są to królowe próbujące założyć własną kolonię.
Można też kupić - co ja zrobiłem. Możne kupić samą królową która zniesie pierwsze jajka i z nich wychowa swoje pierwsze poddane. Jest to cięższe zadanie, bo ona musi się opiekować pierwszymi sztukami i może jej się to nie udać... wtedy możemy dość długo czekać na kolejne młode. Ja wybrałem opcję królowa + potomstwo (ok. 20-30 mrówek).
Plusy są takie, że królowa o ile na początku faktycznie musi trochę ogarnąć się - to potem robotnice już dbają o nią i młode pokolenie.
Sama przesyłka... to po prostu probówka. Z jednej strony upchana jest wata, z drugiej tak samo wata - w środku są mrówki z pakietem startowym ziaren. Tak wyglądała paczuszka dla mnie: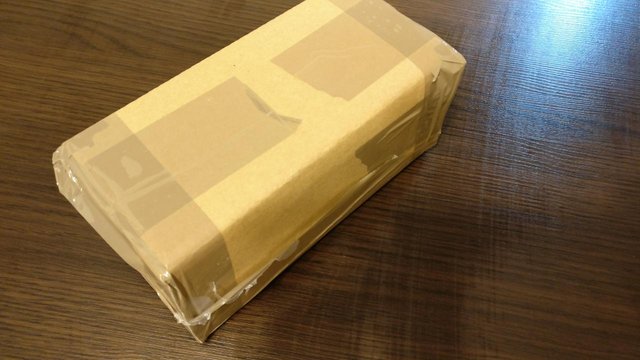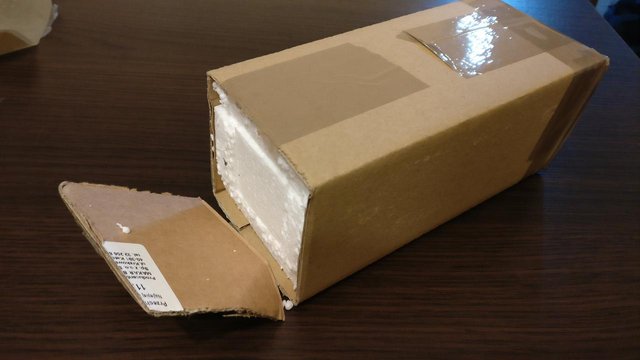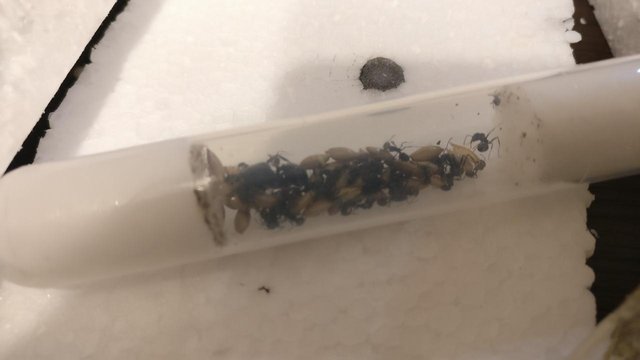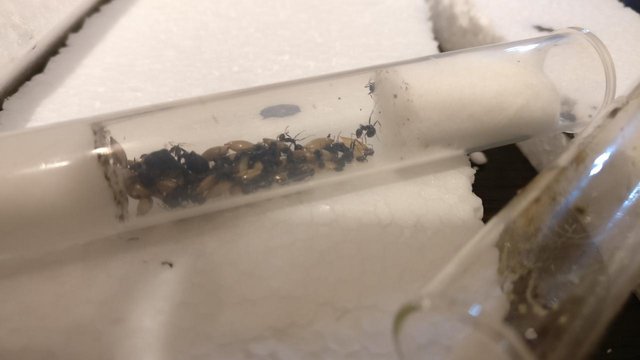 Tak zaczęła się moja przygoda z mrówkami - spędziłem kilka godzin na ich obserwacji... i to co na początku znałem tylko z teorii zobaczyłem w praktyce a nawet dużo więcej!
Jeżeli Was interesuje moja przygoda z mrówkami dajcie znać i oczywiście liczę na Vote :)
Jak ktoś ma pytanie - to mimo, że dopiero raczkuję z tematem postaram się odpowiedzieć.
W kolejnych artykułach opiszę Wam co zaobserwowałem... m.in:
pogrzeb mrówki
przeniesienie kolonii z probówki do gnizda
budowa infrastruktury
zbieranie pokarmów
"opierdzielanie" się mrówek.
Kto ciekawy ręka w górę :)