Jarmark Bożonarodzeniowy w Regensburg
W tym przedświątecznym czasie nie jest problemem, znalezienie większego miasta, w którym odbywa się jarmark bożonarodzeniowy. Jarmarki takie pozwalają poczuć przedświąteczną atmosferę, wybrać prezenty w postaci ozdób lub smakołyków, a także obowiązkowo spróbować grzańca. Mam wrażenie, że w Polsce od kilku lat zjawisko to przybiera na sile i jarmarki te stają się coraz popularniejsze nawet w całkiem małych miastach. Sam słyszę, że w miastach (powiatowych, a nawet i gminnych) w okolicy, w której mieszkam odbywają się takie jarmarki. Z pewnością ustępują one rozmachem, ilością stoisk i czasem trwania od tych jarmarków, które obywają się w dużych polskich miastach, ale zawsze jest to atrakcja zarówno dla dzieci jak i dorosłych. W Polsce najbardziej znane są te, które odbywają się we Wrocławiu, Gdańsku i Krakowie. Osobiście miałem okazję być kilka razy na Jarmarku Bożonarodzeniowym w Toruniu, w którym mieszkałem kilka lat. Niestety, nie znalazłem w moim archiwum zdjęć z tych jarmarków.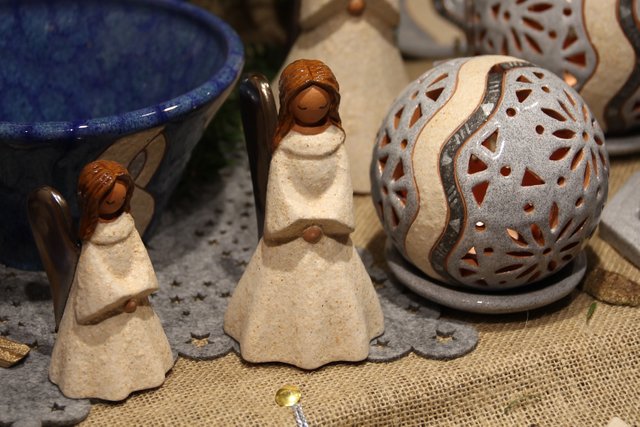 Ze względu na pracę, ostatnie miesiące tego roku spędzam w Niemczech w Regensburgu. Postanowiłem wybrać się na jarmark przedświąteczny w tym mieście. Tutaj mają miejsce aż cztery jarmarki – oczywiście w różnych częściach miasta (Jarmark Adwentowy przy Katharinenspital obok Kamiennego Mostu, Jarmark Dzieciątka Jezus na placu Neupfarrplatz, Jarmark św. Lukrecji na placu Haidplatz, oraz Romantyczny Jarmark na zamku Thurn und Taxis z pokazami wyrobów rękodzielniczych).
Ostatni ze wspomnianych przeze mnie jarmarków jest najmłodszym w Regensburgu – organizowany jest od roku 2001. Stoiska z rękodziełami, ozdobami i przeróżnymi smakołykami rozmieszczone są wokół zamku Thurn und Taxis. Wyjątkowego klimatu temu jarmarkowi nadaje właśnie bliskość zamku. Na wewnętrznym dziecińcu oprócz stoisk znajduje się świąteczna choinka. Dodatkową atrakcją są wieczorne występy różnych orkiestr, chórów i zespołów na zamkowym balkonie.
Przedstawiam wam tutaj kilka zdjęć jakie zrobiłem na tegorocznym jarmarku, który odbywa się na zamku Thurn und Taxis w Regensburgu. Mam nadzieję, że w przyszłym roku będę miał okazję poczuć przedświąteczną atmosferę na jednym z jarmarków w Polsce.