Dziś oglądając kilka następnych filmików postanowiłem sam poeksperymentować. Pomimo iż uważam że większość filmów na YT to ściema, zaciekawił mnie jeden film który dał mi do myślenia. Gość na filmie owinął magnez z głośnika drutem miedzianym w izolacji 1,5 mm, tworząc cewkę na okrągłym magnesie. Podłączył do tego żarówkę która natychmiast się zaświeciła. Pomyślałem że to następna ściema ale postanowiłem spróbować.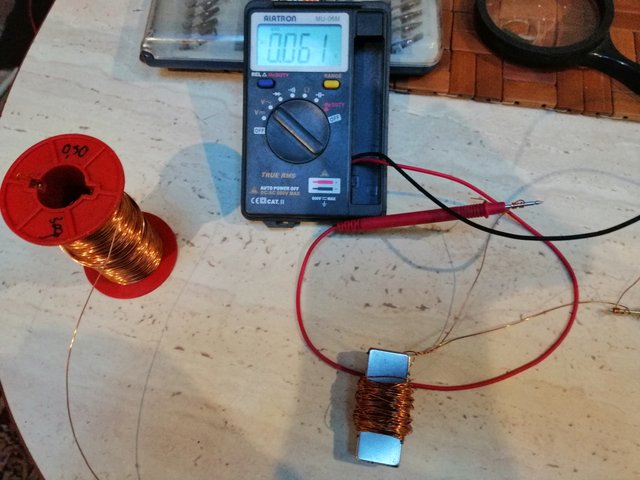 Nie miałem okrągłego magnesu z głośnika więc użyłem dwóch połączonych ze sobą neodymów. Na magnes nawinąłem drut miedziany 0,5 mm, nie liczyłem ile zwoi ale dosyć sporo, po podłączeniu do miernika okazało się że to małe gówienko wytwarza prąd, co prawda nie wielki ale jednak bo 0,06 V z wahaniami do 0,1 V. Pomyślałem sobie że jeżeli taka metoda daje prąd to na co mi prądnica?
Kupując większy magnez i nawijając grubszy prąd według filmu powinienem osiągnąć przyzwoite wyniki. Jeśli tak to po co się męczyć. Mimo wszystko poeksperymentuje i z prądnicą i silnikiem magnetycznym chociażby z czystej ciekawości.
Spróbuje też pozyskiwanie prądu z wody i ziemi, pomysł podsunął mi @fervi, tylko najpierw muszę trochę poczytać i zobaczyć z czym się to je. Czasami żałuję że nie mieszkam gdzieś nad rzeką lub rwącym potokiem. To by był czad.