Opuszczone Sanatorium
Na polsko-czeskim pograniczu w pobliżu Wałbrzycha znajduje się niewielka aczkolwiek bardzo interesująca miejscowość. Po pierwsze stąd pochodzi reżyser Krzysztof Kieślowski i odbywa się tu coroczny festiwal filmowy jego imienia, na który ściągają tłumy fanów.
Ale przede wszystkim Sokołowsko słynęło z sanatorium. Śląskie Davos, bo tak je nazywano, funkcjonowało od ok. 1870 roku. Przez wiele lat było znanym i szanowanym sanatorium, słynącym z wodolecznictwa. Miejscowość dzięki położeniu w dobrze osłoniętej dolinie miała bardzo czyste powietrze, dlatego leczono tutaj również choroby układu oddechowego. Co ciekawe, na nowatorskich metodach leczenia opracowanych w Sokołowsku oparto słynne uzdrowisko w samym Davos.
Budynek sanatorium to spory obiekt wybudowany w stylu neogotyckim z czerwonej cegły. Niestety po przemianach ustrojowych związanych z upadkiem komunizmu w Polsce sanatorium upadło a miejscowość straciła status uzdrowiska. Dziś grupka pasjonatów z Fundacji in Situ opiekuje się pozostałościami obiektu i z całkiem niezłym skutkiem walczy o odbudowę budynku.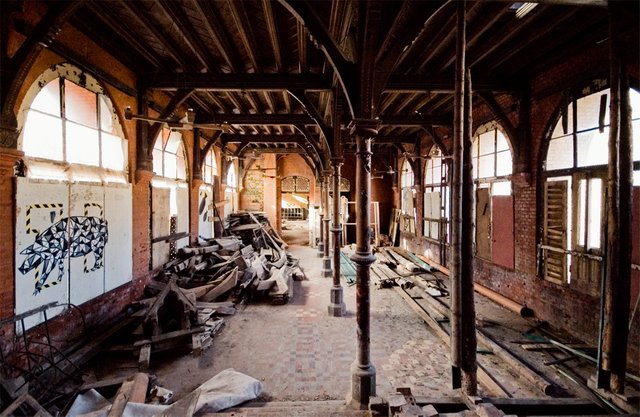 Abandoned Sanatorium
On the Polish-Czech border near city of Wałbrzych, there is a small but very interesting place. First of all, the director Krzysztof Kieślowski comes here and the annual film festival of his name takes place here, which attracts crowds of fans.
But most of all Sokołowsko was famous for the sanatorium. Silesian Davos, because they were called so, functioned from around 1870. For many years it was a well-known and respected sanatorium, famous for its hydrotherapy. Thanks to its location in a wind-protected valley, the village had very clean air, which is why respiratory diseases were also treated here. Interestingly, on the innovative treatment methods developed in Sokołowsko based the famous spa in Davos itself.
The sanatorium building is a large object built in the neogothic style of red brick. Unfortunately, after the political changes related to the fall of communism in Poland, the sanatorium collapsed and the village lost its status as a health resort. Today, a group of enthusiasts from In Situ Foundation takes care of the remains of the building and fights for the reconstruction of the building with quite a good result.
#aswcontest entry - interior theme
Nikon D7000 + Sigma 10-20
f/11, ISO100, 1/10s