Przeczytaj to, Zadziałaj i Zarób!!
---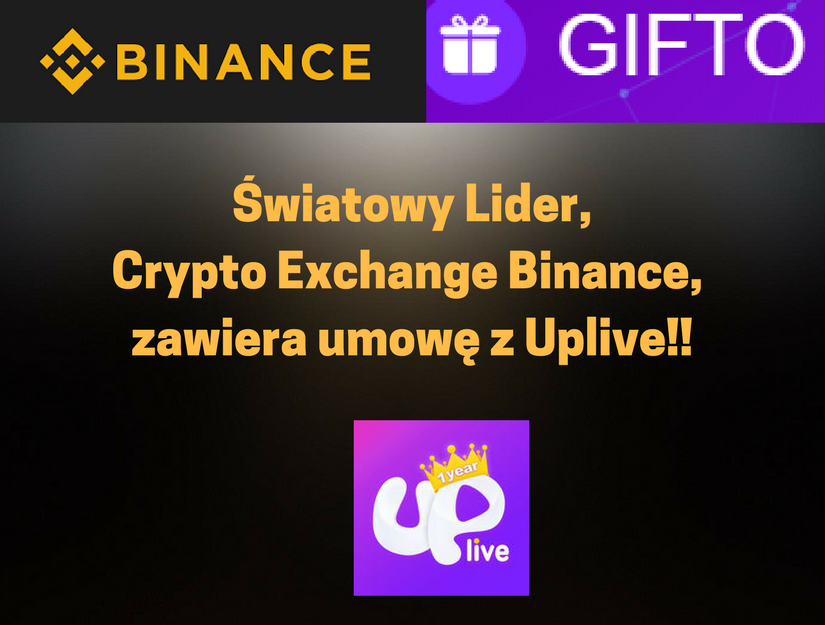 Nie będę tłumaczyła tych artykułów,
można je przeczytać używając Google tłumacza:
https://medium.com/@gifto/worlds-leading-crypto-exchange-binance-partners-with-uplive-ae03de5e1352
https://medium.com/gifto/about-uplive-and-why-we-decided-to-build-the-gifto-protocol-15414f173fa4
Chodzi o to że Binance Exchange zawarło umowę z Up.live.
Jest to pierwsza na tak wysoką skale współpraca typu crossover między krytowalutą a tradycyjną mobilną platformą internetową.
Binance, to jedna z większych i lepszych krypto giełd, obecnie z najwyższym procentem wzrostu,
a Up.live to największa w Azji aplikacja do strumieniowego przesyłania videa w czasie rzeczywistym, z ponad 20 milionami użytkowników i z ponad 100 milionów USD dochodów.
Giftoto nowa krypto-waluta Up.live,zdecentralizowany Uniwersalny Protokół Gifto, który będzie dostępny dla wszystkich członków Uplive i wszystkich innych użytkowników w pierwszym kwartale 2018 roku.
Teraz jest najlepszy czas by kupić w Binance monety Gifto i dziennie oglądać jak idą one do gory.
Jest to tez najlepszy czas by kupić monety Binance, bo Up.live będzie oferowało swoim członką możliwość korzystania i z Gifto, ich własnego wirtualnego tokena, albo korzystania z Binance, własnego tokena giełdy Binance.
Jeśli nie jesteś jeszcze członkiem Binance, zapraszam do rejestracji z mojego linku polecającego:
https://www.binance.com/?ref=12139309
i zapraszam do zakupu monet.
Nie ma ryzyka, na pewno zarobisz!!
---