[PL/ENG] Połączenia w kuchni/ Combinations in the kitchen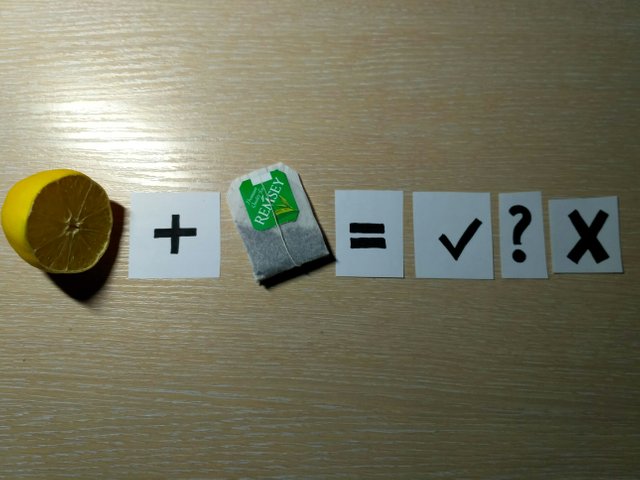 Cześć! Mamy swoje składniki, które w połączeniu są fenomenalnie dobre, ale zastanawialiście się, czy te połączenia są dla twojego organizmu dobre? Pokażę Ci parę przykładów, które często używamy w naszej kuchni, nawet ja sama nie wiedziałam, że herbata z cytryną też zalicza się do tej grupy. Więc zacznijmy od niej:
• cytryna i herbata - na początku chce was uspokoić, jeśli uwielbiacie cytrynę z tym popularnym napojem, nie musicie z niego rezygnować! Wystarczy tylko przed włożeniem cytryny wyciągnąć torebkę lub liście herbaty. Jeśli nie wyciągniesz, a włożysz cytrynę wtedy zawarty w herbacie glin łącząc się z sokiem cytryny odłoży się w twoim mózgu, co może prowadzić nawet do Alzheimera.
• czerwone mięso + czerwone wino, kawa lub herbata - połączenie pogarsza wchłanianie żelaza zawartego w mięsie z powodu występujących w tych napojach garbników
• oleje roślinne + tłuste ryby - nadmiar kwasów omega -6 z olejów neutralizuje kwasy omega -3, którego głównym źródłem są ryby
• ogórek + pomidor + twaróg - enzym zawarty w ogórku utlenia witaminę C zawartą w pomidorze, natomiast kwasy zawarte w pomidorze wchodzą w reakcję z wapniem, tworząc nierozpuszczalne kryształki, które odkładając się w stawach powodują ból przy poruszaniu.
• ryby i owoce morza + warzywa kapustne- pogarszanie wchłaniania jodu zawartego w rybach.
Myślę, że przydadzą wam się te wiadomości w kuchni. Ja was zapraszam do wszelkiej aktywności na moim profilu.
Cześć!
Hey!
We have our ingredients, which in combination are phenomenally good, but you wondered if these connections are good for your body? I will show you a few examples that we often use in our kitchen, even I did not know that lemon tea also belongs to this group. So let's start with her:
• lemon and tea - in the beginning you want to calm down, if you love lemon with this popular drink, you do not have to give it up! All you need to do is pull a tea bag or tea leaves before putting in a lemon. If you do not pull out and put on a lemon then the tea contained in the tea joining with the lemon juice will be deposited in your brain, which can even lead to Alzheimer's.
• red meat + red wine, coffee or tea - the combination worsens the absorption of iron contained in meat due to the tannins found in these beverages
• vegetable oils + oily fish - an excess of omega-6 acids from oils neutralizes omega-3, the main source of which is fish
• cucumber + tomato + curd - the enzyme contained in the cucumber oxidizes the vitamin C contained in the tomato, while the acids contained in the tomato react with calcium, forming insoluble crystals, which accumulate in the joints causing pain when moving.
• fish and seafood + cabbage vegetables - worsening the absorption of iodine in fish.
I think that these messages in the kitchen will be useful to you. I invite you to all activities on my profile.
Bye!