Istnieje pewna seria książek, których oryginalny podtytuł brzmi For Dummies. W Polsce są one obecnie wydawane jako seria Dla Bystrzaków, ale mi osobiście bardziej do gustu przypadła forma sprzed lat, czyli Dla Opornych. W książkach tych można znaleźć opisy różnych zagadnień w prostej formie do przyswojenia dla każdego szarego człowieka.
I dlatego to jest właśnie…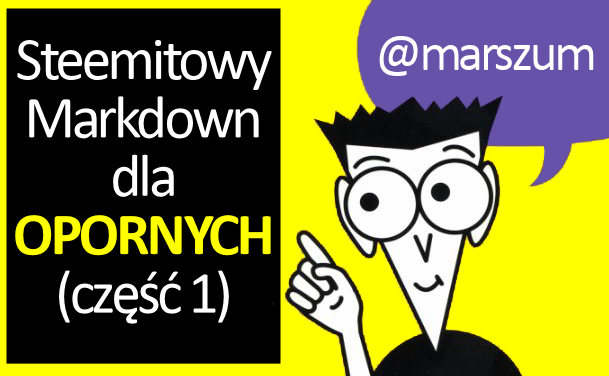 W związku z dużą liczbą rejestrujących się na Steemit nowych Polaków, postanowiłem opisać w możliwie najprostszy sposób bardzo prostą metodę pisania postów za pomocą Markdown, aby treść autorska prezentowała się jeszcze lepiej. Żeby zbytnio was nie zanudzać - Markdown to język znaczników przeznaczony do jak najbardziej uproszczonego tworzenia i formatowania tekstu. I tyle musicie wiedzieć.
Najważniejsze
Na sam początek mam wam do przekazania dwie w zasadzie istotne uwagi.
Po pierwsze - Markdown używany na Steemit różni się trochę od standardowego Markdown. Niektóre rzeczy nie działają poprawnie, inne działają inaczej. W tym tekście skupię się tylko i wyłącznie na instrukcjach do pisania na Steemit.
I po drugie - w każdej chwili podczas pisania macie możliwość obejrzenia wersji finalnej pod oknem edycji. Jeżeli coś jest nie tak już w trakcie pisania, na pewno nie poprawi się to w wersji ostatecznej po publikacji.
Odstępy
Zacznijmy od podstaw i zarazem najprostszej rzeczy, czyli samego tekstu.
Pierwsza zasada jest taka: jeżeli chcecie nowy akapit, robicie dwa entery. Dzięki temu tworzy się przerwa między dwoma tekstami, co znacznie wpływa na czytelność.
To jest pierwszy akapit.

To jest drugi akapit po dwóch enterach.
Krzywe i grube
Czas na kursywę, pogrubienie i połączenie tego.
Tworzenie obu opiera się na tej samej zasadzie - gdy chcemy zmienić tekst w kursywę lub w pogrubienie wystarczy na początku i na końcu frazy użyć gwiazdki "*" lub dolnego znaku (podkreślenia) "_". Do kursywy używamy pojedynczego znaku, do pogrubienia zaś podwójnego. Czyli:
*To zdanie będzie napisane kursywą.* _Drugie zdanie też napiszemy kursywą._
Da nam efekt:
To zdanie będzie napisane kursywą. Drugie zdanie też napiszemy kursywą.
Z kolei:
**To zdanie będzie pogrubione.** __To samo zrobimy z drugim zdaniem.__
Analogicznie da nam:
To zdanie będzie pogrubione. To samo zrobimy z drugim zdaniem.
Wszystkie powyższe można łączyć w bardzo prosty sposób:
_To **zdanie** jest_ totalnie __*pomieszane*__.
Ten skomplikowany zapis daje nam:
To zdanie jest totalnie pomieszane.
Odnośniki
Bardzo często chcemy w naszym tekście umieścić odnośnik do innej strony, artykułu czy jakiegoś miejsca w internecie. Najprostsza opcja to po prostu wklejenie linka i Steemit sam przerobi go na odnośnik:
https://steemit.com/@marszum
Zostanie zamienione na:
W wielu przypadkach nie chcemy jednak wstawiać całego odnośnika, tym bardziej gdy jest on długi i mało czytelny. W tym celu musimy wykorzystać prostą konstrukcję:
[jakiś tekst](odnośnik do jakiegoś tekstu)
Aby pokazać na przykładzie:
[Mój profil na Steemit](https://steemit.com/@marszum)
Pokaże się w tekście jako:
Warto wspomnieć też o tym, że Steemit sam tworzy odnośniki do innych profili, gdy przed nazwą użytkownika dodamy "@". W ten sposób wspominając kogoś w tekście można od razu w prosty sposób zrobić odnośnik:
@marszum
Da nam:
Grafiki
W tej kwestii Steemit naprawdę poszedł nam na rękę. Nawet nie trzeba się starać, żeby do tekstu dołożyć grafikę. Jeżeli jakiś obraz ma się w nim pojawić, po prostu wklejamy jego adres bez żadnych dodatkowych znaczków:
http://i.imgur.com/rSrjYuX.jpg
I widzimy:

Jeżeli do tekstu chcemy dorzucić jakąś grafikę, którą mamy u siebie na komputerze, jest to nawet jeszcze prostsze. Wystarczy przeciągnąć plik do okna edycji i Steemit za nas wstawi odnośnik.
Filmiki
Z plikami wideo sprawa ma się bardzo podobnie. Gdy do posta chcemy wrzucić filmik z YouTube albo z Vimeo, wystarczy wkleić odpowiedni odnośnik:
https://youtu.be/tqtxLuTPhTY
Pokaże nam się jako:
Jak widać, nie ma w tym kompletnie żadnej filozofii.
Nagłówki
Czasami same akapity nie wystarczą do czytelności tekstu. Warto wspomóc się nagłówkami, a szczególnie, gdy post będzie dłuższy lub dzielił temat na kilka części (jak chociażby to, co teraz czytacie). W tym celu skorzystamy ze znaku hash, czyli "#". Hashe dajemy tylko przed tekstem nagłówka, a ich ilość wyraża wielkość/ważność tekstu. Do wyboru mamy następujące opcje:
# Nagłówek 1
## Nagłówek 2
### Nagłówek 3
#### Nagłówek 4
##### Nagłówek 5
###### Nagłówek 6
I wyglądają one w ten sposób:
Nagłówek 1

Nagłówek 2

Nagłówek 3

Nagłówek 4

Nagłówek 5

Nagłówek 6
Żeby nie zostawić was bez przykładu:
'### Markdown jest super'
'Dlaczego? Zaraz się wszystkiego dowiecie, ale najpierw…'
'##### Troszkę historii'
'Żartowałem, nie będę was zanudzać.'
W czytelniejszej formie wygląda tak:
Markdown jest super

Dlaczego? Zaraz się wszystkiego dowiecie, ale najpierw…

Troszkę historii

Żartowałem, nie będę was zanudzać.
Koniec części pierwszej
Mam nadzieję, że za pomocą tego posta pokazałem bardzo proste zasady Markdown i od tego momentu więcej ludzi zacznie z niego korzystać. Jeżeli macie jakieś pytanie, śmiało piszcie komentarze lub na polskim kanale chatu.
Jeżeli spodobała wam się treść tego artykułu dodajcie mnie do obserwowanych, aby nie przegapić kolejnego tekstu!