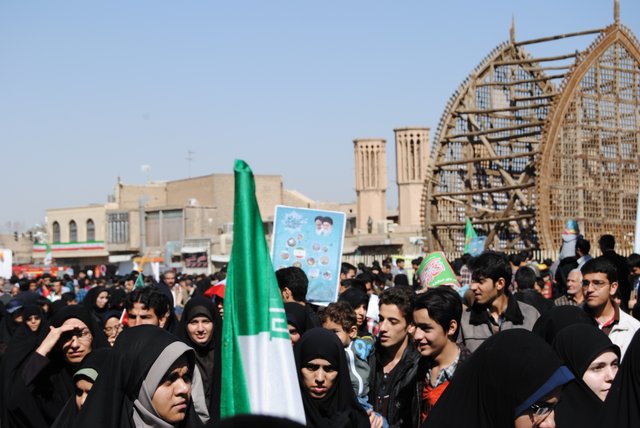 Tak się składa, że przez kilka lat z rzędu zdarzyło mi się spędzać zimę w Iranie i wielokrotnie byłem świadkiem procesji upamiętniających Rewolucję Islamską w Iranie w 1979 roku*. Dla centralnych władz jest to święto ważne, pomagające utrzymywać mit państwotwórczy. Na tę uroczystość ludzi zwozi się często autobusami do większych centrów. Niezależnie jednak od skali "pomocy" ze strony państwa wielu zwykłych ludzi utożsamiających się z konserwatywnymi ideałami islamu szyickiego oraz zwolenników irańskiego sytemu politycznego stawia się w ustalonym miejscu na dumny przemarsz ulicami.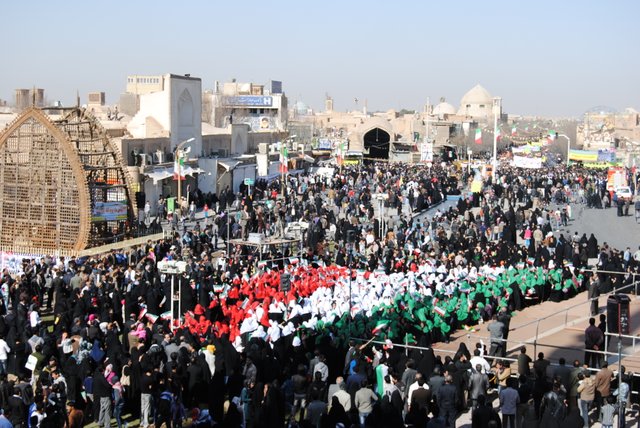 Nie są to manifestacje porównywalne z polskimi. W Teheranie potrafią ciągnąć się kilometrami po głównych arteriach miasta. Sam przeszedłem kiedyś 5 kilometrów z placu Rewolucji Islamskiej na plac Wolności w tłumie ludzi, a potem z powrotem, pod prąd. Jak okiem sięgnąć, nadchodzącym z centrum nie było końca...
Środkiem drogi ludzie nieśli w dwóch rzędach, z szacunkiem, kilkukilometrowej długości flagę Iranu i wznosili hasła antysyjonistyczne i antyamerykańskie.