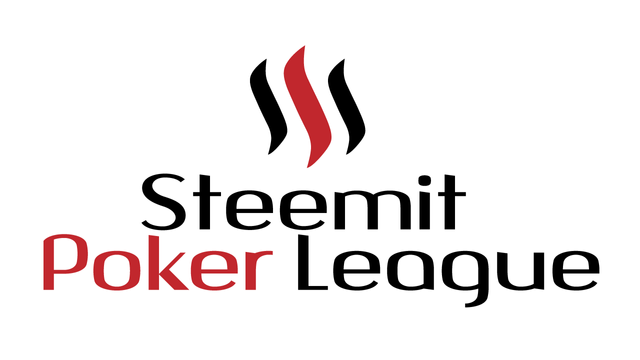 Free to join. Free to play. Come sign up and win some SBD!
The Results Are In!
We had 40 players this week and a tournament run time of 2 hours 27 mins. We are glad to say the tournament was a success, with a new league player emerging as the winner. CONGRATULATIONS @spirits4you for taking down the final table swiftly, and mercilessly. Rounding out the top three was, 2nd place: @tbnfl4sun and @3rd place: @rileyechard
Final Table Results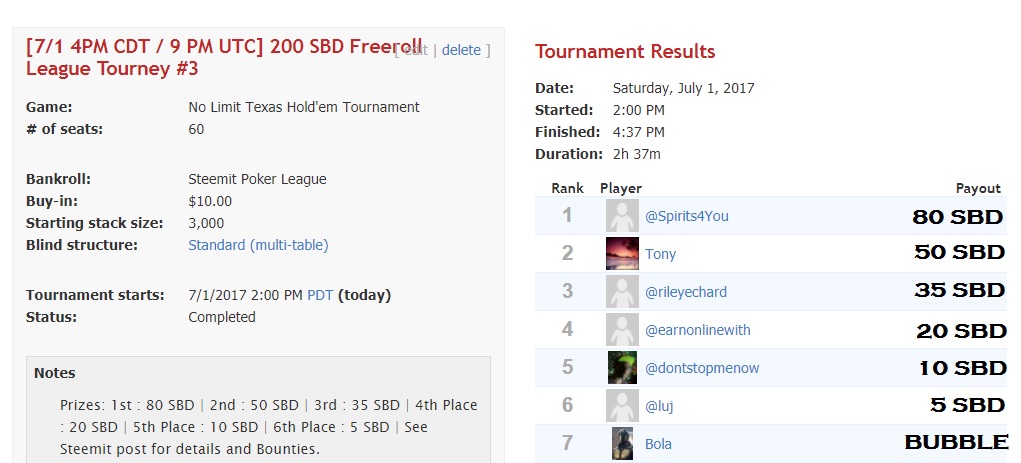 THE FINAL HAND OF THE EVENING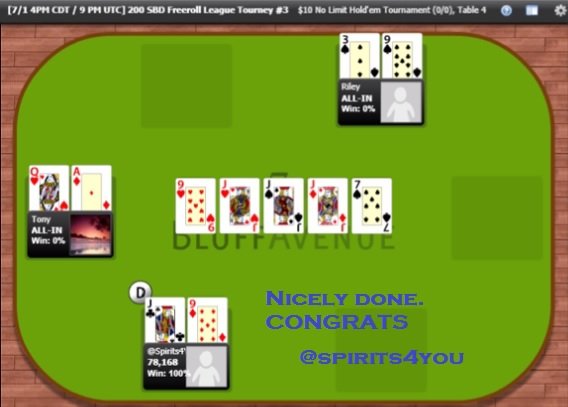 Congrats again to @spirits4you QUADS BABY!!
Stay tuned for a more in depth look into our 3rd tournament, with a final table breakdown.
Don't miss our next game. You could be the next winner.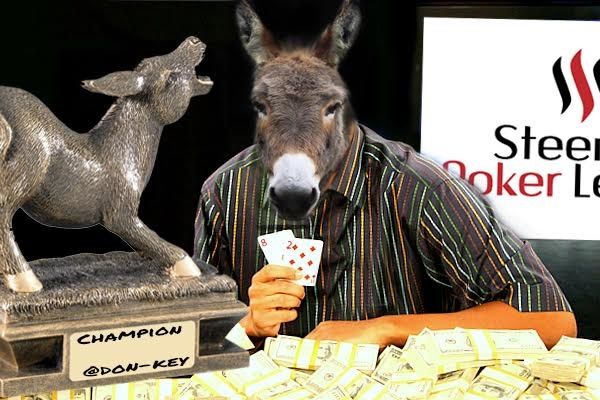 Updated Tournament Schedule*
| DATE | TIME CDT / UTC | Prize Pool |
| --- | --- | --- |
| 6/21 | 8PM / 1AM | 200 SBD Guaranteed - Completed |
| 6/25 | 6PM / 11PM | 200 SBD Guaranteed - Completed |
| 7/1 | 4PM / 9PM | 200 SBD Guaranteed - Completed |
| 7/7 | 2PM / 7PM | TBD |
| 7/13 | 12PM / 5PM | TBD |
| 7/19 | 10AM / 3PM | TBD |
| 7/25 | 8AM / 1PM | TBD |
| 7/31 | 6AM / 11AM | TBD |
| 8/6 | 4AM / 9AM | TBD |
| 8/12 | 2AM / 7AM | TBD |
*Times/Dates are subject to change due to unforeseen circumstances beyond our control.
Game Details
Free to play!
3,000 Starting Chips.
6 Max tables unless we have more than 60 players then we will switch to 9 per table.
Must call clock on opponent.
Standard blinds 15/30 - 30/60 and so on.
Break every hour.
Contact Tuck Fheman or BigP on League Site or Chat with issues.
What are you waiting for?
We've already paid out 1077 SBD to players during tournaments, so go sign up, it's free and you can win SBD!
http://www.bluffave.com/steemit
Daily 1 SBD SNG's
http://www.bluffave.com/steemcash
Pro League
Do you play poker professionally, semi-professionally or consider yourself to be a more advanced player? Come join our new Pro League over at PokerStars and climb the Leaderboard starting 6/29, it's still free to play!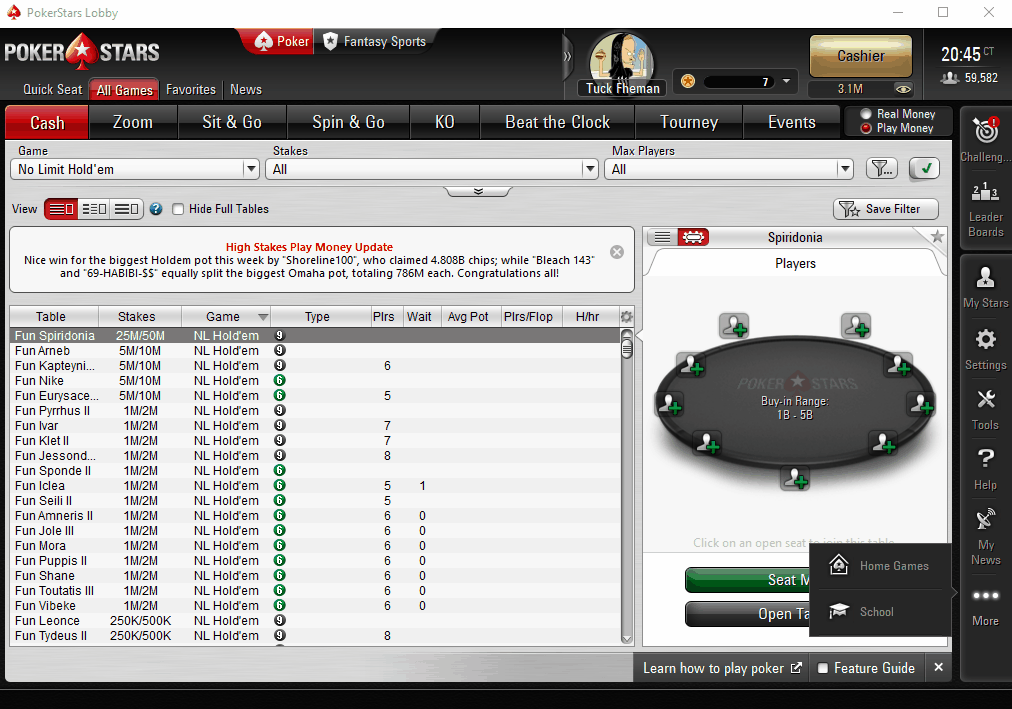 ---
To Qualify for SBD Prizes
Your account must ...
be over level 30 reputation on Steemit.
have made an introduction post.
use your @steemit-username as your first name on your Bluff Ave profile.
Disclaimer / Notices
We are not responsible for incorrect Steemit names being supplied for payout.
See The League page for our FAQ.
All tournament results and payouts are documented on the blockchain here at Steemit.com and screenshots are posted in the League Chat channel. Each tournament has it's own unique number and webpage URL which is posted on the blockchain for inspection, excluding PokerStars events which we haven't figured out how to view the history since PS is deleting them hours after the game.
Logo by @epicdesigns.