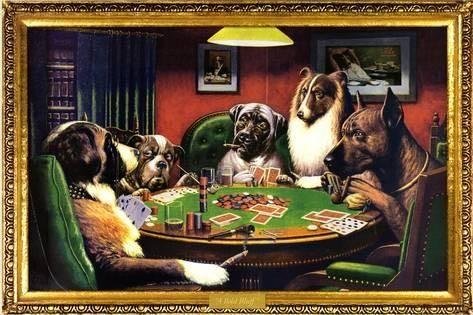 Alright, lazy ass @spl members!
Come join us this Labor Day for some no-limit hold 'em poker action!
I figured we should try something a little different for this tourney. . .
This Steem Poker League tourney will require a minimum donation to the prize pool to be eligible to play
I am sponsoring the tourney and will be donating 100% of this posts liquid rewards which will (hopefully) be 3-4 SBD or more. . .
You are required to make a minimum donation to the prize pool of 1 SBD to be eligible to play.
You have until the payout on this post to be eligible to participate and comment with something indicating "you're in" along with the amount you wanna donate to the prize pool.
No exceptions on participation. If you don't comment by the time this post pays out you cannot play in the tourney
Tourney Prize Pool Breakdown
1st place - 50%
2nd place- 20%
3rd place- 15%
4th place- 10%
5th place- 5%
Your sponsorship amount is due by reward payout of this post as well. Send to rawdawg on Steemit and I will be making a one time submission to the league. I am requesting it be done this way because I'm not gonna put more added accounting work on @tuck-fheman over a tourney I'm sponsoring
Look forward to seeing you donkeys at the tables!!!