Hello, <
As you may have read, the third edition of the Steemfest will take place in November. This time it will be in Krakow and I will probably attend it.
So far, I have booked the accommodation for the days and still wait for the Steem price to go up to buy the ticket.
You can also win the ticket through various competitions or give aways that happen until the SteemFest. For the give aways where you have to show how good you are and what you do, I will not participate.I'm too old to beg for a ticket. Priority should be given to the younger Steemians who are either students or at an age where you they don not earn too much. Here I do not mean the people who come from poor countries because that's another story.
But there are also competitions where you have to do something more than the thing described above. A cool contest is that of
@anomadsoul
in cooperation with
@blocktrades
and
@spl
where you can win a ticket including accommodation by winning a poker tournament.
There were three preliminary rounds and the finals will take place next week. From every round there will be each six players that will participate in the final. In the first preliminary round, I was out fast. I did not participate in the second and today was the third.
There were 17 players registered. This time I played normal, better to say, I used a conservative tactic and played almost only good hands.
This game tactic was successful because I arrived among the last 6. In my last hand we almost all went in, except for a player who did not really understand what we did. It was useless to play any further because we all had the ticket to the finals.
I'm looking forward to the next week. If I win, I will give away the accommodation and keep the ticket. If not I will buy the ticket.
Hallo,
wie ihr schon vielleicht gelesen habt, im November wird die dritte Edition des Steemfestes stattfinden. Dieses mal wird es in Krakau sein und ich werde wahrscheinlich dieses mal teilnehmen.
Bis jetzt habe ich mir die Unterkunft für die Tage gebucht und warte noch das der Steem Preis nach oben geht um auch den Ticket zu kaufen.
Den Ticket kann man auch gewinnen durch verschiedene Wettbewerbe oder Auslösungen die bis zum SteemFest laufen. Für die Auslösungen wo man zeigen muss wie gut man ist und was man macht, werde ich nicht teilnehmen. Bin zu alt dafür um für ein Ticket zu betteln. Da sollten die jüngere Steemianer Vorrang haben, die entweder Studenten sind oder im einem Alter wo man nicht zu viel verdient. Hier meine ich nicht die Leute die aus armen Länder kommen, weil das ist eine andere Geschichte.
Es gibt aber auch Wettbewerbe wo man etwas mehr dafür tun muss als wie vorhin beschrieben. Ein cooles Wettbewerb ist der von
@anomadsoul
in Zusammenarbeit mit
@blocktrades
und
@spl
wo man ein Ticket inklusive Unterkunft gewinnen kann indem man ein Pokerturnier gewinnt.
Es waren drei Vorrunden und die Finale findet nächste Woche statt. In der Finale werden jeweils die ersten sechs Spieler teilnehmen aus jeder Vorrunde. In der ersten Vorrunde war ich schnell raus. Bei der zweiten habe ich nicht teilgenommen und heute war die dritte.
Es hatten sich 17 Spieler angemeldet. Dieses mal habe ich normal gespielt, besser gesagt ich habe eine konservative Taktik verwendet und fast nur gute Hände gespielt.
Diese Spieltaktik war erfolgreich weil ich unter den letzten 6 angekommen bin. In meiner letzten Hand sind wir fast alle all in gegangen, außer einem Spieler der nicht wirklich kapiert hat was wir gemacht haben. Es war Sinnlos noch weiter zu spielen weil wir alle hatten das Ticket für die Finale bekommen.
Bin gespannt auf die nächste Woche. Wenn ich gewinnen werde, werde ich die Unterkunft verschenken und den Ticket behalten. Wenn nicht werde ich den Ticket kaufen.
---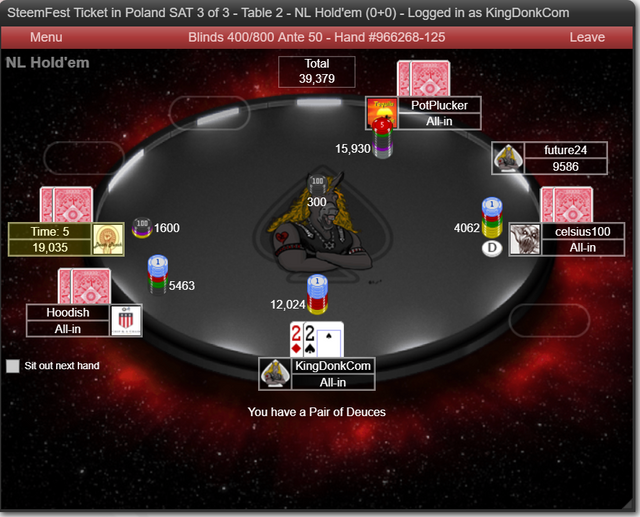 ---