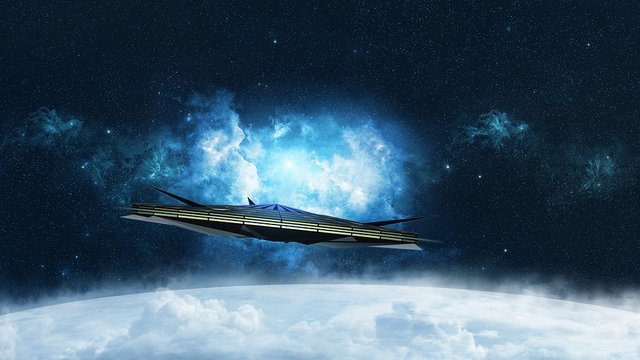 Lazily drifting, alone, in light and darkness,
its last fuel-cell spent, lay the ship in orbit.
The remaining crew, ruddy, in red lights sweating,
carefully calculated, cold reason following,
salvation seeking, shunning blind panic.
Ominous sounds creaked in hours slow-passing.
Silence seldom broken surrounded the five,
the sweat-stained group, straining against fate,
the universe united defied, utilizing mathematics,
barbarously bending both law and code,
pushing, perilously close, physics to breaking.
Stencils moved, snicking, sliding along parchment.
A glow, greenish-blue, gleamed then brightly.
Pulses picked up speed, pupils widened in the rush.
Slicing into the system, ships arrived - but alien.
A torrent of talk, tumultuous, followed;
anger danced among them, arguments erupted
and a trade of barbs and terse insults.
Should to the ships an SOS be sent, unknowing
whether creatures cruel or compassion-filled
the hulks housed, huge and silver?
Four votes split. Final say had the captain.
Seconds ticked soundlessly, slipping into the void.
A message they sent, muttering prayers and oaths,
pacing back and forth, prowling 'round the deck,
drumming fingers disconsolately, waiting.
Time passed, tension ebbed, torpor seized them.
Staring into space sat one, resting chin on hands;
Analyzing arithmetic, another buried herself in work.
Two slumped on couches, thoughtless, struck mute.
Twisting knobs blankly, tuning this way and that,
the last distracted himself, laughing weird and quiet.
An eerie chanting eventually crackled,
and, briefly, breathing stopped, beating hearts skipped.
Life renewed, into action, lively, they sprang.
Long they labored, language decrypting;
hunger grew, but hope sustained them.
To windows, at times, some drifted, watching for help.
A sleek ship shone near. Shouting, waving, crying,
rejoicing at rescue, relief overwhelmed them.
Appeared then another alongside the first;
the whole host, gliding, hove into view,
and, passing to the planet, pristine, it left them
in light and darkness, lazily drifting. Alone.

Thanks to @geekorner, @geke, and the members of the Isle of Write for their comments and critiques.
Recent works:

Humility's Victory
The Valley of Kings
And They Dance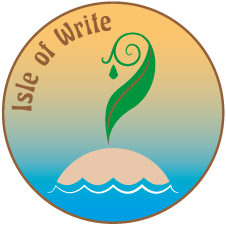 art courtesy of @PegasusPhysics