Heaven Fills My Mug: Original Poem and Art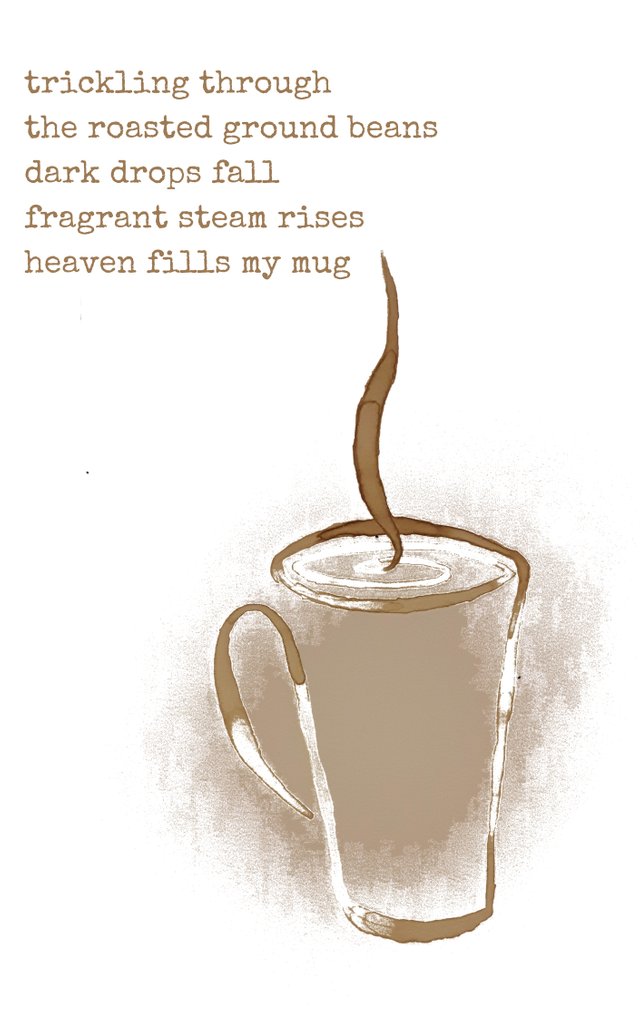 Oh, I just love coffee. I'll publically admit that I'm a caffeine junkie. I'm also addicted to the minimalism of Japanese poetry forms. I've tried my hand at haiku, haibun, and I've done multiple tanka.
My tanka are not the classical 5-7-5-7-7 syllable count because I learned from my friend, @dbooster, that the Japanese mora are shorter than our syllables and the structure of English language doesn't naturally fit into a 5-7 syllable structure.
He advised me to adapt my tanka into a 3-5-3-5-5 syllable structure and it fits so much better, feels so much more airy.
The artwork that goes with it was done in a single line and painted with coffee. What else, right?
I scanned it and edited it digitally. Printed versions of this piece on different media are available via my Redbubble webshop, as well as prints of the drawing itself.
I have to get that coffee mug. What better way to drink coffee than from a mug with a poem about coffee on it?
Hugs
Tiny
---
If you would like to read more of my work, feel free to have a look around on my off-Steem blog page by clicking the banner. My library there contains all of the pieces I've written since starting my blockchain adventure.

---