Selfless -A Poem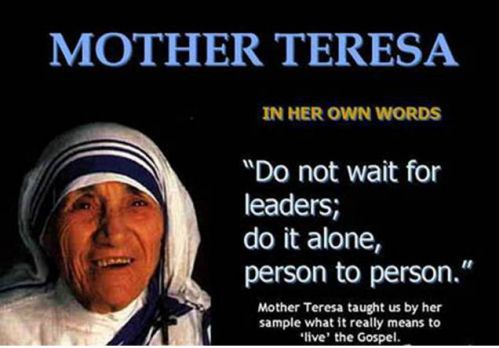 Image Sourcce
---
---
SELFLESS
---
---
I heard the word -selfless
And you alone came to mind
For your selfless acts of kindness
In a world where such seemed lost.
---
You were a pearl with a heart so pure
One true gift the world once had
For your ways, we cannot forget
As your teachings are always in our heart.
---
Like light, you brighten our paths
Reminding us to love and be kind
Filling our hearts with thoughts of kindness
Bringing us closer to a state of grace.
---
A selfless human who became a saint
Living forever in the hearts of men
Like the light of the sun in our world
And those of the stars and the moon.
---
Thank you for the legacies you left behind
Thank you for the lives that you touched
Thank you for the souls you've inspired
Thank you! Selfless Mother Theresa.
@nicewoody69 writes

---