There is another 20,000 STEEM Delegation on offer from @theycallmedan
As part of the promotion ad man @quillfire of powerhousecreatives is running a contest to raise it's profile.
It's a bit of fun.
Finish his Epic about the mighty Dan and the men fighting the good fight.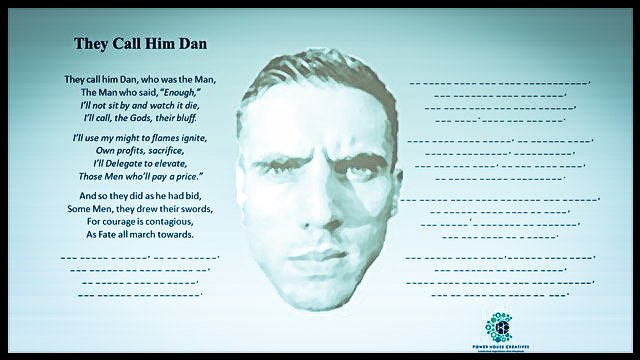 Write a final stanza.
We have always enjoyed a light hearted exchange.
So I decided to have a go at finishing his macho warrior epic, bringing back into focus the fact that the commander in chief of the steemitbloggers come powerhousecreatives, is in fact a woman.

---
Poem by @QuillFire
Member, The Power House Creatives
Here is quills poem.
They Call Him Dan
They call him Dan, who was the Man,
The Man who said, "Enough,"
I'll not sit by and watch it die,
I'll call, the Gods, their bluff.
I'll use my might to flames ignite,
Own profits, sacrifice,
I'll Delegate to elevate,
Those Men who'll pay a price."
And so they did as he had bid,
Some Men, they drew their swords,
For courage is contagious,
As Fate all march towards.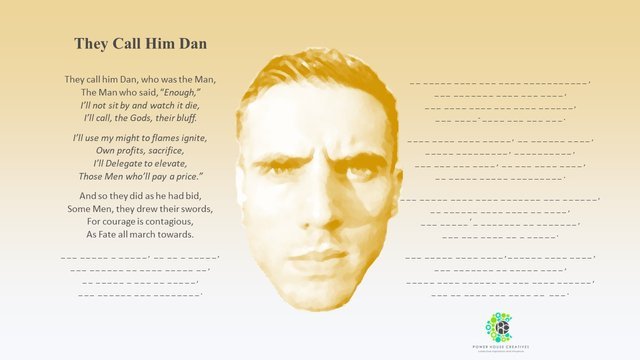 ---
Here is the link to his contest and poll promo.
https://steemit.com/powerhousecreatives/@quillfire/they-call-him-dan-poem-contest-20-000-steem-delegation-contest
This is my response poetry.
The idea is to write the last stanza.
I got a little carried away.
Mighty Jaynie
Waving his sword, they all applaud,
The macho men of might,
Those god's and men, clashed to defend,
Meek fishies right to bite.
They battled hard, those men and bard,
Their commander was tough,
This band of man, their strong command,
Was made of mighty stuff.
The tale he told, this bard so bold,
Sold masculine and mean,
The truth is grand, this brawny band,
Rallied behind their queen.
A tougher broad, not chain record,
Until she hit the scene,
She may look cute, but none refute,
Front line her boots did gleam.
So boys stay brave, she's vows to save,
The battle lines are drawn,
Do not be fooled, she won't be cooled,
She'll fight and tweet til dawn.
She draws her sword, along with zord,
Women and men of truth,
Blockchain record, great Dan reward,
Now hit that polling booth.
---