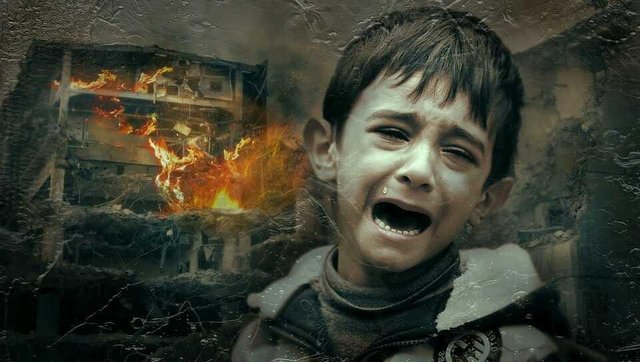 source
I am a fugitive of my World,
Made not by fault of mine
But by your endless love of hatred.
I am ravaged, by your Savagery.
My face, a bloodied mess of wishy thoughts,
My heart's tempo, the weary drone of raiding Jets,
I am led by thumps of your artillery,
Running up to a mirage, to refuge, to food, to love.
I wish i could hold a father's hand,
But he's just another mangled mess admist my soul's rubbles,
He dies on, living on as fresh wound through my heart.
While with no stake, heads aloft, you decide the right to ceasefire.
I wish i could find warmth in a mother's bossom
But i have cold hard floor, I hope she rests, at God's bossom.
I soldier on, tiery eyed with fiery fright.
I am a Syrian Child ravaged by war, torn with tears
Not by fault of mine, but by your endless love of hatred.
Reach out with love, save me now.
Lest i drown in my Ocean, of endless Teardrops.

source
Notes
I only considered it sacrosanct, that I start this 100 day challenge writing about what bothers me to the utmost core of my living essence. The effects and horrors which war has on children, many are damaged emotionally, they are malnourished and they never get to enjoy the joy of being a child, most die young. This situation, most regrettably, is playing out before our eyes in Syria. Not only in Syria, but the world over, just beside you, in Africa, in Europe, in America, in Asia, abounds tears. Tears of grief, teardrops of war, teardrops of regret. The case of the Syrian child is just a glaring one out of many. Many have died, many are fatherless and many most regretably have been rendered orphans and their homes just a pile of billowing smoke.
. Their only fault is humanity's love for savagery. This piece is dedicated to them.
UNICEF is issuing this blank statement. We no longer have the words to describe children's suffering and our outrage. Do those inflicting the suffering still have words to justify their barbaric acts?
The question indeed remains unanswered.
Reach out with love then, in whatever way you can, show love to a child, wipe the tears of a child and give a child hope for tomorrow.
I have been writing poetry for sometime now, intermittently though and not quite seriously. Someday I get some inspiration to write, for a few months I do not. This 100 day challenge would therefore help me in trying to be consistent in my writing. For now, I consider myself a beginner, or an intermediate? Certainly not an expert. Atleast, not yet.
Please do join us in the Steemit School discord here https://discord.gg/H6FNxdP.
Thank you for reading.