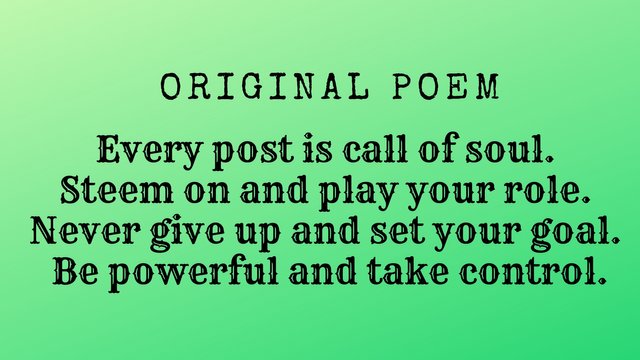 I like to write poems sometimes.
Even being non native English speaker I like to try.
Maybe the poem is not that perfect, but it's a call of soul. ☺
I hope you will like it.
Here is it :
---
''
Every post is call of soul.
Steem on and play your role.
Never give up and set your goal.
Be powerful and take control.
''
And that's true. I always share something directly from my soul. I try to be the maximum honest with myself and my audiance. Steem is a blockchain and everything is here clear and it stays here forever. That's why we have to share our best thoughts.
Everyone has his role in this blockchain and it will be good if everyone do what he's meant for.
Of course setting a goal is impotant as well, to not lose our direction.
And to be powerful to take control of your content.
I hope you like the poem and understand my philosophy.
It's also share this on twitter.
Follow me there : https://twitter.com/Clixmoney1