Some cookies I made + recipe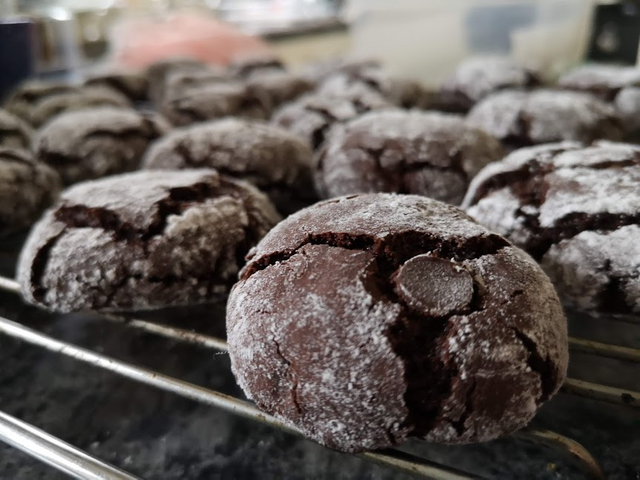 These are some cookies I made last weekend, recipe is still a work in progress but based on one I found in a magazine smushed into a brownie recipe.
Cookies, they are good
rich and chocolatey
they are better when you eat them
even better with tea
I know this isn't a poem
but i can't take the tag away
I don't know what else to do
and I don't know what I can say
Cookies are awesome
There we can hopefully agree
even if you don't like mine
or my attempts at poetry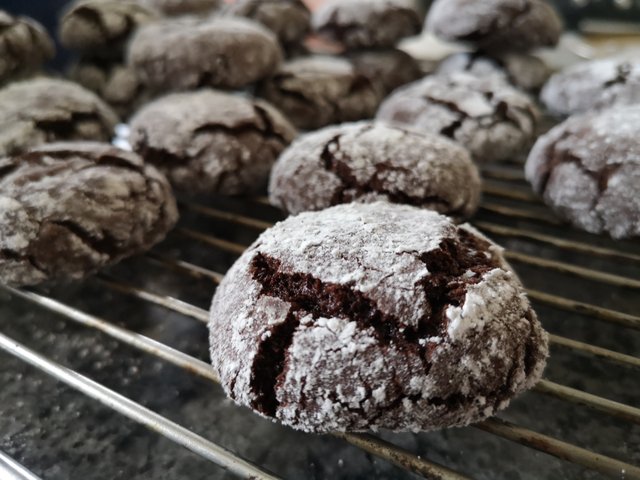 This recipe is still in progress, and not got a final name yet, they are intended to eat with coffee but are so good you may not manage to wait until it brews. They are crunchy outside and chewy inside, just perfect for elevenses.
The Recipe
200g raw sugar (could probably use slightly less normal sugar)
60g cocoa
3 tbspns liquid coconut oil
2 eggs
180g self raising flour
Icing sugar to coat
Preheat oven to 190
Sieve cocoa and into a bowl with the sugar and stir in the oil. Add the eggs one at a time, whisking to combine
Sieve in flour and stir til you have a dough, then work on 100-200g of dark chocolate chips (although bet white would be good too) if the dough is too soft and easy to mix you can chill it to help stiffen it up
Take a mounded teaspoon of dough and roll into a ball, then roll in icing sugar. You want them to be entirely coated. Dust off any excess icing sugar, you don't want it caked on but you are looking for a white coating. Slightly flatten them on a baking sheet with a little space for them to spread.
Bake for 10 minutes, and they will burst through their icing sugar coating to reveal the dark chocolate biscuit inside. They might be soft but don't worry they will crisp up on the outside as they cool.
I also want to try adding a little coffee, but not sure how it will affect the dough. I might even try a little ground hazelnut in there, but that's the base to play with. Let me know if you make them ☺️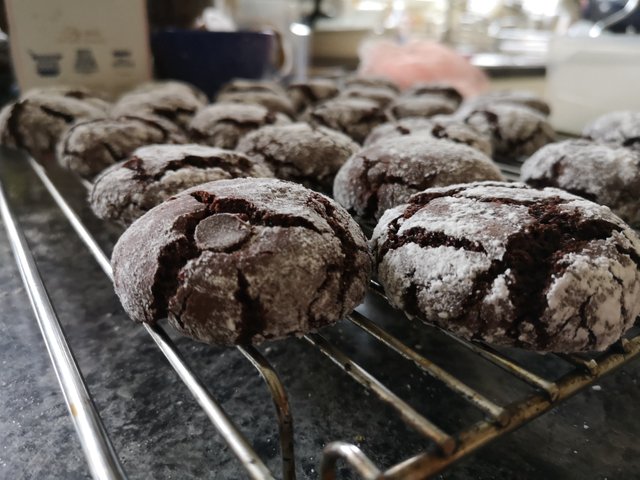 (This was originally a poem about Mary Queen of Scots but decided it didn't meet the standard required for steemit and was a bit controversial from a possible historian sort of perspective. Can't delete a post and realize this might be a more rubbish poem but hopefully the cookies help? )