Path of Exile: Legion - After the HC race
A bit over a week has passed since I entered @mattclarke's comp in my previous post.
I thoroughly enjoyed the competition, and while I didn't get the amount of play I'd have liked thanks to the health issues I'm getting through causing me to sleep lots, I did get to level into the 20s a couple of times and have another character on the way by the time the competition ended. This is better than the previous comp where none of my characters were still living at the end.
I didn't win, but I had heaps of fun. I also recorded some of the play, and have dumped it up on my youtube for anyone that wants to watch it. Feedback on it is always appreciated, there or here (or both).
Part 1 is here:

A link to the playlist of all 5 parts: Playlist
Unfortunately I didn't manage to record anything after the death of Rat_Pack_I, Not sure how that happened, but I think I've got some of the recording issues sorted out.
Summary
I decided after the success of my flashback event necromancer that I'd try and run that again. Everything was going ok on my first play until I suddenly found myself overpowered by one of the few legion fights I decided to take part in. Rat_Pack_I died at level 24.
After a 5 min break, Rat_Pack_II was up and running and quickly passed where his predecessor got killed. it wasn't long though before my internet decided that I didn't need to be able to see what was happening and I got squished by a pack of special monsters that I'd just enraged when it decided to lag. Level 28.
Sleep took me for a few hours before I came back to attempt another play, but Rat_Pack_III was never going to be lucky. Firstly I couldn't get settled or focussed, had to stop when I'd only just got to town because of pain and then drug haze. Came back to play again and managed to get myself slaughtered by the fire mage that you find before you even get to the first waypoint. Level 3.
I started again after another break and much more sleep, but only got to about level 7 before sleep took me again. Rat_Pack_IV however did survive to the end of the comp, and is still alive now. I've not played much this week since though, so she's only level 24. I've also been taking it a bit more cautiously, so hasn't gotten as far as any of her lineage before did.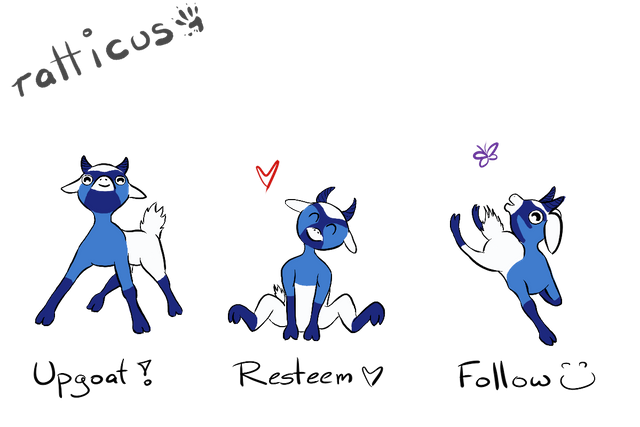 Upgoats made by the talented @ryivhnn