Greetings!
I am the great @kaelci -- shameless newb -- and I offer you all an extravagant curtsy as you enter my domain... then stumble over my feet and plough headfirst into my computer chair before acting all nonchalant like I totally meant to do that. 😅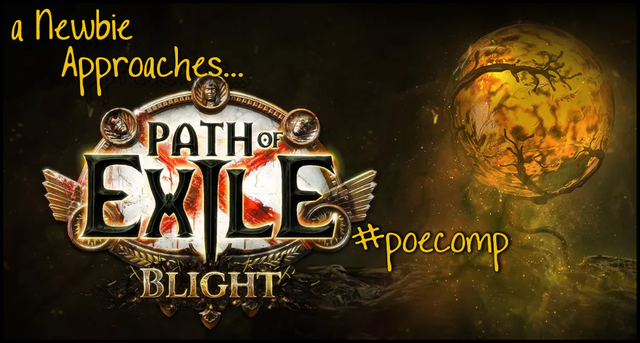 This is my first time entering the #poecomp...
...and I'm diving right into the deep end! See, this is my first time playing a hardcore character. 😁 ~ But, hey now! That's not from a lack of trying. I have an excuse. Path of Exile has waged a silent war against me. Last season I created a hardcore character to train myself for this magnificent day, however, as though sensing my pitiful newbness, the game flew into a flurry of "unexpected disconnections" and laughed malevolently at my sorrow.
I tried and failed so many times -- nearly every minute the server laughed in my face -- until finally, I simply despaired and gave up, resigning myself to softcore where I never once had a disconnection issue.
Brutal.
Here's hoping that plague-ish problem doesn't pop up this weekend. 😉 My time in the competition will be very short-lived if it does!
Not only am I diving right into the deep end...
...I'll be playing further disadvantaged! Although
technically
I'm competing, I'm not really playing to
win!
This is more to just join in with others and be a social Steemian. 😁 ~ I have a 6yr old son who broke his arm recently, so I will be in
full
parent mode while only half in gamer mode.
Will you let a poor, life-handicapped newb beat you?
A newb who has barely played twenty hours of this game?
A newb who doesn't know what she's doing and just hopes for the best?
Will I even make it to level 10 under such circumstances?
Or will this be my finest character who at last allows me to stride well past level 30, my previous highest level?

If you like reading a lot of unnecessarily big words in unnecessarily large paragraphs, I'll probably end up making a random fictional piece out of my adventure. It is what I do! xD
This is my Intent To Enter for the #poecomp, hosted by @mattclarke
You can find more information behind these blue words!
See you all this weekend! 😁
Images courtesy of Grinding Gear Games