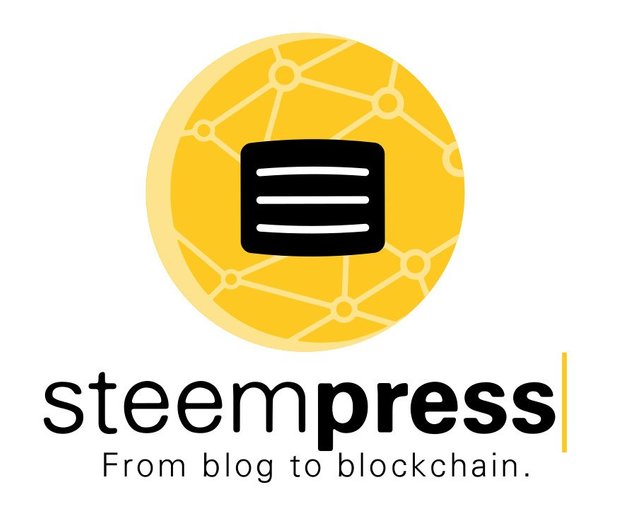 A week ago I posted on Steem about an awesome new plugin called SteemPress. This plugin allows WordPress users to post from their current WordPress blogs to Steem. While the plugin is free to download and use, the dev team of @fredrikaa and @howo take 15% in benefactor rewards - much lower than both @utopian and @dtube.
Having waxed lyrical about it last week, I thought I would put my money where my mouth is, set up a self-hosted WordPress site and try the plugin out. The plugin is available from HERE and can also be found by searching for SteemPress in the Add Plugins section of your WordPress dashboard.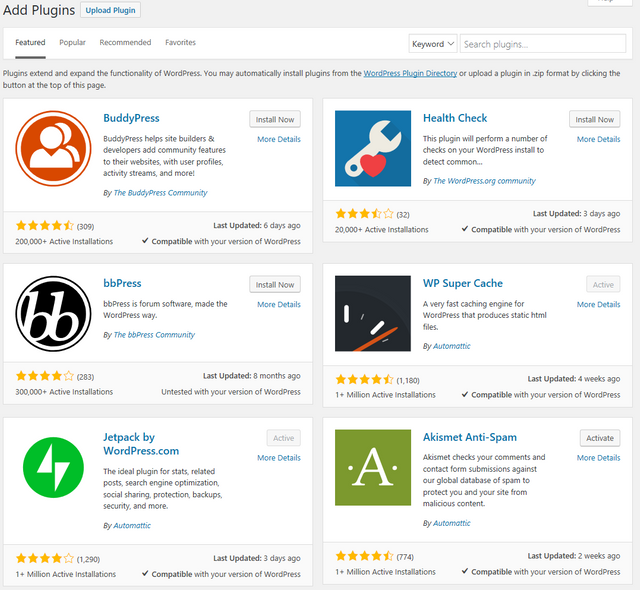 It goes without saying that you either need a business account on WordPress.com to use plugins, otherwise you need to host the WordPress site yourself. More on this later in the post.
Once you have downloaded and installed the SteemPress plugin, you need to click on Settings.

In here you add your Steem username - without the @ - paste in your private posting key, and specify your rewards - 50/50 or 100% Steem power. Next set how many minutes you want to wait from posting on WordPress until it is reposted on Steem, click if you want to self-vote your Steem post and whether to add the original link to the Steem article - recommended. Click on Save all Changes and all should be ok.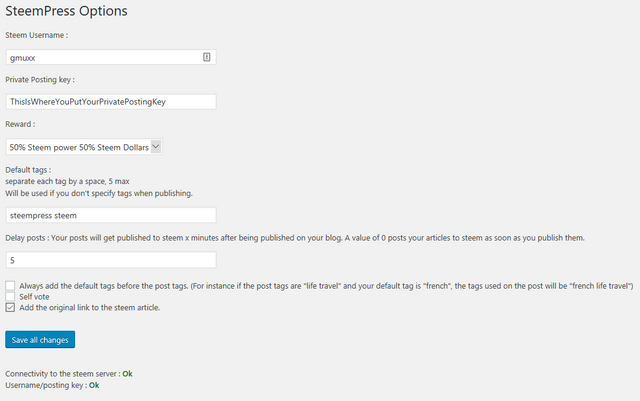 If all went well, next time you write a post there will be a little checkbox in the upper right of your posting window.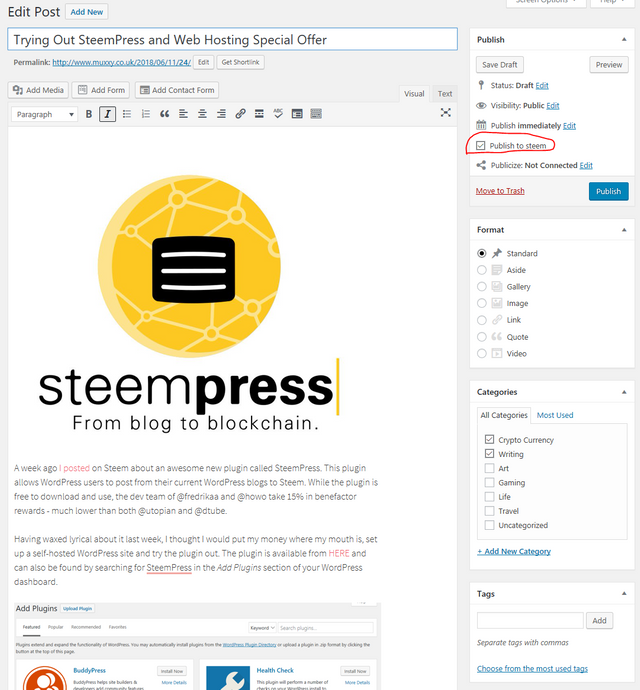 What about that Web hosting offer?
As I previously mentioned, unless you have a business account on WordPress.com - which is far from cheap - your other option is to seek out a web hosting solution. In addition, you need to purchase your own domain name. I have used godaddy.com to buy and register muxxy.co.uk.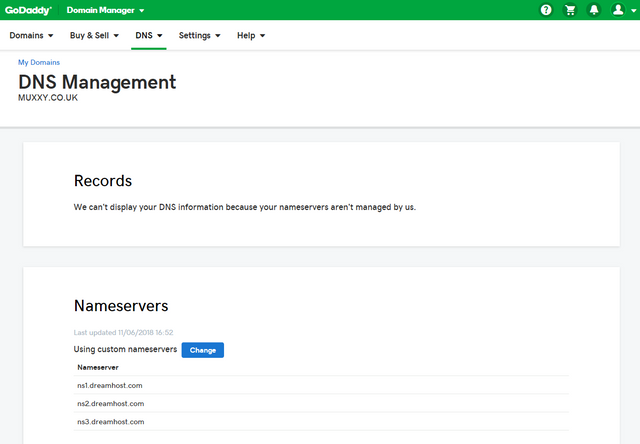 Many of The Writers' Block members wanted to use the SteemPress plugin, so I decided to purchase domain hosting with DreamHost.com. The account allows me to host an unlimited number of domains.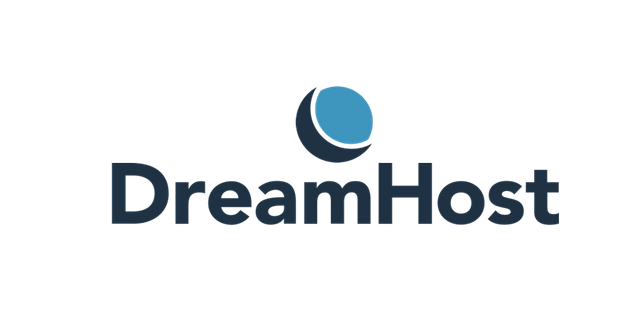 For just $25 annually - payable in its equivalent of Steem or SBD - I will add your domain to my hosting package, install WordPress on it, and pass along your personal FTP sign in details should you require them. All you have to do your end is to check with your domain seller how to change the nameservers to point to Dreamhost. I will do the rest. If you want to transfer a current WordPress site to this new host, it is best to do that before installing the SteemPress plugin, as it will post each and every incoming article to Steem, which may be far from ideal.
If you would like to take me up on this offer get in touch either through Steem Chat or via Discord - my username there is Muxxy#8276 and I can be found at PALnet and The Writers' Block.
---
Posted from my blog with SteemPress : http://www.muxxy.co.uk/2018/06/11/trying-out-steempress-and-web-hosting-special-offer/
---