It's time for another Friday night... and that means THE PLAYHOUSE!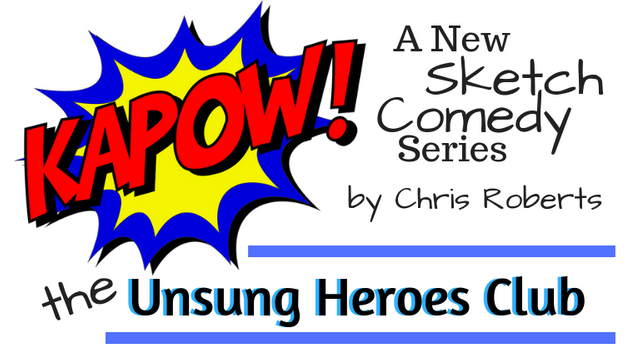 ---
Every Friday, my amazing wife @carrieallen hosts the only Steemian Sketch Comedy show!
---
I have to work a boring job, so I can only co-host about half the time. But tonight I'll be there! And whether you want read along with some of our hilarious original scripts or just listen to us making asses of ourselves, we promise some good laughs!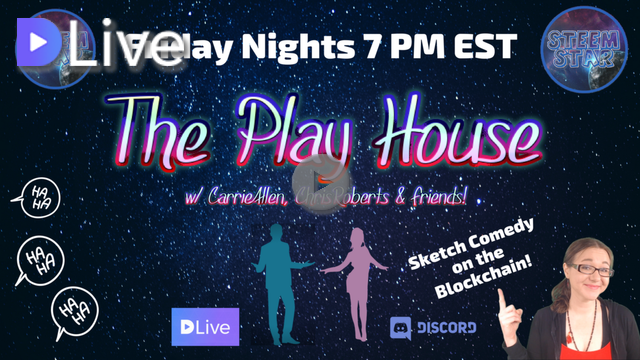 ---
Anyway, here's my latest script! Hot ink!
The Unsung Heroes Club
By Chris Roberts
CHARACTERS
TAFFY MAN - The leader of the group. He can stretch, but only limp.
TYPERELLA - Transcriptionist. Her super power is transcription.
DOGNIP - Dogs love him, but he hates dogs.
THE HEATER - Keeps soup hot just by looking at it.
HOVERGIRL - A teenager who can hover inches off the ground.
SCANNER - Has a police scanner inside his head.
NARRATOR
In a small windowless room there is a circle of chairs and several people chattering and waiting for a meeting to commence. The leader organizes papers on a clipboard and a middle-aged woman sits next to a typewriter. A couple other confused newcomers are wandering in.
TAFFY MAN
Okay, okay, attention everyone! Let's get started. I'm officially calling the twenty-third weekly meeting of the Unsung Heroes club to order. My name is Taffy Man… we ask that you all use pseudonyms to protect your true identities, and everything you say will be on the record, transcribed by the lovely Typerella.
TYPERELLA
Maybe you should tell them a little about what we do here.
TAFFY MAN
Right! We are the Unsung Heroes. We meet right here in VFW conference room B every wednesday evening, and basically we just get together, share stories, have some refreshments…
TYPERELLA
Ahem!
TAFFY MAN
Oh yeah, we all have strangely mundane super powers that don't really do much for us and in some cases make life a little more difficult. I, for example, can stretch my limbs. Sounds pretty good, right? Well, it's only the skin that stretches; the bones only go so far. So, I stretch, but it's a limp stretch. Watch.
SOUND FX - STRETCH
SOUND FX - LAUGHTER
I'm not ashamed of it, I've come to terms with my body. If you can believe it, I've even found some uses for this seemingly pointless power. But I understand your laughter. Typerella, would you like to tell them about your power?
TYPERELLA
Absolutely. Whenever I'm listening to someone talk, the nearest typewriter types what I'm hearing.
TAFFY MAN
Would you like to expand on that?
TYPERELLA
Well, it's pretty simple. It doesn't work with computers, only typewriters. And like I said, it's the nearest typewriter, so if I don't have one around me, God knows whose typewriter is transcribing what I'm hearing.
TAFFY MAN
But thanks to the Unsung Heroes you've found your true calling of transcribing meetings.
TYPERELLA
Yep. And if I put a couple blankets over the typewriter it drowns out the annoying typing sound.
DOGNIP
Some people like that sound.
TYPERELLA
Yeah, well you're not like a normal person. You don't like dogs.
DOGNIP
Maybe you wouldn't like dogs either if they followed you around all the time!
TAFFY MAN
Order, order! Why don't you introduce yourself next.
DOGNIP
Alright. My name's Dognip, and like I said, dogs follow me around all the time. They love me.
THE HEATER
That doesn't seem like a super power… or a problem.
DOGNIP
Tell that to the eight dogs waiting outside for me right now. I just picked them up on the way over here. And I hate dogs. Never liked 'em.
TYPERELLA
Luckily, no dogs are allowed in the VFW, so you can relax.
DOGNIP
Oh, they'll be waiting for me as soon as I step out. Probably piss on my shoes.
TAFFY MAN
Good luck with that, Dognip. And you sir? I believe you said your name was The Heater?
TYPERELLA
The Heater? That's a pretty badass name.
THE HEATER
Give it a minute, you may change your mind.
TAFFY MAN
So, The Heater, what's your power?
THE HEATER
So, you know how when you're eating soup, sometimes the soup starts to get cold before you finish the soup?
TYPERELLA and TAFFY MAN
Yeah?
THE HEATER
Well my soup doesn't do that. I eat soup all the time, and trust me, if I keep looking at the soup, the soup never cools off.
TAFFY MAN
I feel like you're saying the word "soup" an awful lot…
THE HEATER
I can't help it, I love soup. I love talking about soup, eating soup, looking at soup. Did I mention when I look at soup it stays hot?
TAFFY MAN
Yeah I think you mentioned that.
TYPERELLA
Can you heat anything by looking at it?
THE HEATER
Only soup that I know of. Thanks for hearing me out.
TAFFY MAN
Okay, that was weird. Who's next?
MAN
Um, I think I'm in the wrong place.
TAFFY MAN
Where do you think you're supposed to be?
MAN
I'm bad at singing. Well, I came because the flyer said Unsung Heroes. I thought it was some kind of play on words. You know, a group for people who are bad at singing.
TAFFY MAN
I've never heard of a group like that, but you could start one.
MAN
Meh, I'm really more of a follower. Sorry for the misunderstanding.
TYPERLLA
And what about you, young lady? What's your story?
HOVERGIRL
Who me? I'm Hovergirl. I couldn't think of a better name.
TAFFY MAN
Can you fly?
HOVERGIRL
No way. Not even close. I hover.
TYPERELLA
Can you show us?
HOVERGIRL
I guess, but it's kind of exhausting.
SOUND FX - HOVERING
TAFFY MAN
Wow! That's what I call a super power! You're pretty much flying.
HOVERGIRL
Yeah, my parents said I should keep it a secret, but I thought maybe you guys could help me figure out how do do something useful with it.
DOGNIP
Man, if I could hover like that, the little dogs couldn't even get to me. They're the most annoying.
TYPERELLA
It's not all about you, Dognip. Thanks for sharing, Hovergirl.
TAFFY MAN
I've got an idea! What if you wore a big fan as a backpack? Then you could get around quick.
HOVERGIRL
Nah. I've tried. Walking is quite a bit faster.
TAFFY MAN
Hmm. We'll keep brainstorming. What about you, sir? What brings you to the Unsung Heroes?
SCANNER
They call me Scanner. I've got a police scanner inside my head.
TYPERELLA
So you're always hearing voices?
SCANNER
Yeah. They tell me what kind of crimes are being committed right now.
TAFFY MAN
A fine addition to any band of super heroes!
SCANNER
It's pretty hard to sleep. There's a lot of crime at night.
TAFFY MAN
We understand, Scanner, and you've come to the right place.
TYPERELLA
So can you look at a can of soup and heat it up?
THE HEATER
No, I've tried. I have to be able to see the actual soup. If the lid's been taken off, it'll work.
TAFFY MAN
How hot are we talking? Like burn your mouth hot, lukewarm, what?
THE HEATER
I never took the temperature of the soup. It's always just the temperature I like it. Good soup. Hot.
TYPERELLA
What kind of soup works best?
TAFFY MAN
Okay, I think we've had enough soup questions. I have a question for Dognip. Do the dogs just keep gathering outside the building as long as you're here?
DOGNIP
That's the idea. I don't usually stay in one place for long. They can smell me. Dogs have incredible senses of smell you know.
TYPERELLA
Maybe if you wore some perfume…
DOGNIP
Doesn't do any good. They still find me, plus then I smell like a woman.
TAFFY MAN
Alright, does anyone have any stories they'd like to share about a time they used their super power in a beneficial way?
THE HEATER
Me, me.
TAFFY MAN
Yes. The Heater! What's your story?
THE HEATER
Well, this afternoon, I had a can of bean with bacon soup. Took me half an hour to eat it… never got cold. It was nice.
TAFFY MAN
Wow. Anybody else.
SCANNER
Robbery in progress at the Centennial Bank downtown. Four gunmen and nearly a dozen hostages. Police requesting all available backup.
TAFFY MAN
Ooh! Was that from the police scanner inside you head?
SCANNER
Yep. Too bad we can't do anything about it.
TAFFY MAN
The hell we can't! Unsung Heroes: Let's move!
THE HEATER
You guys go ahead without me. I brought some soup from home. It's already hot.
DOGNIP
Maybe that pack of dogs will finally come in handy!
HOVERGIRL
I can hover, if anybody needs that for some reason.
TYPERELLA
I'll bring my portable typewriter, so everything is documented!
SCANNER
Officer down. More hostages than initially estimated.
TAFFY MAN
C'mon, Unsung Heroes! We'll take my minivan!
NARRATOR
And so, the Unsung Heroes Club is off on their first adventure. None of them have very useful superpowers, or especially great confidence in their abilities. But for some reason, this band of unlikely heroes feels compelled to save the world! Will they? Find out next time, on the Unsung Heroes Club!
The end.
---