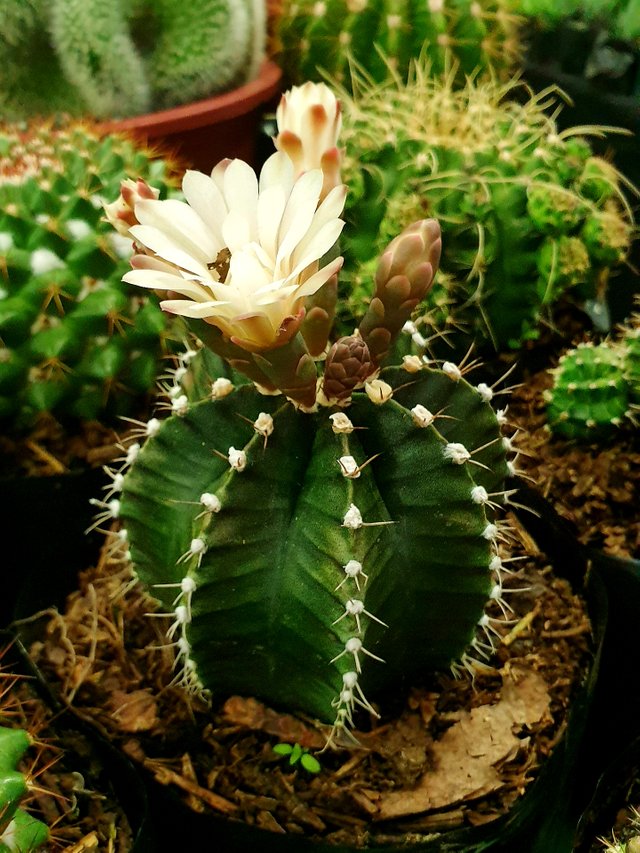 One of the reasons why I like visiting this mall from time to time is their exhibits. Last Sunday, 04 August 2019, I was able to catch the Urban Jungle exhibit that is still running until the 9th.
This was the sight that greeted me when I entered the mall. The exhibit is in the middle of the open area that I only knew on this day they call it the Atrium A. The title of the exhibit is very catchy.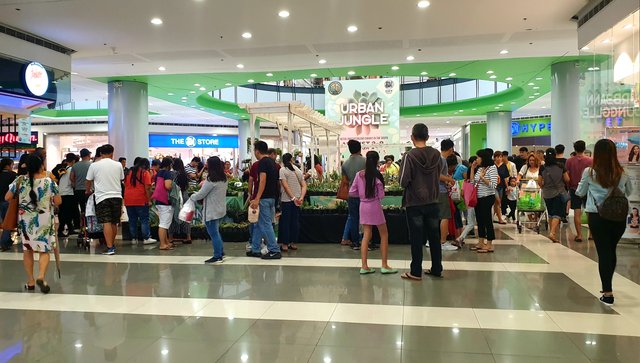 I really wondered what are on display that these many people are getting so curious about so I squeezed in. Then I realized there were countless cacti and succulents on display. Beautiful and cute ones! I joined the crowd in making our rounds. The good thing was that the crowd was not so thick. I was still able to do my "window shopping" in the jungle.
URBAN JUNGLE
A cactus and succulent exhibit in the south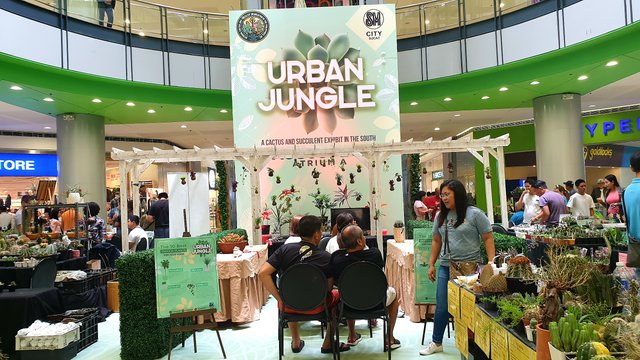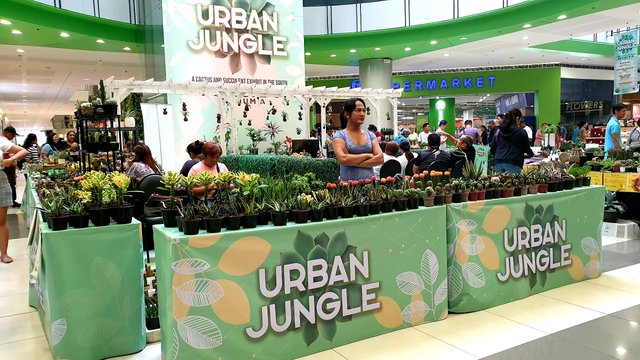 SM City Sucat is in Paranaque City which is in the southern part of Metro Manila thus the sub-title of the exhibit.
The only cactus I knew when I was young is this prickly pear variety which we call "dapan-dapan". As I encountered new ones, it was like "is that really a cactus?" It was all the more this time that I kept asking the question. There were even instances when I was just staring with awe at the cacti.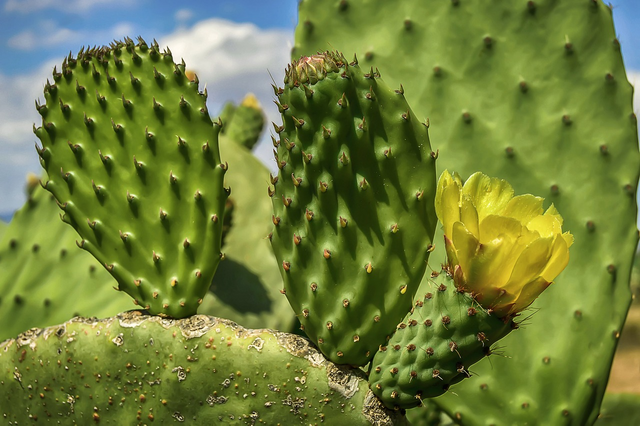 Source
I have seen many of these fairly familiar cacti and succulents though I do not know their names. Can you name any of them?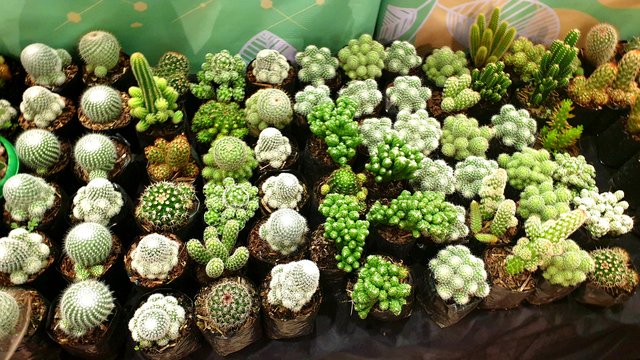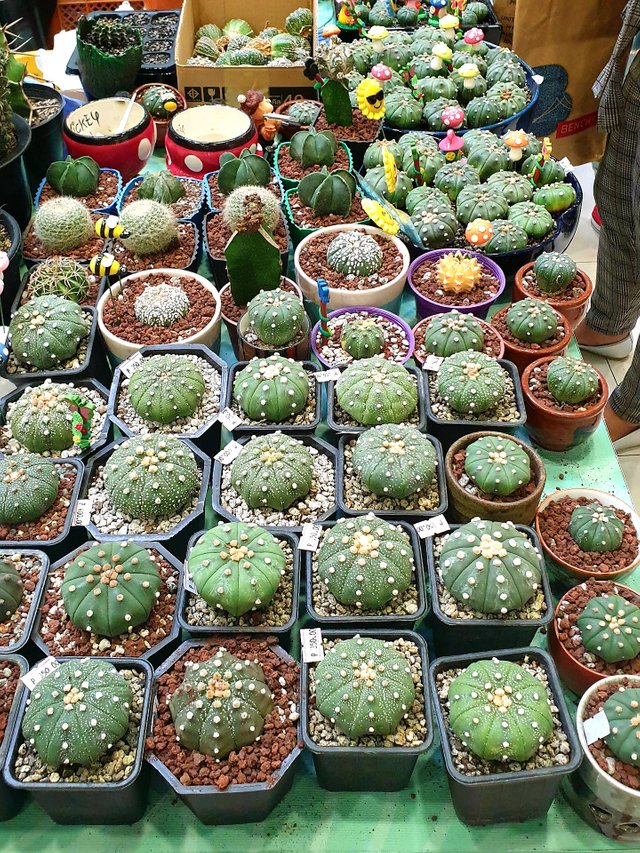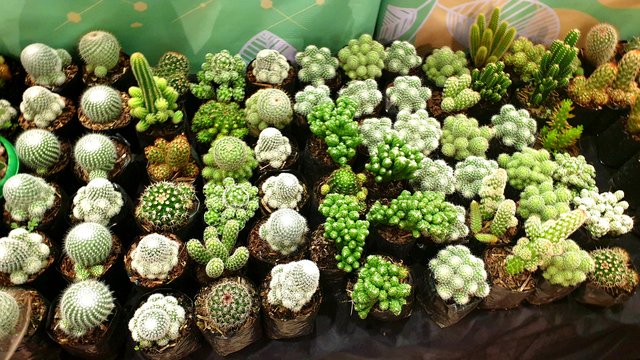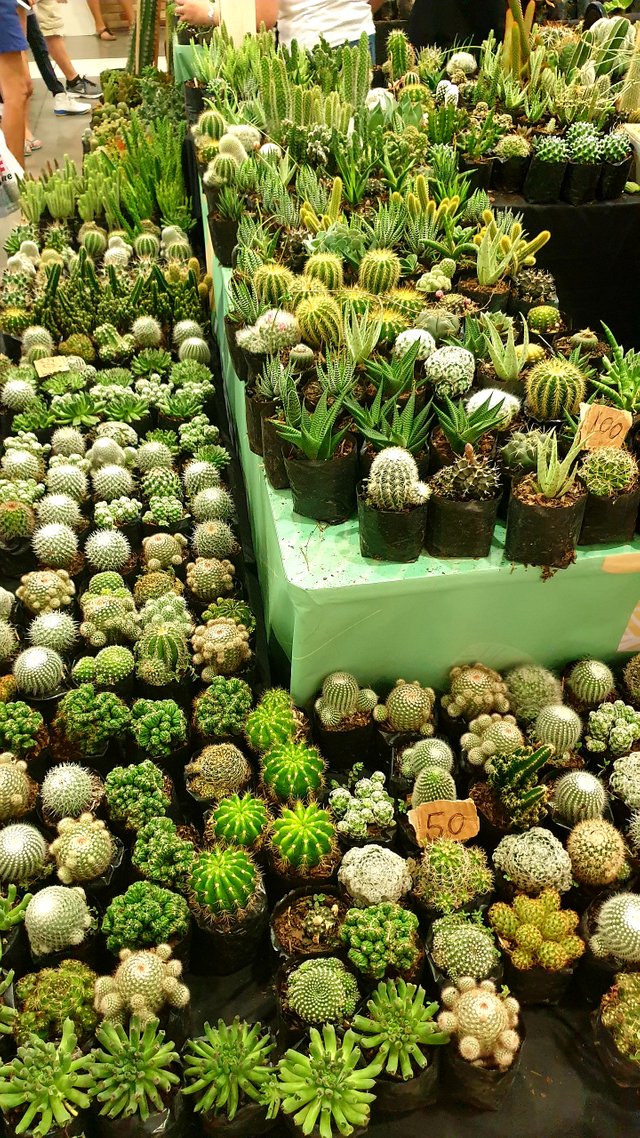 Some of these succulents are even what I thought were just "grasses" during my childhood. I remember something like these growing along the pathways in the province of Zambales where I was born.
And these. Most specially these! These were grasses to me. I never expected these to be worth in an exhibit. And what's more? Source of income.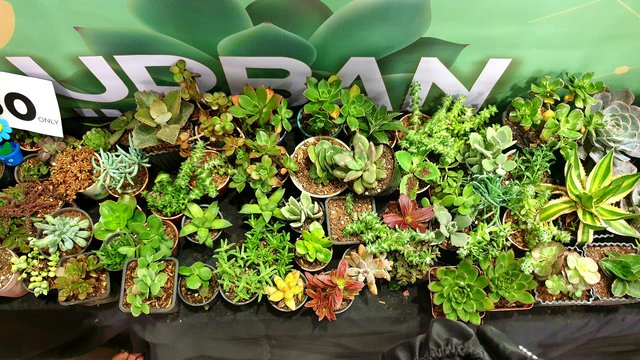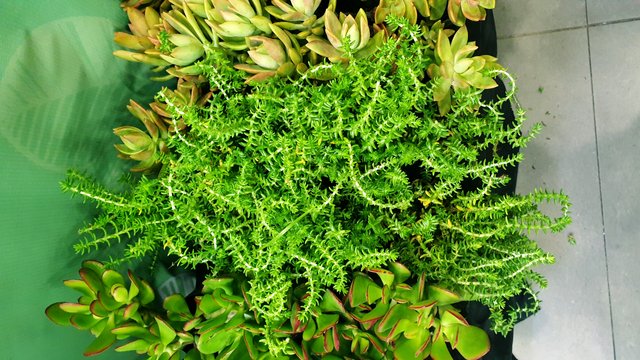 There were cacti, and some strange things, that I thought were either amazing or cuter than I thought. Let's take a look at them.
It was my first time seeing this plant. I do not know long I just stood there just looking at it. When my fellow on-lookers started to make comments, I asked the seller.
"Is this cactus?"
"Yes, ma'am."
"What kind of cactus?"
"Brain cactus."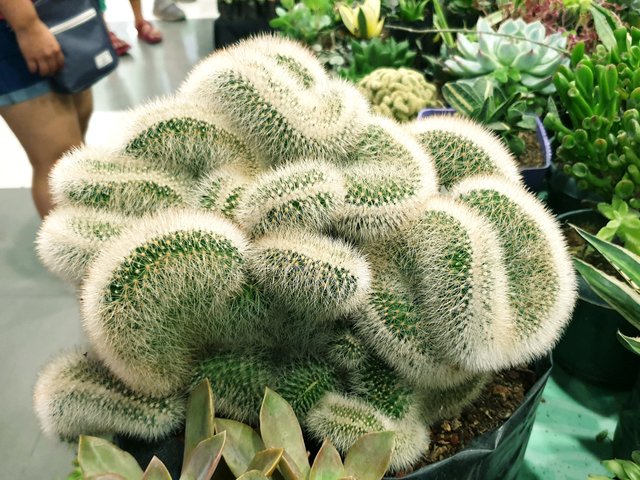 "Is it really like this? Is this normal?" I meant the looping "I don't know how to call it."
"Yes, ma'am. That is how it really is."
"How much is it?"
"Eight K, ma'am."
"Eight thousand pesos?!" I exclaimed asking and stared at the seller. She looks like someone from the Cordillera region. All of them on the rounded tables in front of the exhibit actually look like they are from the Cordilleras but I hesitated to ask.
"Yes, ma'am. That's the price."
I continued to stare at the brain cactus. Though it was really amazing, I will not buy something like this with such price so I shut up. I feel awkward to keep asking about a merchandise when I made up my mind that I will not buy it anyway. Eight K in our currency is about US $153.00, by the way.
I moved on to the next table and continued to look around. To my left are these two women trying to decide what to buy and I smiled to myself. The succulents look like just another of the "grasses" I knew. I saw most of these in Benguet. Then suddenly, the two lady sellers spoke in Kankana-ey dialect. Aha, I was right! These people on this side of the exhibit are from the Cordilleras where Benguet is a part of. Cordillera region is in the northern part of the country.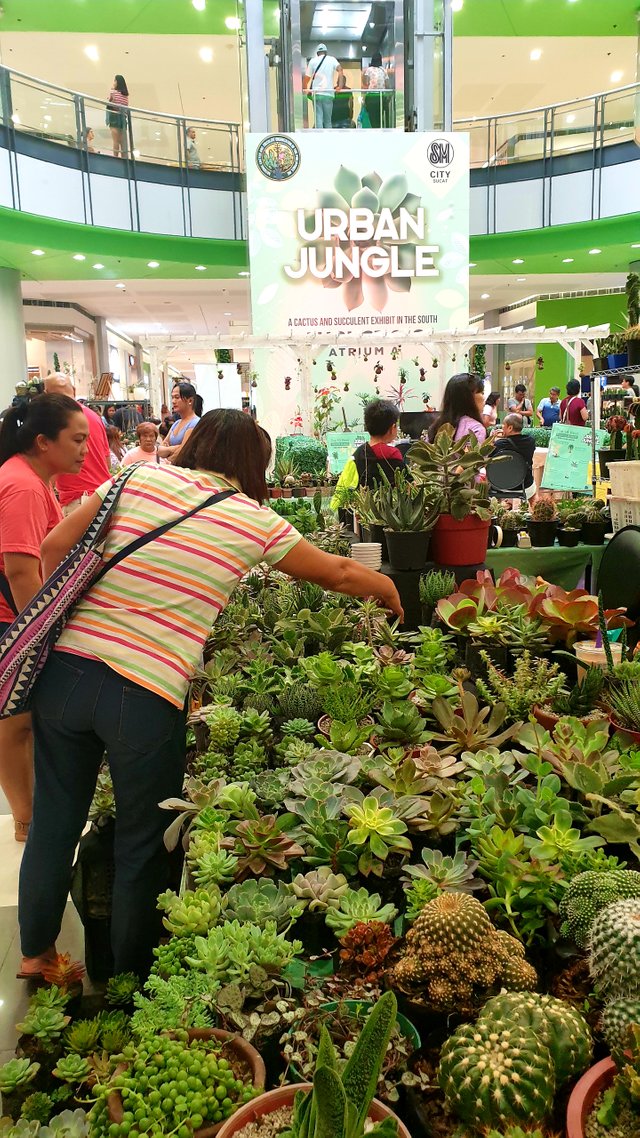 I started a conversation with them, in Ilokano dialect.
"Ah, you folks are from Baguio? I mean Benguet?"
"Yes, we are from Benguet. We are from Buguias," one of them answered smiling. Buguias is a municipality in Benguet.
"Do you have garden shop in Baguio?"
"No. In Cubao. Farmers." That is a market place in Quezon City, Metro Manila.
"Cubao?! So you ladies are really staying here in Metro Manila."
"Yes."
"All of you in this area are from Benguet, right?" I motioned to the area that I was referring to.
"Yes. All of us here on this side." She too motioned towards the area that I just did.
"And those on the other side are not. But I can not place them."
"Ah, those in that area are from Mindanao." That is in the southern part of the country.
"It's a good thing that you got the chance to join the exhibit here. But then look at your prices. The hundreds outside are thousands here!"
She smiled and said, "Department of Agriculture in Benguet made partnership with SM for this exhibit and we were the ones invited to come. The very high price is because of the rent to this place. It is very expensive. Unlike if you come to Farmers."
It was good to know about our government agencies' projects to boost agriculture in the country.
I was smiling with my eyes wide open when I saw these lines of colors. I asked the seller if those are natural flowers because I can not believe it.
"Yes, ma'am. Those are all natural flowers of the cactus." So this is another cactus variety.
"How do you call it?"
"Moon cactus."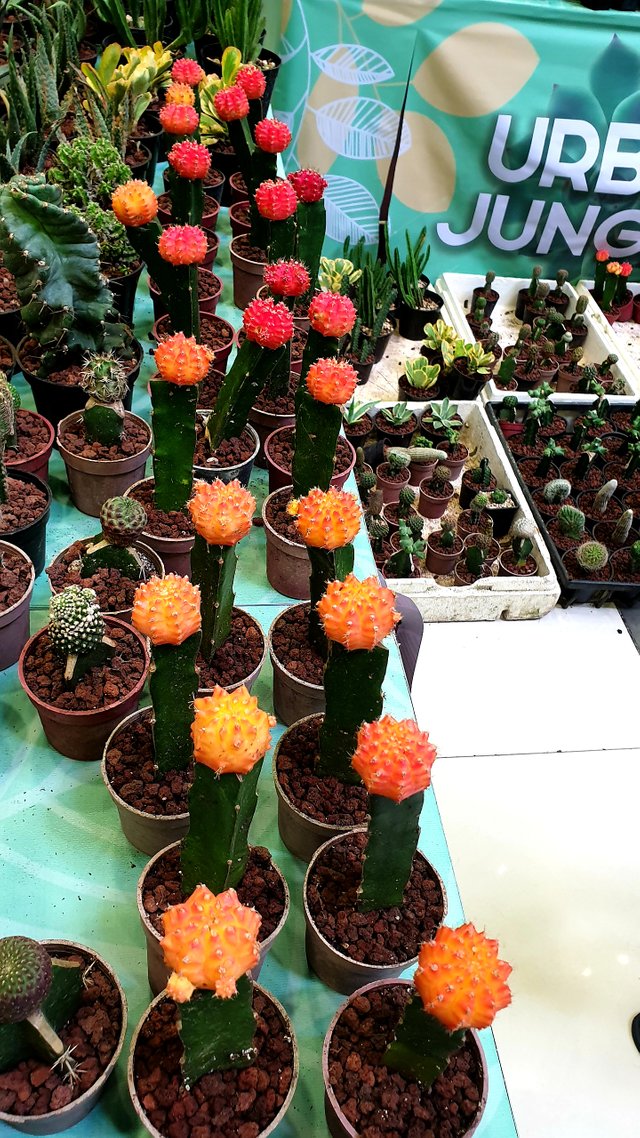 I was convinced that those are natural flowers when I saw this fly on one of them. That tells me that the fly smelled the natural scent of the flowers. Whatever scent it is, I did not try smelling them.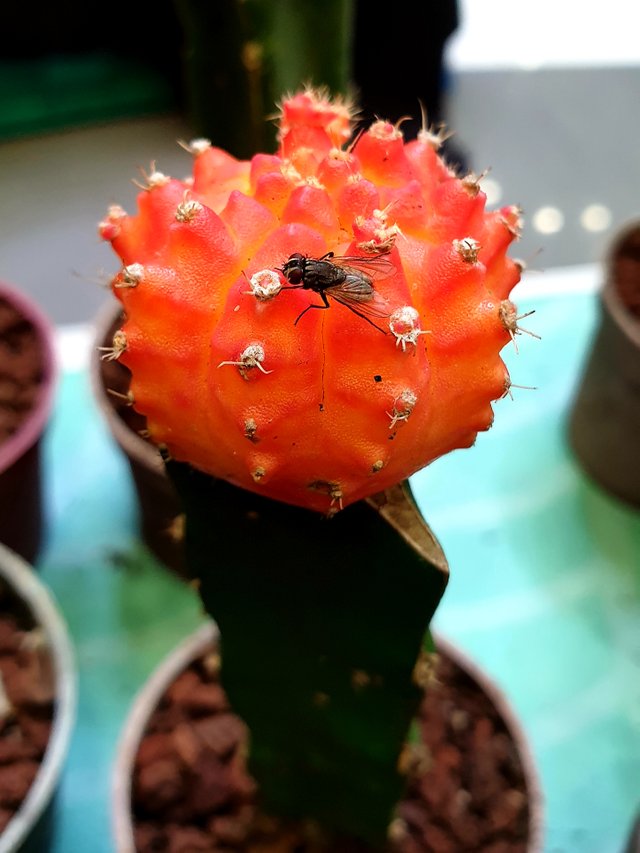 I was already laughing as I approached the table with these cute creations. I thought these were stones and wondered how a very ordinary matter can be worth an exhibit and has monetary value that it can be sold.
"Are these stones?" I asked as I tried to touch one of them.
"No, ma'am. Those are plants. Succulents." I stared at the seller.
"Plants?! How do these become succulents?" The seller laughed at me. I continued, "what do you call them?"
"Lithops."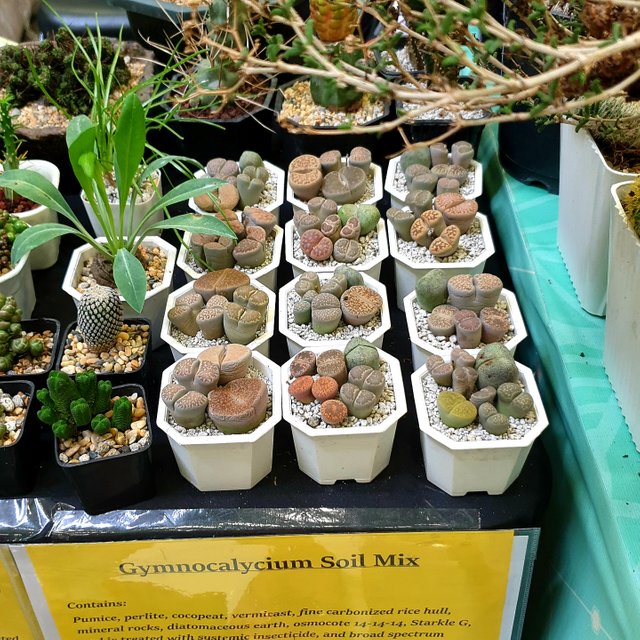 I thought she was the only one having lithops but there were more as I went around. They are just not so obvious in a jungle of green succulents.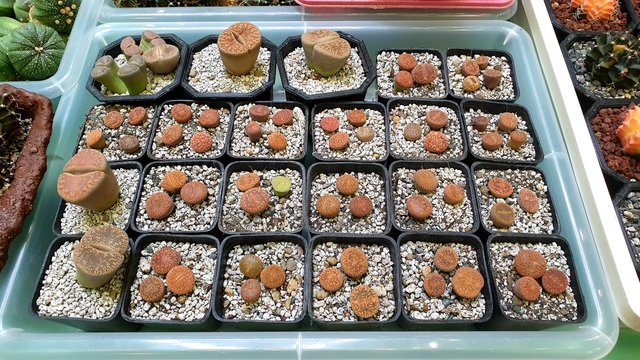 Now these Christmas-y cuties. They look like Christmas decors that were just put on pots. I did not notice the difference until after some time of looking at them. Notice there are like spherical shape at the back of the tray while others are like dome or half of the sphere. The seller was saying these are of gymno and mihanos varieties. The seller said the ones half-sphere like this are mihanos while the spherical ones are gymnos.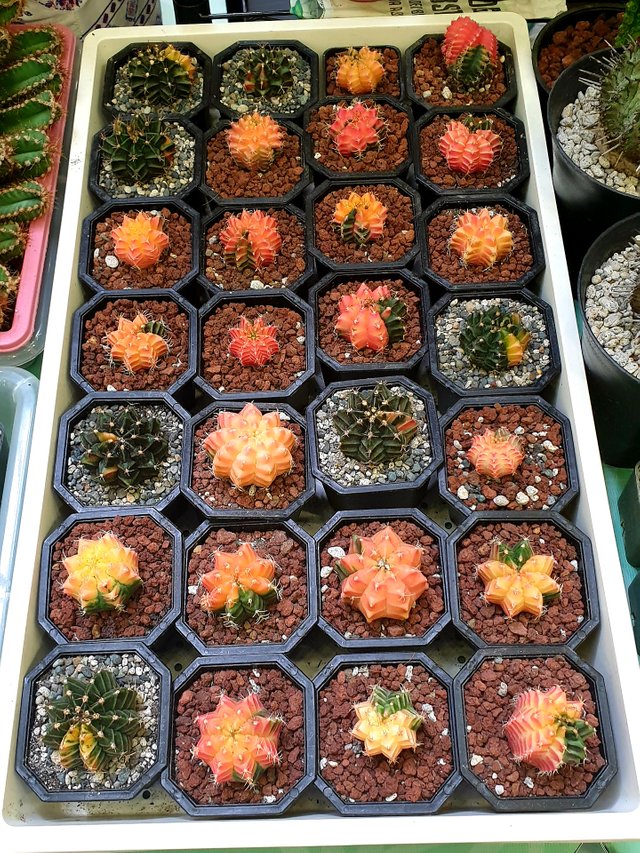 So this one is a mihano.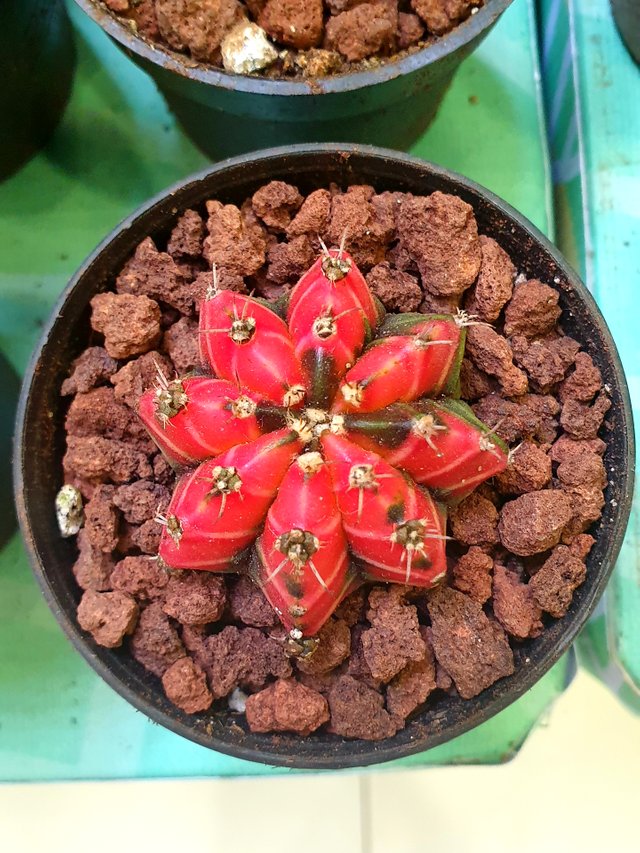 Right next to the gymnos and mihanos is this more colorful tray of Christmas decors! Yeah, they look more like Christmas decors than plants to me.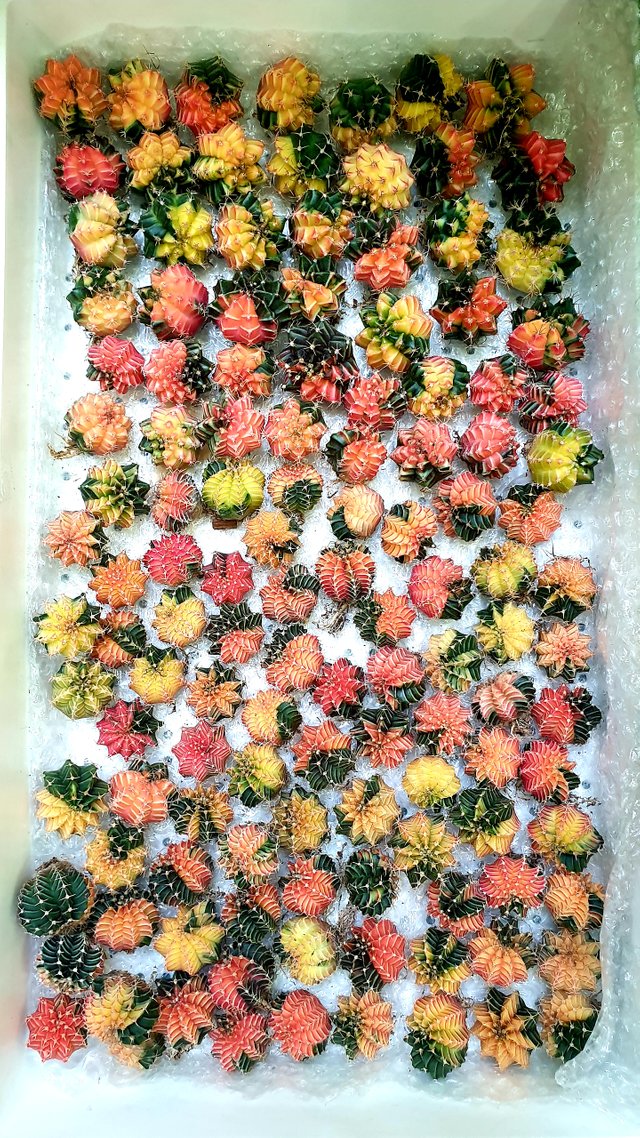 However when I picked one of them and murmured, "so this one is a gymno." The seller heard me and said no.
"That type is aquadon."
Okay. I have to be more observant to know the difference.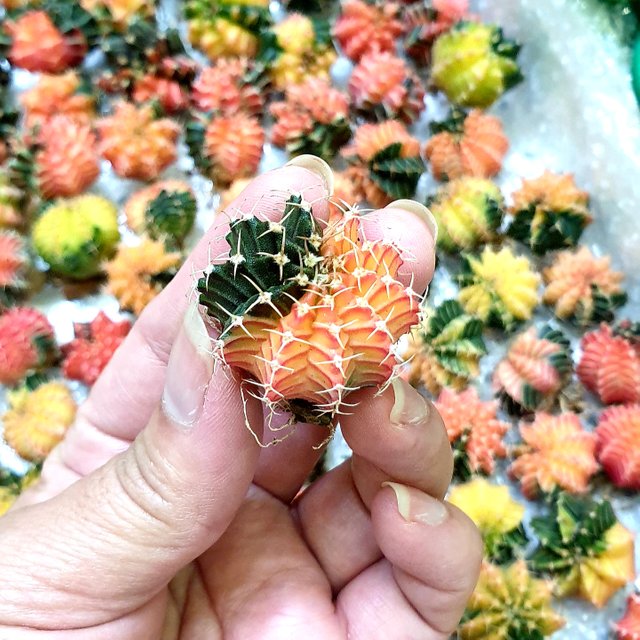 I flipped it over to see if it has roots and convince myself that it is indeed a plant, not a plastic decor. Indeed, it has roots! There is the proof.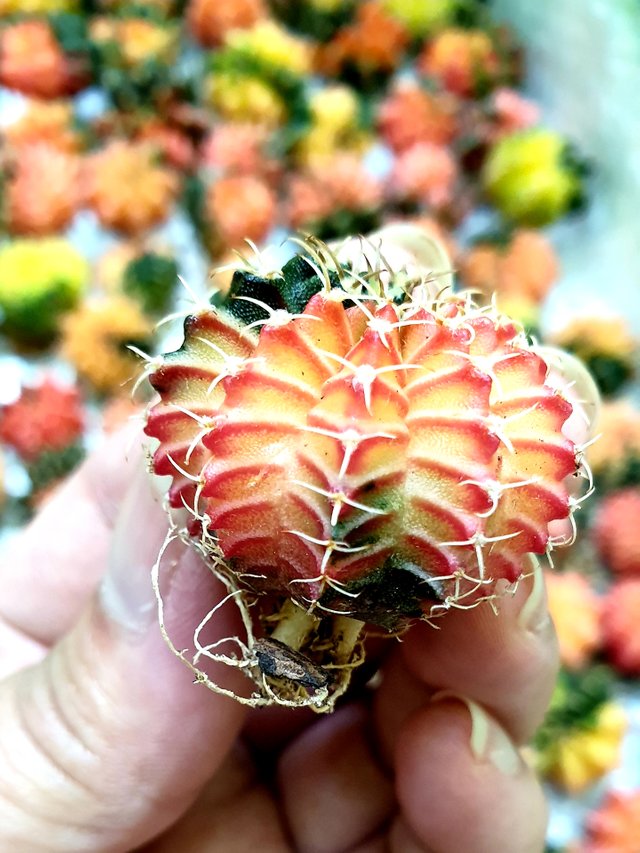 I asked how much is one piece and the seller signaled one with her index finger.
"One hundred pesos?" I was about to buy a few pieces.
"One thousand." Ah no, thank you. I put the one I was holding back into the tray.
On the next table, I noticed this weird-looking piece. "Scary," I thought. But it is very unique. I asked its name and the seller pronounced three words that not one registered in my brain.
"Maybe the scientific name," I thought and I stood there looking blank. She laughed at me.
"Okay. Just cactus, ma'am" she said and continued laughing. What was that, my third laugh for the day at my ignorance abour cacti?
"Okay, yes. Cactus. Let's not stress ourselves." I replied and laughed along.


I made a Google image search and the result says "flowerpot." Does anyone know the name of this scary cactus?
On to the other tables. What caught my attention by this cactus is its color. The other cacti have whitish green colors while this one is very green. I smiled back at the smiling duckling pot. The seller smiled back at me and started the conversation.
"Ma'am, you want it?"
Instead of answering the question, I asked "what is it?"
"Coral cactus."
"It looks so cool and fresh."
"It is good as indoor plant. It can also be put outdoor."
"How much?"
"Three five." Three thousand five hundred pesos. I think that is fairer than the 8K of the brain cactus. I almost bought this. While I was trying to make up my mind, the seller made his sales talk.
"This was supposed to have be bought the other day but we did not sell it yet because of the competition yesterday. This actually won the competition."
"What competition?"
"There was a competition of most beautiful cactus here yesterday and this one won." I got more convinced to buy it. But I held on... Am I really spending 3.5K for the day for a table ornament? Yes, I thought I would put it on my table. No, I won't spend 3.5K for that. I got stingy after all. I turned my eyes to the next table.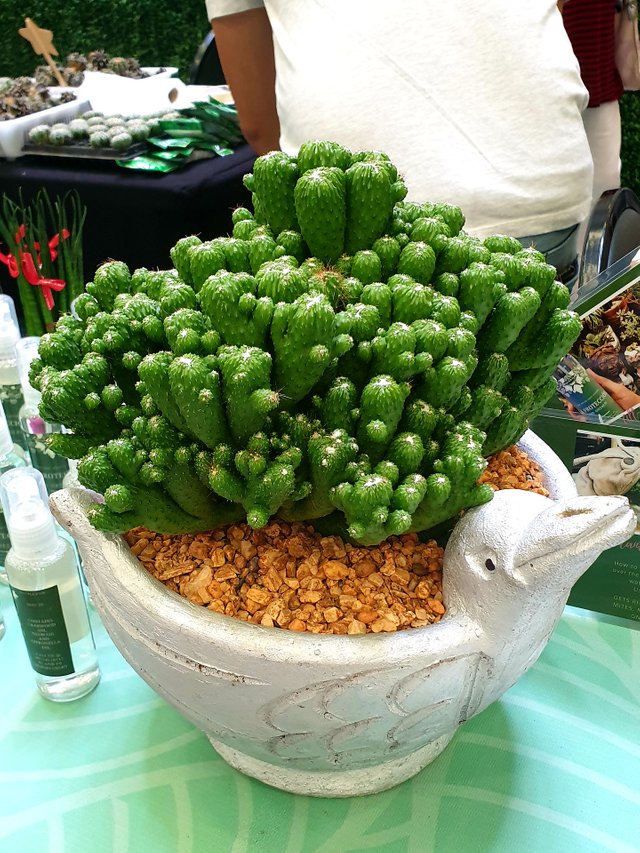 I see this plant in most botanical shops though I never bothered to ask its name. This time, I did.
The seller answered, "money tree, ma'am."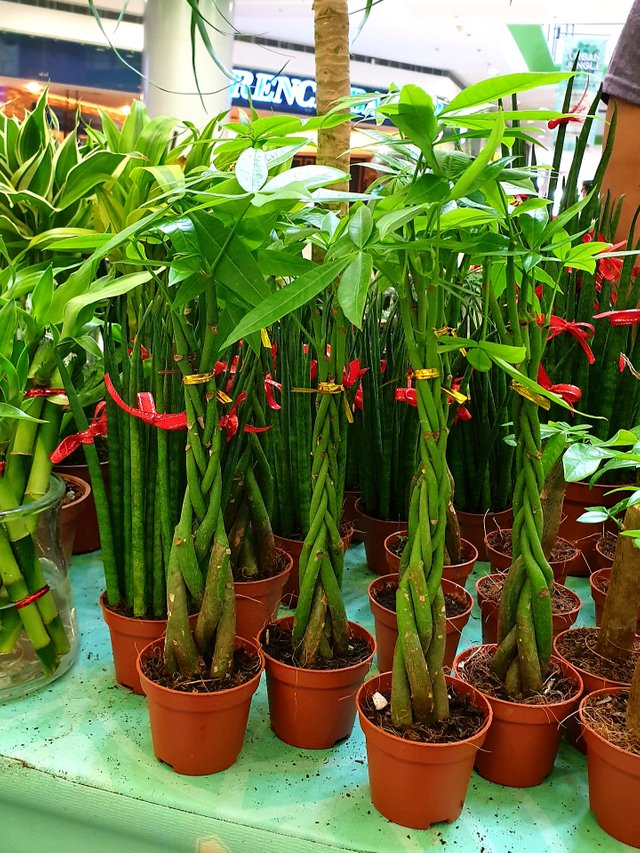 A woman beside me who was also looking at it squeezed into the conversation.
"So, is this making money?" she asked.
"Ma'am, I will not sell that if it produces money," the seller answered.
I wanted to burst into laughter. It was a good thing that I did not because the two just kept quiet. What's wrong with these people? Both of them failed to see the humor in both of their statements. I moved on...
I thought of the brain cactus again. I wondered how old it is so I went back to the table where I saw it. I asked the seller how old it is.
"Eight years, ma'am."
"Eight thousand pesos for eight years," I murmured and the seller smiled.
"Yes. I was still pregnant when I started taking care of it. My child is now in the first grade," she said while she caressed a loop of the cactus yet very careful not to be pricked.
So she took care of this along with her child. What a story! That was when I realized that eight thousand pesos is cheap and not enough if I consider it as a means of livelihood. I was sorry though, I am still not buying it.
She held out a small brain cactus in a plastic pot and said it is much cheaper because it is still small and is the yellow variety. Ah, I wondered what makes white more expensive than yellow. Now that I have a cheaper option, I asked myself if I really want it. No. I continued my rounds.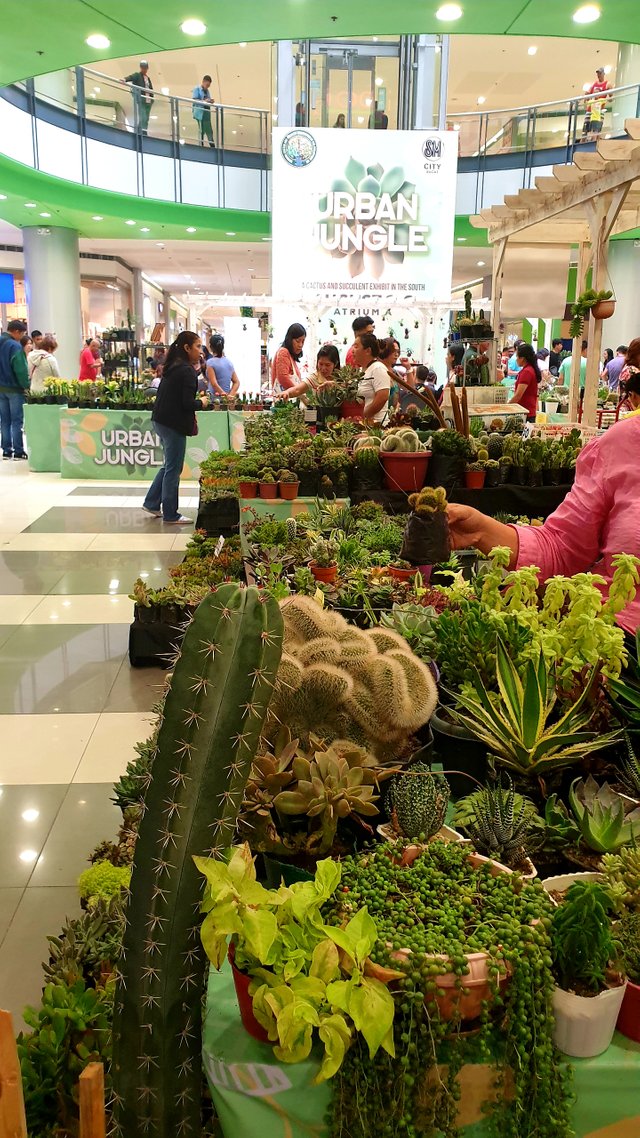 This one was on a table in the middle of tables and not readily accessible by buyers or on-lookers like me. It was on a table where the sellers are from Cordilleras so I know the seller of this will understand me if I speak in Ilocano. He was busy with his phone so I said my excuse to catch his attention. I asked him if I can get inside, pass the display table in front, and take a shot of the cactus.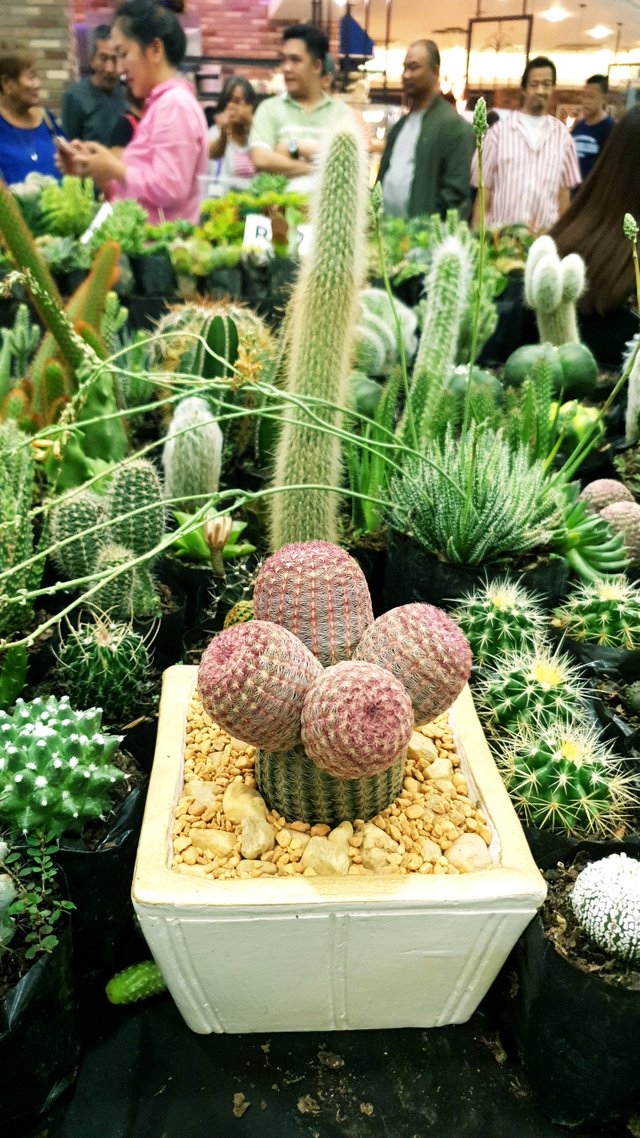 He smiled and said "Ah wen, mabalin". "Sure, you can." then went back to his phone. That made me shy to ask the name of the cactus. If anyone knows the name of this, please let me know.
To the right of that table was a busy woman entertaining her customers who were buying several pots of the succulents and cacti. I watched as she prepare the bought items and that she wraps each pot with newspaper before putting them in the plastic bag. That is to protect each plant from colliding with each other until they reach their destination.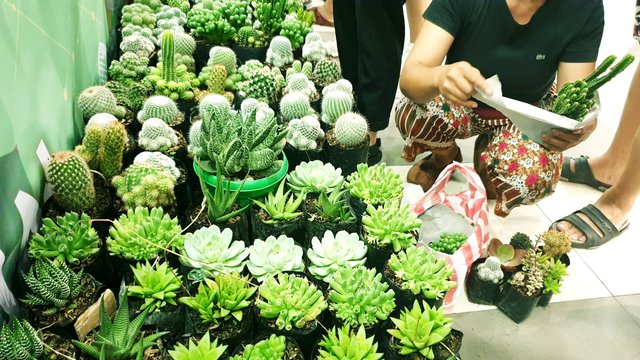 I made few more rounds and got, I guess, hundreds more of photos. When I thought I am done, I went to the center of the exhibit and took photos of these stands. For those who want to know more and have indoor plants at home, here are the recommendations.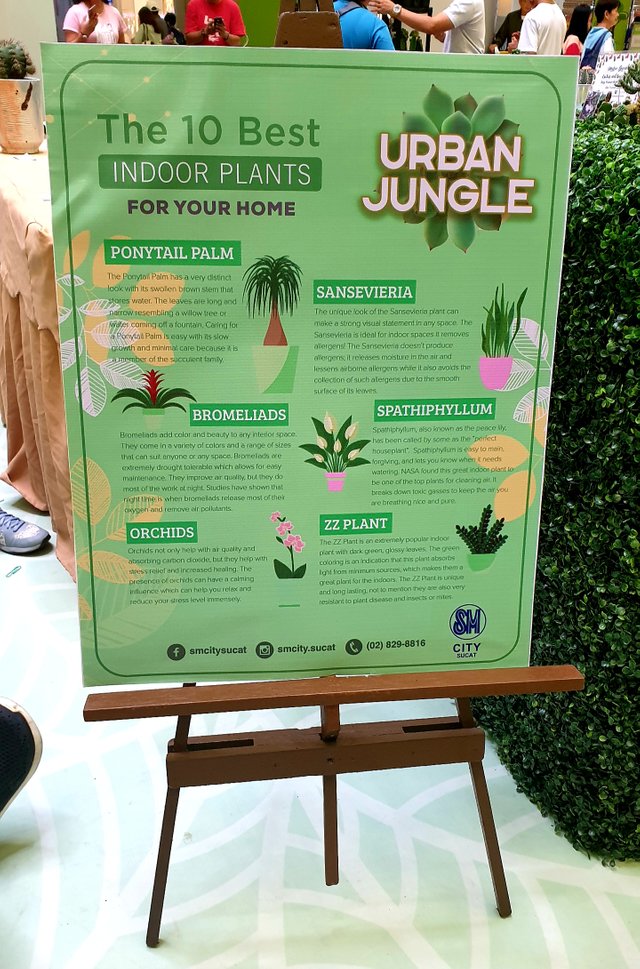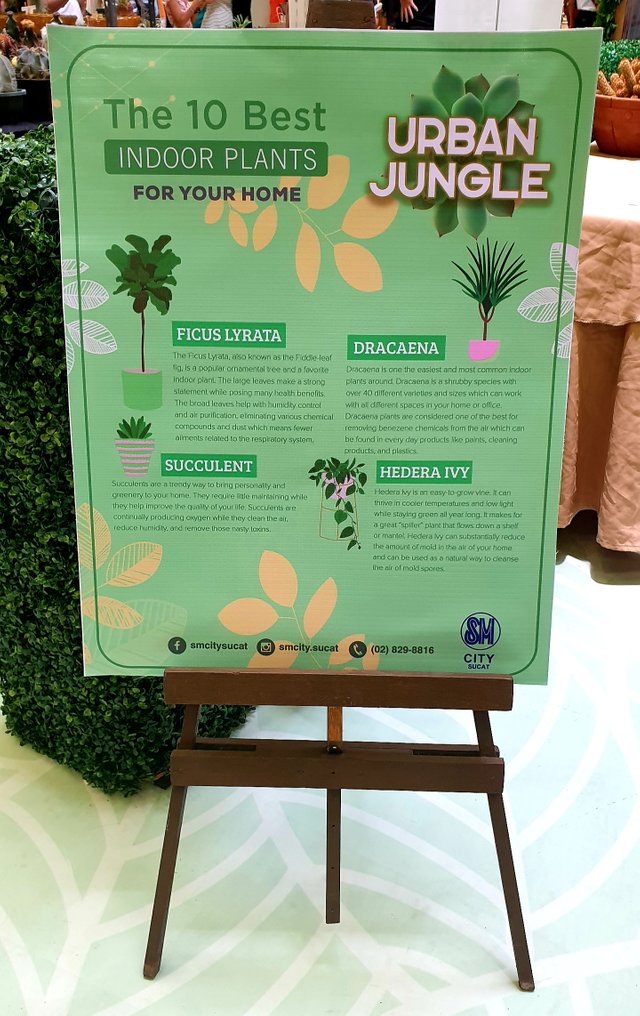 Maybe I will share more of the photos on a next post but that is it for now. I gotta go run for a shower and get ready for work, at pass ten in the morning!

Join #ccc for Guaranteed 👍 Daily Income 💵 and Payout 💸 for Newbies (2.0) 🐟 🐜 🐛 in #ccc 👣 and Follow 👣 the Honor Code 🏅 - the Creed (Conditions and Limits Inside) AND the latest update <<< please click to read.