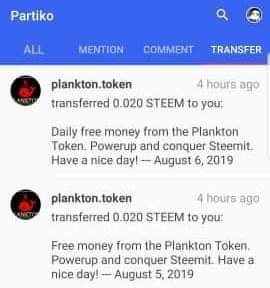 Plankton token gives me 0.020 Steem daily and it always makes me smile. I wonder if it will ever go up, I better ask @mermaidvampire this question. The Plankton Token is a small project but it gives me that amount passively at this point. If ever they make it big, I wonder if they will share an even bigger amount for everyone to enjoy.
I can imagine being able to buy a burger one day with just my passive earnings from PLKN. That's just a wild dream now but I am hoping all goes well with Steem and it happens and the Plankton community will benefit from small projects like Plankton without having to do so much work.
I love my investments working for me. As early as now I can pretty much tell the money I invested in Plankton Token was not a waste because of the passive income it gives me daily and the vote I get from @plankton.token and @mermaidvampire earns me Steem, PAL, LEO, Neoxag, ZZAN and many other tribe tokens that they stake.
I feel for this project because Plankton Token is a real project with their investors in mind. I'm proud to own PLKN tokens, I think every little small fish in Steemit should, own some, too.
Posted using Partiko Android