Cześć! 
Uwielbiam dobrze zjeść!
Dlatego dziś podsyłam Wam genialny i prosty przepis na wegańskie spaghetti z czerwoną soczewicą.
Od tego dania wszystko się zaczęło ;) Niebawem rozwinę Wam ten temat bardziej szczegółowo... 
Podstawowe pytanie: GDZIE JEST BIAŁKO? ;)
Czerwona soczewica zawiera ok 24g białka na 100g, czyli podobnie co wysokiej jakości(!) mięso mielone.
Zaletą jest lekkostrawność tego dania, bo nie wiem czy wiecie, ale mięso trawi się nawet do 6 godzin. 
To danie jest dobrą alternatywą dla klasycznego spaghetti bolognese.
Przepis jest dobrą bazą, którą można dowolnie modyfikować... Puście wodze fantazji, dodajcie swoje ulubione składniki (papryczka chilli, cukinia, avocado, kapary, płatki drożdżowe, ...)
CO Z GLUTENEM? 
Jeśli jesteście na niego uczuleni, to śmiało zastąpcie makaronem pełnoziarnistym lub kukurydzianym.
Tymczasem cieszcie się przepisem, sprawdźcie go konieczne nawet jeśli nie wyobrażacie sobie posiłku bez mięsa.  
Lubicie eksperymentować w kuchni?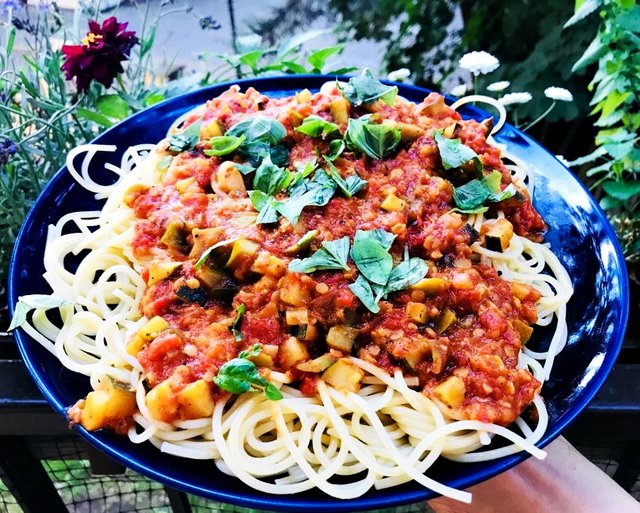 Danie na 4 porcje
PRZEPIS
SKŁADNIKI:
500g - makaron spaghetti
100g - soczewica czerwona (2/3 szklanki)
3 łyżki - oliwa z oliwek
1 średnia cebula
2 ząbki czosnku
1 średnia marchewka
garść oliwek
garść pomidorów suszonych (lub 7 sztuk z zalewy)
700ml - przecier pomidorowy (ze słoika, gęsty, mają być przetarte pomidory)
przyprawy: sól, pieprz, chilli, bazylia, oregano
PRZYGOTOWANIE:
zagotować 5l wody i wsypać 50g soli - 2,5 łyżki (idealne proporcje:100g makaronu, 10g soli, 1l wody)
zalać wrzątkiem soczewicę na ok 10 min i przykryć
na patelni rozgrzać oliwę z oliwek, podsmażyć pokrojoną w kostkę cebulę, za chwilę dodać drobno posiekany czosnek, startą na grubych oczkach marchewkę... dusić pod przykryciem 5 minut
dodać posiekane oliwki i suszone pomidory, następnie soczewicę
zalać przecierem pomidorowym, wymieszać, dusić pod przykryciem ok. 8 minut
dodać przyprawy w ilości wg uznania
posypać zieleniną: bazylia/ pietruszka/ szczypior
*podawać z lampką, dobrego, wytrawnego czerwonego wina... ;)
Smacznego!
------------------------------------------------------------------
Dish for 4 servings
RECIPE
Ingredients:
500g - spaghetti pasta
100g - red lentil (2/3 cup)
3 tablespoons - olive oil
1 medium onion
2 cloves of garlic
1 medium carrot
a handful of olives
a handful of dried tomatoes (or 7 from pickles)
700ml - tomato purée (from jar, thick)
spices: salt, pepper, chilli, basil, oregano
Preparation:
boil 5l of water and add 50g of salt-2,5 ml (perfect proportions: 100g of pasta, 10g of salt, 1l of water)
pour the lentils boiling water for about 10 minutes and cover with boiling water
warm olive oil on the frying pan, fry the diced onion, add the finely chopped garlic, grated carrot on the thick mesh ... stew under the cover for 5 minutes
add the chopped olives and dried tomatoes, then the lentils
pour the tomato paste, mix, simmer covered for about 8 minutes
add spices according to your taste
sprinkle with greens: basil / parsley / chives
* serve with a glass of good, dry red wine ...;)
Bon Appetit!