Dziś kolejny temat z tych dominujących na blogu czyli o bieganiu i treningach (Planuję również cykl o Teneryfie – gdzie pojedziemy w podróż poślubną, ale wszystko w swoim czasie).
Dziś opis wtorkowego treningu tempowego.
Trening obejmował:
rozgrzewkę,
część główną czyli 2x200 metrów (przerwy 200 metrów w truchcie) + 4x400 metrów + 2x200 metrów,
schłodzenie – swobodny trucht,
rozciąganie,
rolowanie.
Today the post will be about one of the most dominating topic on this blog so about another running workout (I also plan cycle about Tenerife when we will go on honeymoon but all in good time). No I would like to share with you my Tuesday workout).
Training included:

warm-up,
main part: 2x200 meters (on 200 meters break jog) + 4x400 meters + 2x200 meters,
cooldown,
stretching,
rolling.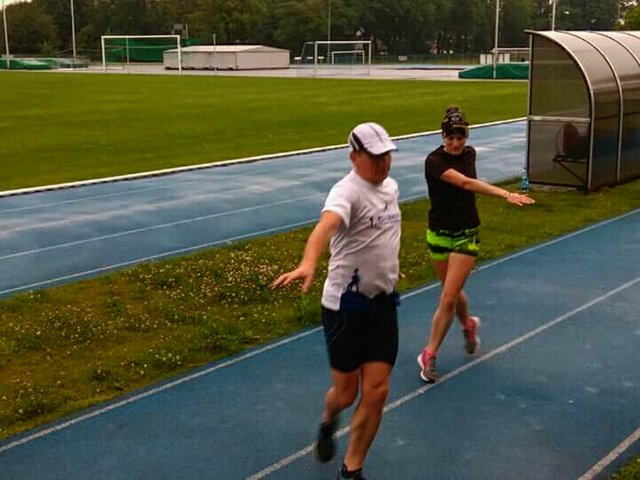 Rozgrzewka in progress! // Warm-up in progress!
Tego dnia pogoda była iście deszczowa jednak tuż po rozgrzewce przestało padać, a dla mnie ta pogoda była wręcz wymarzona na tempo. Powietrze było dość rześkie, nie przytykało, tak można trenować. Idealnie!
Miałam również idealnego sparing partnera, który pomagał mi w treningu za co jestem ogromnie wdzięczna, bieganie z kimś to czysta przyjemność.
It was really rainy day but just after warm – up it stopped raining and for me that was ideal weather for that kind of training. The air was fresh, ideally for training!
I had also ideal sparring partner who helped me and whom I am very grateful.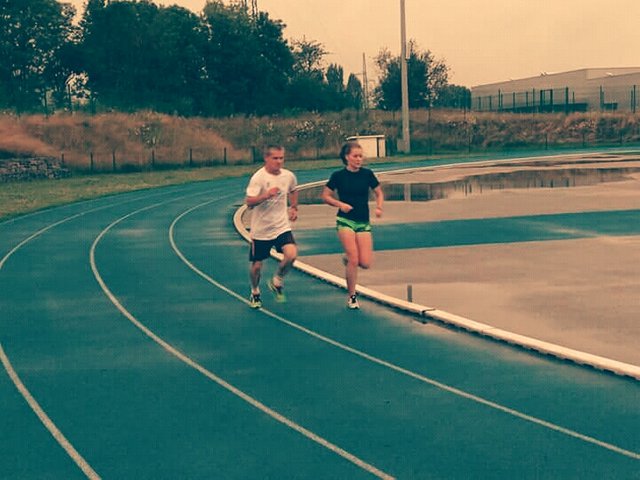 Działamy! // We're running! Amazing!
Dzięki powyższym warunkom trening zrealizowany z satysfakcją, a nawet troszkę za mocno wyszło jak na obecny etap przygotowań. Uzyskaliśmy następujące tempa: 44 sekundy i 40 sekund dla dwusetek, następnie 400m: 1:27/1:25/1:26/1:25, następnie dwusetki: 39 i 38 sekund.
Trening skończyliśmy z satysfakcją i energią na kolejne sesje 😊!
Thank to ideal conditions training has been done with satisfaction, even it was too strong as on this stage of preparations. We have run those distances as follows: 44 and 40 seconds (2x200), next: 1:27/1:25/1:26/1:25 (4x400) and 39 and 38 seconds (2x200).
We have ended this training with big smile, satisfaction and energy for next sessions :-)