Witajcie,
Dziś (po zbyt długiej przerwie) rozpoczynamy piętnastą edycję Konkursu Kreatywnego. Konkurs ma na celu promocję tagu #pl-rekodzielo oraz ma zachęcić Was do dzielenia się swoimi, własnoręcznie wykonanymi pracami.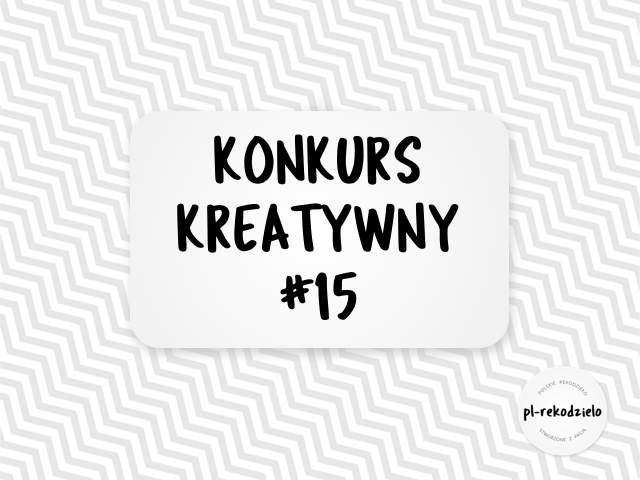 ---
Temat konkursu:
Temat Konkursu Kreatywnego #15, jak to zazwyczaj bywało, jest związany z nadchodzącym wydarzeniem. Wielkimi krokami zbliża się Dzień Dziecka, zatem temat konkursu to: Zabawka.
Aby wziąć udział w konkursie należy napisać post, w którym pokażecie własnoręcznie wykonane przedmioty nawiązujące do zadanego tematu. Mogą to być: maskotki, lalki, poduszki, gry, maty, książeczki lub cokolwiek innego co tylko przyjdzie Wam do głowy. Liczy się pomysł oraz kreatywne podejście do tematu.
Zasady konkursu:
należy opublikować wpis na zadany temat,
wpis musi być napisany w języku polskim,
wpis należy oznaczyć tagiem #pl-rekodzielo, a w tytule wpisu podać dodatkowo słowo: "konkurs",
wpis powinien zostać opublikowany we wskazanym terminie,
w konkursie mogą wziąć udział wyłącznie osoby z polskiej społeczności.
Przebieg konkursu:
czwartek 16.05.2019r. - publikacja postu z tematem konkursowym,
czas zgłaszania wpisów konkursowych - od momentu ukazania się tego postu do niedzieli 26.05.2019r. do godziny 23:59,
poniedziałek 27.05.2019r. - publikacja wpisu z listą zgłoszonych prac konkursowych (tzw. wpis z głosowaniem, w którym zostaną podane zasady głosowania),
czas głosowania - od momentu ukazania się postu z listą wpisów konkursowych do soboty 01.06.2019r. do godziny 23:59,
ogłoszenie wyników - po 02.06.2019r.
Nagrody:
Dla zwycięzców konkursu przewidziana jest nagroda w wysokości 10 STEEM plus suma płynnych środków (SBD i STEEM) zdobytych przez ten post oraz przez post z głosowaniem.
Podział nagród będzie następujący:
I miejsce - 50% nagrody,
II miejsce - 30% nagrody,
III miejsce - 20% nagrody.
---
Konkurs Kreatywny #15 uważam za rozpoczęty!
Zapraszam do wzięcia udziału w konkursie i życzę dobrej zabawy podczas wykonywania swoich prac.
Pozdrawiam :)