Żeby go zrobić, potrzebne są nam dobry apetyt, banany, litrowy słoik, ciepła woda. I już!
Jedną, maksymalnie dwie skórki od bananów wkładamy do słoika i zalewamy ciepłą wodą, słoik zakręcamy, ale nieszczelnie. I już!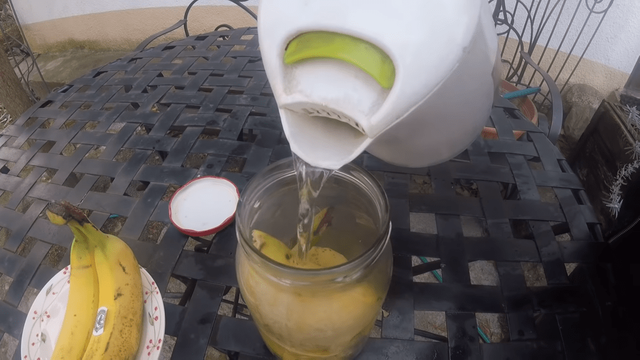 Skórki bananów zalewamy ciepłą wodą, zamykamy szczelnie i czekamy ok. 2 tygodni. 
Po tygodniu, dwóch nawóz będzie gotowy. 
Co takiego mają w sobie skórki bananów? 
Jest w nich dużo potasu, fosforu i innych soli mineralnych, które pod wpływem fermentacji będą jeszcze bardziej skuteczne. Jest to mieszanina równie bogata co obornik, czy gnojówka. 
Taką wodą podlewamy rośliny kwitnące na balkonie, w domu, ale też róże, byliny kwitnące, które mamy w gruncie. 
Skórki z bananów można pokroić i dodać do kompostownika, gdzie przyspieszą fermentację. 
Można też je pokroić, położyć na papierze i wysuszyć na słońcu (wystarczy położyć je na parapecie), następnie zmielić i takim proszkiem wymieszanym z ziemią podsypywać rośliny. 
A jak ktoś nie ma tyle czasu, to wystarczy skórki pokroić i zakopać obok roślin rosnących w glebie. Tylko nie w doniczkach! Bo tam zgniją. 
Autor: Grzegorz Majda
Tekst: Kam