Is There A #PedoGate Connection to the 2017 Las Vegas Mass Shooting?
Leaving to one side the issue of if this was a psyop or an event exactly as described by the MSM, and the occult elements of the Pyramid, Obelisk, Sphinx and so on...let's focus in on some interesting facts relating to two of the main players.
Stephen Paddock was an IRS agent, then worked for Lockheed Martin and NASA. He was involved in a Jet Propulsion Lab (JPL) team to study spacecraft for Mars missions, working out of the Goddard Space Flight Center in Maryland.
https://www2.jpl.nasa.gov/releases/93/release_1993_0901.html
He has not worked since 1988 (1993?) but is worth approximately $5 million. He was a licensed pilot (since 2003) and owned 2 planes. A researcher on Reddit connected the tail number of his aircraft with a Defense contractor in Virginia. https://www.reddit.com/r/conspiracy/comments/748c8k/potentially_some_more_info_regarding_paddock/
Although his brother said he lived in a $350,000 house in Mesquite, NV, he and his girlfriend Marilou Danley lived together in Reno for at least 2.5 years as recently as July. Neighbors described the couple as recluses who would often leave for 6 months at a time. He had an "enormous" safe in his garage.
http://www.newsweek.com/las-vegas-gunman-stephen-paddock-neighbors-say-recluse-675584
Paddock worked for Space Shuttle booster maker Morton-Thiokol a predecessor of Lockheed Martin from 1985 to 1988. Morton-Thiokol's O-ring component on a booster rocket was later found to be at fault for the Space Shuttle Challenger disaster in 1986.
http://news.brevardtimes.com/2017/10/las-vegas-shooter-stephen-paddock.html
Lockheed Martin are the world's biggest arms dealer, and one of the Podesta Group's biggest clients.
"By far the largest amount of Lockheed Martin's lobbying budget is paid out to the Podesta Group, the powerful firm headed by the super-lobbyist, Tony Podesta. Lockheed Martin paid the group $550,000 in the years 2014, 2015, and 2016. Most of the issues the Podesta Group advocated for on behalf of Lockheed Martin were defence and aerospace issues."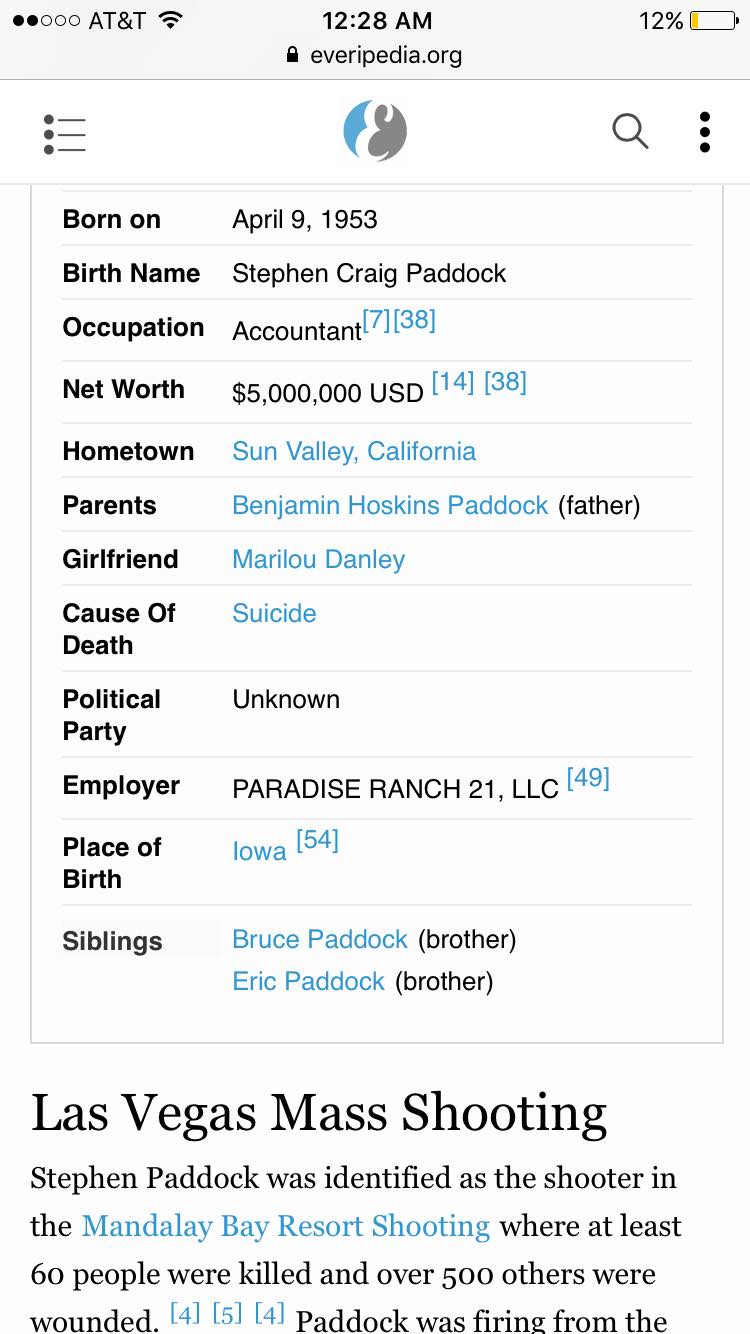 Paddock was a large gambler, with the highest status at Caesars Entertainment Properties in Las Vegas - Seven Stars Tier Status. He had been gambling with at least $160,000 over the past several weeks in Las Vegas. He had previously sued Las Vegas hotel the Cosmpolitan in 2012, he wanted $100,000 after slipping over.
https://www.nbcnews.com/storyline/las-vegas-shooting/las-vegas-shooter-wired-100-000-philippines-last-week-n807141
His girlfriend Marilou Danley, either 55 or 62, is a Philippino. She has 2 different Social Security numbers and was married to two men at the same time - both marriages happened in Clark County, NV. She has lived in multiple addresses at once and filed for bankruptcy in 2012
http://www.newsweek.com/marilou-danley-gunmans-girlfriend-social-security-number-677033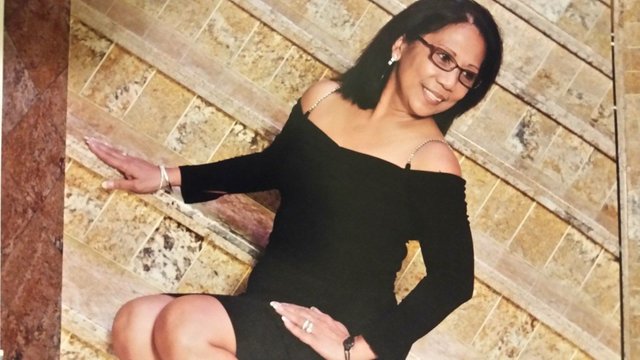 She is 4 feet, 11 inches tall, born December 12, 1954.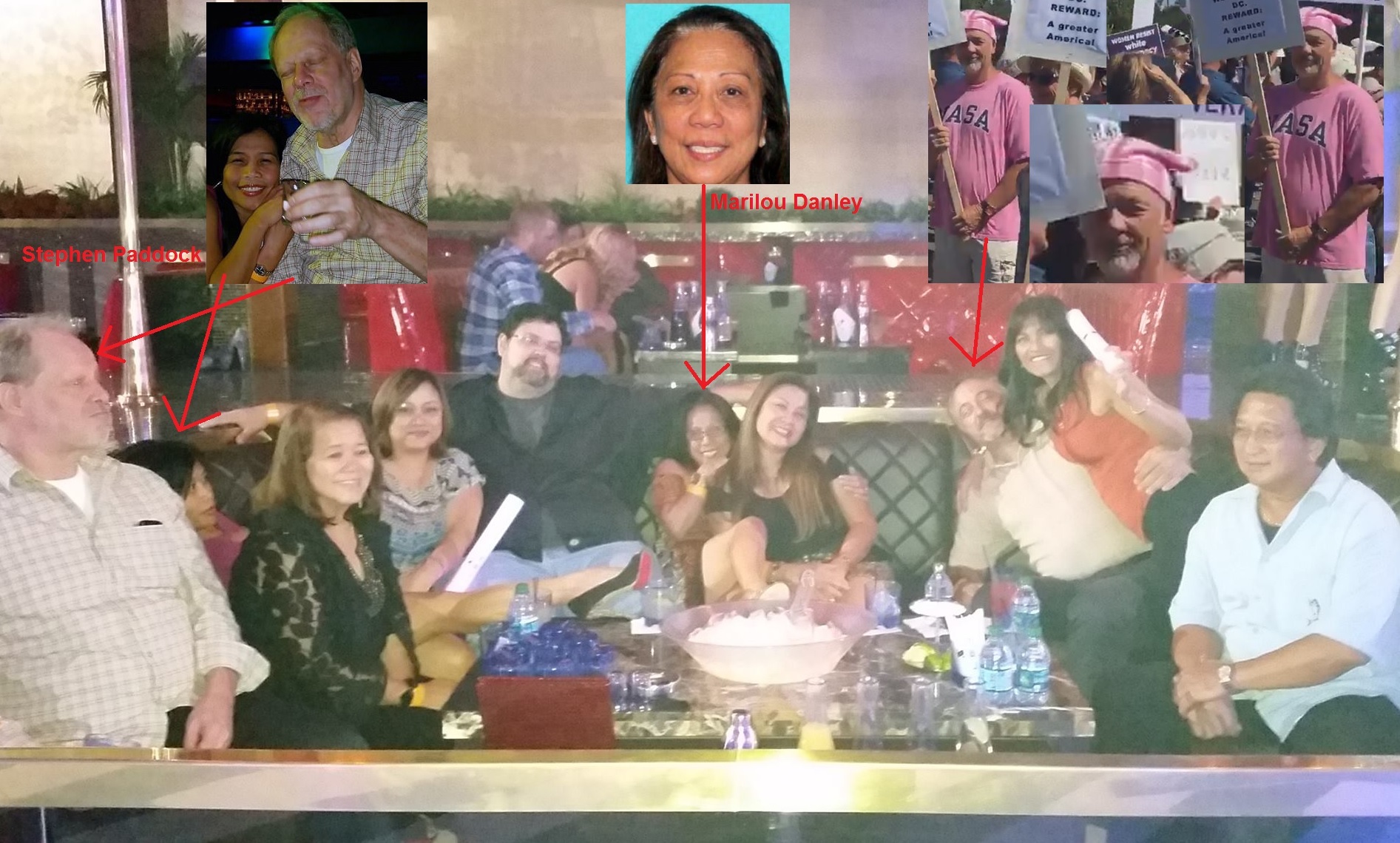 Her Facebook profile was deleted, but has been recorded here:
http://videos-db.com/en/play/RGpsTllGeGxZRjghtml
She was a 20 year resident of Australia and had lived in Nevada since 2003. Australian media reports claim Marilou Danley as an Australian citizen who lived in the Gold Coast, Queensland; but they also say that she lived in Reno, Nevada for 22 years. How did she get a visa to stay for so long? Her LinkedIn profile claims she was a High Limit Hostess at the Atlantis in Reno from 2010-2013
https://www.linkedin.com/in/marilou-danley-363468b2/
The name of the club where she worked at the Atlantis is "Club Paradise"
http://www.sacbee.com/news/nation-world/national/article176519766.html
Most of the Las Vegas Strip is in Paradise, Clark County - including the Mandalay Bay, Luxor, Excalibur, and Circus Circus, all owned by Mandalay Resort Group
https://en.wikipedia.org/wiki/Paradise,_Nevada
https://en.wikipedia.org/wiki/Mandalay_Resort_Group
Stephen Paddock used Marilou Danley's ID to check into his suite at the Mandalay Bay. This seems strange because as a high roller gambling 6-figure amounts, he would have had his suite comped by his casino host.
http://www.smh.com.au/world/location-nationality-of-las-vegas-gunmans-girlfriend-marilou-danley-remain-a-mystery-20171003-gytf74.html
The woman had attended the Route 91 Harvest event previously, in 2014, staying in the same casino.
"In 2014, Danley checked into the Mandalay Bay Resort and Casino in Las Vegas where Paddock was renting a room before he carried out the shooting. It is believed Danley attended the 2014 version of the same concert where the massacre took place, the Route 91 Harvest country music festival.
The Los Angeles Times spoke to Mesquite locals that knew the pair
Paddock was remembered for being nasty to Danley. "It happened a lot," Esperanza Mendoza, supervisor of a local Starbucks coffee shop in the casino recalled.
Whenever he and Danley came in for coffee she would offer to pay, Mendoza said.
"He would glare down at her and say - with a mean attitude - 'You don't need (a) casino card for this. I'm paying for your drink, just like I'm paying for you.'
http://www.nzherald.co.nz/world/news/article.cfm?c_id=2&objectid=11929591
In a 2015 divorce she listed a downtown Reno address owned by Stephen Paddock as her home
http://www.newsweek.com/vegas-shooters-girlfriend-who-marilou-danley-stephen-paddocks-female-associate-676353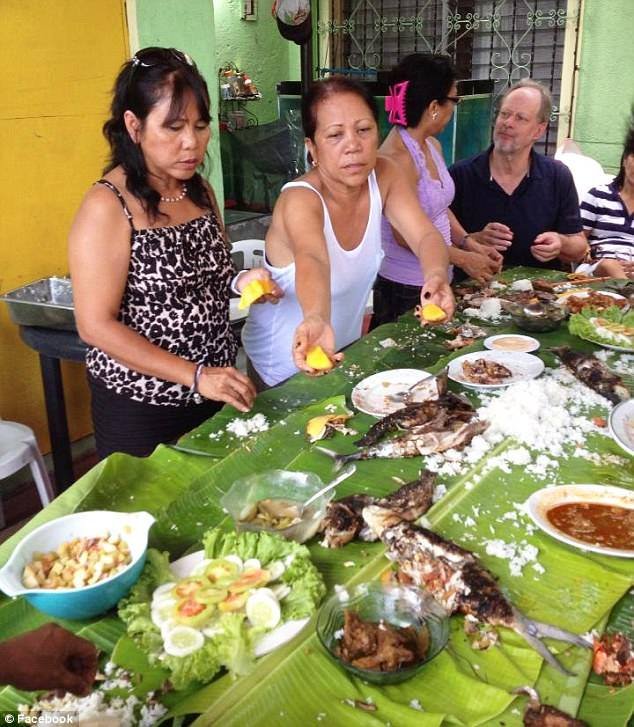 Stephen Paddock and Marilou Danley in the Philippines in 2013.
Source: Philippines President Duterte Facebook page
https://www.facebook.com/MetroManilaKilusangPagbabago/posts/1733073436989508
Travel records obtained by ABC News showed that she had traveled to the Philippines initially on September 15, before traveling to Hong Kong on September 22, before finally returning to Manila a week before the massacre. Authorities want to find out the purpose of her travel.
http://www.newsweek.com/vegas-shooters-girlfriend-marilou-danley-was-sent-away-philippines-shooting-677345
She was conveniently out of the country for 2 weeks in the Philippines at the time of the attacks, and Paddock had just wired $100,000 to the Philippines.
What for?
Well, his main company (since 2004) is called PARADISE RANCH 21 LLC. And by amazing coincindence, there happens to be a Paradise Ranch in the Philippines too.
https://www.corporationwiki.com/p/2bwjze/paradise-ranch-21-llc
https://www.facebook.com/paradiseranchofclark/
Now, could there possibly be any connection between that Paradise Ranch and the deep state?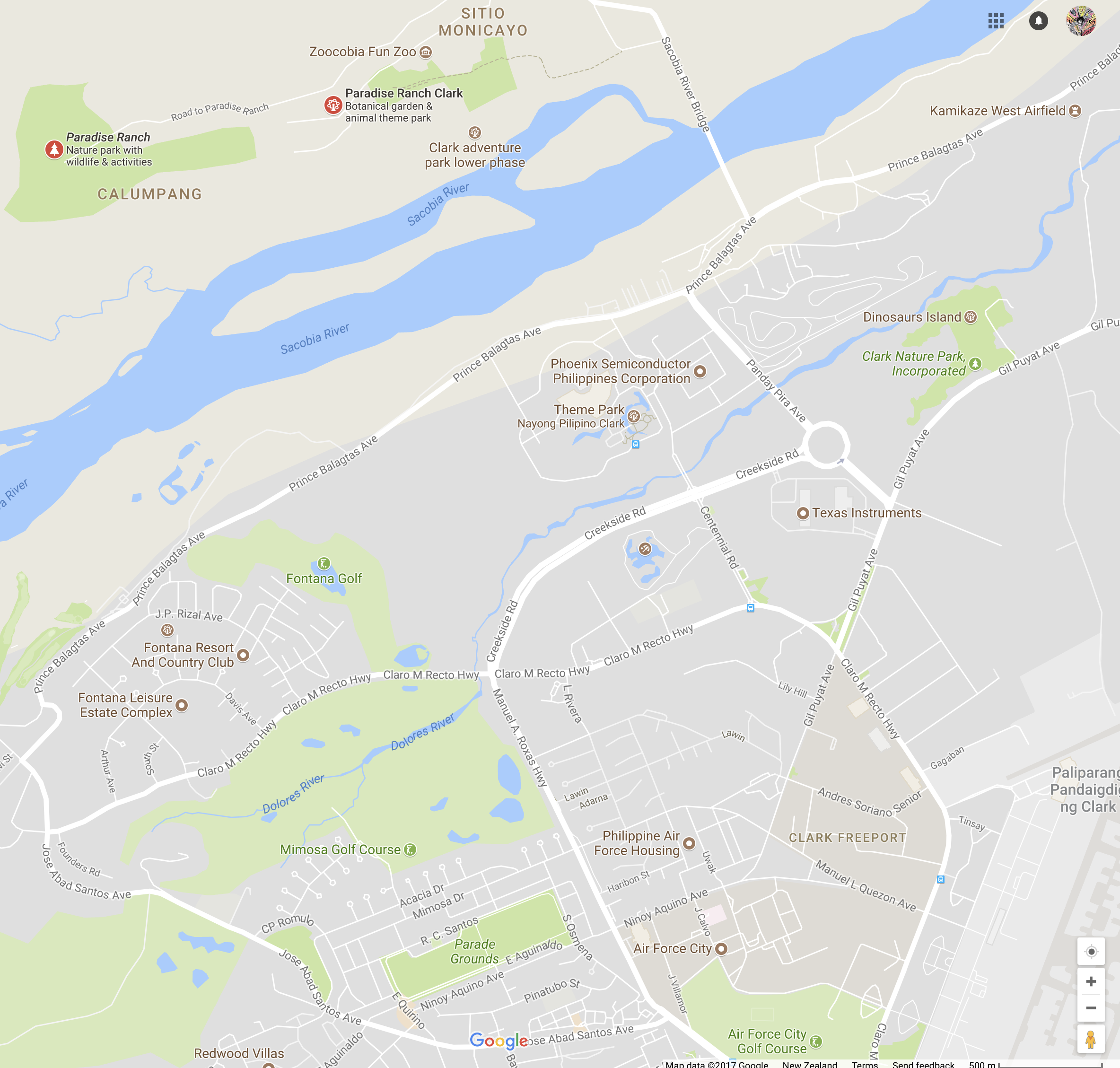 Well, it turns out the ranch is right next to the Clark Freeport Zone in Angeles City, a former US Air Force base which has become the epicenter of sex trafficking, interspersed with major semiconductor companies like Texas Instruments - who merged their defense business into Raytheon in 1997.
https://en.wikipedia.org/wiki/Clark_Freeport_Zone
https://en.wikipedia.org/wiki/Texas_Instruments


Source: The Philippine Archipelago, Yves Boquet, page 638
Barack Obama sent a sex trafficking official to praise the Philippines for their co-operation.
A White House official lauded the anti-sex trafficking campaign...and vowed that the United States Government will continue its partnership with government agencies and civil society groups in fighting "modern-day slavery."
Joshua DuBois, special assistant to US President Barack Obama and executive director of the White House Office of Faith-based and Neighborhood Partnerships, talked with stakeholders of the anti-sex trafficking campaign in Cebu last Thursday..."I want to applaud the government here, the police department, the prosecutors and the NGOs (nongovernment organizations) for the work they are putting in to help (sex trafficking victims)...Our approach as the United States Government is to think about how we can partner with you to continue and to strengthen that work"
http://www.pressreader.com/philippines/sunstar-cebu/20120909/281487863536060
In fact it appears that they just made it look like there wasn't any sex trafficking when Obama visited.
The mayor divulged that he had been pressured by numerous high ranking officials, including the US ambassador, to close down all girly bars on the Angeles entertainment strip due to the upcoming meeting of President Noynoy Aquino with US President Barrack Obama in September. The executive order was made in part to increase the Aquino administration's chances of a foreign aid boost in the hundreds of millions from the US.
These outsider critics of the city's redlight district are apparently convinced that it is a source of large-scale human trafficking. Angeles City has been carrying the stigma of being a "sex city" for decades, an image that persists even in the Internet, if one does a quick search online. Human trafficking and child prostitution are by no means a fresh issue for the city's entertainment strip, judging by the numerous online articles claiming that there are tens of thousands of enslaved prostitutes and thousands of child prostitutes on the strip
http://angelescity.com/news/view/236
Their efforts don't seem to have done much, as Angeles City remains the sex-tourism capital of the Philippines. Climate change is now forcing many girls into sex trafficking:
The destination for many of those trafficked out of the Eastern Visayas is Angeles City, the sex-tourism capital of the Philippines about 600 miles to the north. Wendy, 25, who grew up in the Eastern Visayas, worked as a "bar girl" at Club Atlantis on Angeles' notorious Fields Avenue—a red light district that sprouted to serve men stationed at Clark Air Base, an American base that operated from the early 1900s, when the Philippines was a US colony, until the mid-1990s. Today, Fields is a few blocks lined with bars, neon lights, and foreigners—mostly men from the US, Europe, and Australia—where girls dance on stages in bikinis or less. Customers can buy "ladies' drinks" to spend time with the girls of their choice, or they can pay a "bar fine" to take a girl out for the night
https://qz.com/970394/climate-change-has-created-a-new-generation-of-sex-trafficking-victims/
Another coincidence there - Marilou Danley was the High Roller hostess at Club Paradise at the Atlantis, Paradise Ranch is close (less than ten miles) from a sex trafficking club called Club Atlantis. Atlantis is the biggest and most famous of Clark's notorious showgirl bars, and is next to the main casino.
http://www.angeleswall.com/club-atlantis-angeles-city-philippines-in-review-january-2016/
Notice in the map above that the golf course is just across the river from Paradise Ranch.
"Once populated by men in their early 20s who started each day with 100 push-ups, the place is now home to older men who need help pushing themselves out of bed in the morning. Most are bused up from Manila, an hour away, on golf and sex package deals. This is no quasi-innocent boys' night out. Rather, it's a single-minded realm of weary-looking loners on a resolute hunt that smacks of feeding an addiction. Many are ex-military men reliving former glories, Peter Fonda and Dennis Hopper wannabes, some gathering at the local American Legion post before embarking into the night. [Source: John M. Glionna, Los Angeles Times, August 16, 2009 ***]
http://factsanddetails.com/southeast-asia/Philippines/sub5_6e/entry-3895.html
If you look at the big group photo above taken in Reno, they are holding some sort of foam glowsticks. The girls in the video above are holding something similar.
Paradise Ranch features some MKULTRA-ish images in their TripAdvisor profile. It has the largest butterfly collection in the Philippines.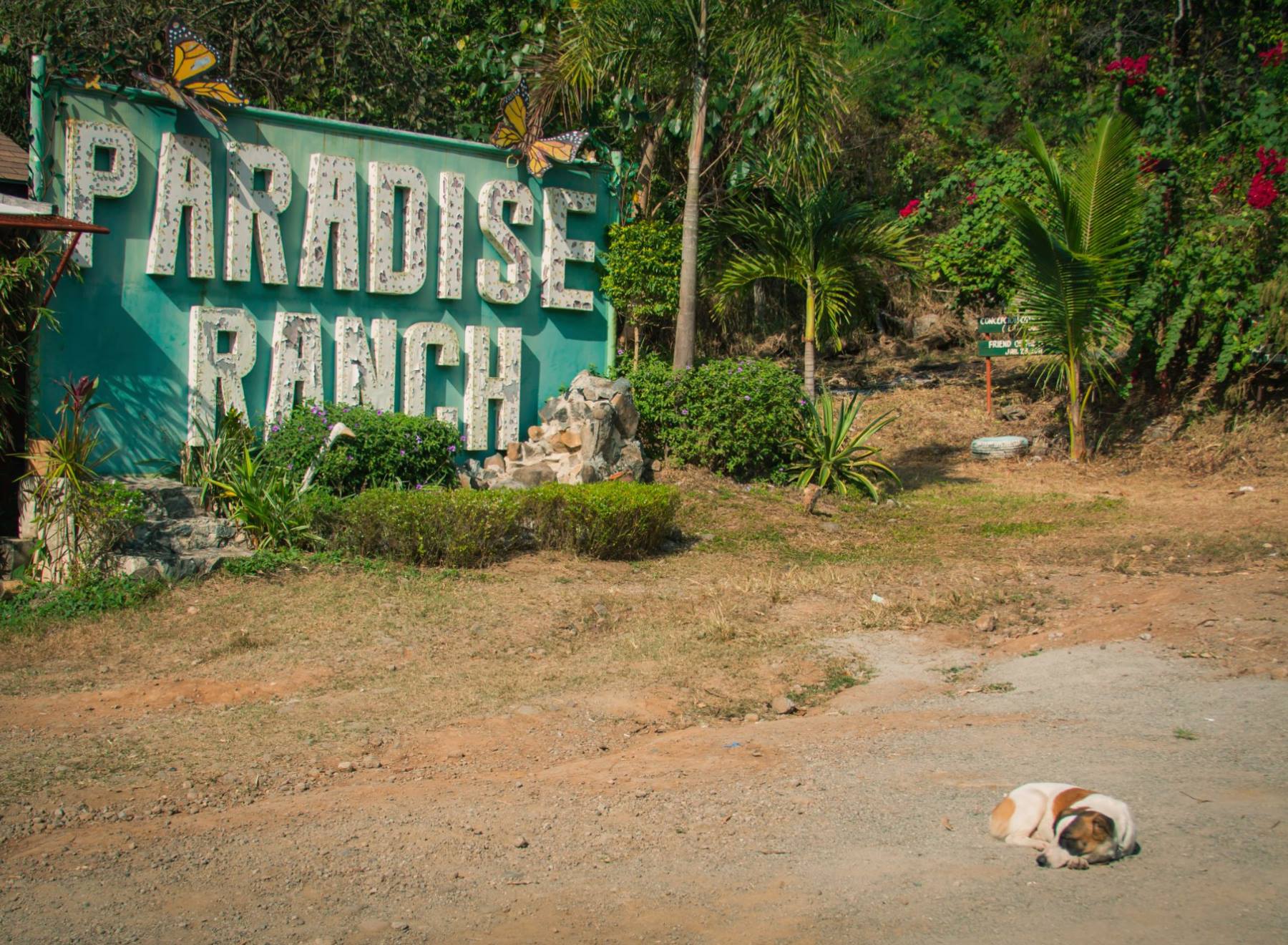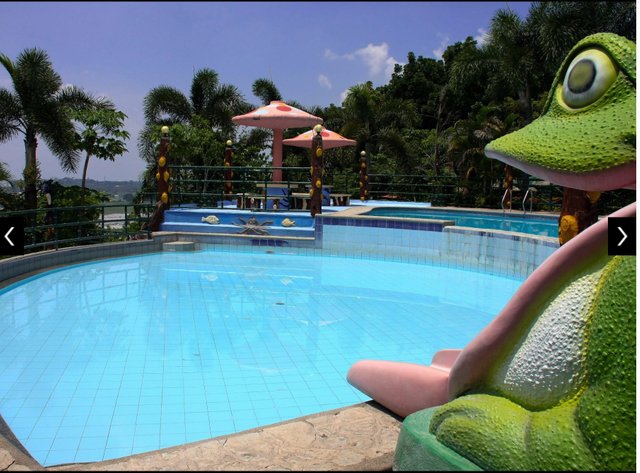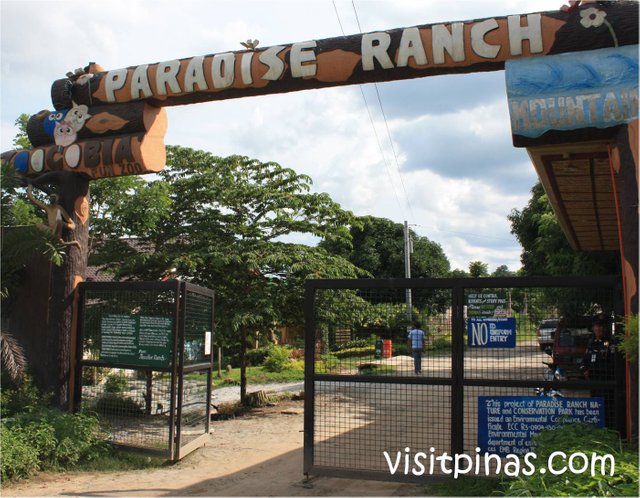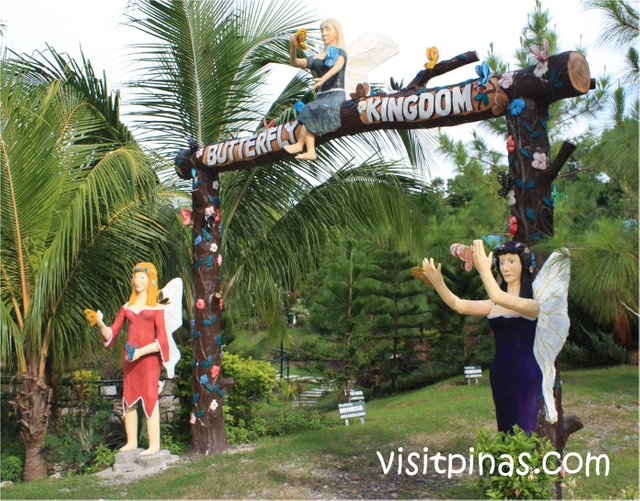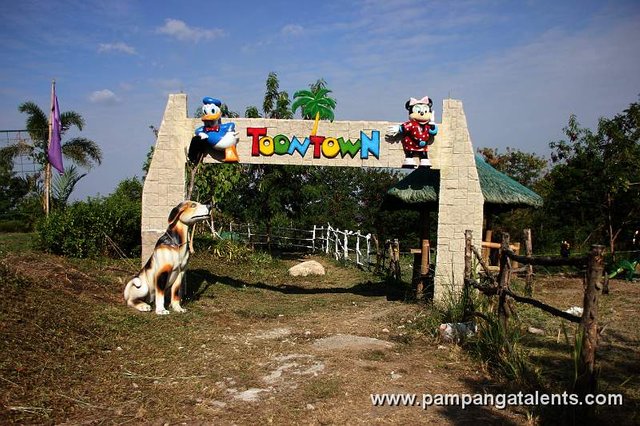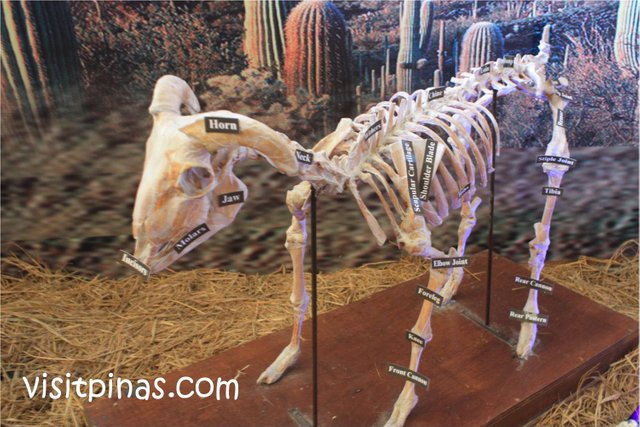 Is the child at the bottom right doing an Illuminati one-eye hand gesture? Where would she learn such a thing?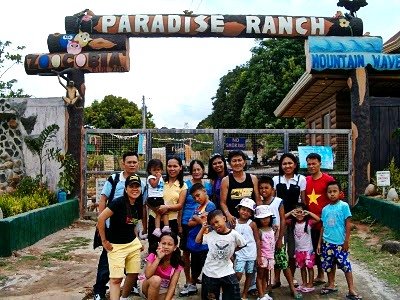 Paddock and his friend have seriously dilated pupils in this photo, they look like they are on ecstasy or LSD or something. Note the cartoon characters visible behind them.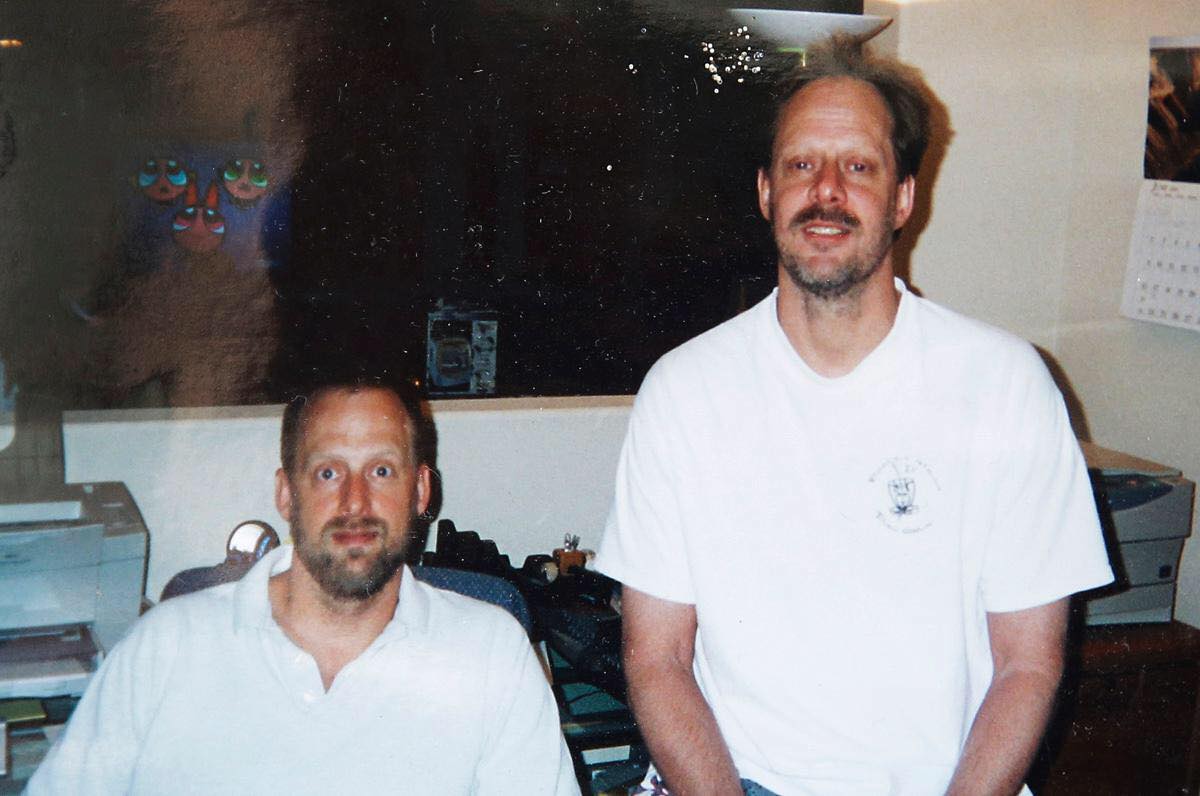 The cartoon characters are not quite the same as the Paradise Ranch ones, but they look pretty similar.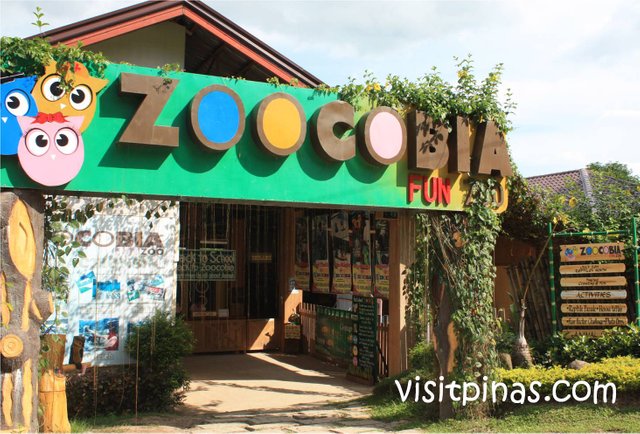 This review mentions "super hero characters" around the resort.
"The room and the view is the best part. Though the room wasn't as grand as what you'd expect. Some facilities are bit old. There were some animals in the place. The pool was just fine. Seems like it hasn't been spot cleaned for sometime. There was also a zipline but no operator. Big statues of animals and superhero characters. The views from the place is amazing! One of the bad things though, only one restaurant in the place and it was very expensive. To the extent of portioning your food so that you won't have to buy from the resto anymore. They had rough road parking. The place was remote but even at night, the on-duty guard'll still greet you. Overall, we loved our stay because the place is peaceful and the room was very cozy. Almost feels like home."
https://www.tripadvisor.co.nz/Hotel_Review-g3336531-d2392314-Reviews-Paradise_Ranch-Clark_Freeport_Zone_Angeles_City_Pampanga_Province_Central_Luzon_Regio.html
This Stephen Paddock unused Twitter account has been taken down, which gives it some legitimacy - though it's hard to tell from the photos if it is the same person. His profile picture shows a tattoo of the Superman symbol on his left arm.
http://archive.is/baRHH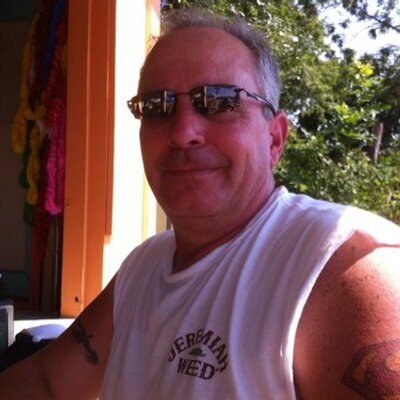 Paradise Ranch is a joint venture with the Philippine Children's Fund of America, a Sacramento, CA charity with an office in Clark Field which looks after some 52,000 children of American fathers abandoned after the closure of US military bases. "Provides transitional home for American children we fly from the Philippines"
http://www.pinoykids.org/about_us
https://en.wikipedia.org/wiki/Philippine_Children%27s_Fund_of_America
Seems like they can scoop kids up from all over the Philippines, and then fly them into the US - perhaps to be connected with their real families, or perhaps to go to people and organizations funding their relocation.
CONCLUSION
There is not yet any direct link between Paddock, Danley, and Paradise Ranch (Clark Air Force Base). At this stage it is merely a series of coincidences that they are connected to the Philippines, Club Paradise at the Atlantis, Club Atlantis near Paradise Ranch, Paradise Ranch 21 LLC, Paradise NV, Clark County, Clark air base, aviation, the Deep State, and cartoon characters. I hope this trail of breadcrumbs encourages others to dig deeper...
[Update #2 10 October 17]
The Daily Mail reveals that at the time of the attacks, Marilou Danley was visiting her brother in the Philippines - a medicine man, aka Witch Doctor.
He and other members of their family live in Village Park, Dasmarinas, which is about 90 miles from Paradise Ranch. It is less than 25 miles to Resorts World Manila (where the earlier casino mass shooting took place).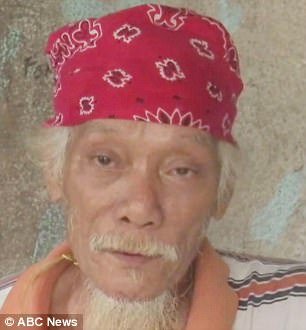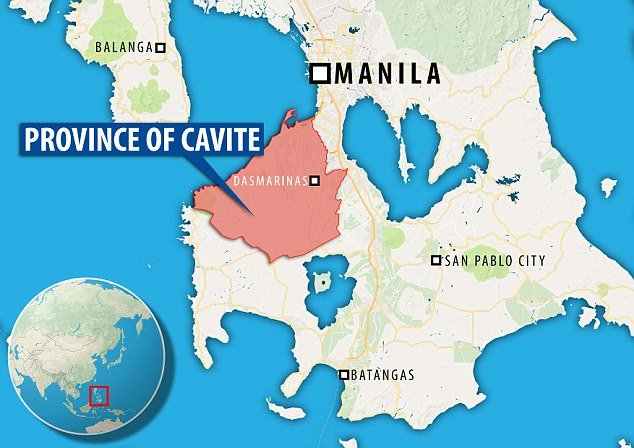 http://www.dailymail.co.uk/news/article-4952892/Stephen-Paddock-s-girlfriend-s-Philippines-life-revealed.html
[Update #1 5 October 17]
I will add to this post as more research and coincidences come to light. Feel free to share this widely, the truth must come out.
I found a bunch of other MKULTRA-ish photos of Paradise Ranch which are now in the main story.
One gigantic additional coincidence that I learned overnight is that something eerily similar to this attack happened earlier this year, in a casino, in the Philippines, in Manila - on the same island as Paradise Ranch (the Philippines is an archipelago of 7,641 islands). The distance between Paradise Ranch and the Resorts World Casino where the alleged ISIS/lone gunman attack happened is 70 miles by car.
From The Duran:
On the 2nd of June, 2017, the Resorts World casino, hotel and leisure centre in Manila was terrorised by a lone gunman in what many suspected was an ISIS attack. This attack, when accounting for local time-zone differences, occurred exactly four months prior to the recent shooting in Las Vegas.
Early reports from the attack at Resorts World Manila, stated that there were multiple gunmen rampaging throughout the casino floor and into hotel areas. Shortly after the attack, ISIS claimed responsibility. This was not considered unusual, primarily because the attack came shortly after ISIS began waging a proxy war in the southern Philippine city of Marawi. During the chaos, a fire broke out in the casino which feed the narrative that it was a coordinated ISIS attack on the Philippine capital.
Investigations later determined that the lone assailant, a Filipino named Jessie Javier Carlos, acted alone. Furthermore, Carlos was found not to have any links with organised terrorism, but instead had large debts which fed a gambling habit that only aggravated his financial troubles. Carlos who wore a mask and thick black clothing, clearly planned the attack in advance.
Carlos' killing spree ended up killing 36 people and wounding 70. By contrast, the recent killing spree in Las Vegas committed by Nevada local Stephen Paddock killed at least 59 while wounding over 500.
There are some eerie similarities to the attacks in Manila and Las Vegas. In both cases, local men acted alone in a clearly premeditated attack which took place on the grounds of a hotel/casino. In Manila, the shooting took place partly on the casino floor and into hotel areas and in Las Vegas, the killer fired on his victims at an outdoor music concert from his window in a room at the Mandalay Bay hotel and casino.
In both instances, ISIS claimed responsibility shortly after the attack, although local authorities in both Philippines and now the US, instantly refuted such claims...both killers had a profile which did not match that of a typical young, violent radial ISIS recruit. Instead, both men had decent jobs not long before the incident. Both men had a relatively large gambling habit and in the case of the Vegas shooter, he apparently enjoyed the country and western style music that was being played at the concert whose audience he massacred. Likewise, both men worked in jobs related to the public sector. Carlos was a tax collector in Philippines and Paddock worked for a company that later became Lockheed-Marin, one of America's biggest defence contractors.
http://theduran.com/breaking-vegas-suspect-wired-100000-account-philippines-week-shooting/
http://www.independent.co.uk/news/world/asia/philippines-manila-casino-resort-attack-shooting-isis-claims-responsibility-terrorism-robbery-a7769511.html
Isis are very active in the Philippines, a few months ago they took over one of the major cities there in an attempt to create an Islamic Caliphate.
http://www.polgeonow.com/2017/06/map-isis-control-philippines-marawi-maute.html
http://metro.co.uk/2017/05/23/isis-militants-raise-black-flag-as-they-battle-for-control-of-city-in-philippines-6655959/