Former Comet Ping Pong Employee Alleges: "James Alefantis sexually assaulted me"
Note: I have personally verified this person's identity and backstory. I obviously cannot verify his accusations. He wishes to remain anonymous.
Former Comet Ping Pong Employee Claims: "I was Sexually Assaulted by James Alefantis"
By now, most people are at least vaguely familiar with the so-called "fake news" story known as Pizzagate. For those that aren't, the brief version is that self described "internet investigators" caught wind of some strange wording in the John Podesta emails released by Wikileaks, and went down the largest internet rabbit hole in recent history.
The story was quickly written off as mass hysteria, a conspiracy theory, and fake news by nearly all of mainstream media, and subsequently censored from the internet forum site Reddit. The theory, which has a plethora of circumstantial evidence, lacked one key factor: a victim.
The original accusation, which was removed from reddit shortly after the being posted: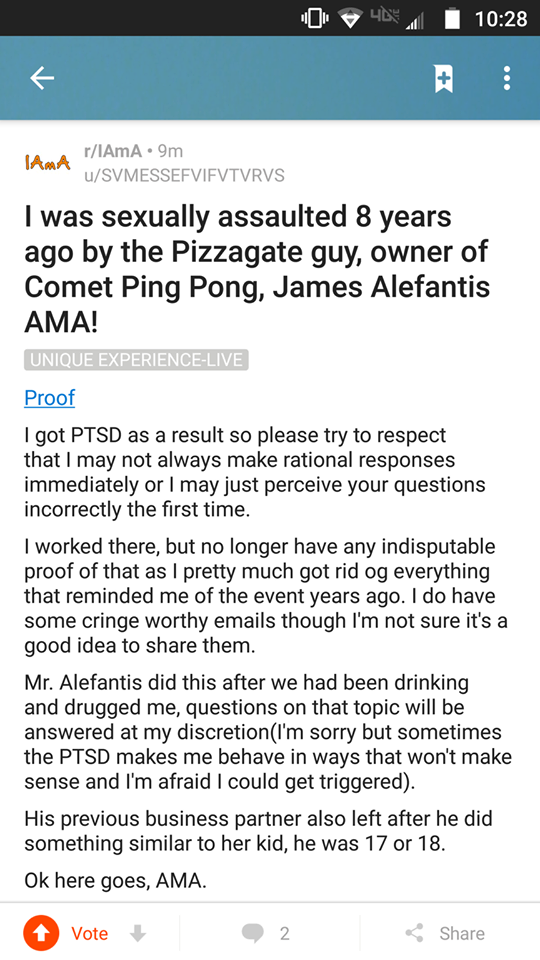 The Victim
Wednesday, an anonymous person posted a thread on Reddit's popular Q&A page, entitled "I was assaulted 8 years ago by the Pizzagate guy, owner of Comet Ping Pong, James Alefantis AMA! [Ask Me Anything]" The post was initially marked as "privately verified" by the moderator whose handle is mimw.
With no explanation, the verification comment was removed within minutes, and the entire thread was scrubbed from public viewing. After a subsequent failed attempt to post to Reddit, a successful posting was made to the similar forum website Voat.co. The alleged victim linked to an image album that showed screenshots of conversations between himself and Alefantis that occurred during a six year period.
The anonymous nature of internet forums leads to skeptics demanding proof of any seemingly outrageous claim. The publication of these emails adds credibility to his story.
E-mails, allegedly from James Alefantis, sent to the accuser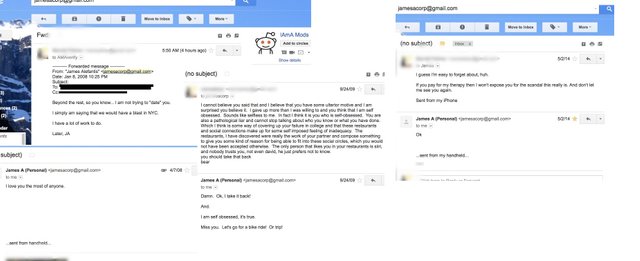 Here is a link to the entire album.
The claim
Eight years ago, a young college student (who wishes to keep his name anonymous) worked at Comet Ping Pong. He reached out to Alefantis as a friend, who then allegedly drugged and sexually assaulted him. The user also goes further to claim that around the same time, Alefantis was caught by former business partner Carole Greenwood assaulting her young son in the kitchen of Comet Ping Pong. While unproven, the timeline does indeed add up with Greenwood's abrupt abandonment of Comet, citing "urgent family matters". We can also confirm via a Washington Post article written in 2003 that Greenwood does have a son who would have been 17-18 years old in 2008. Greenwood was unavailable for an interview. According to the accuser, another employee witnessed the assault of Greenwood's son. Those reports were allegedly swept under the rug by the DC police.
Strange Twist
A user named JamesAlefantis appeared in the Reddit thread, attacking the accuser, posted several unsavory comments, and ultimately deleted his account hours later.
Link to the comments left by user JamesAlefantis before that profile was deleted
What happens now?
Nationally, the majority of sexual assaults never get reported and the statute of limitations in DC in this case is 3 years. If there are other victims, perhaps his public statement will lead to more people stepping forward and shining the light on a situation that may have been hiding in the shadows for the better part of a decade.