Hello Pinky and Spiky fans,
This is my webcomics entry to the #pinkyandspiky drawing contest by @organduo and @laputis.The theme on the 45th week is Pinky and Spiky Snowed Up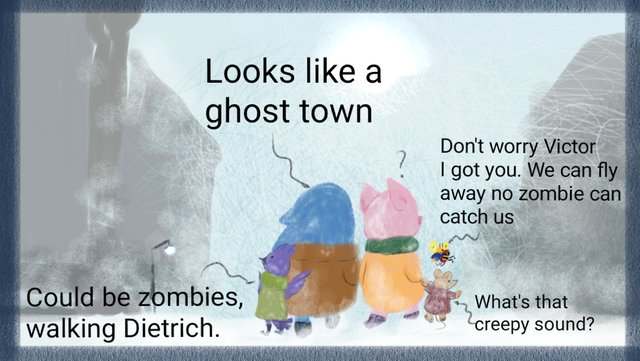 The temperature is going super cold as it drops below zero. Everyone in town is stuck inside their warm cozy cabins. The pinkyandspiky family are already running out of food and gas to heat up the fireplace. The snow covered the town in a thick blanket making it look like a ghost town. This had been going on for a few weeks already.
Everyone is bored and depressed inside the cabin so Spiky decided all of them will go outside to buy food and gas. They put on their warm jackets and walk. Spiky is scared with the thought that the place looks like a forsaken town. Dietrich heard some noise not far from where they stand and Cornelius said that it could be zombies walking around. Pinky is also scared but doesn't want to comment anymore. If there will be anyone lucky to escape from the zombies that will be Betsy who can fly away. Her arms are wrapped around Victor carrying him safely. Good for you Victor you are safe too.
Hope you guys like my entry.
Cheers and Steem On!
@steempampanga