A competition founded by @lightcaptured. I like to highlight a new contest every now and then. For sure I like this travel contest. @lightcaptured is mentioning he will change the subject every week. So you won't find only landscapes during this contest. Goodluck with the contest @lightcaptured! 👍
Rules are simple:
The topic for this edition is: LANDSCAPE
Create a new post with one photo
Use ONLY your own original work, plagiarism will be flagged and reported
No NSFW images
Use the hashtag #travelphotocontest
Mention @lightcaptured in your post, for example: "This is my entry for the #TravelPhotoContest by @lightcaptured"
Adding your personal touch, a short story, the location, EXIF data, etc. is not obligatory but will definitely make your entry much more appealing and increase its chances of success
Reply at the original post from this contest
You see not the hardest rules to be part of the competition.
The picture for the contest
I would like to participate with Neist Point, the famous lighthouse on the Isle of Skye. You can find this lighthouse at the most western tip of Skye. This place is what you can call extreme in landscape(views) and weather. If you go visit this lighthouse you can follow the footsteps of Emily Watson in Breaking the Waves. Explore this beautiful place, you can build a stone man or watch the depths and try to spot some dolphins.
The cliff rise high above the ocean and from the edge you will see the waves smashing on the rocks far underneath your feet. Watch out there are no fences or something to protect you from falling down. When the sky is clear you can see the islands of the Outer-Hebrides
The lighthouse itself is build in 1900, at that time the lighthouse was manned. But nowadays it is controlled and automated. The light itself is 43 meters above sea level and can be seen 16 nautical miles from the ocean. The cottages surrounding the lighthouse are privatley owned. Once a place rented out for a great holiday location, nowadays abandoned and not in use anymore.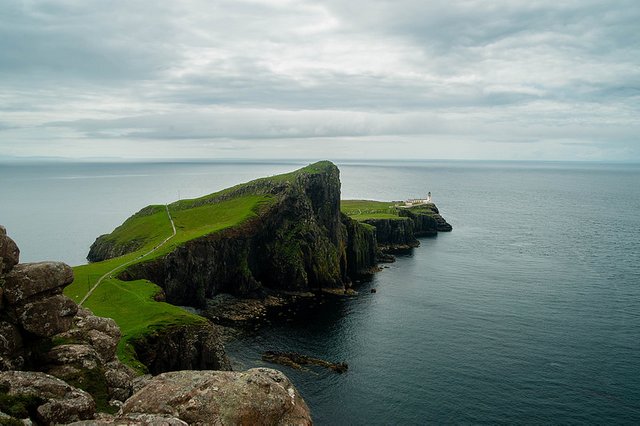 Neist Point
Please Follow, Upvote and Resteem
If you like my content, don't forget to upvote this post and follow me for more every day life stories! Also, I will be happy if you leave a comment to tell me your thoughts and resteem this post to share my work!

Travelfeed
---
Learn more about our travel project on Steemit by clicking on the banner above and join our community on Discord. How does travelfeed work? Simple just use the tag #travelfeed in your travel posts (min. 250 words) for a chance to be curated!
---