Boston held their annual Pride Parade Yesterday
---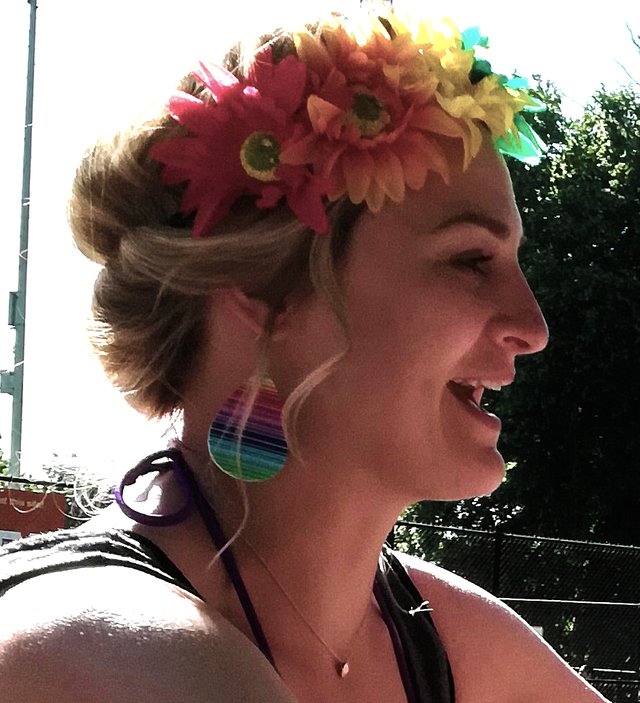 It wound right past our shop, winding from Copley Square all the way to City Hall Plaza. Streets were blocked off, which wasn't great for business on the first picture-perfect Saturday we've had this year.
This was the view from the front door. It's a clickable image, so you can zoom on for the full effect. Imagine this scene stretched along more than a mile of parade route.

This is the first time I've worked on Boston Pride day. I've never seen anything like it. It was much bigger than the sports rallies for the Patriots and the Red Sox earlier this year. This went on for hours and hours. There was constant screaming, shouting, and honking out front from noon until I left at 5:00 PM.
Out back, a nearby business somehow licensed our alley to hold a lesbian block party, so we had thumping bass rattling our windows at the same time. (It's a good thing we didn't have to get to the dumpsters!)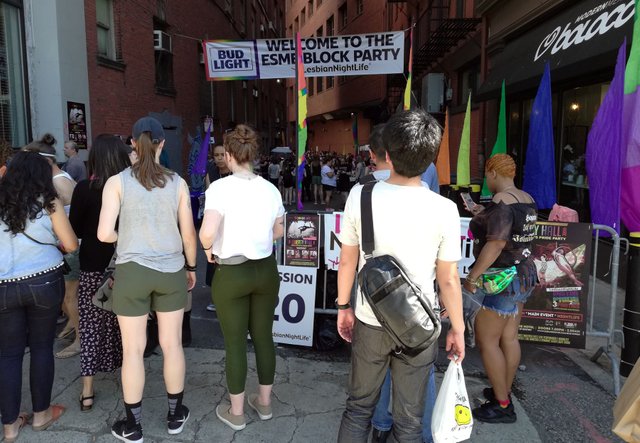 I don't mean to sound like a curmudgeon, even if it did give me a bit of a headache. What people want to do with their genitals is up to them, and if a couple hundred thousand folks want to get together and celebrate their sexuality, more power to them. (Although I suspect a parade of foot-fetishists or bondage fanatics wouldn't receive the same warm welcome - even if there may be some crossover with yesterday's crowd.)
Anyway, business was slow enough that I was let off early. I realized this was too good an opportunity to pass up taking a few hundred pictures. Starting with this shot of the final float is it rolled past - a towing company truck festooned with purple and rainbows and a mannequin.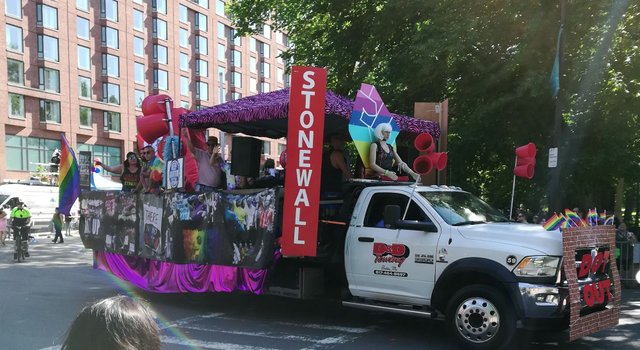 It was followed by the police, who did a fine job keeping things calm and under control throughout the day. In fact, I think we sold more cigars to police officers than anyone else, yesterday.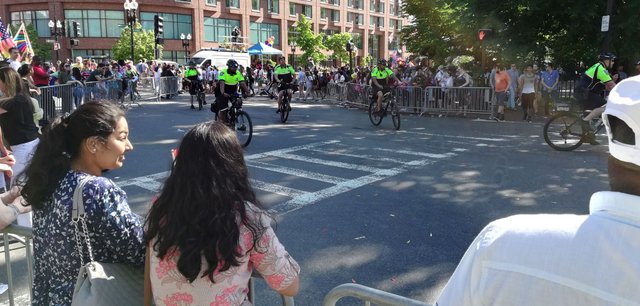 Wandering around the city, I soon realized that the party was just getting started. People of all ages were out in a regalia of rainbow clothes, capes, beads, and flags.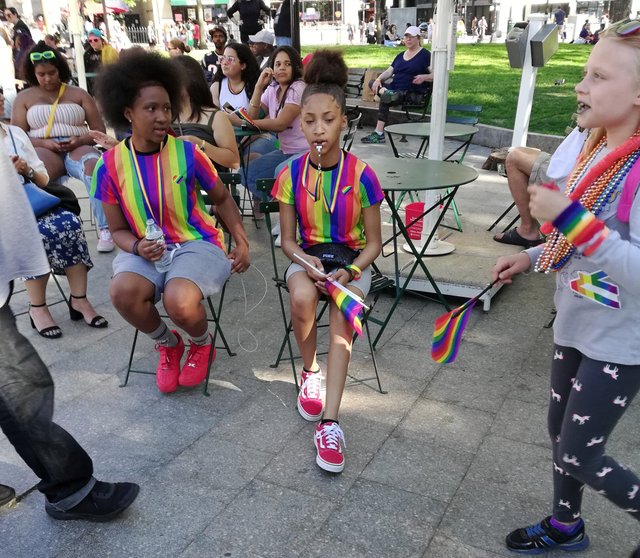 Something does bother me about the idea that kids, who are too young to drink or smoke or enlist in the military, are being shown what a celebratory thrill it can be to permanently alter their bodies through surgery. But I certainly don't want trans kids to come to harm, and neither does this guy. (The other guy just likes the Bruins.)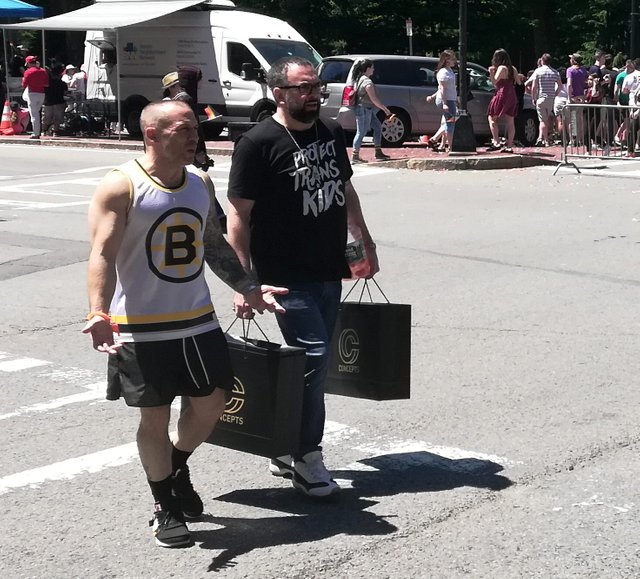 All the color was rather exciting, especially on such a sunny day after such a long winter.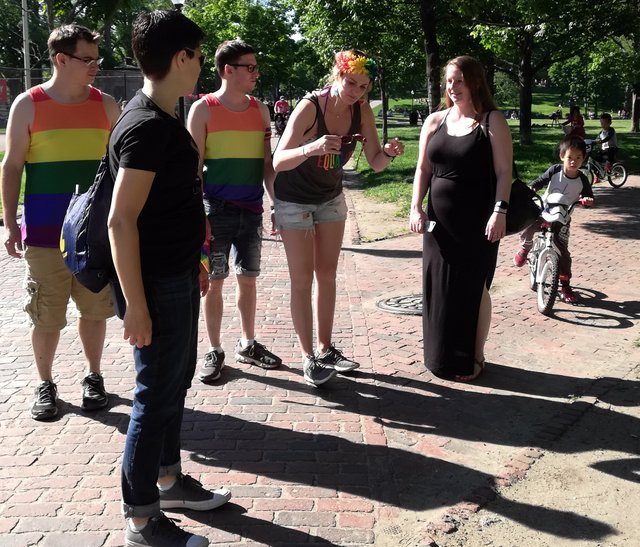 Although some folks took a more...gothic approach to their transgender stylings.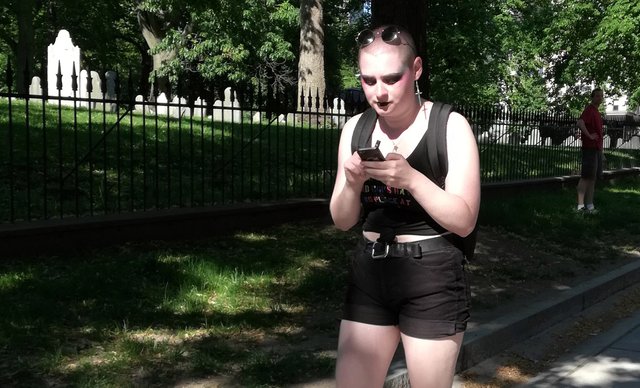 I love that I got the above picture in front of a cemetery. So perfect! The next cemetery I passed had less somber pedestrians.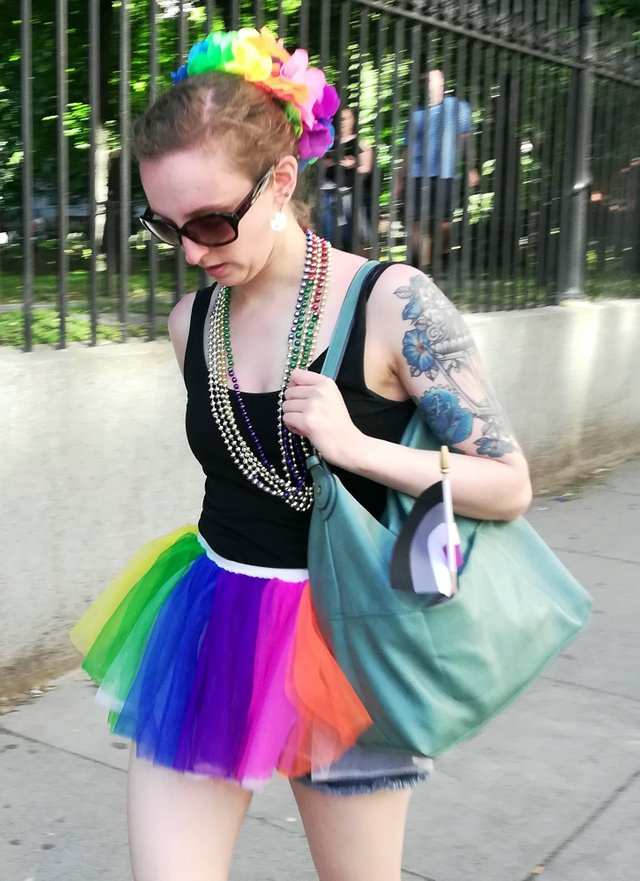 As with most counter-cultures, the styles and affectations soon blend into a new kind of conformity. It felt a bit like I was marching through a rainbow army. I got a few odd looks and thought that people were objecting to my picture taking--which was odd, since everyone was taking pictures yesterday. Then I remembered that I was wearing a tie and a button down shirt, so it was my turn to look like a freak.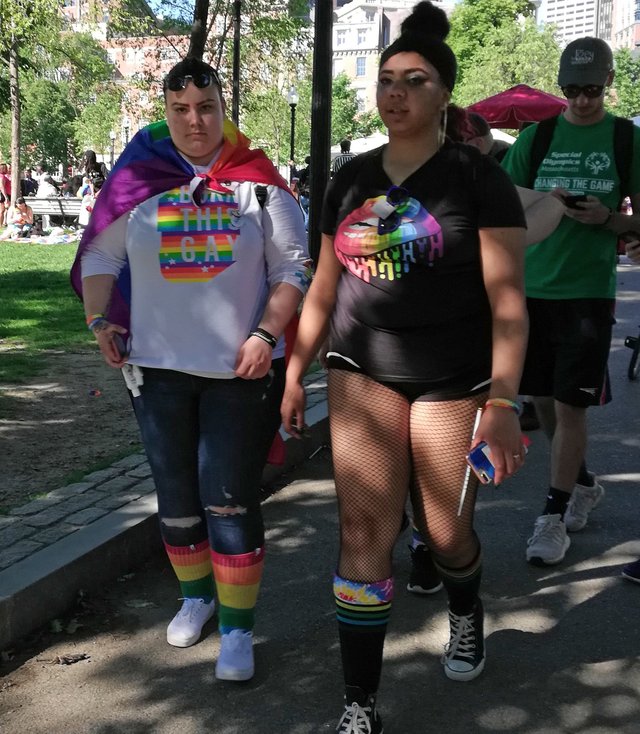 That's okay, though. I'm comfortable enough with who I am. (Should I get a shirt that says "Straight AF" to boost my self-esteem?)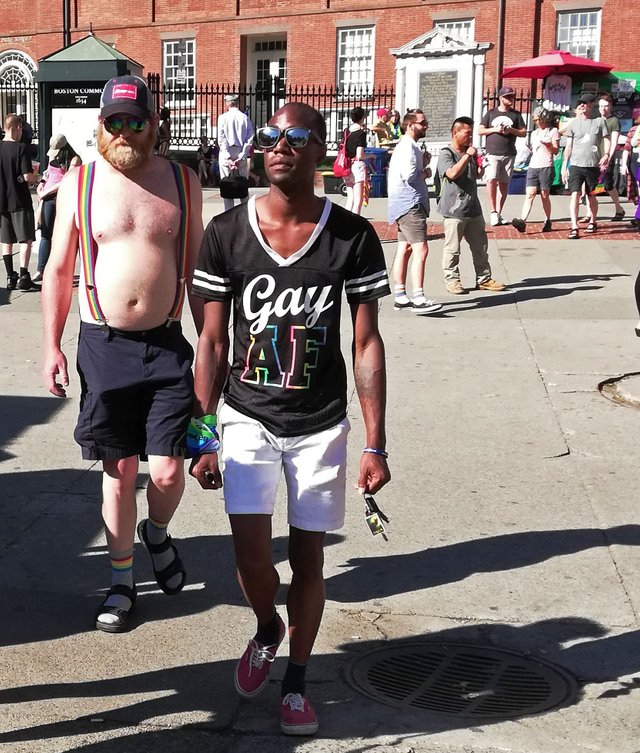 I liked this grouping of women on the church steps, with the one guy who feels like he doesn't quite fit in.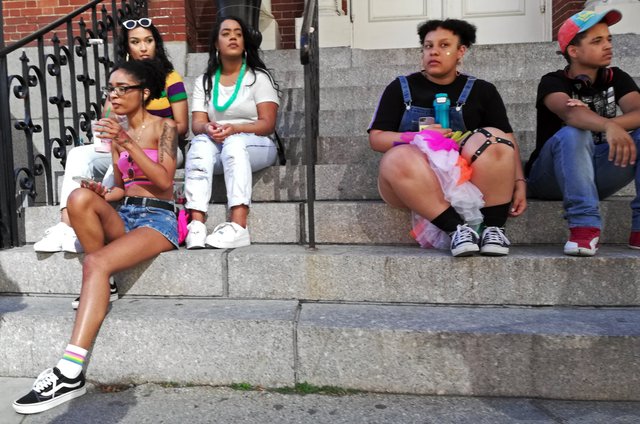 Here's someone who took a more subdued approach to the event's color-scheme. It was actually kind of refreshing. I like how they took care to coordinate their flag and cape to their political buttons.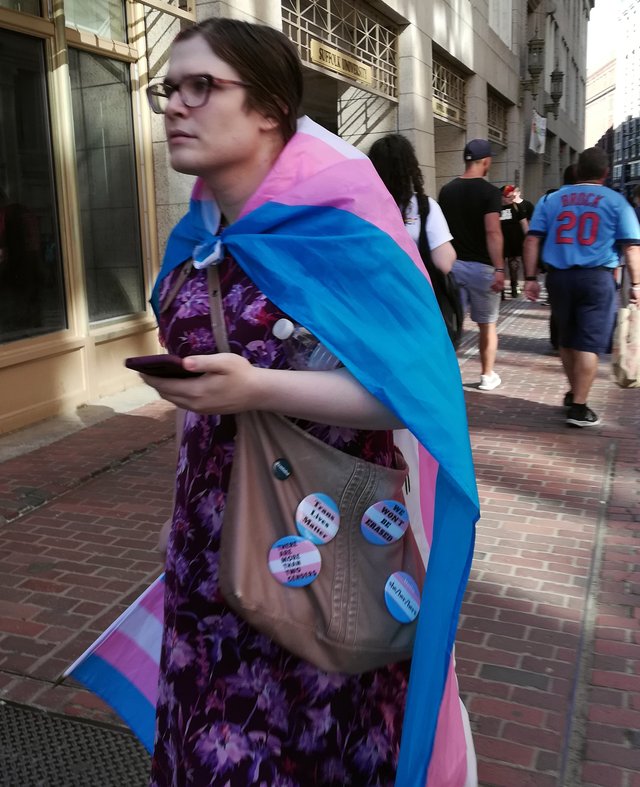 At an event like this, the preachers gonna preach. Although clearly the come-to-Jesus crowd had even less pull than usual yesterday.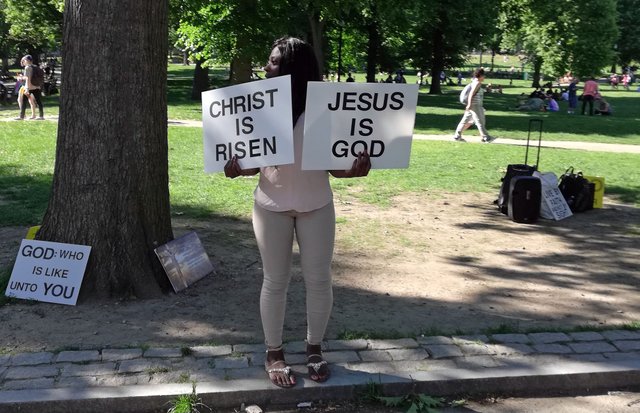 There were some genuinely sweet moments. This hug in the middle of the street, for instance. It made me imagine @lyndsaybowes at an event like this, with one of her "free hugs" signs.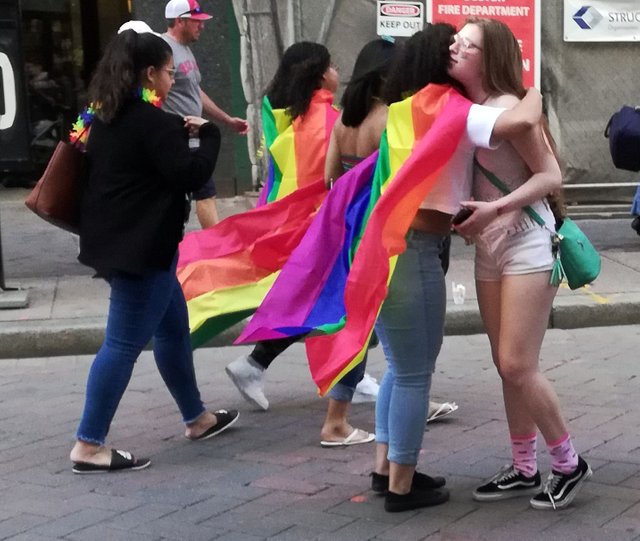 And this scene beneath the fountain spoke of a great contentment. I hope these women continue to make each other as happy as they look today.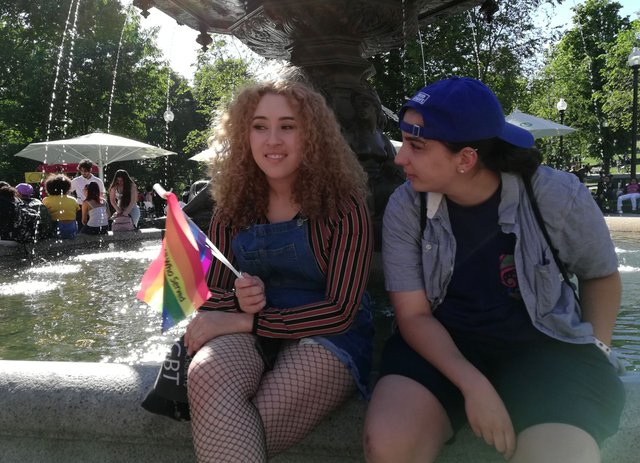 Things started to get a little freaky as I made my way towards Downtown Crossing. I got another glare from a woman who was having some sort of wardrobe malfunction.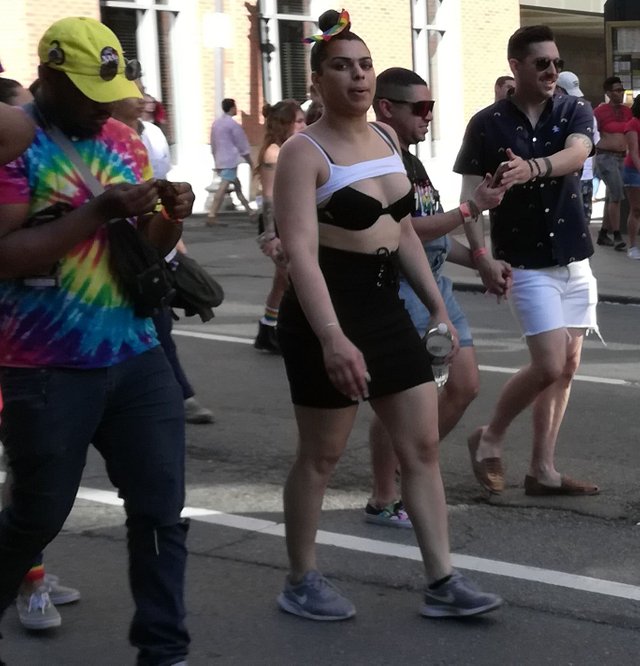 The Little Mermaid was there!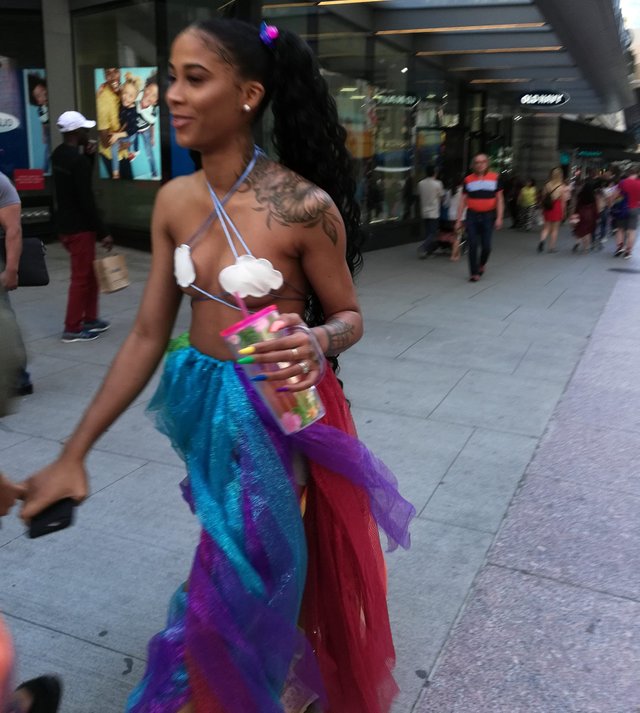 As was this lady, who I'm sharing because I'm a sucker for any woman with a bare belly and a fanny pack.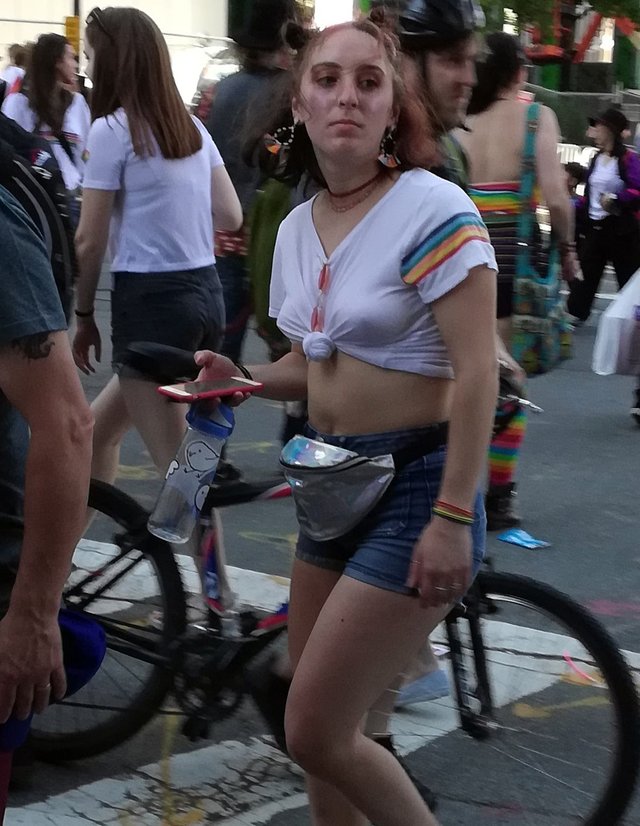 Then I caught sight of someone out of the Mad Max universe. Hello, what's this?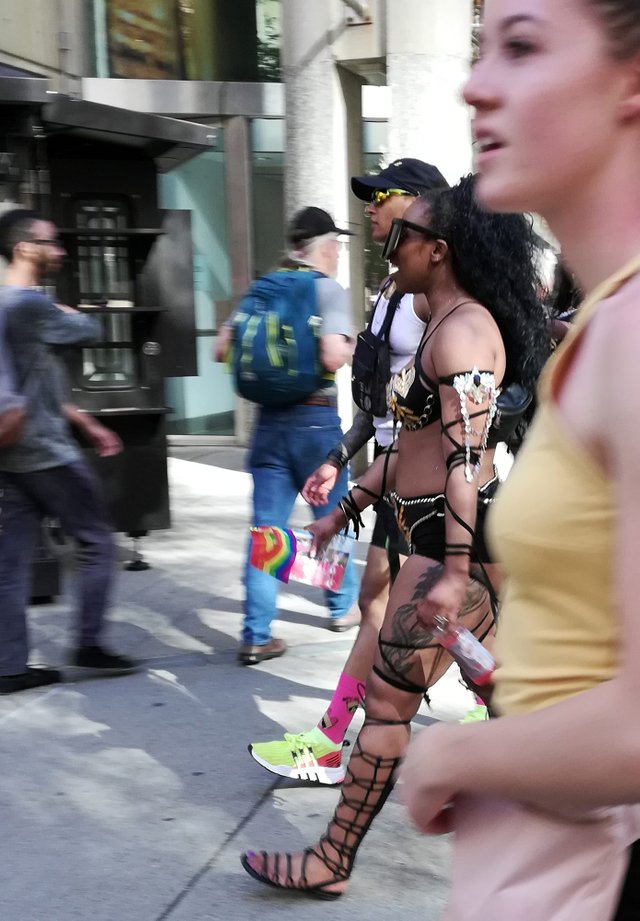 I couldn't help it. I had to walk ahead and turn around a better view of this marvelous costume. (Remember what I said above about the crossover between the LGBTQ and the bondage folks?)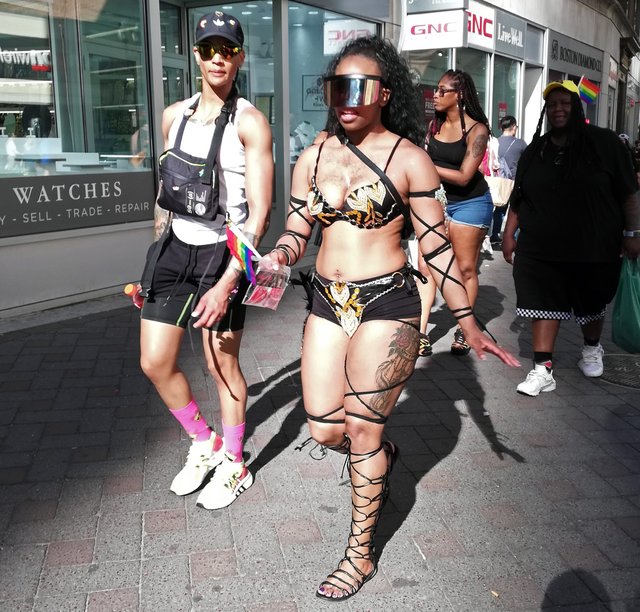 For a moment, I thought the guy on the left was going to throw me in the Thunderdome, but I got away unscathed.
Almost as wonderful as those outfits was the look on the face of guy, just after he walked past them.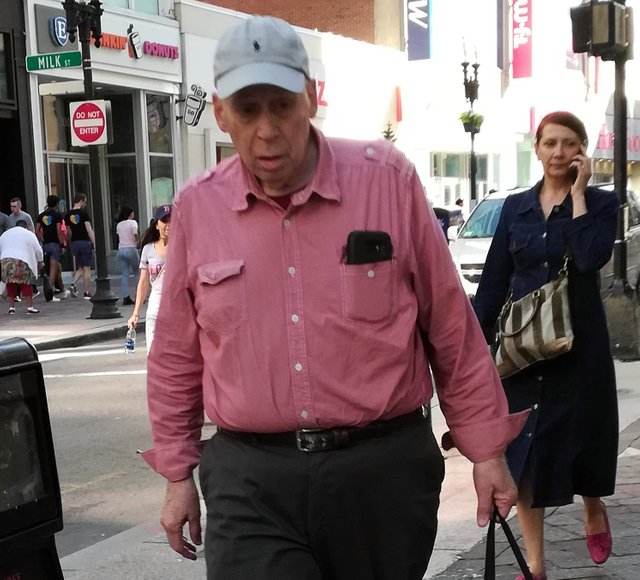 Okay, just a few more, I promise.
We had a few of your standard "bears" in attendance.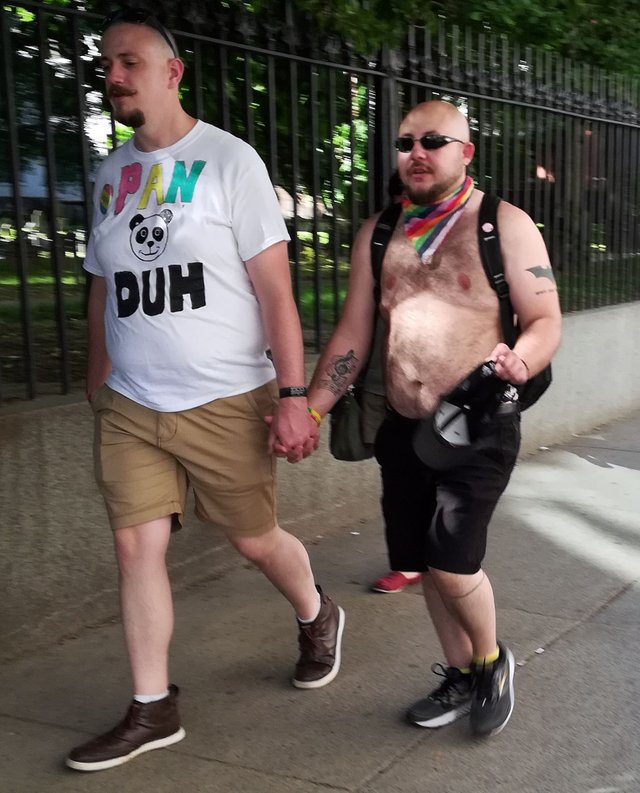 Your token Ginger: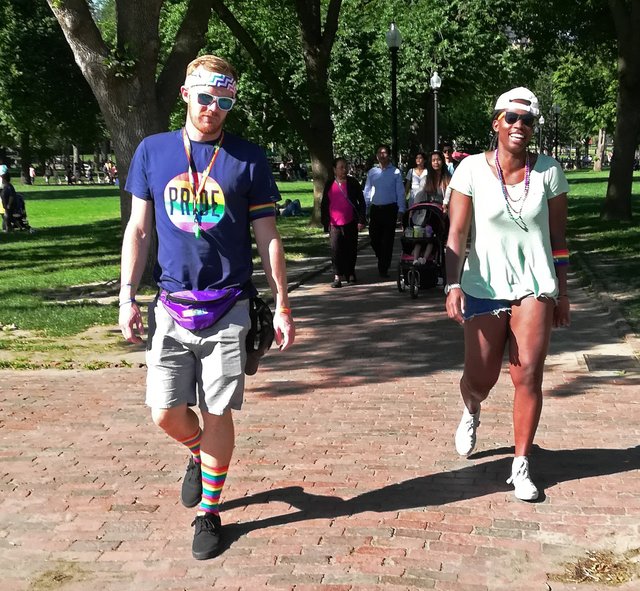 Some kind of gender dubious marching band or color guard unit: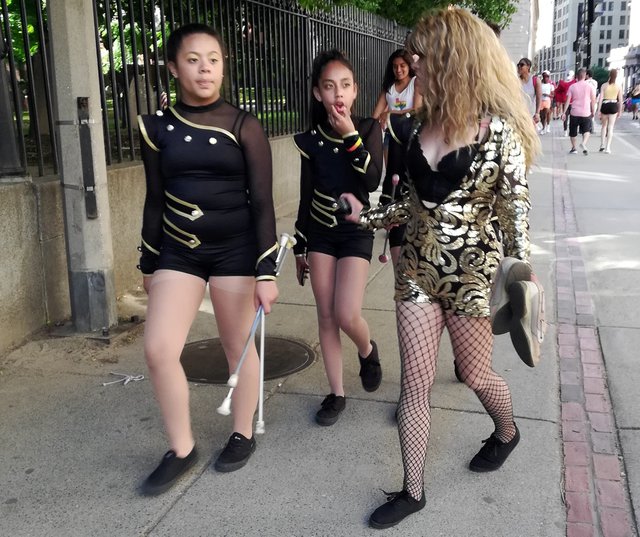 Your standard "Love Trumps Hate" dig at the current administration. (C'mon, queen, are you even trying with that outfit?)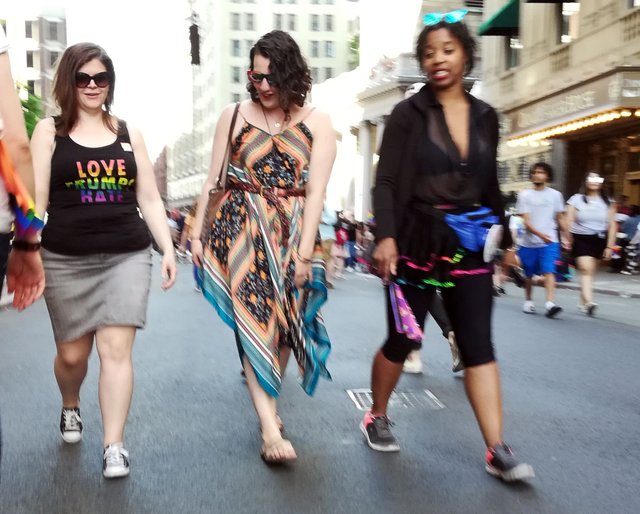 Your ordinary, garden variety middle-class professional gays: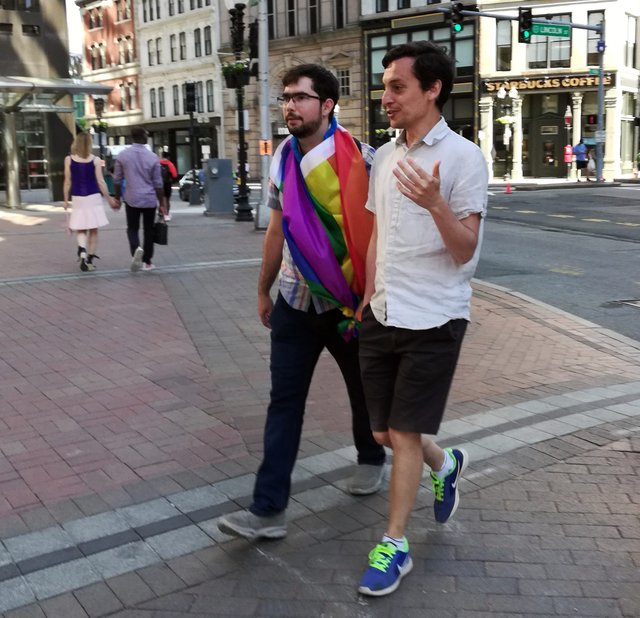 And this guy who got LGBTQ rights mixed up with marijuana legalization somehow: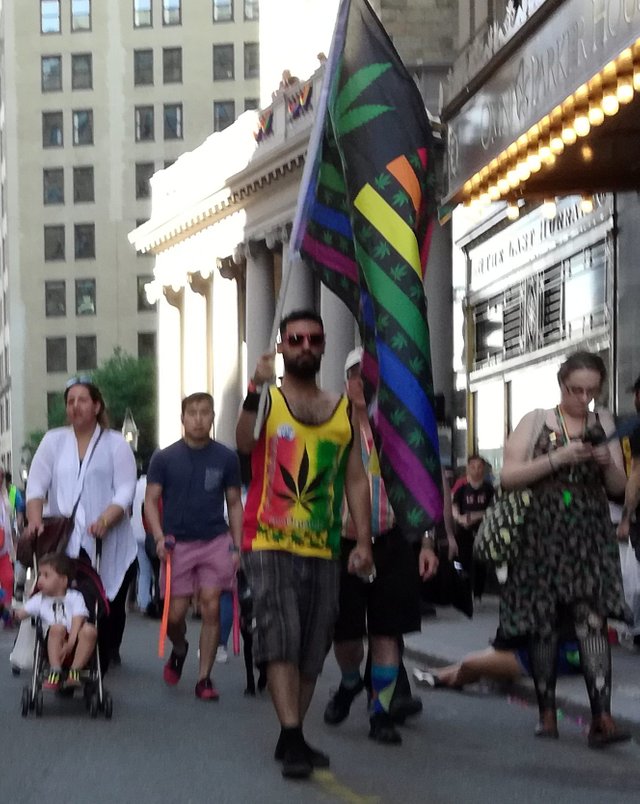 Here's perhaps the most shocking moment of the day. I took a stroll past the staid, stately Old City Hall (which does the city far more credit than the new one.)
There seemed to be a wedding going on.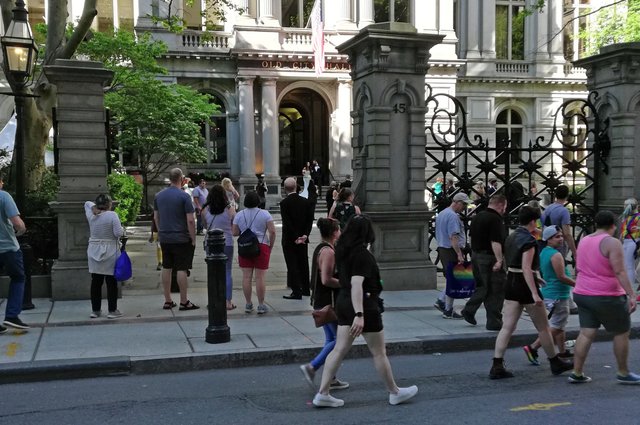 On closer inspection, it appeared to be... a traditional wedding! The people on the street couldn't resist taking a look at what seemed like a window into an older time.
I'm not sure how they got away with this, but I'm glad they had such nice weather.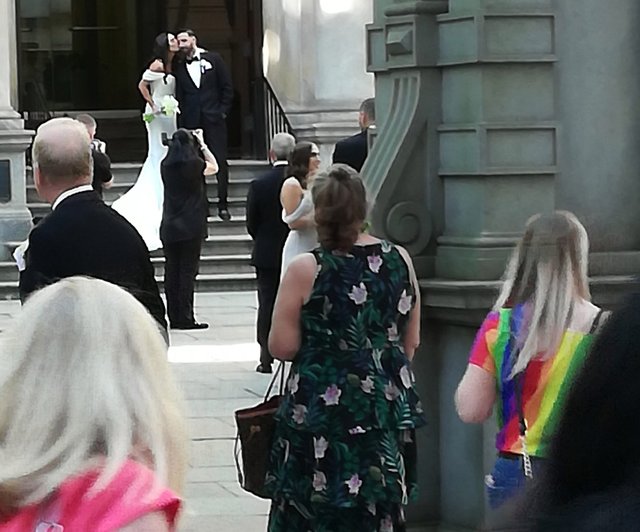 Anyway, when boarding the subway, it's important to remember that the "T" stands for transgender.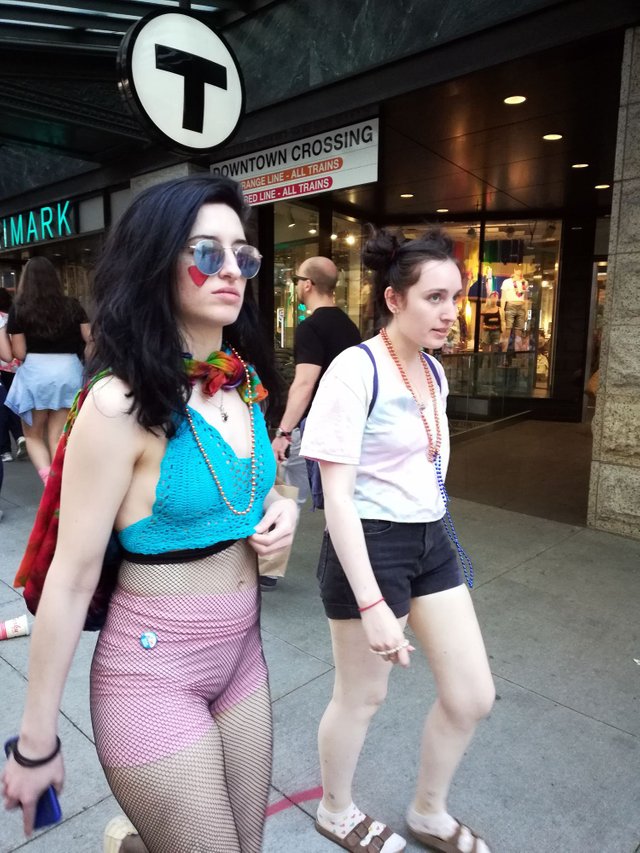 And maybe, if the fountain on Boston Commons doesn't have to cover its chest...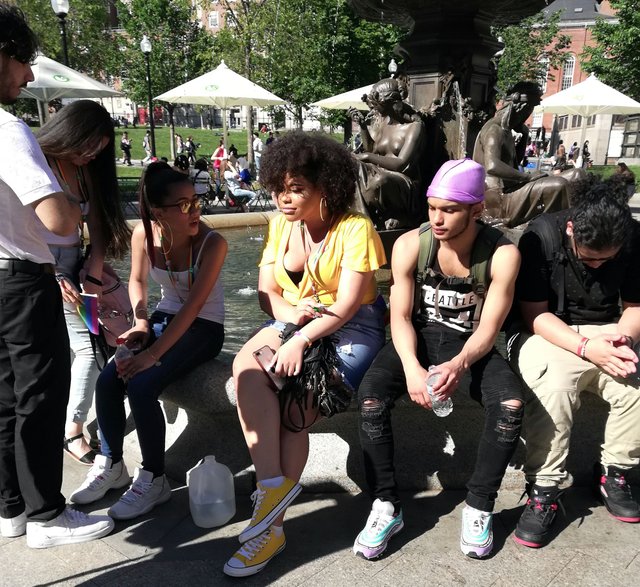 The women on the street shouldn't have to, either.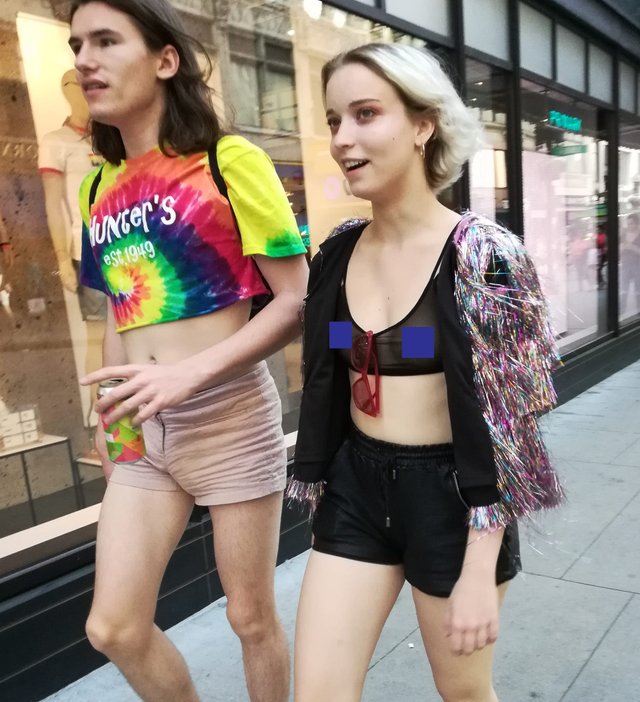 Well, that's it. Boston on Pride Day. It was a wild finish to a long work-week for me. And it made for a boisterous ride home once the train finally arrived.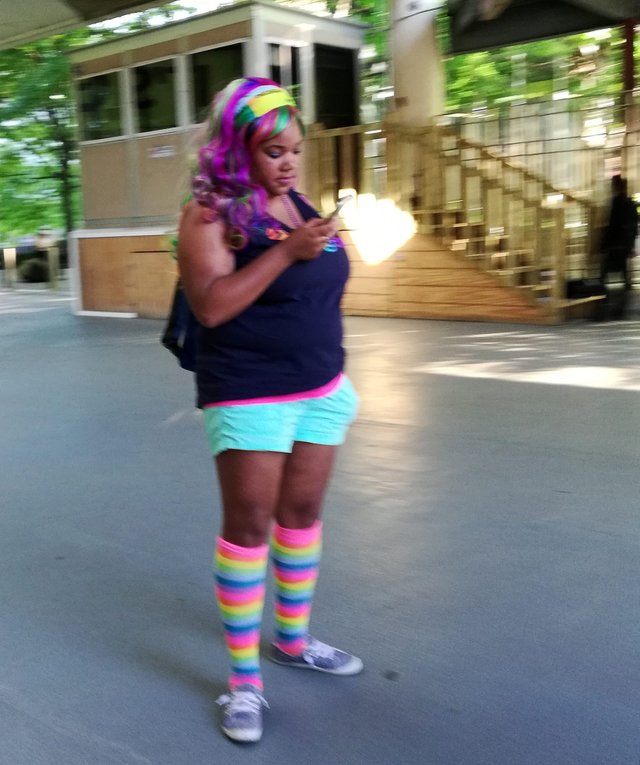 As long as the government doesn't tell me where I can and can't enjoy my pipes and cigars, I'm fine with what anyone else wants to do in the city.
Wait a minute...
---

---

---
Unless otherwise stated, photography is the work of the author. Feel free to copy, remix and share photographs from this post according to the terms of a Creative Commons Attribution Sharealike 4.0 International license.
Camera divider and signature illustration by @atopy.
If you'd like to read more, you can check out a categorized catalog of my posts on Steemit here.