Hammock Camping at its finest! A cold pull by polk and showshoe into a wilderness winter camp at -24°C (-11°F).
Click any photos to view larger versions.
I took on my coldest backcountry camping I've yet to do. A very cold temperature range with high of -20 and low of -24° definitely put our skills and gear to the test. Although it was a tough weekend hauling extra gear, it helped me prove my cold wheather gear. Here is my whole setup at camp.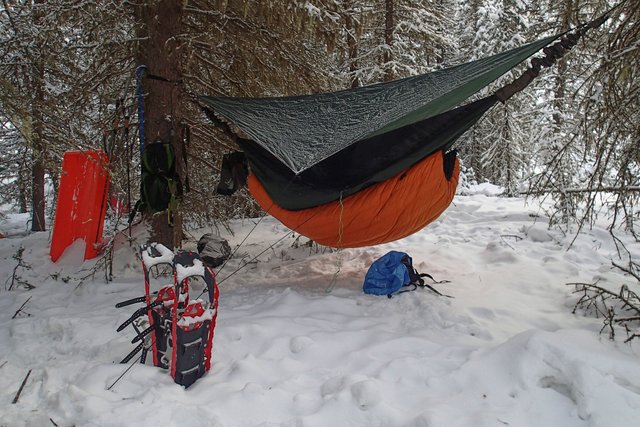 So, gear was pulled in by polk and snow shoe and although we've been on this creek before, we went farther than ever before and through a LOT more snow. Four of us went, so luckily cool take turns pushing through the front line of 2 feet of snow, to pack down a trail.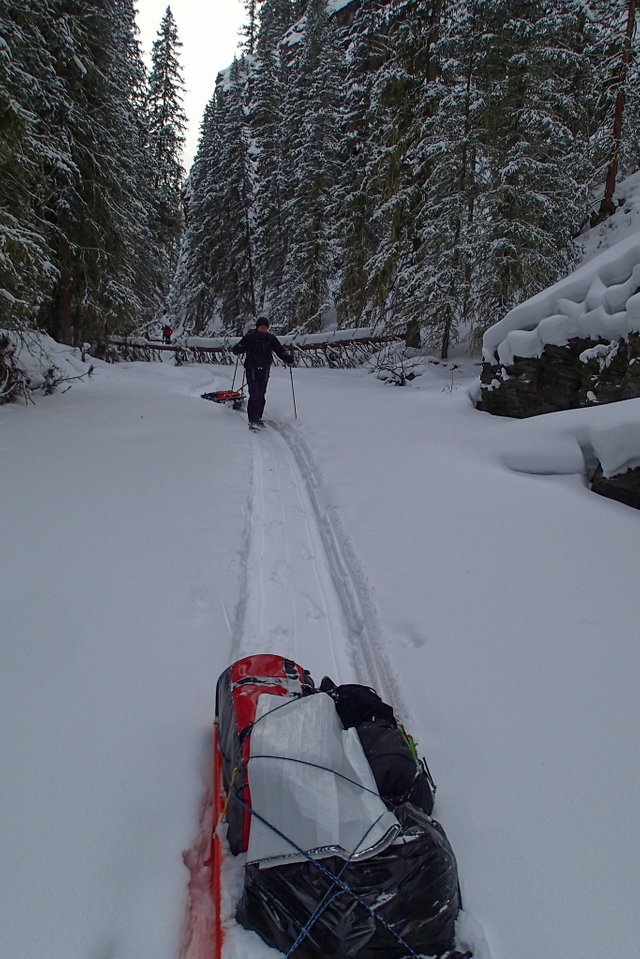 Everything was very beautiful with fresh powder, but it had its challenges of staying cold enough to not sweat, but not too cold.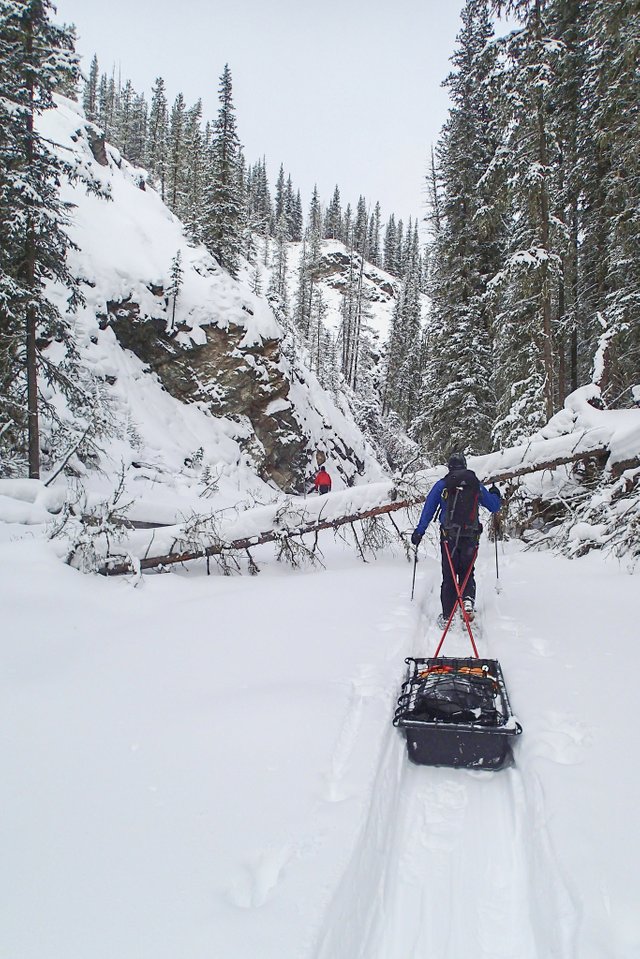 This tree looked pretty amazing as it had an iceflow running over the top of it and it had dripped down to form a wall of ice all underneath it.

The icetree, I've never quite seen an iceflow like this one. It was very impressive.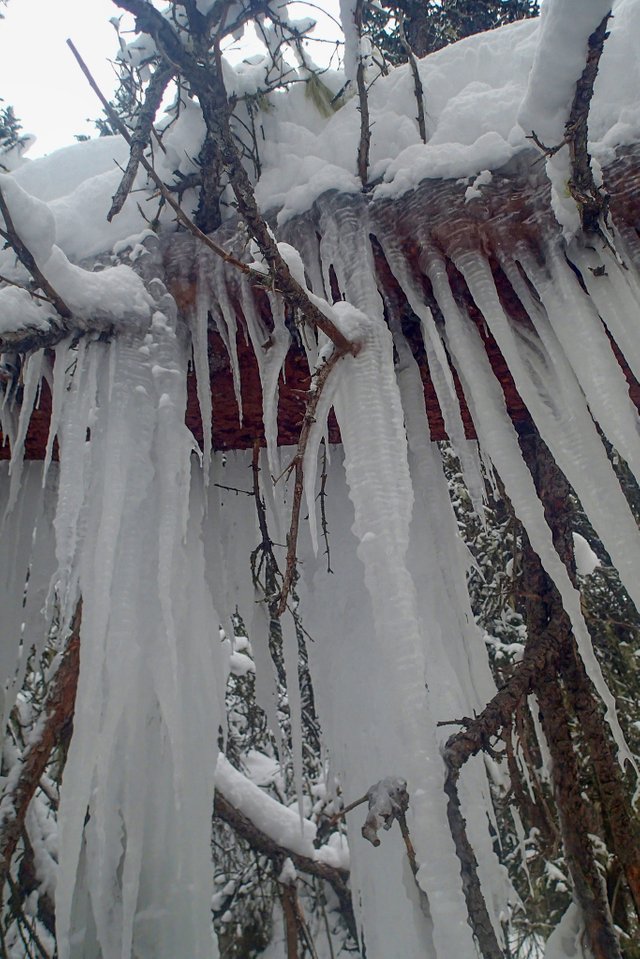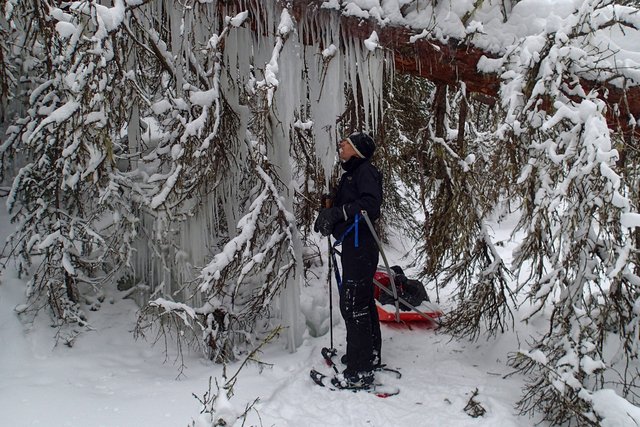 So, my sled is not ideal, since the sides are not that high, but it worked well enough the last couple of trips and can fit a fair amount of gear. This is mine and a buddies gear load, so about a 70lbs sled.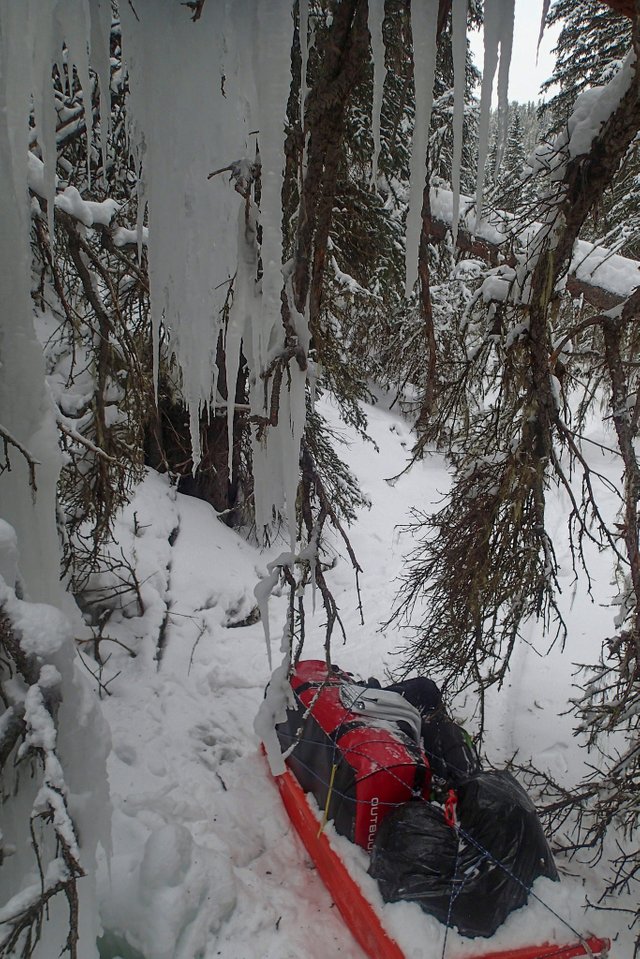 An awesome river walk in the powder, but not without tens and tens of obstacles and challenging deadfall.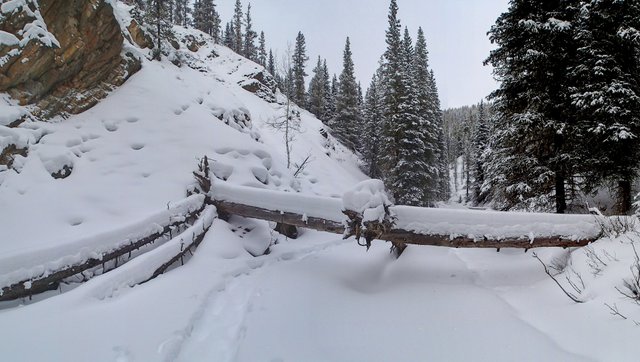 Another shot of base camp setup, a hennessy hammock and hammock gear underquilt to challenge the night.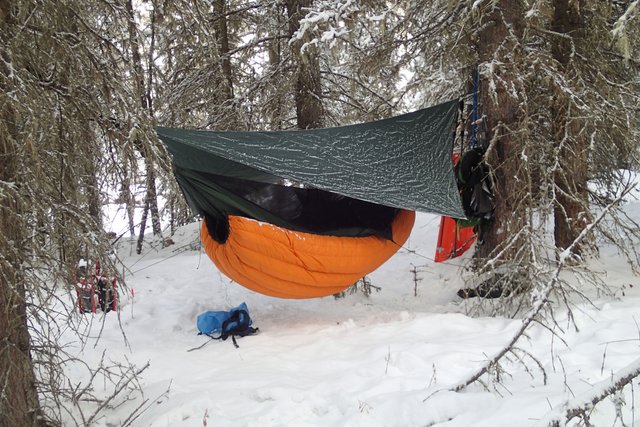 Couple buddies' setups with their solo tents in the snow.

And another one with a large tarp hammock shelter setup.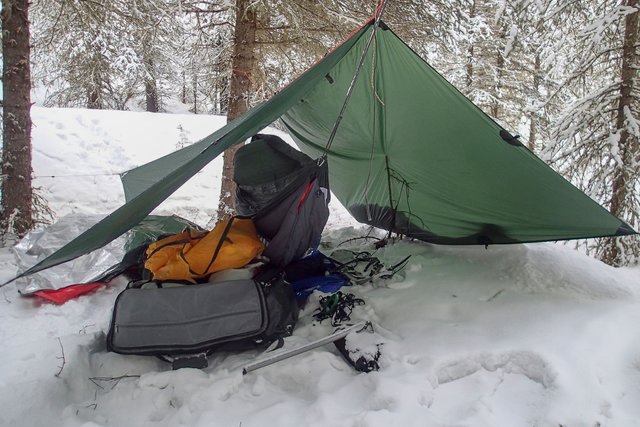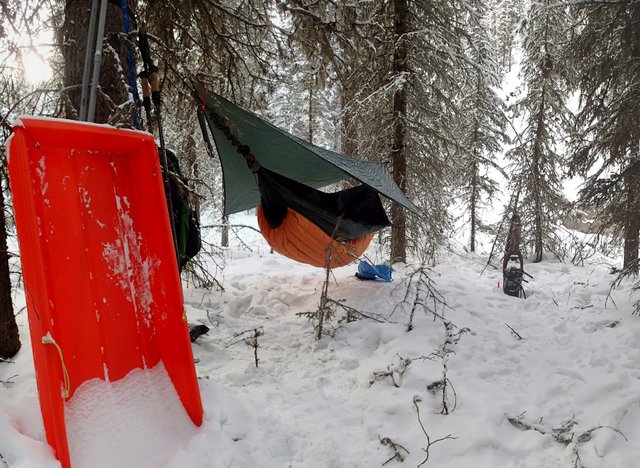 I spent about 10 minutes and build myself a pretty comfortable a-fram chair, wide seat and an emergency blanket to reflect back the heat to my body when sitting around the fire, which we did a LOT of. It worked great and definitely helped keep things warmer.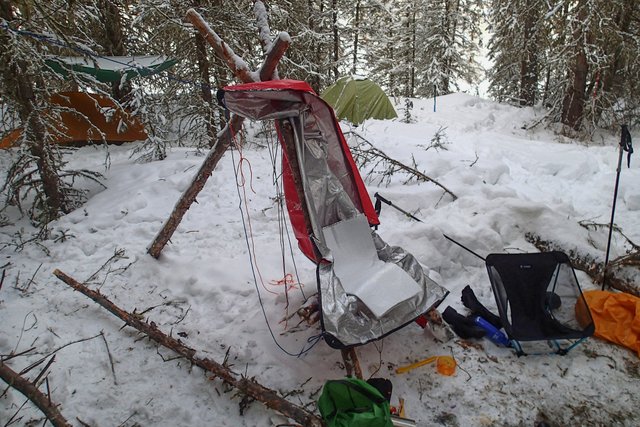 Heating the water bottles to keep things from freezing, which will happen real fst without the fire. Without a couple of hot water bottles to put in your sleeping back down by your feet, it would be a lot colder. I had a pretty comfortable night with their help and had a good night sleep. Can't say the same for my buddies, who struggled the cold a bit more than I.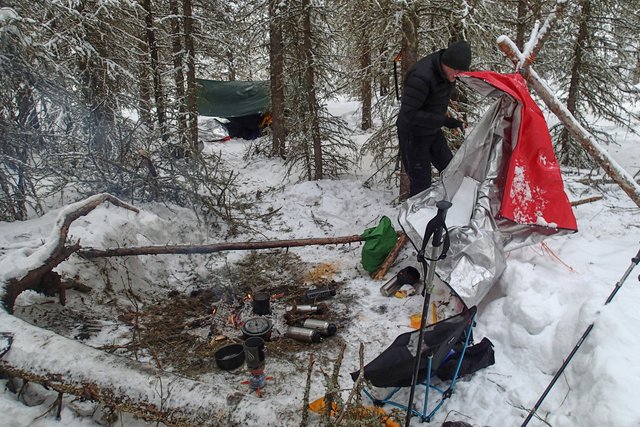 A decent waterfall we stopped at on the way out. You can see my buddy on the top of it setting an anchor (climbed from another easier route to reach the top).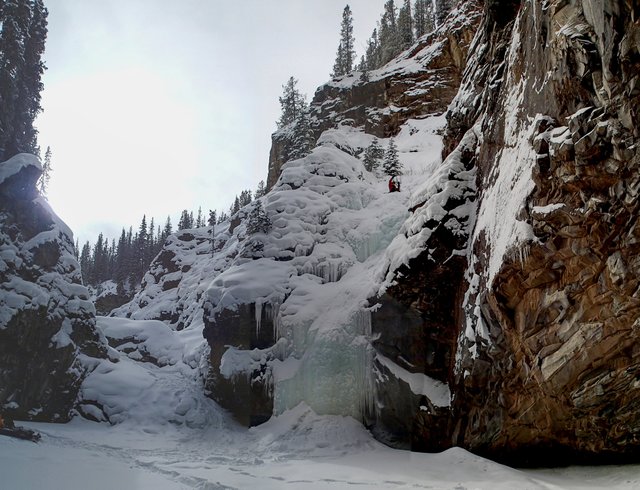 I'm on belay for my buddy to tackle the ice climb with the placed top rope.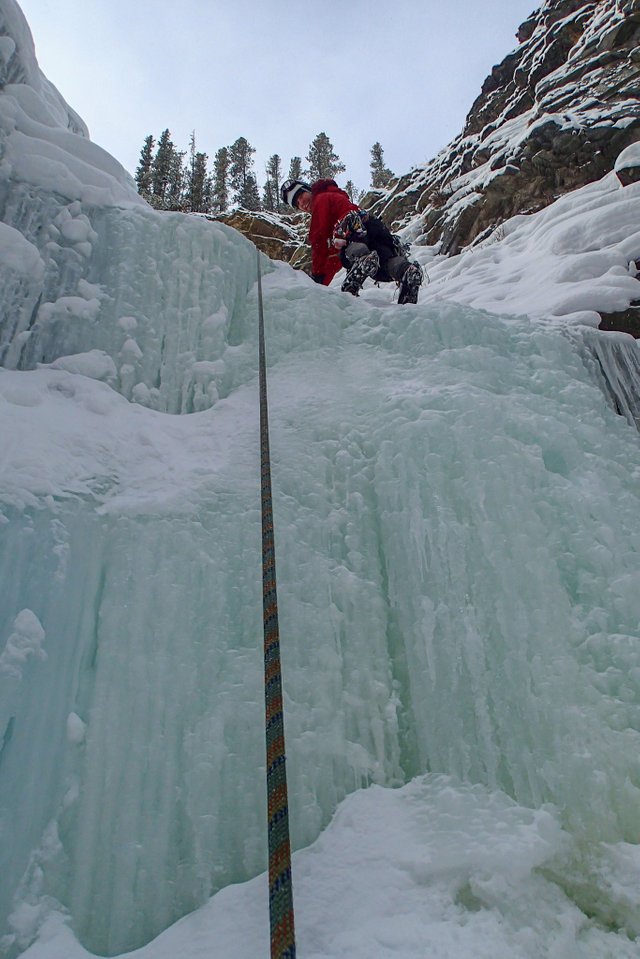 All in all, an amazing trip with super scenery, yet a tough experience in these cold temperatures.