Story of a handmade Silver Ring with GemStone Step by Step - Wie entsteht ein Silberring mit Edelstein Schritt für Schritt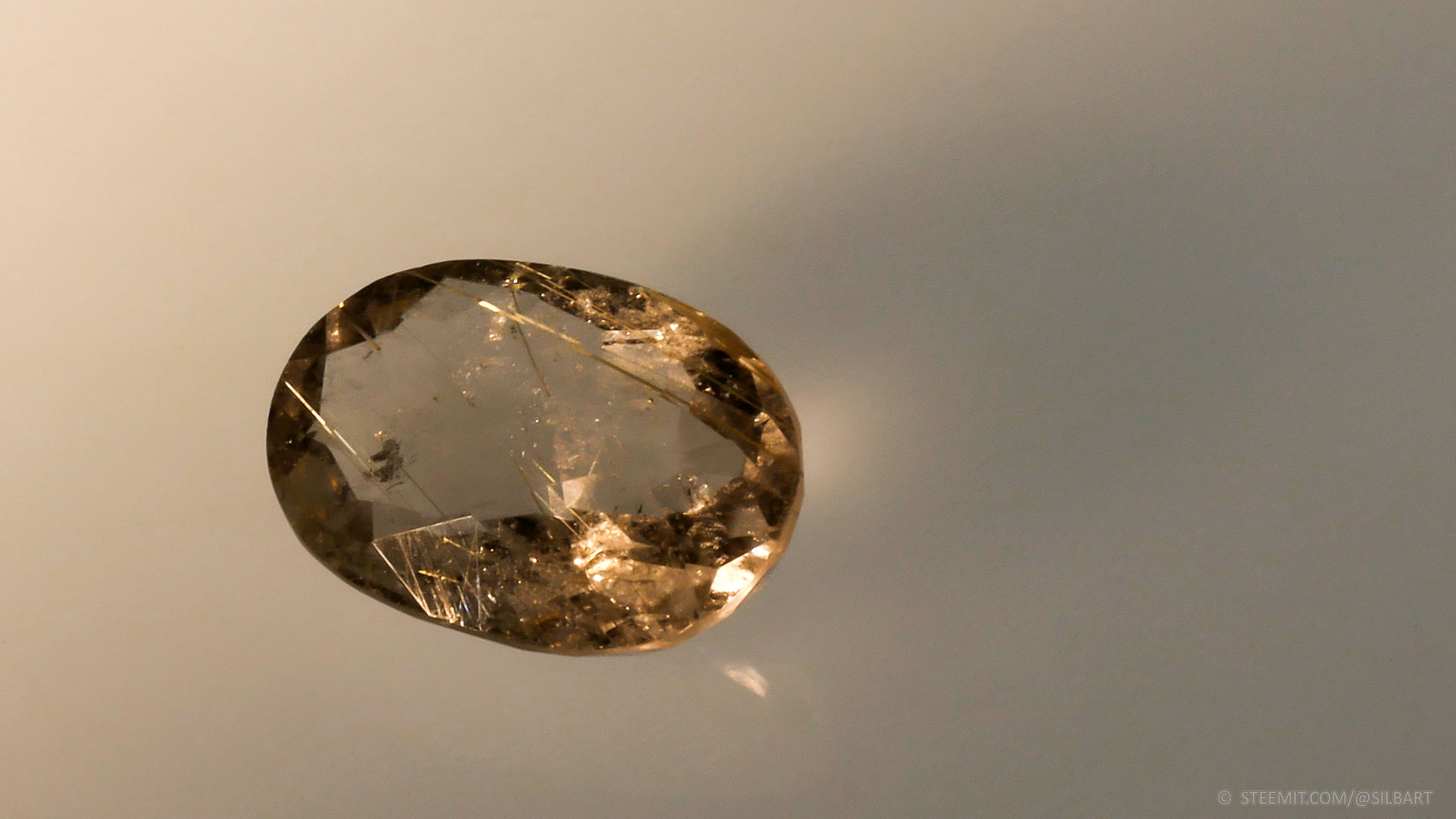 Hi Steemians, Hallo Steemians
today I have a different post for you. I had to do a ring for my wife, which I promised her for a long time and this took me almost two days to get it finished. There are some moments in this process I really enjoy every time again. This time I took many pictures of the process and maybe they are catching your attention a bit. The colors around and inside the melting pot when you liquefy the metal and the noise of the flame got something hypnotic. Like a little fire when you sleep outdoors. I can watch it for hours ;) Maybe that's the good thing that I don't have a boss. He would properly push me and interrupt my nice time. But fortunately it is not like that, and so I can enjoy it a lot. Except the blisters on my fingers. About the photographs there is still space for more quality. Same for my English ;) What I saw the last weeks here on Steemit at some challenges impressed me a lot and I got to get better. And I'm looking forward to doing so. But for this time I am quite satisfied with the result and I will share it with you. This time it started with a gem stone and some pieces of silver 935/000. The stone is a slightly brownish natural rock crystal with rutile needles. The chemical formula is SiO2. The design of the ring is very simple with a focus on geometric and high polished surfaces. What is very good to realize with silver as number one of all metals for optical characteristics. You can make jewelry much easier and faster by casting, but in my opinion never gets such beautiful and stable surfaces.
heute habe ich einen etwas anderen Beitrag parat. Es stand die Fertigung eines Ringes für meine Frau auf dem Plan, welche fast zwei Tage dauerte. Es gibt da immer wieder Momente, die mich regelrecht verzaubern und die ich immer wieder geniesse. Ich schoss jede Menge Bilder um mal einen kleinen Eindruck zu übermitteln. Das hat die ganze Sache auch zeitlich verdoppelt, hat aber riesigen Spass gemacht. Die Farben und das Rauschen der Flamme, die man beim Schmelzen beobachten kann, sind wirklich hypnotisierend. Das hat etwas von einem Lagerfeuer beim Campen. Da kann ich ewig zusehen. Vielleicht ist es auch gut das ich keinen Chef habe, der mir zeitlichen Druck machen würde und so kann ich das Ganze sehr geniessen, ausgenommen die Blasen an meinen Fingern. Bei den Photographien ist auch auf jeden Fall noch eine Menge Spielraum, was die Qualität betrifft. Ich habe gerade in den letzten paar Wochen hier auf Steemit so beeindruckende Aufnahmen gesehen, das ich da unbedingt noch einiges zu verbessern habe. Für dieses mal bin ich aber recht zufrieden und möchte das deshalb mit Euch teilen. Ausgangspunkt sind ein Edelstein und ein bisschen Silber 935/000. Der Stein ist ein natürlicher und leicht bräunlicher Bergkristall mit Rutilnadeln. Die chemische Formel ist SiO2. Das Design ist eher schlicht mit einem Fokus auf geometrische und hochglänzend polierte Flächen, für welches sich Silber, aufgrund seiner optischen Eigenschaften, besonders gut eignet. Man kann Schmuck durch Giessen viel einfacher und schneller herstellen, bekommt aber meiner Meinung nach niemals solche schönen und beständigen Flächen hin.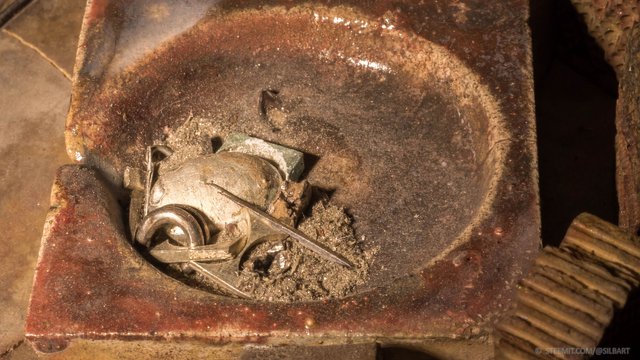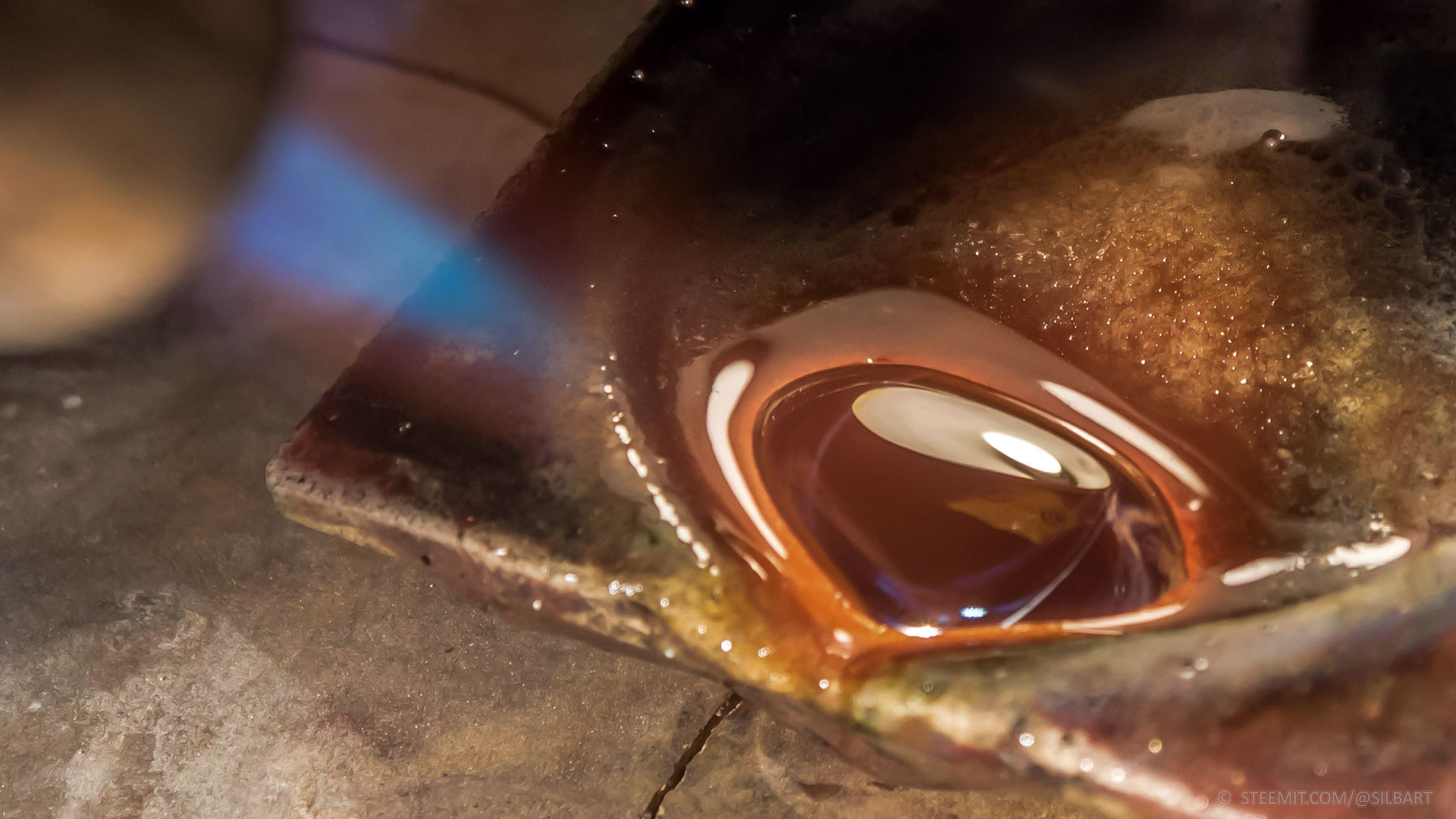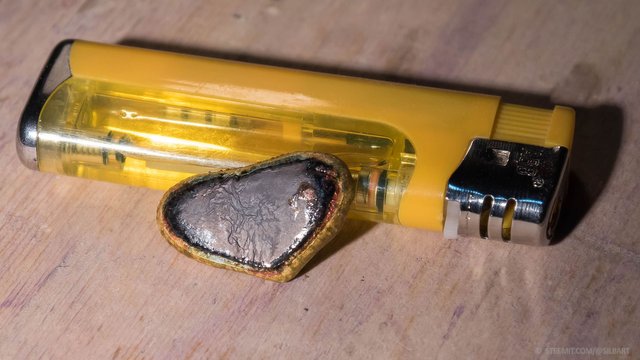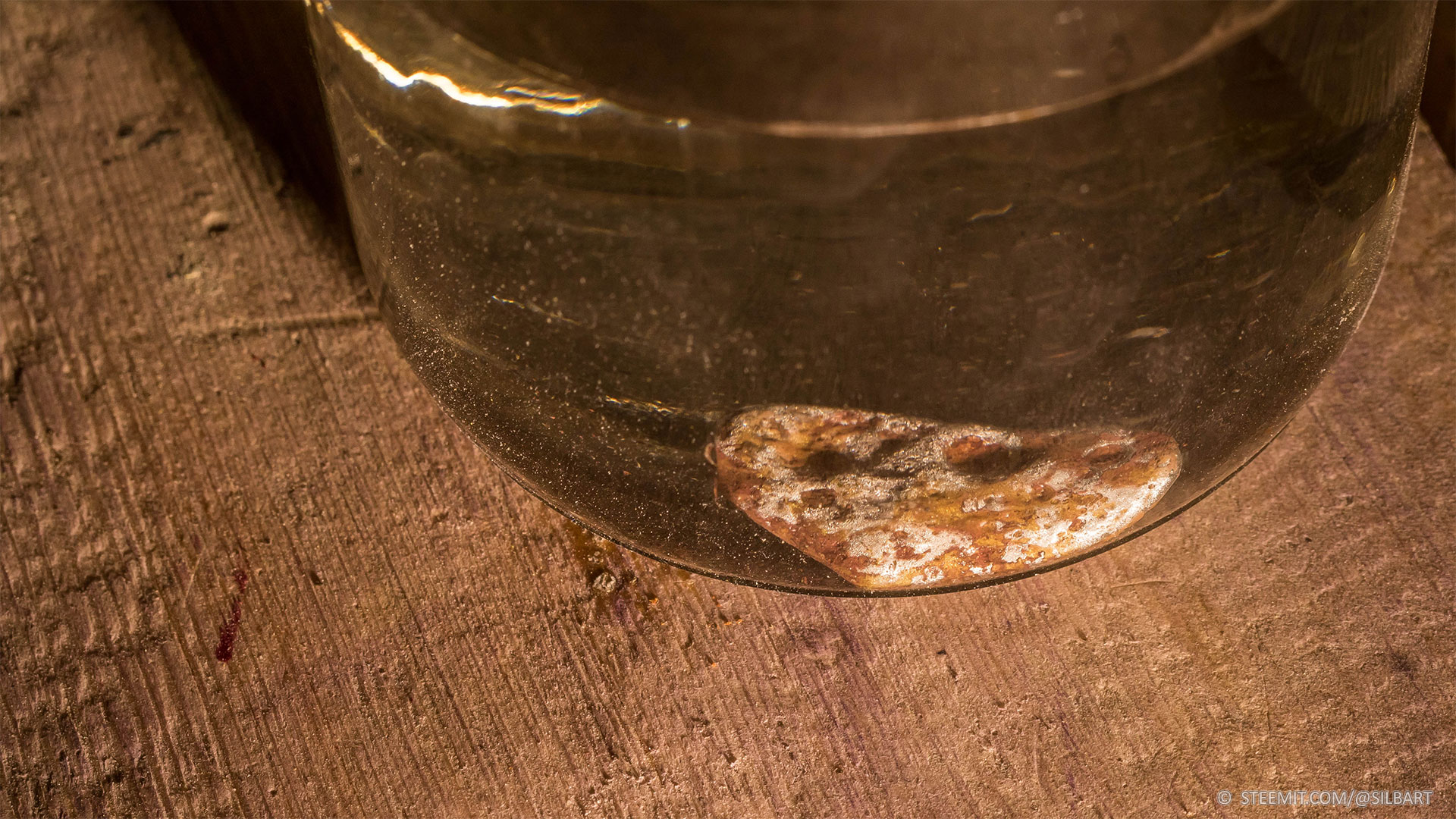 The molten silver, in this case the shape of a heart, stays into acid for a while to remove borax and oxides.
Das geschmolzene Silber, welches in diesem Fall wie ein Herz aussieht, wandert erstmal in ein Säurebad, um Borax und Oxidreste zu entfernen.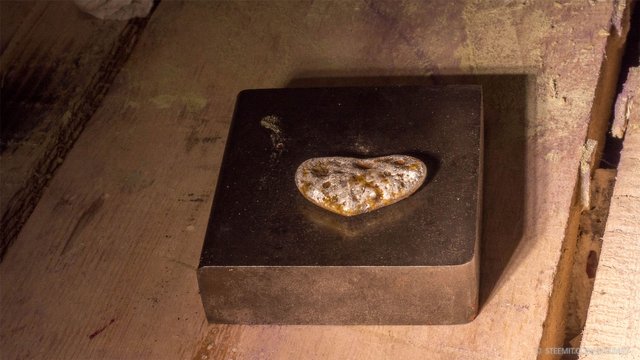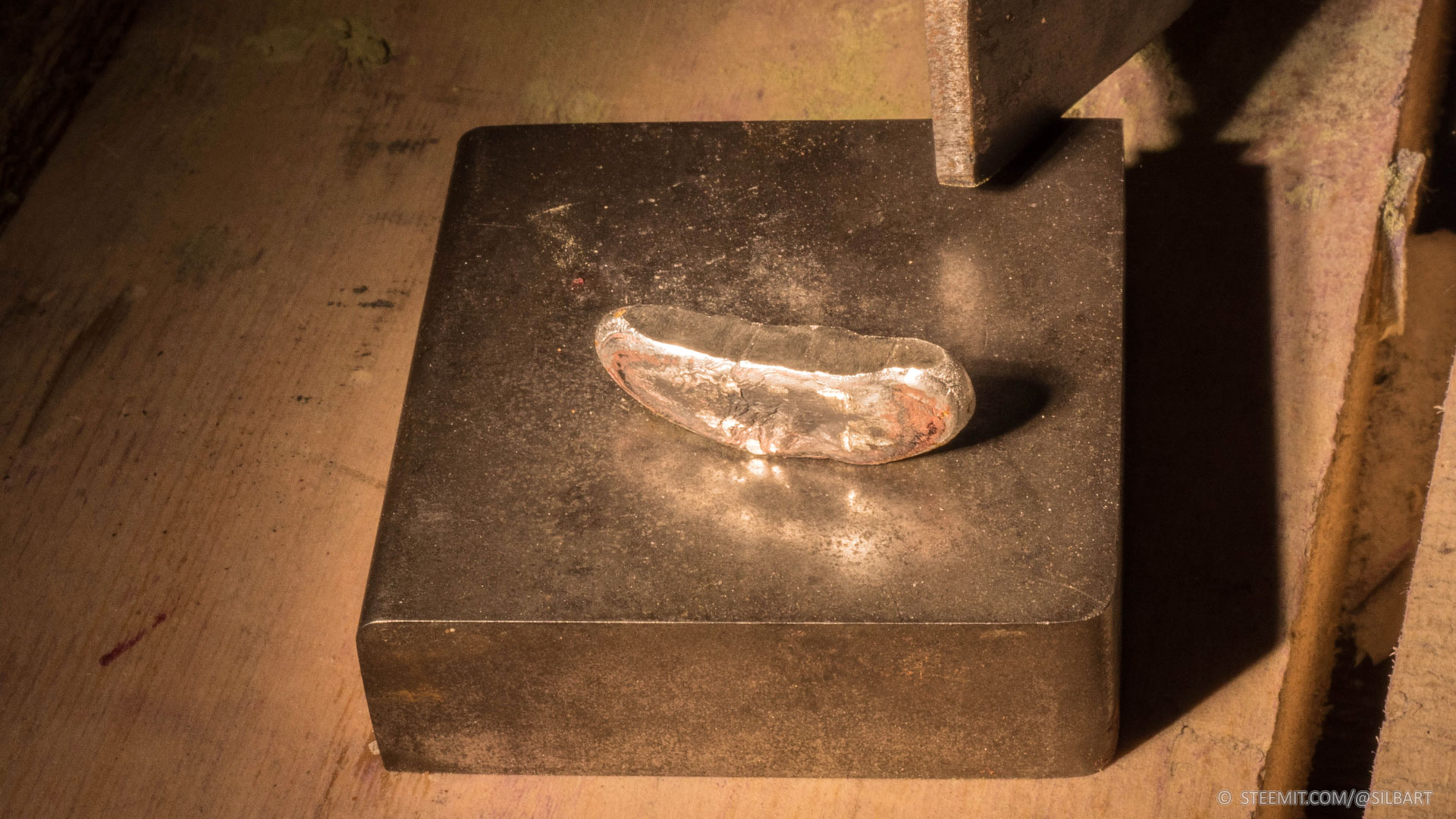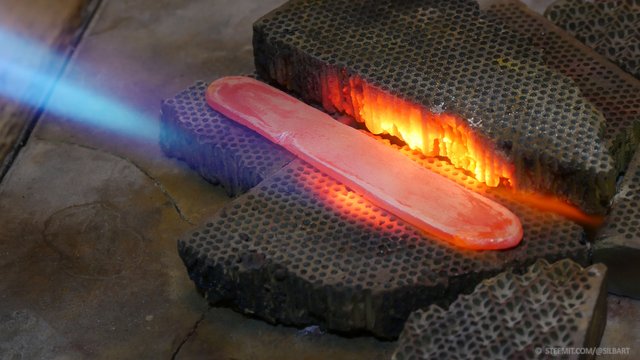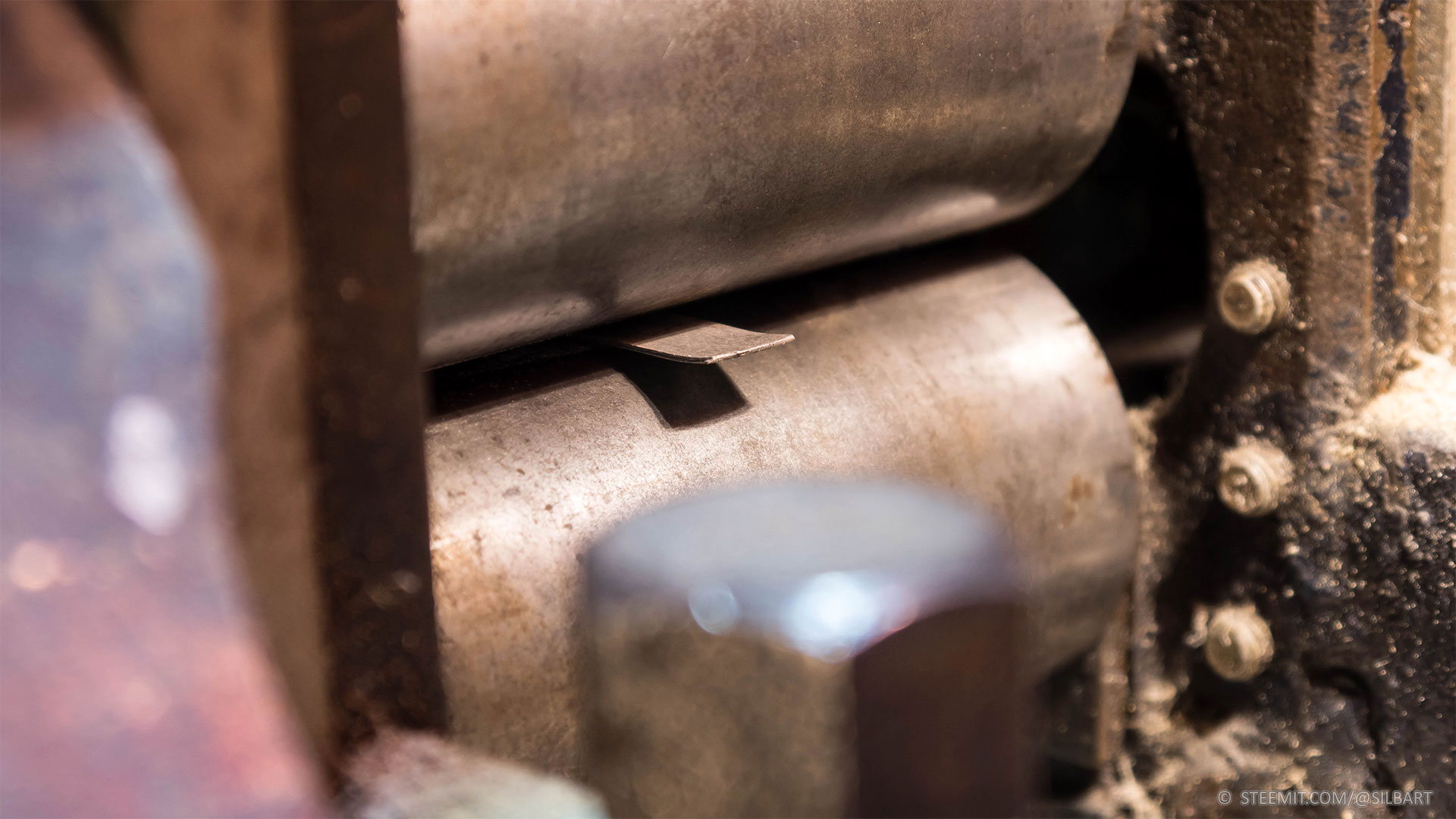 The next step is to take a hammer and hammer the block like there is no tomorrow. That's exhausting but it pleases the silver and makes it soft and supple. After annealing, the silver is shaped into a sheet metal with a roll.
Der nächste Schritt ist das kräftige durchschmieden mit einem Hammer. Das strengt an, gefällt dem Silber aber ganz besonders und macht es zart und geschmeidig. Nach dem Glühen wird das Silber mit einer Walze zu einem Blech umgeformt.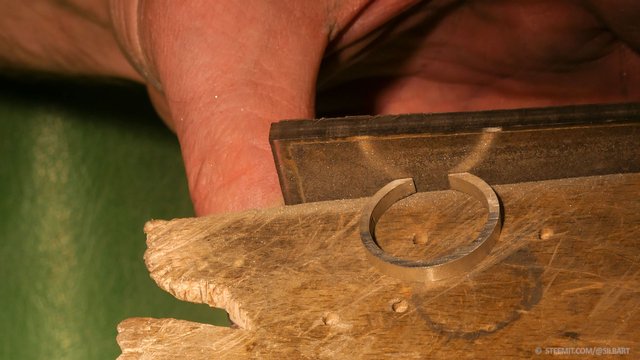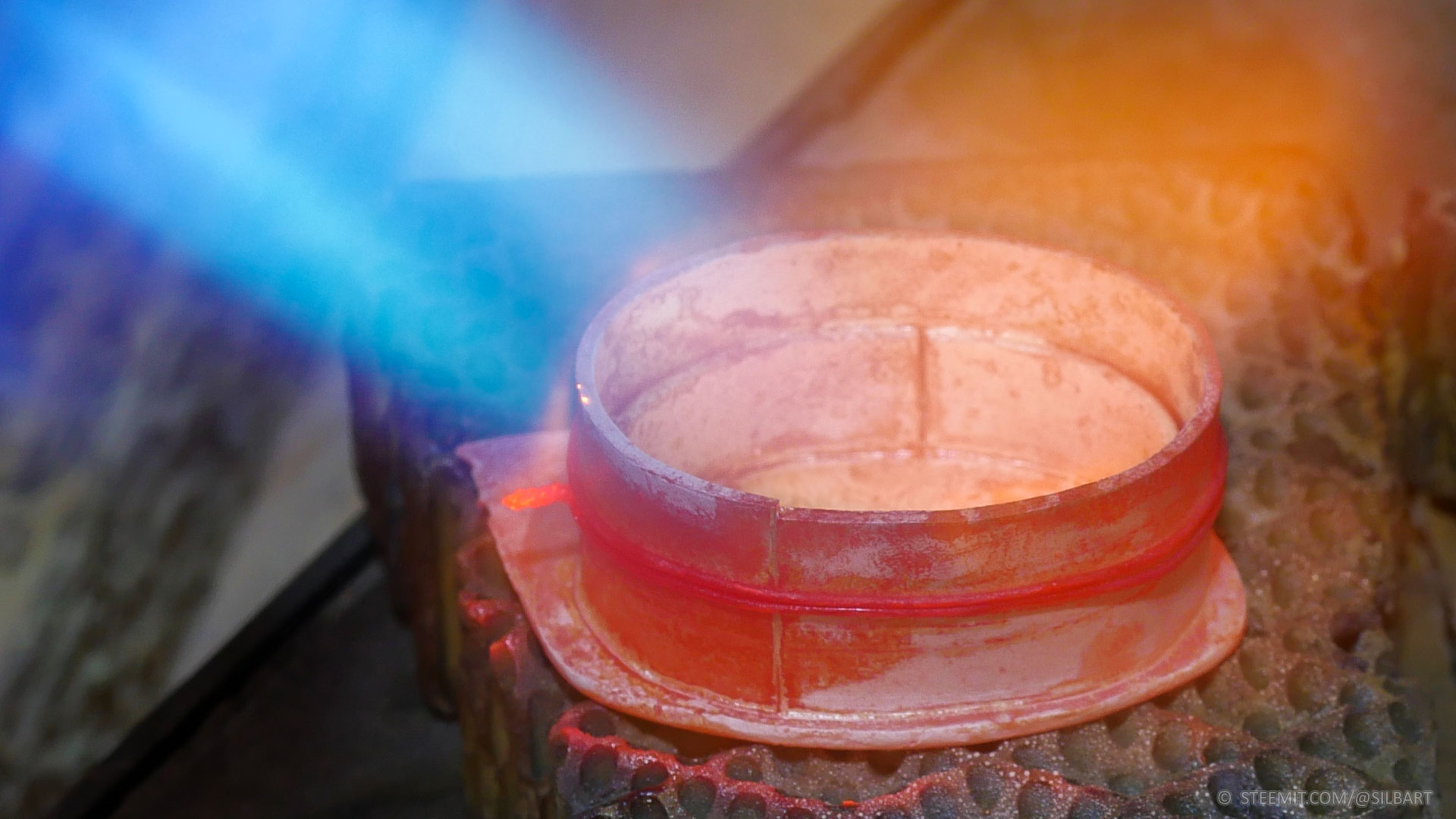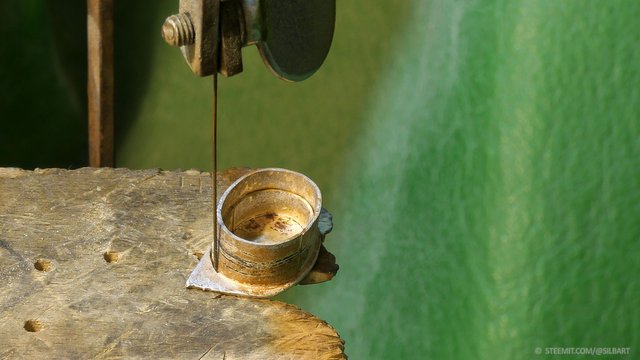 Now is time for preparing the different pieces of the ring. In this case four parts. That means saw, grind and polish.
Jetzt geht es an die Vorbereitung der einzelnen Teile des Ringes. In diesem Fall vier an der Zahl. Jetzt heißt es sägen, schleifen und polieren.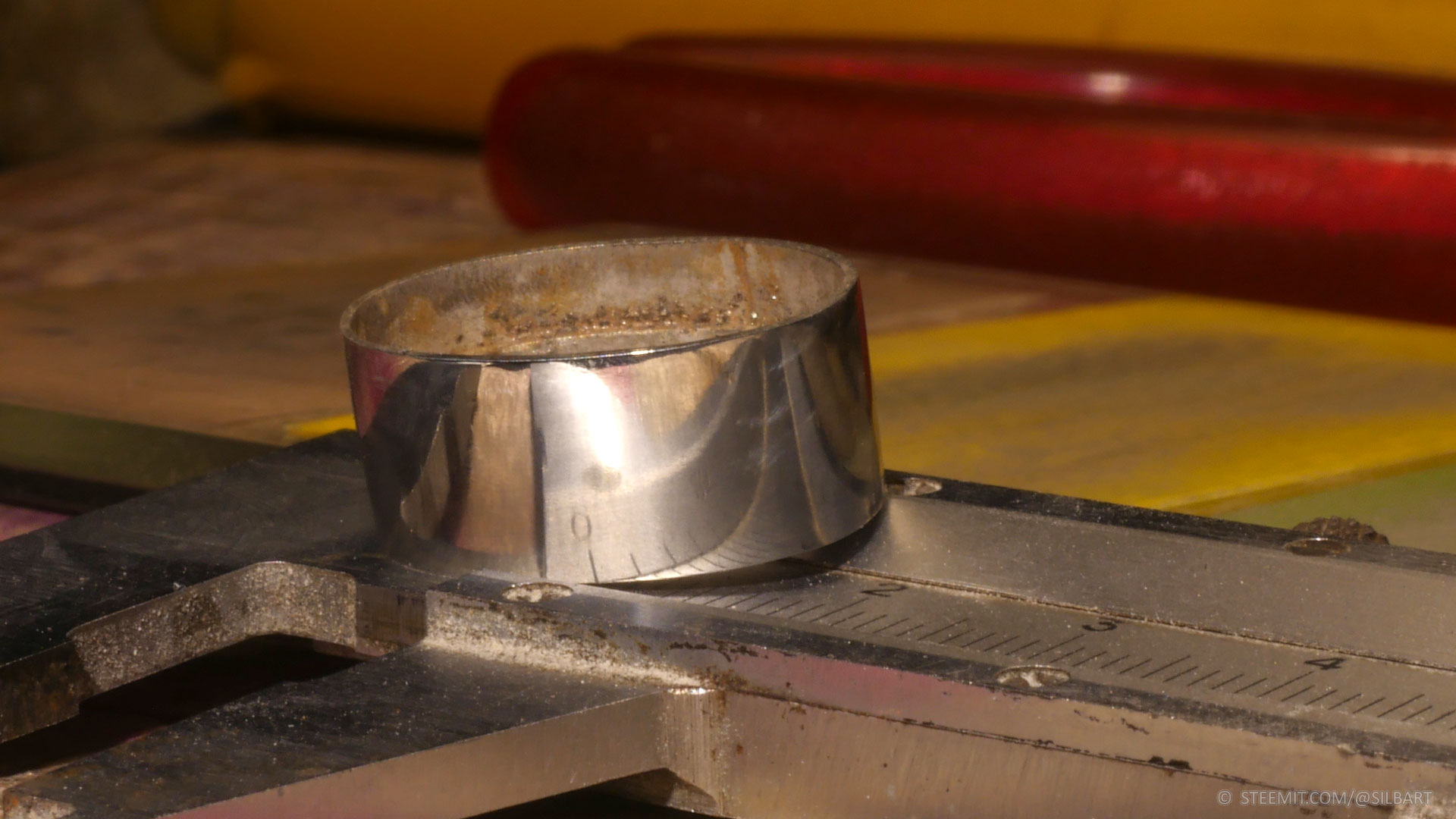 Do you see the rust on my tools? That is my enemy. In summer its wet in my basement and I spend all the time in the nature with my family. Later in autumn and winter the air is very dry and every year at this time I remove rust of my tools and oil them. Not this year yet, because I discovered Steemit lol. But I will give them a new-look in the next days.
Siehst du den Rost an meinen Werkzeugen? Der ist mein Gegner. Im Sommer ist es nass in meinem Keller und ich verbringe sehr viel Zeit mit meiner Familie in der Natur. Später im Herbst und Winter ist die Luft sehr trocken und jedes Jahr entferne ich den Rost von meinen Werkzeugen und öle sie ordentlich ein. Jedoch noch nicht in diesem Jahr, da ich Steemit entdeckt habe. Aber ich werde mich in den nächsten Tagen darum kümmern.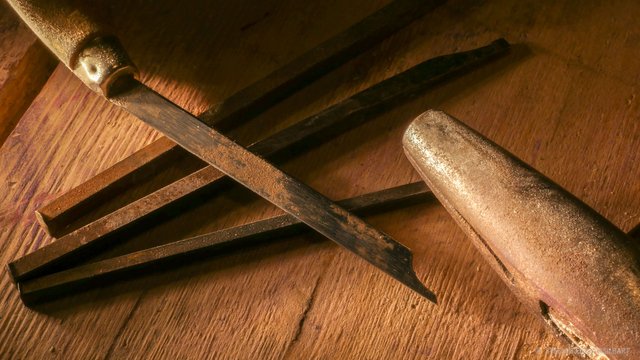 Now the parts will be united into a raw ring. This part is always a tricky highlight for me, because it can destroy all your previous steps. You have just a very little space in melt temperature of the silver solder and the silver itself because silver is the number one of all metals for thermal conductivity. All gets evenly hot and if you miss the right moment, your painstakingly polished surface will be destroyed and looks in the best case like a nice property of our moon. My teacher has always said who can braze silver clean, for the gold is a lightness. If you did it right all parts are fixed together and the polished surface of the ring still exists. This time I had a very tiny hole outside between two parts where the solder didn't reach in. I was almost finish with my nerves. One little hole and again into the flame. And again risk the whole project. But this time I was lucky and it ended in a full success. All parts were soldered proper.
Nun werden die einzelnen Teile zu einem Ring verbaut. Dieser Arbeitsschritt ist für mich immer eine heikle Angelegenheit, da er alle vorherigen Schritte zerstören kann. Man hat nur ein paar Grad Unterschied vom Silberlot zum Silber und da Silber das Metall mit der besten thermischen Leitfähigkeit ist und zwar von allen Metallen, wird das ganze Werkstück gleichmässig heiss und wenn man nicht aufpasst ist die mühevoll polierte Oberfläche verschmort und sieht bestenfalls aus wie ein schönes Grundstück auf dem Mond. Meine Lehrmeisterin hat immer gesagt, wer Silber sauber hartlöten kann, für den ist Gold eine Leichtigkeit. Wenn alles richtig gemacht wurde, sind alle Teile auf Dauer aneinander befestigt und die polierte Oberfläche des Rings ist immer noch vorhanden. Diesmal hatte ich ein winziges Loch zwischen zwei Teilen, wo das Lot nicht reichte. Ich war fast fertig mit meinen Nerven. Ein kleines Loch und wieder in die Flamme. Und wieder alles aufs Spiel setzen. Aber diesmal hatte ich Glück und es endete mit einem vollen Erfolg. Alle Teile wurden sauber verlötet.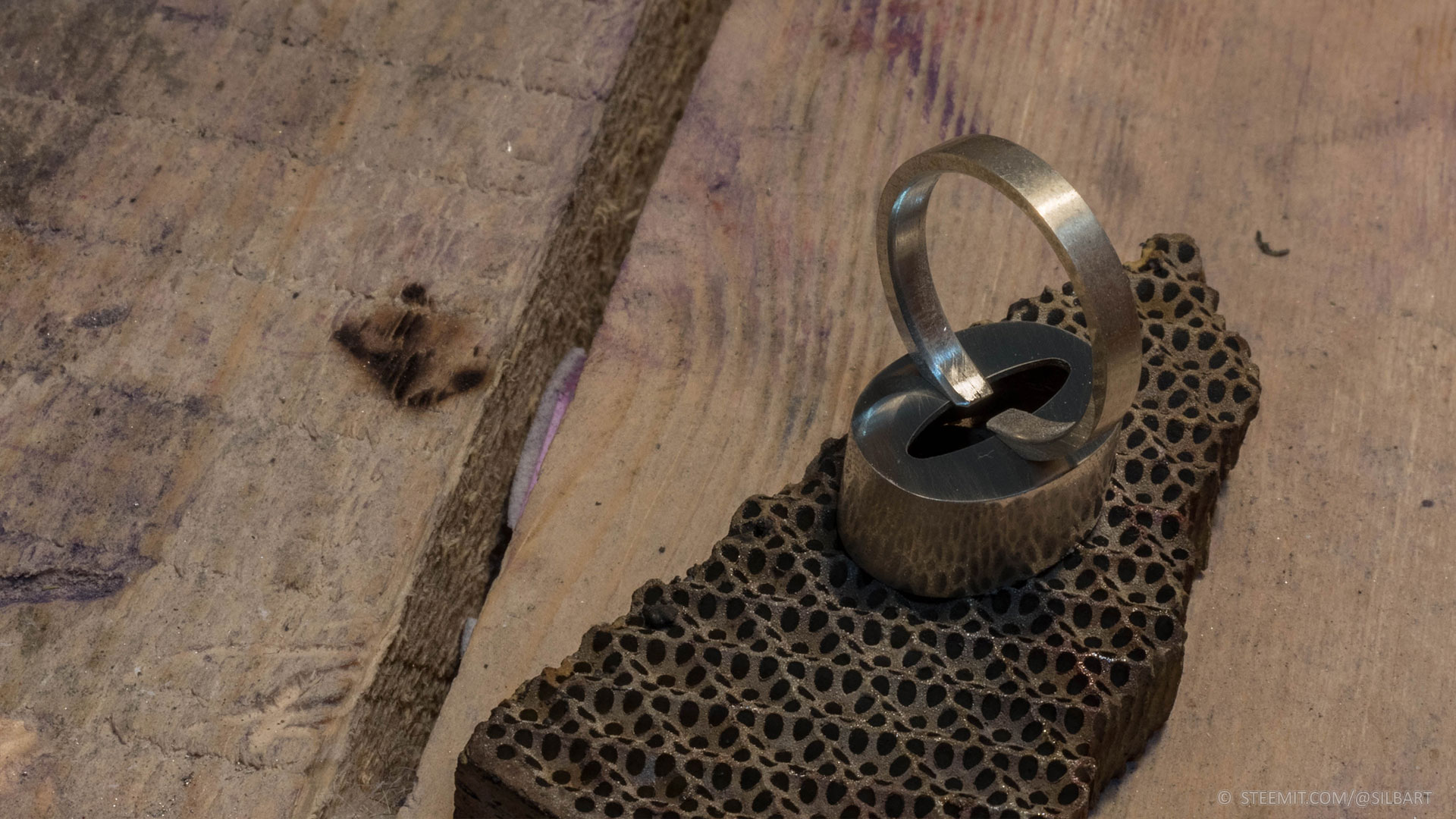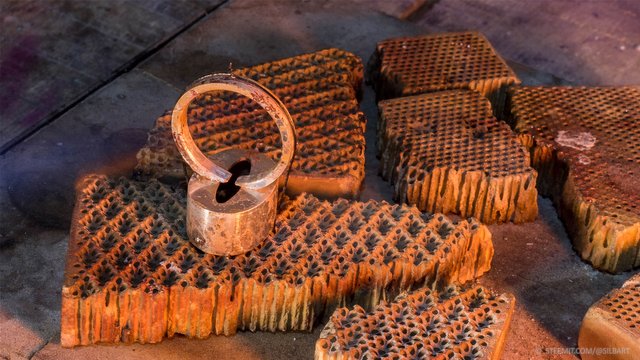 And again a nice acid bath.
Und nochmal ab in die Säure.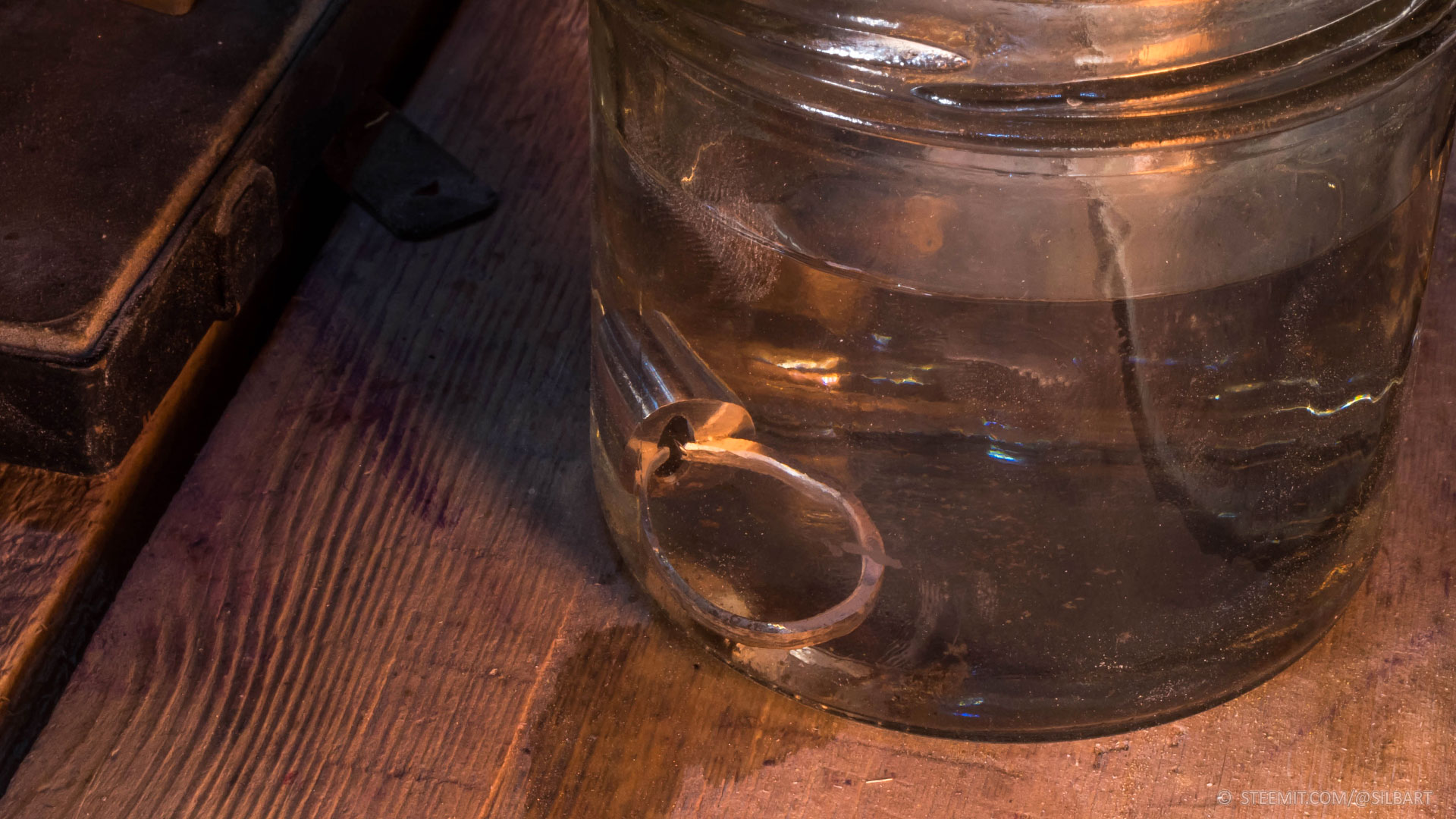 Have a taste of how the ring looks like with stone.
Schon mal einen kleiner Vorgeschmack, wie der Ring wohl mit Stein aussieht.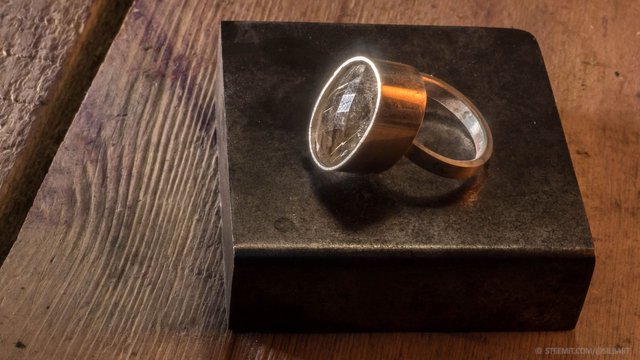 Almost done. Only clamping the stone .. Perhaps the biggest hurdle of all. Many stones are not so easy or impossible to replace when they are destroyed while fixing. A blow too much and the stone thanks you by turning into many small stones. Great experience. I already had. But this time everything went well. The rock crystal sits bomb-proof and I went thereupon first immediately in the next market and got me a cool Mongolian beer.
Jetzt nur noch den Stein fassen.. Die vielleicht grösste Hürde von allen. Viele Steine sind nicht so einfach oder überhaupt nicht zu ersetzen, wenn sie beim Fassen zerstört wurden. Ein Schlag zuviel und der Stein bedankt sich bei dir indem er sich in viele kleine Steine verwandelt. Ganz tolles Erlebniss. Hatte ich auch schon. Diesmal ist aber alles gut gegangen. Der Bergkristall sitzt bombenfest und ich bin daraufhin erstmal sofort in den nächsten Markt gelaufen und hab mir ein schönes, kühles, mongolisches Bier genehmigt.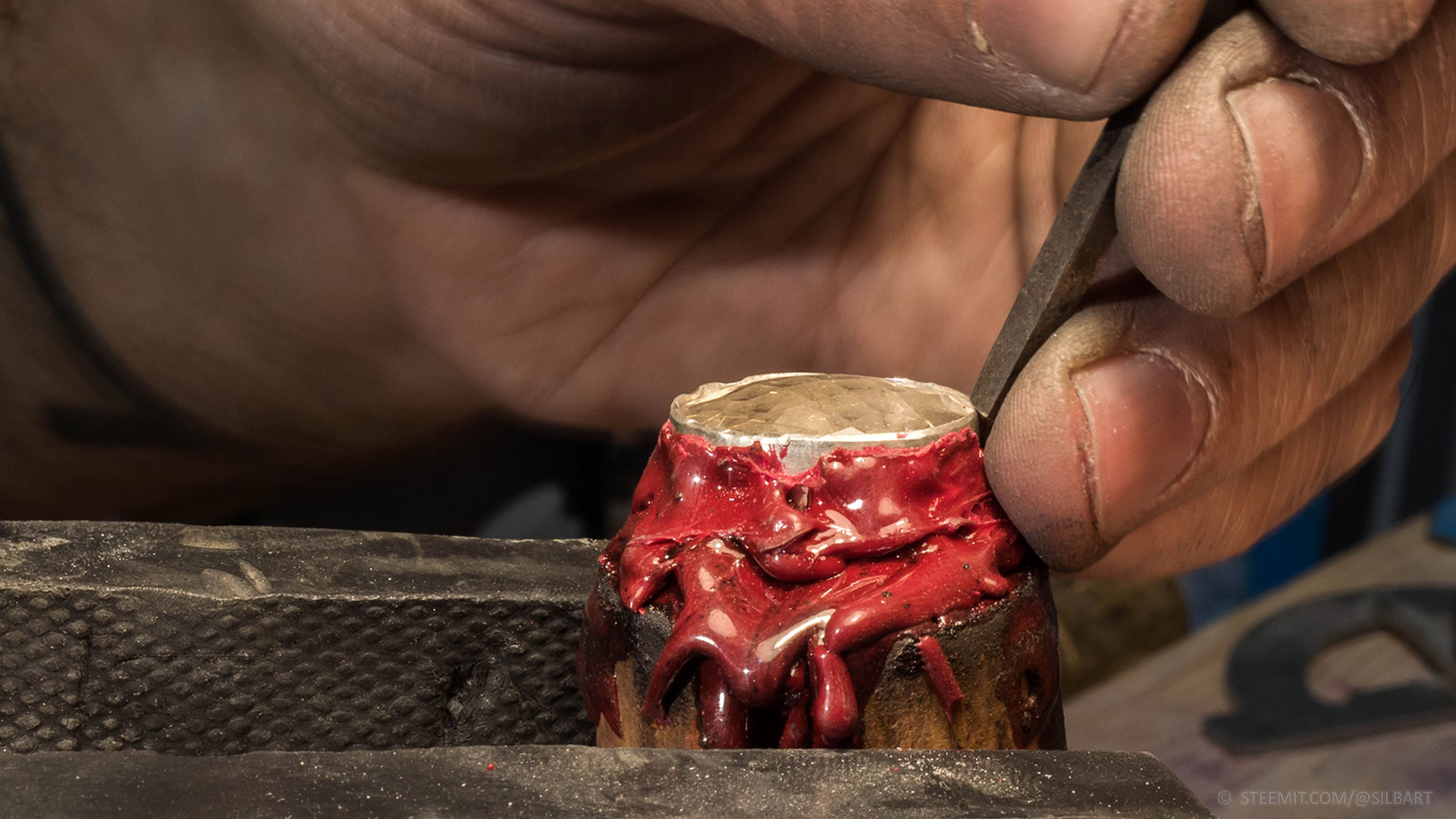 The last step is the final polishing and cleaning. It's done !! I was very satisfied with the result. My wife too ;) And if you enjoyed this post you are invited to watch the next part. A ring with a little piece of a shooting star. A real meteorite from outer space. Please excuse my grammar and spelling mistakes. Thank you very much for visit my blog and have a great day, night or morning. Greetings from Mongolia,
Der letzte Schritt ist das Polieren und die Reinigung des Ringes. Fertig, geschafft !! Ich bin echt zufrieden mit dem Ergebniss und meine Frau ist es auch. Und wenn Dir der Beitrag gefallen hat, bist Du herzlich gerne zum nächsten Teil eingeladen. Da entsteht ein Ring mit einem Stückchen von einem sehr weit gereisten Meteoriten. Vielen Dank für Deine Aufmerksamkeit und einen wunderschönen Tag, Nacht oder Morgen. Gruss aus der Mongolei,
Silbart.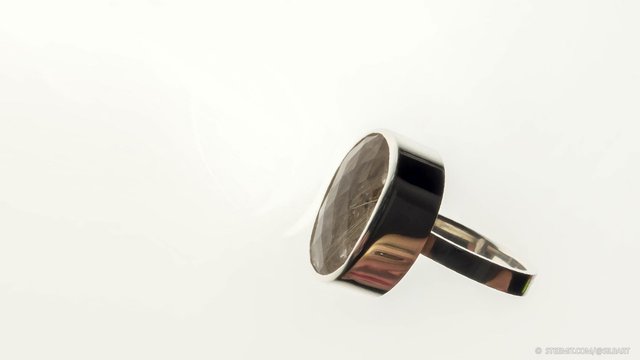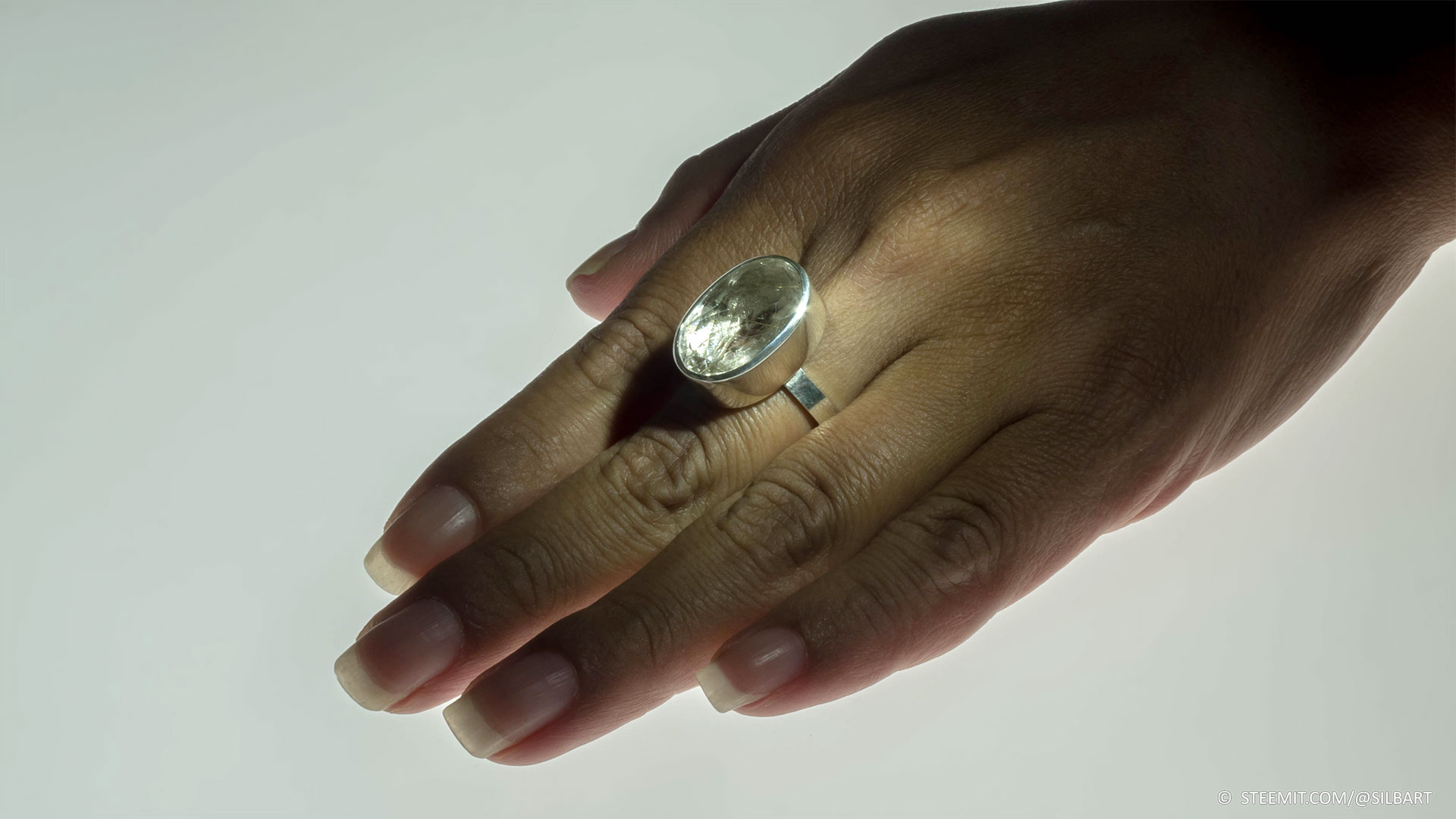 !steemitworldmap 47.9045233 lat 106.9387289 long description d3scr
Images were shot with a Panasonic GH4 and a 14-42 lense.
Die Aufnahmen wurde mit einer GH4 von Panasonic und einem 14-42 Objektiv gemacht.