Whipsnade Wildlife Park
Dunstable, Bedford, UK, one hour North of London, Whipsnade Zoo is the UK's biggest, set in 600 lush acres of prime English Countryside. It's part of the Zoological Society of London and as such, is part of a network of global animal conservation which has an active focus on conserving habitats in the wild and breeding programs for vulnerable species. Like many people, I have mixed feelings about animals in captivity, and often feel that some animals are too intelligent to be kept in small spaces, but I also recognise the role of Zoos as educators and importantly their contribution towards conservation of endangered species. With the privilege of our abilities comes great responsibility and as humans we still have much to learn about how to be effective Guardians of our precious Earth, if that is what we intend to be.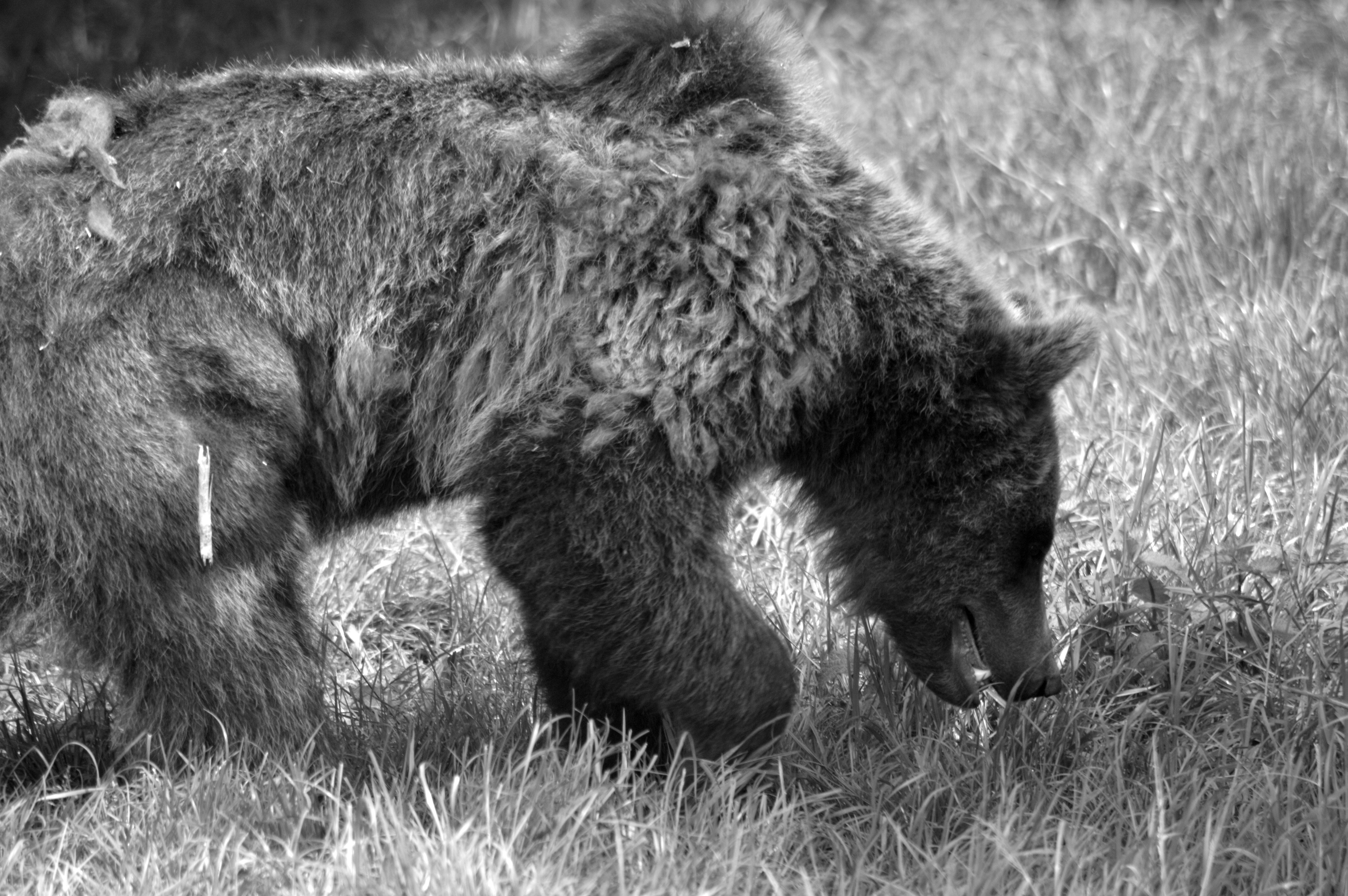 Whipsnade was Quite a Surprise
I had never been there before and wanted to take my young daughters, who are at the age where they are fascinated by animals. Giraffes, Crocodiles, Elephants, Bears and Lions loom large in their burgeoning minds and they both had an incredible experience. Especially the incident where the Hippo jumped into it's pool and gave my two and a half year old a (fright) and a memory to keep for life !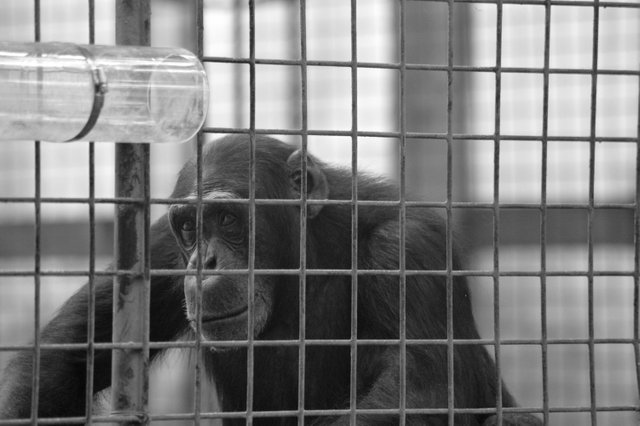 The Park is on a Grand Scale
with the animal enclosures spread out on a hill overlooking a panoramic view of the outlying countryside, befitting of the Synthetic Serengeti the park partly aims to reproduce. There is an Africa and Asia section in addition to a Europe section containing Bears, Wild Boar and Wolverines. Overall I'd say they're doing a really good job. Most of the animals have enclosures which give the animals privacy, so we didn't actually see any Tigers, Cheetahs or Wolvervines, which is fine. We did get close up with the Asian Elephants having afternoon tea, sawGiraffes up close and were lucky to see the 3 Bears, who all came out of the woods for a play, much to everyone's delight.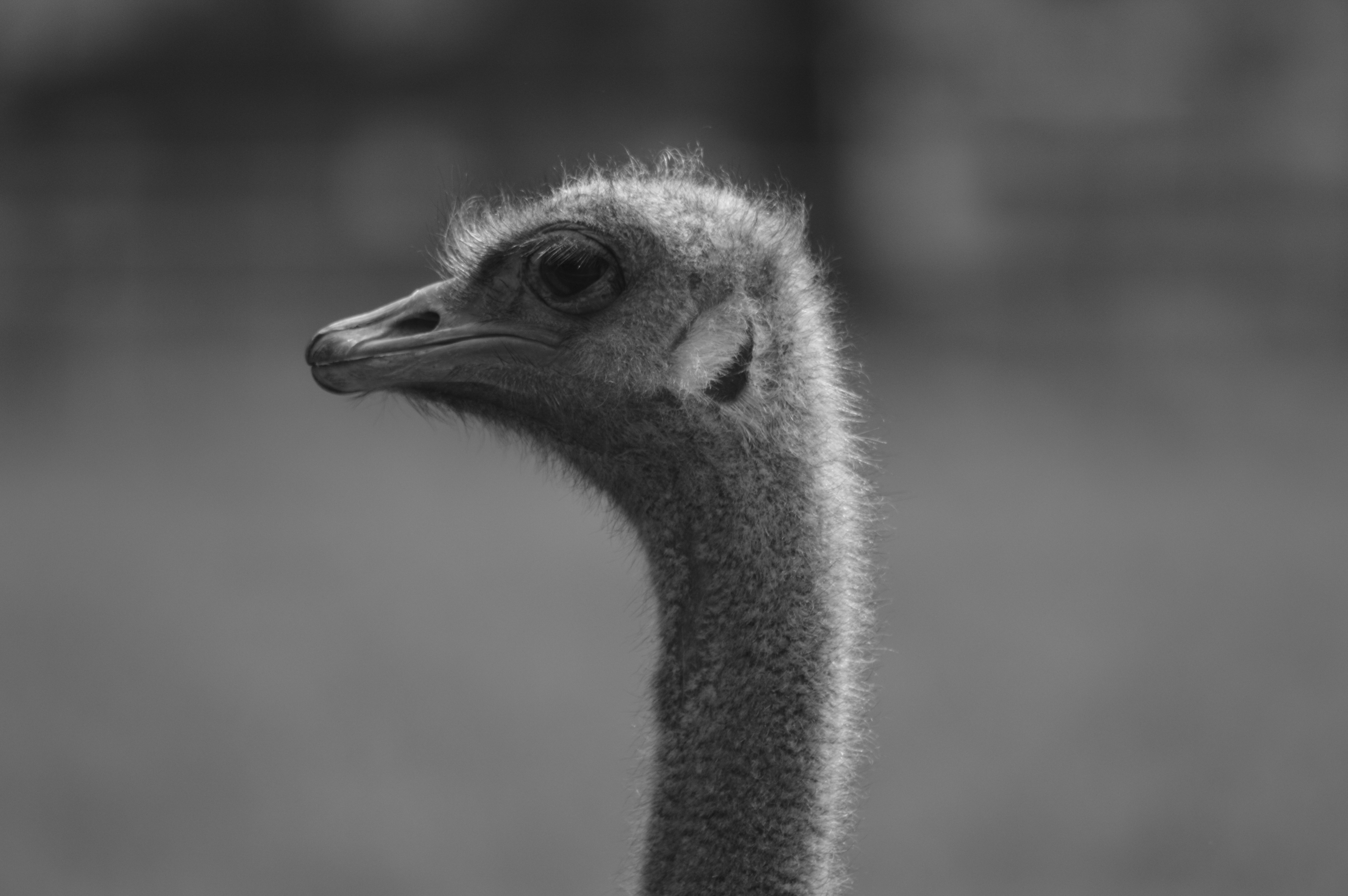 The Park is Very Green
and they constantly plant trees so that the Elephants and Giraffes have plenty to eat. In this respect, they have enough space to ensure a level of sustainability. The grass is lush, so the Pygmy Hippo and Rhinoceros can munch til their hearts are content, along with all the hoofed stock. There are lots of animals which are free to roam the park and we saw Wallabies bouncing along in the grass and Mara which really look like enormous Hares. There are many types of Antelope and large herbivores dotted around the park in large enclosures and luckily I had a 70-300mm lens with me, which came in handy for spotting far off animals in the distance. Testament to the amount of space between us and the animals is the fact that this lens was the perfect choice for the day. I did have an 18-55mm kit lens in my bag but I didn't use it once.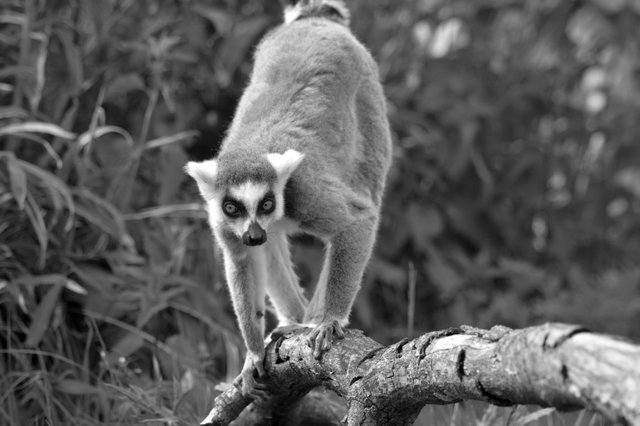 The Ring Tailed Lemur Enclosure
was a delightful tropical garden where you can get really close to them. The rule is you don't touch them but if they happen to come and sit on your shoulder, that's ok. It's gated at either end with a paddock entrance so they are effectively locked in while human visitors can come and go. A Matriarchal family hopping around from feeding post to fence, eating fruit as they go.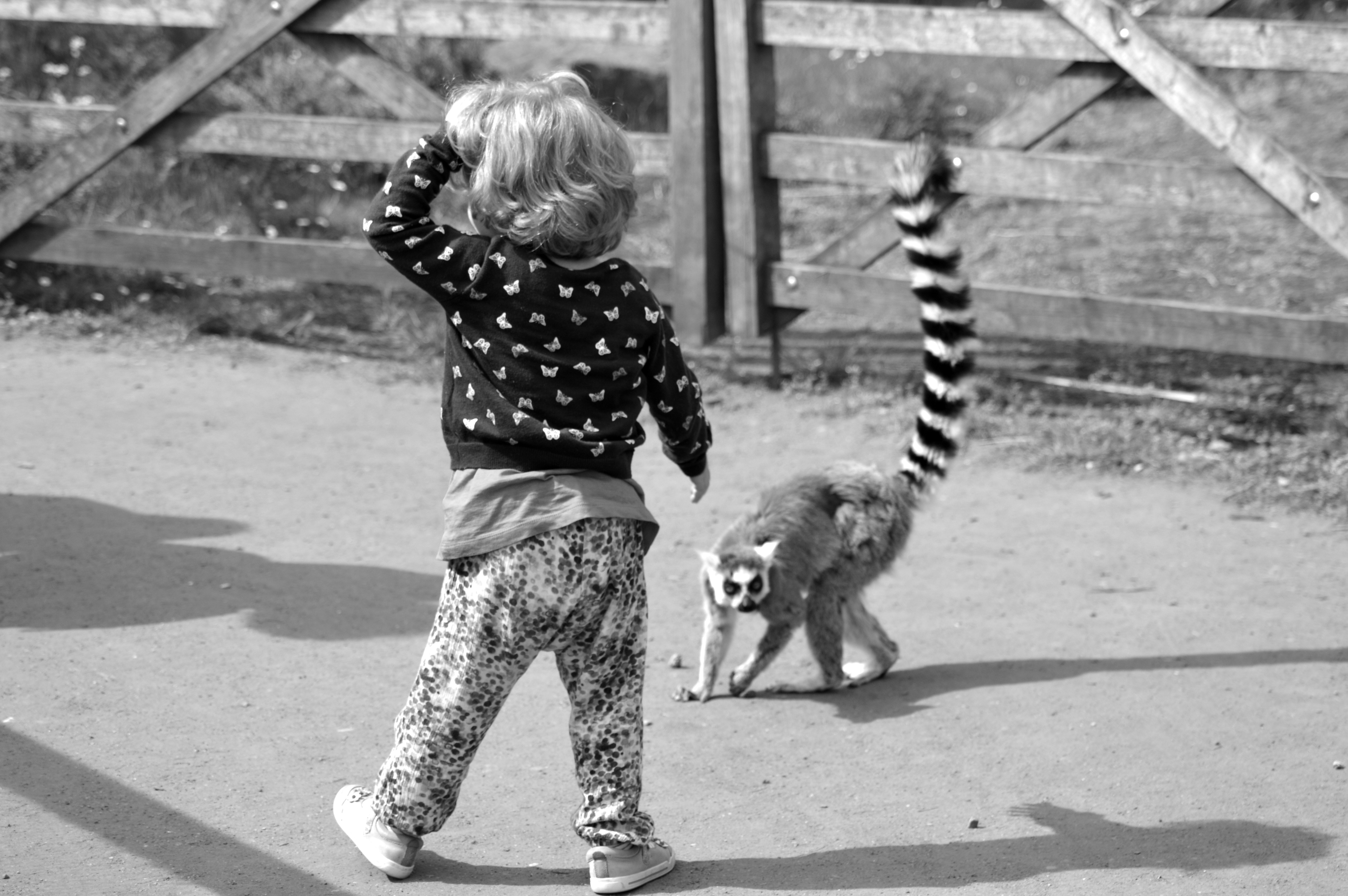 My elder daughter was quite intrigued by these enigmatic animals and intuitively noticed that although they look a bit like cats, "Daddy, they've got hands."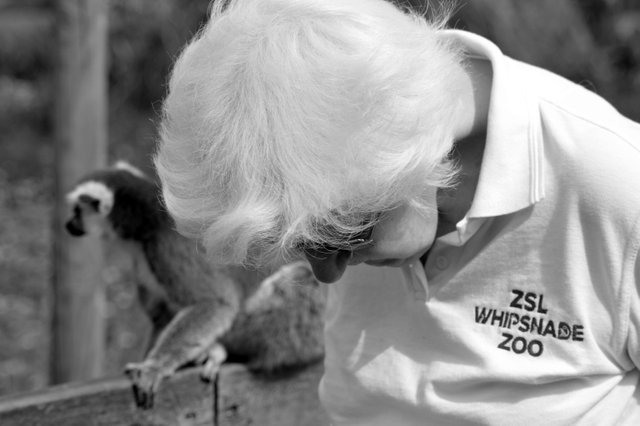 The Zoo Employs a Number of Retired Volunteers
who are the eyes on the ground and made the experience a friendly one. They know quite a lot about the animals and so provide lots of useful information. This old lady seemed quite at home among the Lemurs and they seemed more than happy to have her around.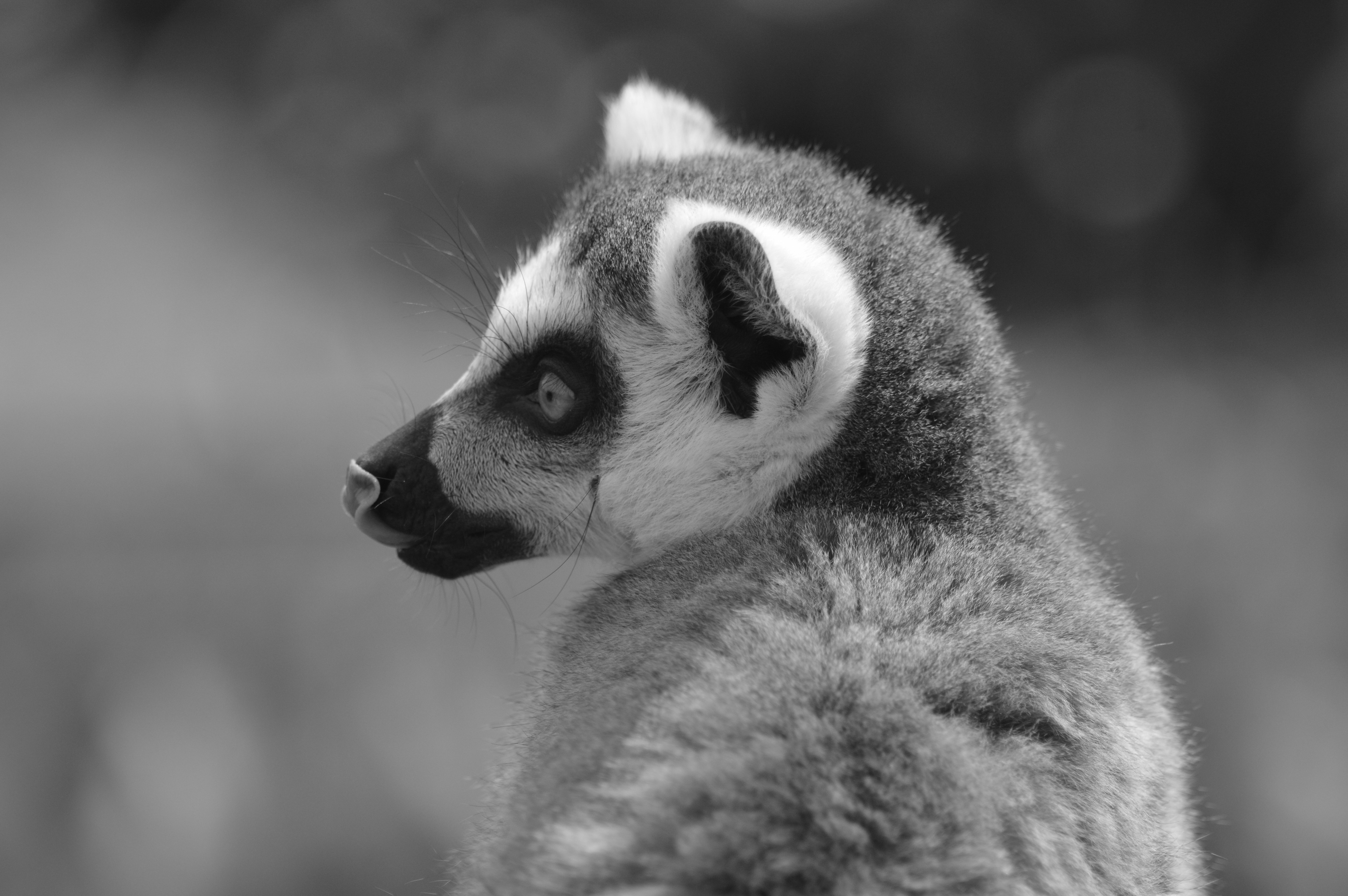 Rhinoceros on the Brink
Rhino are in real danger and ZSL is actively involved in helping to save this iconic Last of the Giant Megafauna. The Rhino at Whipsnade have no fear of being hunted for their horn and live a calm idyllic life among the English Countryside. Although it's very sad, there was a feeling that this particular animal species is only being saved by being kept thousands of miles away from home in a relatively small enclosure.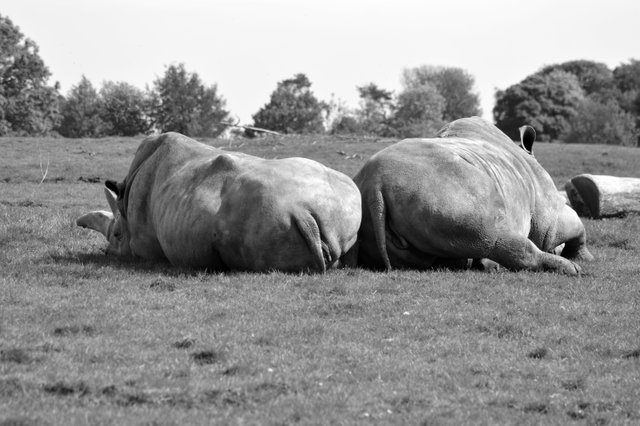 They seemed very content. I really hope we manage to turn the corner away from mass extinction. The many animals of the world are the world and it is us who are just a small part. It seems like we've skewed it the other way around. Since I was born the physical volume of wild animals has apparently halved. That's such a huge amount and in the same time, the world's population of humans has doubled. I doubt the Zoo populations of Rhino contain enough genetic diversity to save the species, but we can at least hope that advances in biotechnology, genetic sciences and lessons learned about the interdependence of ecosystem species and habitat may at least save some of the species we've put under unreasonable pressure to exist.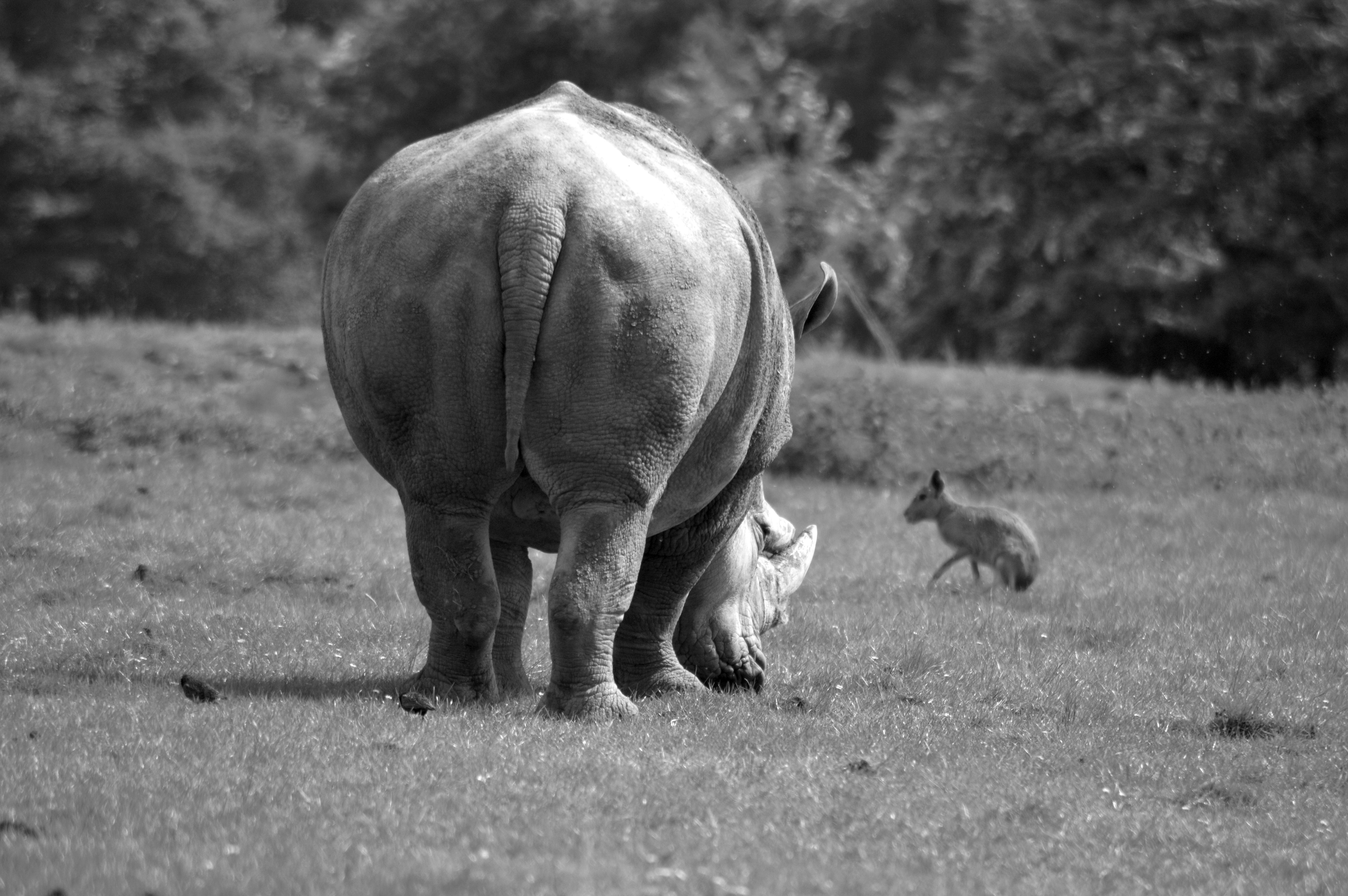 The View
The view over the Bedfordshire Countryside from the hill at the end of the park is stunning and on a spring day with the fields ripening it was quite breathtaking, as the landscape disappeared into mist in the distance.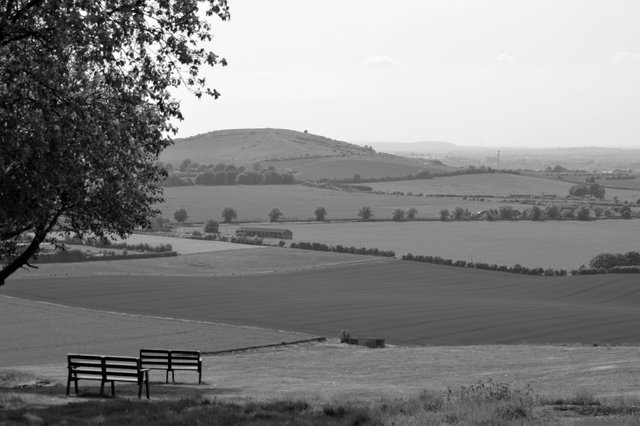 The Meerkats
Meerkats are a very popular species for their cute looks and intense family life as the little guys on the plains. Made even more popular by Sir David Attenborough and his intimate wildlife portraits of them. Here a lookout stands guard against quite imaginary predators. I'm not sure there are any, although there were a lot of crows on the wing around the park and I'm sure their spread wings evoke the Eagles of the Meerkat collective memory. I will post the second installment of photos later.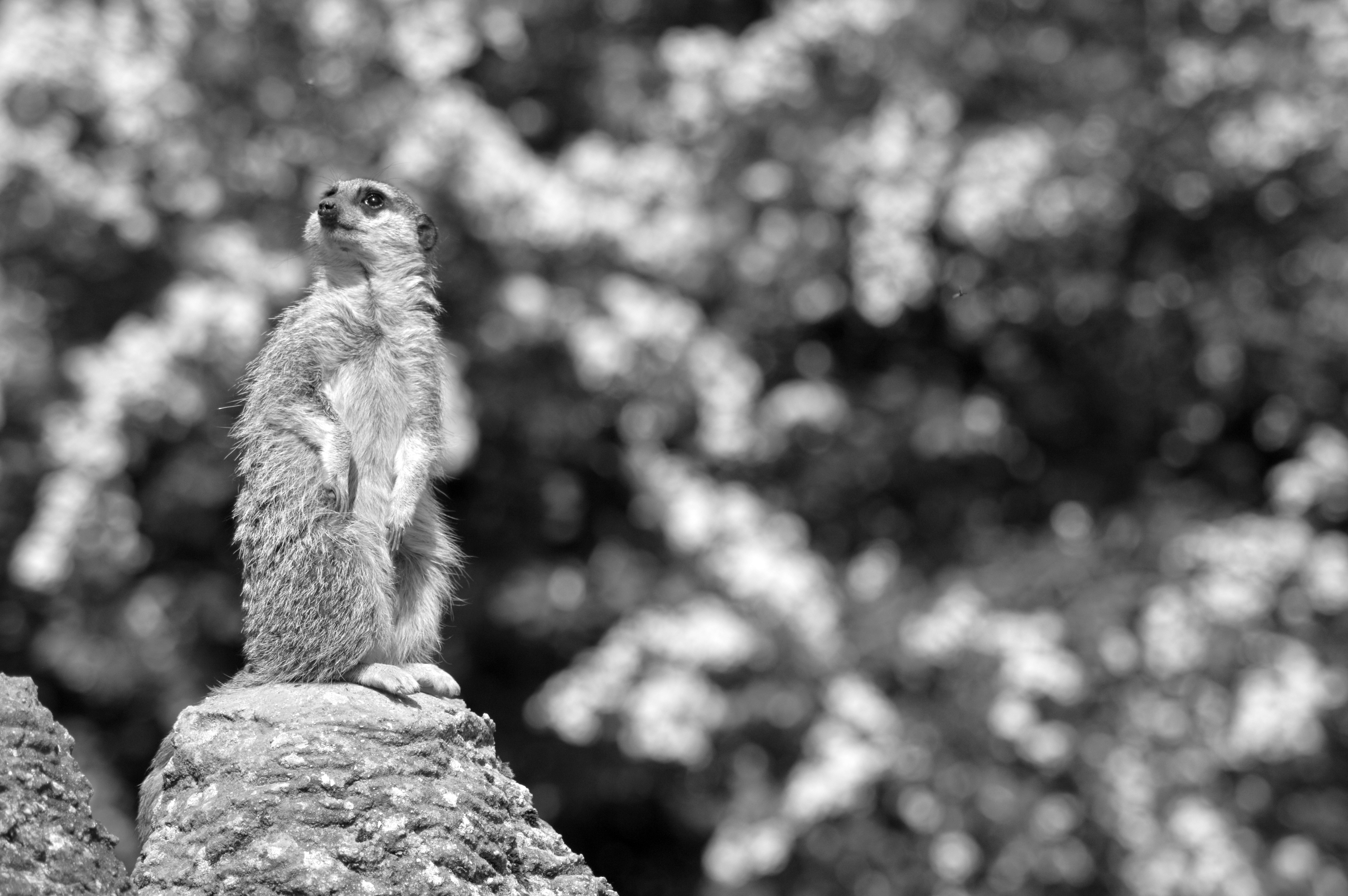 Technical
photos shot on a Nikon D3200 APS-C (DX) Sensor camera with a Tamron 70-300mm lens. Full sunlight on this relatively slow but long lens (f3.5) gives the photo a nice shallow depth of field at a distance. Because most of the animals are seen at a distance, it allows for more interesting framing of individual specimens and close ups of interesting features, like skin, faces, trunks and paws. It's a good combination of kit and the in built anti-shake feature on the lens makes it an easy to carry & pleasing experience. I carried a spare battery as usual but the lens is so light that I didn't need it. We covered a fair part of the park in 5 hours at a pace. We didn't get all the way around as it was so big, It was quite peaceful and we'll go again sometime I'm sure. There's the Butterfly House and a few other features we didn't make it to.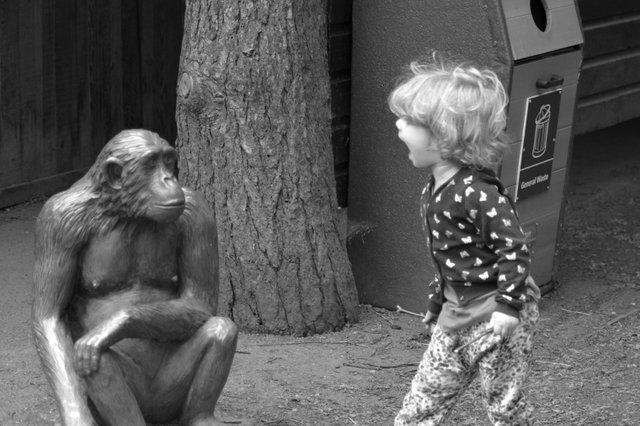 Magic Moments
My elder daughter was intrigued by this sculpture of a Chimpanzee. She wasn't quite sure what to make of it and stayed with it tentatively approaching it for quite a while and not quite confident to touch it. When we got home, we discussed the animals we had seen. She then announced, "I am a Human" and repeated it a few times to me emphatically. "I am a Human". My younger daughter, who's 1st Birthday was the reason for our trip, woke repeatedly in the night. I think she was probably dreaming about the amazing mind blowing day with the animals which she will maybe only faintly remember :)