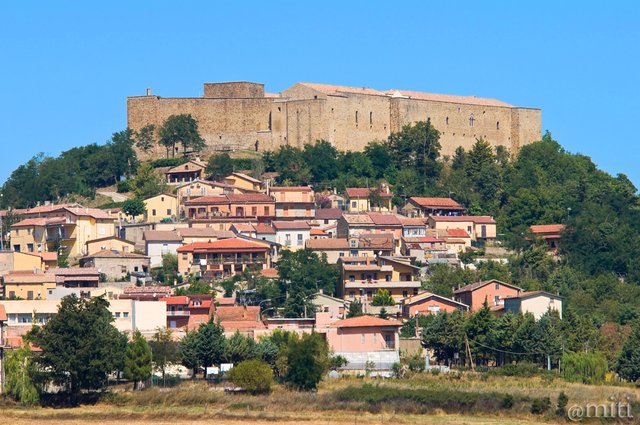 The Castle of Lagopesole (Author's photo - All rights reserved)
Il Castello di Lagopesole (Immagine dell'autore - tutti i diritti sono riservati)


---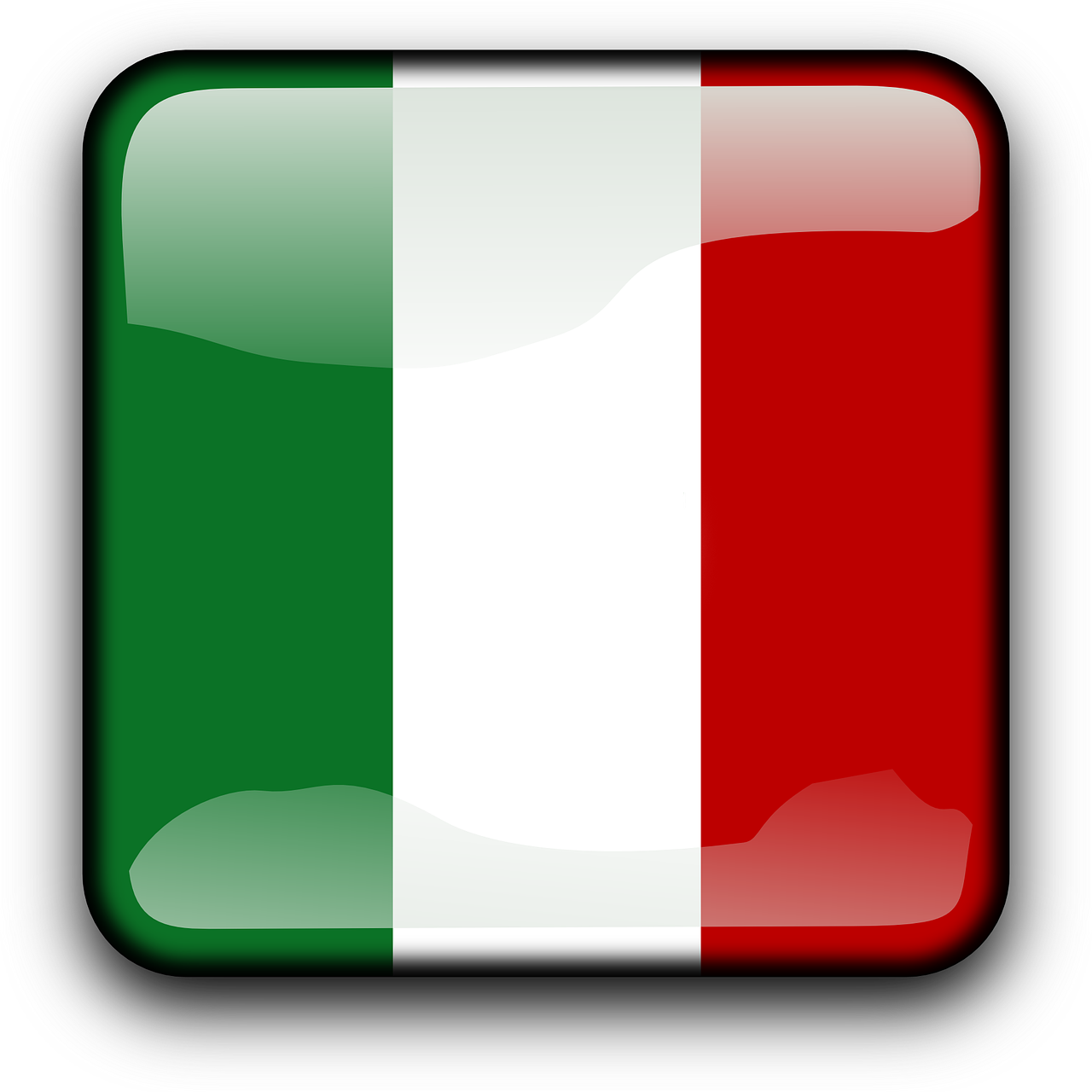 ---
Ciao a tutti,
questo è un viaggio attraverso l'Italia. Posterò una foto al giorno con una brevissima descrizione. Spero vi piaccia!


Lagopesole è un piccolo borgo nel comune di Avigliano, in provincia di Potenza, nella regione italiana meridionale della Basilicata. È meglio conosciuto per il Castello di Lagopesole simbolo indiscusso del paese di Avigliano.
La fortezza fu costruita, poco prima della sua morte, da Federico II di Svevia su una roccaforte normanna e domina tutta la sottostante valle di Vitalba; fu realizzato in conci di pietra arenaria, conserva ancora oggi la struttura originale. Considerando il fatto che Federico amava la caccia e la natura, questa divenne la sua residenza preferita.
L'origine del nome deriva dal latino medievale "Lacus Pensilis", lago sospeso, a causa della presenza di un lago quaternario nella sottostante Valle di Vitalba, prosciugatosi all'inizio del 1900.
Tra l'VIII e l'X secolo aveva la funzione militare di sorvegliare il vecchio tracciato della via Herculea, che collegava Melfi a Potenza. Il centro fu conquistato dai saraceni – i quali iniziarono a costruire il castello e conobbe un periodo di prosperità durante il dominio normanno e svevo.
Il Castello di Lagopesole ha una pianta quadrata con quattro torri rettangolari. È stato costruito sulla cima di una collina e domina l'intera valle. All'interno, ci sono diversi stili e diversi elementi architettonici che mostrano che è stato costruito in epoche diverse.
L'interno del castello è diviso da due cortili. Le stanze delle abitazioni sono disposte su due livelli e su tre lati attorno a quello principale, nella parte nord dell'edificio. I suoi ampi saloni sono caratterizzati dalla presenza di mensole scultoree che reggevano gli archi a sesto acuto, abbelliti inoltre di bifore e monofore.
Un vasto rettangolo diviso a sud da una cortina muraria che collega internamente la parte residenziale attraverso un matroneo che si affaccia sulla cappella che conserva il portale originale realizzato forse, da Mele di Stigliano il quale lavorava nei cantieri siciliani di Federico II.
Il Castello rappresenta uno dei più belli e caratteristici castelli di Federico II nel Sud Italia, sia per le sue belle decorazioni che per i numerosi stili in cui è stato costruito.
Da vedere: il Castello, il Museo Etnografico, le pitture rupestri nella Foresta in località Carpini, Il Santuario del Monte Carmelo, Il Museo dell'Emigrazione.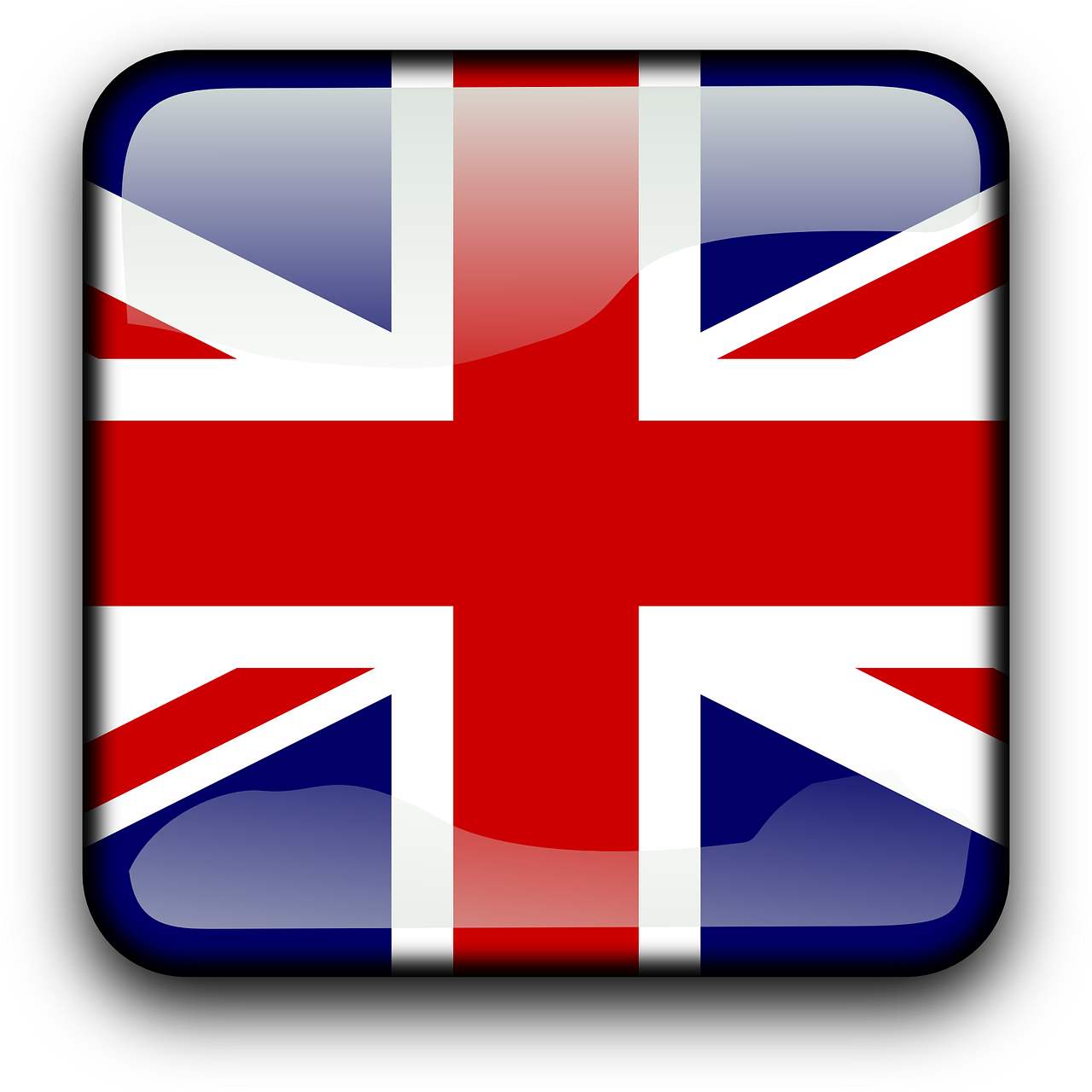 ---
Hello everyone,
I began a Photo Journey through Italy. I will post one photo every day with a little note of explanation. I hope you like it!


Lagopesole is a small village in the municipality of Avigliano in the province of Potenza , in the Southern Italian region of Basilicata. It is best known for the Castle of Lagopesole undisputed symbol of the village of Avigliano.
The fortress was built, shortly before his death, by Frederick II of Swabia on a Norman stronghold and it overlooks the entire Vitalba valley below built of sandstone blocks which till this day preserves the original structures. Considering the fact that Frederick the ll loved hunting and nature, this became his favorite residence.
The origin of the name derives from the medieval Latin "Lacus Pensilis", hanging lake, because of the presence of a quaternary lake in the underlying Vitalba valley, drained at the beginning of 1900.
Between the VIII and X cent. it had the military function of supervising the old road layout of the Herculea road, connecting Melfi to Potenza. The town was conquered by the Saracens -who started to build the castle and it had a flourishing period during the Swabian and Norman dominations.
Lagopesole Castle has a square layout with four rectangular towers. It was built on the top of a hill and overlooks the whole valley. Inside, there are several styles and different architectonic elements showing that it was built in different periods.
The inside of the Castle is split by two courts. The dwelling rooms are on two levels and on three sides around the major one, in the Northern part of the building. Its spacious rooms are characterized by the presence of sculptural shelves that held the pointed arches, embellished also with mullioned windows.
The residential area is connected to the south part of the large rectangle Castle, divided by a wall curtain which is entirely connected from the residential area through a gallery overlooking the Chapel, which retains the original portal, that perhaps was designed by one of Frederick's ll construction sites worker, Mele di Stagliano.
The Castle represents one of the most beautiful and characteristic castles of Federico's in the South of Italy, both because of its beautiful decorations and of the several styles it was built in.
Thing to see: the Castle, The Ethnographic Museum, the Rock paintings in the Forest in the locality of Carpini, The Sanctuary of Mount Carmel, The Emigration Museum.

| | |
| --- | --- |
| Tipo di foto / Category | Paesaggio / Landscape view |
| Esposizione / Settings | 1/400 sec, ISO 200, f/11 |
| Camera | Nikon D5000 |
| Lente / Lens | Tamron SP AF 70-200mm f/2.8 Di LD (IF) |
| Filtro / Filter | Polarizzatore Hoya / Hoya Polarizing filter |
| Cavalletto / Tripod | Manfrotto MKC3-P01 |
| Località / Location | Lagopesole Castle (Potenza), Italia |
| Software | Photoshop |
---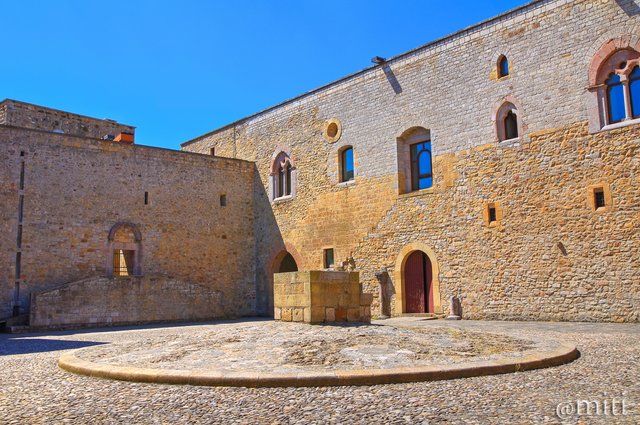 The Castle of Lagopesole (Author's photo - All rights reserved)
Il Castello di Lagopesole (Immagine dell'autore - tutti i diritti sono riservati)
---