A birthday to remember: Ringside at a pro boxing event (Part 1)
Hey Steemies!!
Been a while eh! Hope you have all been good! Well sometimes real life and responsibilities gets in the way...It was that time of year again, time for work. It was a good and a hard run but now it's finally all over until spring. The weeks seemed to fly by one after another in the blink of an eye as the days grew darker and the summer vanished to be replaced by a blanket of snow. Working night shift, I hardly noticed the changes anyway, dark when I wake up and an hour or 2 of sunlight before bed. It's like operating on drone setting for a little while. Sounds a bit depressing now that I read it...haha! It's really not, trust me. This job here was like a couple month advent calendar to my birthday to keep me distracted from my anticipation that sometimes kept me up at night.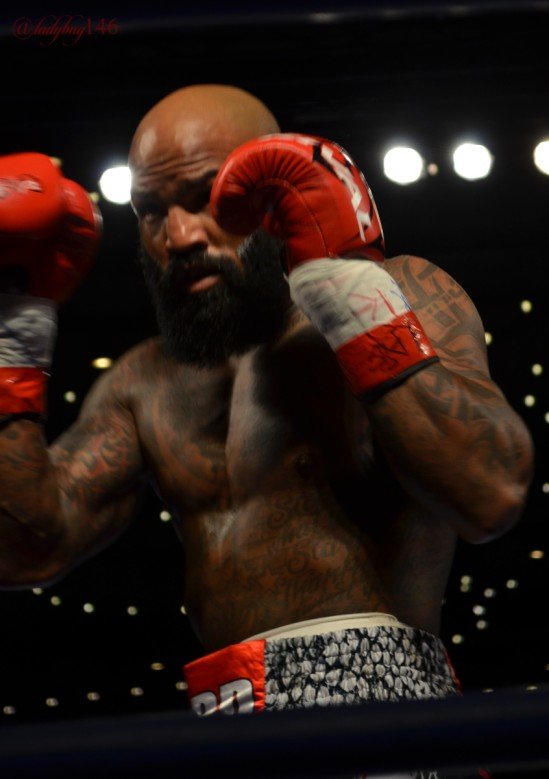 Shot 1/100 sec. f/5.6 48 mm, ISO 400. Ryan Ford returns in the
Edmonton ring after 3 years of traveling and fighting overseas.
I didn't want to talk about it much because I didn't want to jinx it and have it fall apart for any reason whatsoever, now that it's done and it all worked out perfectly, here is the dealio. Years ago @silvergingerman and I worked on a job out of town and we met this young man as our apprentice that was beginning his journey in our trade. Since we work contracts, we fix the plant for a few weeks then we all part ways and we may or may not run into each other again but most of the time we meet again several times within our careers. The time came where we met again the once apprentice now a journeymen was ready to take another important step in life, once an amateur boxer about to make his debut in the professional ring.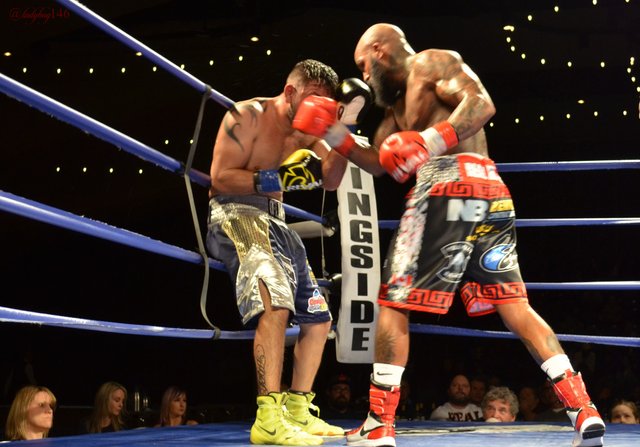 Shot 1/60 sec. f/4.5 28 mm, ISO 800. Ryan Ford of Edmonton VS Orlando Vazquez of Sonora, Mexico.
What started as a gesture to support a brother in his new venture to cheer him on, sent me into a strange direction I never would have explored on my own. We went to the fight in regular seats, not really knowing what to expect, even a little nervous, after all boxing was never really my thing anyway and do not like violence. On the train there, a gentlemen sat next to us and he noticed we were dressed nice and going somewhere and asked. Turns out he was a retired boxer from the very club we were headed to watch, nice coincidence and small city, the universe works in mysterious ways sometimes. Fast-forward to the end of the night, we both had a great time, our coworker won his debut fight and I was sold on boxing, at least watching it live. The only down side is my camera isn't allowed to most of these events and I have to hack it with an iphone, it's really not the same photography experience! While we were there, we noticed the ringside tables and they looked like a mighty nice place to be!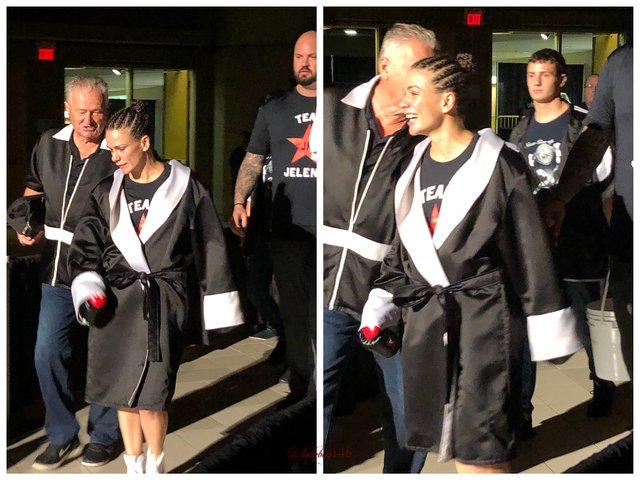 Taken with iphone 8 on sept. 13 fight night(KO 87). Jelena Mrdjenovich, 8 time world champion, from Edmonton as she is coming out for her fight.
When they made their announcements for their next fight night and found out our favorite boxer was back in the ring within days of my birthday, I instantly knew where I wanted to be. I told @silvergingerman I would like to have a seat at one of those tables as my birthday outing/present. Well he delivered and then some, he got a table for us and some friends to make sure I got my wish. Knowing that, I thought I would contact the event hosts and ask for permission to bring my camera for my birthday...well they also delivered with a big fat cherry on top... Not only was I allowed to bring my camera to the event, I was also allowed to have a press pass in photographers row to go along with it(like touching the ring close).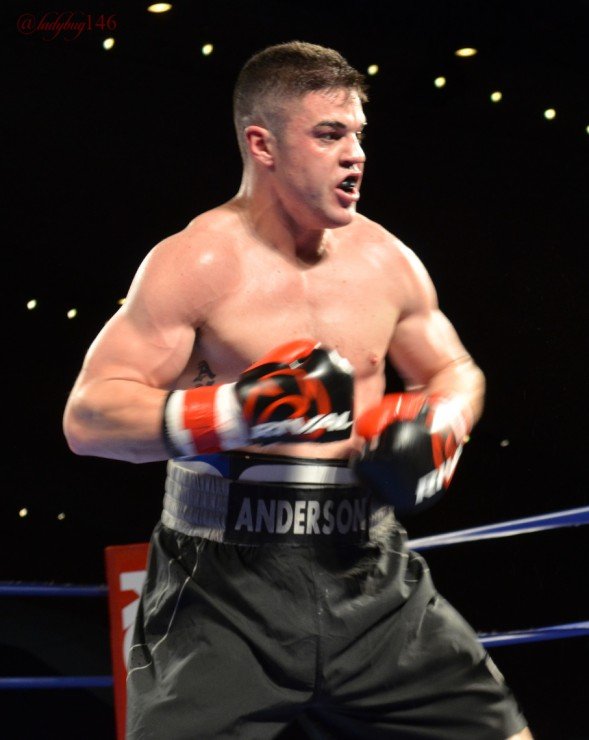 Shot 1/60 sec. f/5.6 50 mm, ISO 800. Blake Anderson from Edmonton.
Pretty much started my new work contract days after the first fight and got my press pass arranged on the phone minutes before my work orientation started, to make the coincidences funnier, we saw our boxer every morning as he and the rest of the boys relieved our crew and got to make some Rocky movie reference as he's going up the 180ft of stairs to the work location...I probably don't even have to say it, you are now humming the tune in your head...lol...you're welcome(@silvergingerman hates it when I do it to him and gets it stuck in his head). The job was due to end a week or two before the event giving me enough time to catch up on sleep for a week and be all refreshed for the epic birthday fun. In other words that's how I got into boxing, how I ended up with the photography project I'm presenting to you now and what you missed while I was quiet the last few months.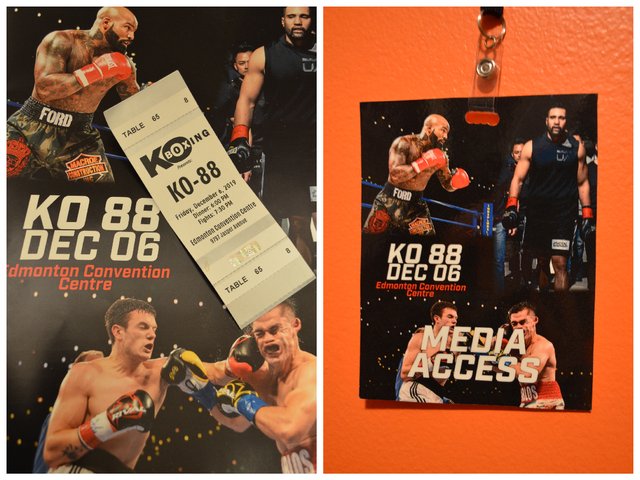 Now without anymore delays, the details of the event in question. K.O. Boxing currently host their major Edmonton events at the Convention Center (formerly Shaw Conference Center) where other concerts and major events take place within our city. Regular and more cost efficient seating is available for the fight only but for the royal experience and a bit more of a price tag but worth every penny, the coveted ringside tables. The event started much earlier for us but it includes a 3 course meal, 2 of which served before the fight and desert and coffee during the fight. On the menu was a holiday themed salad with both fresh and dried fruits and truffles and what I think was a Dijon dressing to start and a full turkey dinner and all the fixings as the main course with a basket of all different flavored bread rolls.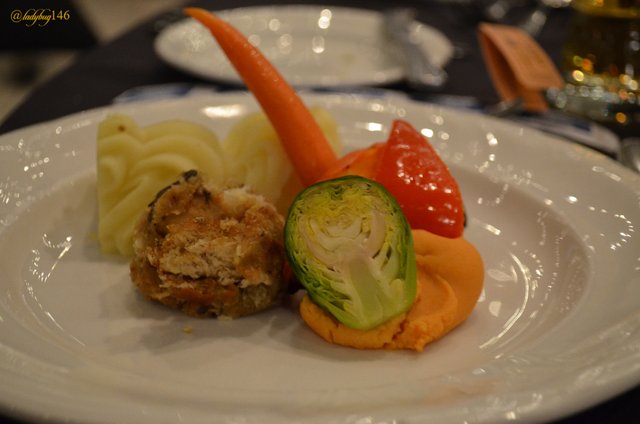 The meal serves up to 8 people per table with each our own individual portion of fixings with various fall harvest themed vegetables alongside a mashed potato and sweet potato puree. They brought an actual turkey to be carved at each table with a cute little outfit for the carver. It took some convincing but @silvergingerman took one for the team and sported the carving swag and started to hack that bird up. The funniest part, I don't think he was even bothered by the outfit, more so afraid to cut the turkey wrong. Our expectations: turn it into manageable pieces so we don't all look like wild animals fighting each other for a carcass at a fancy dinner!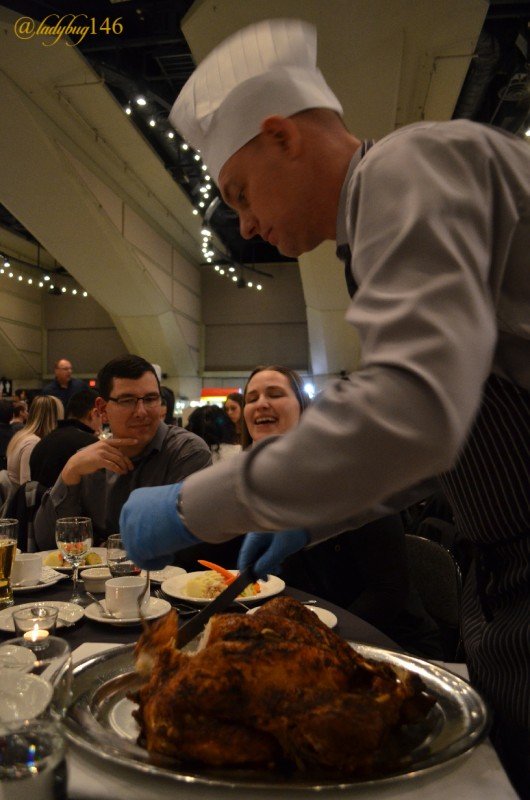 Water and coffee was also included into the meal, additional beverages available with the purchase of drink tickets at the venue. Overall it was a well catered event with plenty of staff to deliver 100 tables of 8 each course at the same time to keep water and coffee topped up during the night. The food was delicious and clearly made from scratch, they were very receptive to my allergies and made sure my meal was safe, that's actually a rare occurrence for me, I'm impressed! I give them 5 ladybugs out of 5 on the catering and dining experience. We had just enough time finish our turkey feast and say my temporary goodbyes while I took my spot by the ring for my new photography challenge to begin. I didn't make it to desert, I saw it at break time and it looked out of this world but it was too dark to take pictures for you. Some sort of chocolate mousse with a cherry coulee inside was served. I was most likely allergic to that anyway best that I was away from the table for it, @silvergingerman gladly enjoyed it for me.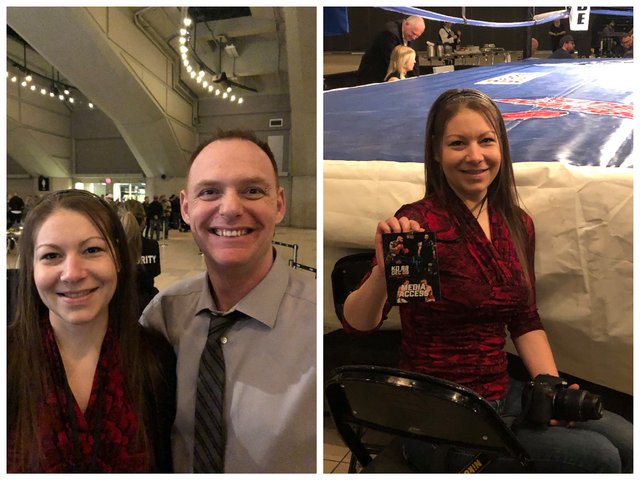 I was pretty excited to get my camera so close to the ring but I was stressed out too. I don't take pictures of people very often, let alone fast moving people in a dark room with a lot of show-lights from up close.I had no idea what kind of results I would get. Good news, I think I did ok for the first time. Room for improvement but it went well and I'm proud of my first professional sports photography project. Going to see a live event is a much different experience than watching it on tv. Now I have been to plenty of various pro sporting event but never have I been right in the middle of the action like this one. As you can see in the picture above, I'm sitting next to the ring, during the fights, I was leaning on it to take pictures, that was way cool. I know most photographers hate this spot why I got it but I was right in the corner where the opponent and their teams went in and out of the ring. I enjoyed it because I got to fist bump some of the boxers before they headed back after the fight and I had a clear view of the focus and emotions in the boxers faces during their short rest period or while waiting for the score and initial reflecting about their performance. One thing is for sure being where I was, things got real real fast. It was a great perspective building experience.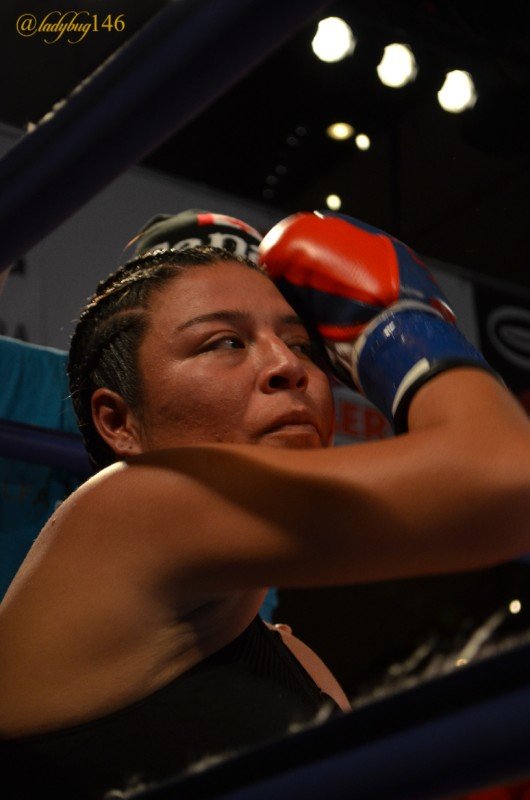 Shot 1/50 sec. f/5.6 52 mm, ISO 800. Maria Garcia from
Minatitlan, Mexico fighting Mikenna Tansley of Edmonton .
So what was it like to watch the fight from up close? Well, generally at sporting events, you can feel the adrenaline in the room and that's what makes it so fun. This time, I could feel the adrenaline in the ring, never mind the room, whole new exciting level especially when the fight is right there just inches away. I forgot the rest of the room existed and my only focus was the fights and what was happening ringside and around me. Hard to focus on anything else while the action is going on anyway. I'm still at a loss for words to describe it besides it was surreal and fast pace, more so than we realize just watching from a distance. Seeing the hard work and dedication from each of the fighters in the ring and the grace to handle wins and losses after giving it all they had, gave me a whole new respect for the sport and the individuals within it. The way they individually greet their fans with hugs and handshakes and make time for a few words and pictures on their way back to the dressing room speaks volume on their personalities.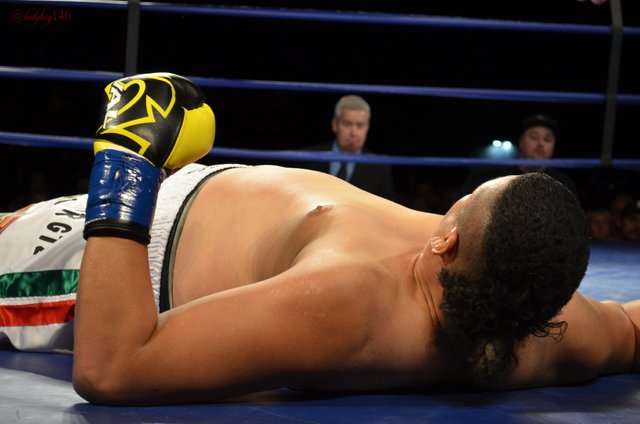 Shot 1/60 sec. f/5.6 55 mm, ISO 640.
Between fights, seeing who they interacted with in the crowd and who was also here last fight, I got a good glimpse of their support system. If anything, being this close, humanized them for me. We hold our champions and sports professional to high standards as fans and sometimes judge them harshly based on performance but we easily forget they are real people just like us. They are brothers, sisters, mothers, fathers, grand daughters...you get the point. They get disappointed or thrilled with their performance and judge themselves more than we judge them even if they did well. some of them have regular careers just like us outside of the ring. Even tho there is a large enough amount of people attending the event, it's clear that many if not most in the room know one of the boxers they support and it's a tight knit community and that's the aspect that made this journey special. Sure I like the larger events like NHL or CFL games but a sport I had never given much thought quickly became my favorite and we might try to attend all of the Edmonton fights. Maybe not all at a table every time, more likely general admission for the most part.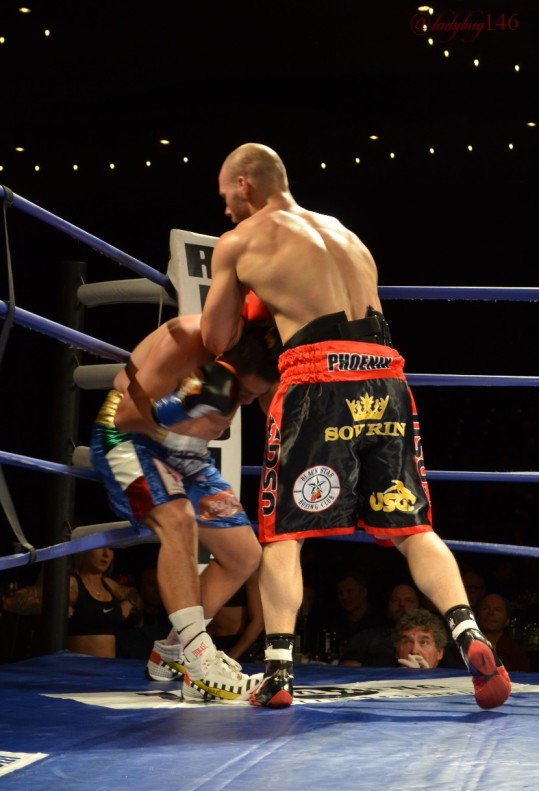 Shot 1/60 sec. f/5.3 45 mm, ISO 560. Stuart Twardzik from
Saskatoon, Sk vs Jonathan Alanis from Mexico City.
To be honest, splitting the cost of a table 8 ways is about the cost of an NHL regular seat or a major rock concert and we were the second row from the ring out of 4 rows of tables, some of the best seating in the house with a 3 course meal, as far as pricing, it's still very manageable for the average person. It's a worthy experience to at least try it once. It doesn't matter where we sit, the energy in the room is great everywhere and we know we will have a great time and run into many people we know. For such a large event, it is still has that personal touch. All and all, if you are into live sporting events, I highly recommend live fight nights and pro boxing if you have never been.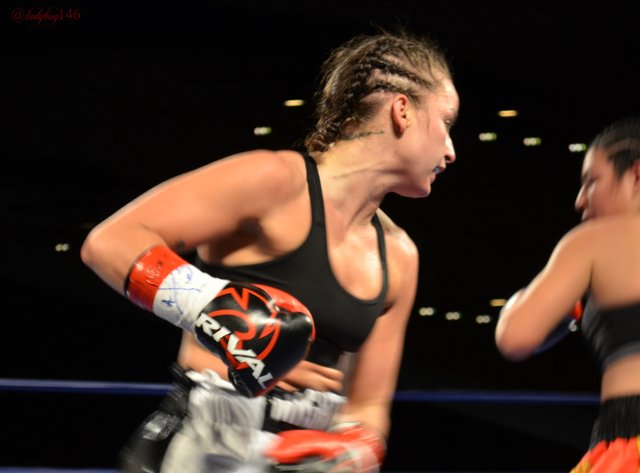 Shot 1/60 sec. f/5.6 52 mm, ISO 800. Mikenna Tansley from Edmonton.
This is going to be a two part post because I have a lot of pictures and so many things I want to say. This post is more about my epic 36th birthday fun and my experience ring side with the coveted press pass. Talk about VIP treatment from both my beloved and K.O. Boxing to give me a birthday I can never forget, I don't think any other birthdays I might get in the future can even compete! For now, I will continue to try to make it another 365 days and go thru life getting into everything with my camera like an overgrown toddler! It does serve me well. I end up in the most random experiences and situations but plenty of memorable moments. The older I get, the stranger I think I am for it yet I wouldn't have it any other way. Next post I will get more into each of the boxers and their bio but I need a few days to do some research so I can represent them properly. Who is the boxer I know? well, I'll leave you guessing on that.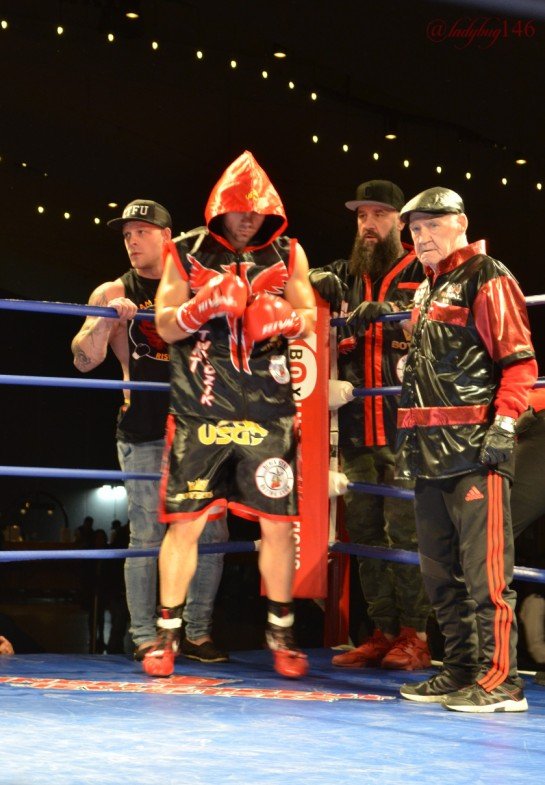 Shot 1/40 sec. f/5.3 46 mm, ISO 800.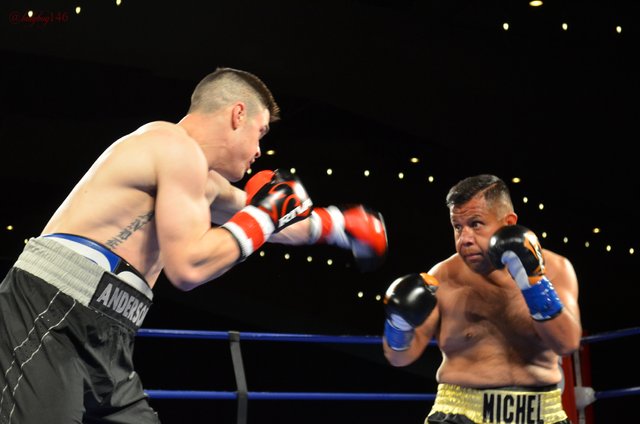 Shot 1/60 sec. f/5.6 52 mm, ISO 720.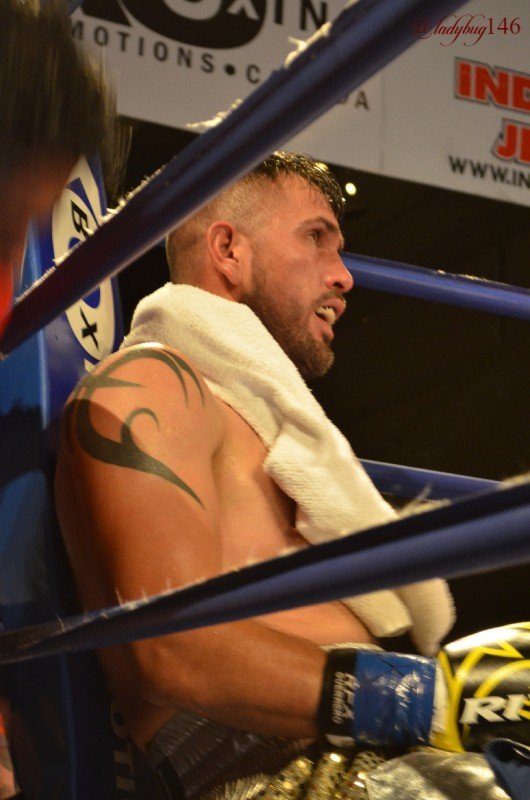 Shot 1/30 sec. f/5.6 48 mm, ISO 1600.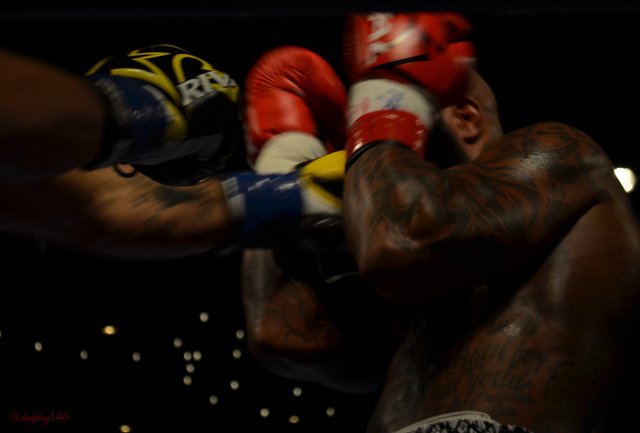 Shot 1/125 sec. f/5.6 48 mm, ISO 200.
All images shot with D7000 and Nikkor 35-55 mm lens unless otherwise stated.
Cheer for now my friends!! X🐞X