Binocular Photography
Hello again Steemians!
All bird photos in this post were taken through binoculars


I had a suggestion from @kingfishers to write about my binocular photography. I also started including that fact in my posts and had a lot of interest.
---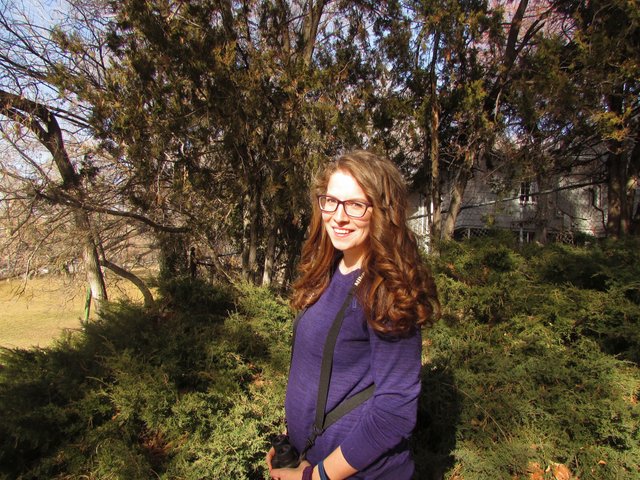 ---
My binoculars were a wedding present from my husband, @josephsavage, September of 2016, and I had my camera for a few years before that.
I don't remember the exact date that I had the idea, but when I'm walking around with both and trying to get photos of birds a distance away, it seemed like a natural thing to try for the extra optical zoom.
Here is how I accomplish this unique, and a little strange, photography style.


---
First job is to make sure batteries are charged, memory card has room, lenses are clean, the straps are on and comfortable and everything is secure. I personally use a 'backpack' strap that sits over both shoulders and meets in the middle of my back. This greatly reduces neck strain and I highly recommend this for anyone who currently uses a neck strap.
---
Next order of business is to find my subjects. There are many ways to find hot birding areas near you. You can join a local birding club, do some online research, find local wildlife reserves, participate in seasonal birding events, or use eBird to 'choose a nearby hotspot'. eBird was developed by Cornell Lab of Ornithology to help crowdsource bird sightings to create better range maps and collect data. I have the free app on my phone and can track the bird species that I confidently identify and also see charts of my submission history.
Something to remember about going to find birds is that they are nearly everywhere. They have such different habits that any kind of environment will suit at least one species. Some are ground dwellers, some like tall grasses, some prefer trees, some soar, others like the garbage we humans produce and so congregate in cities. You don't have to put in a lot of effort to find them. Just go outside; your porch, a park, a field, the mountains, near water. and just listen.
---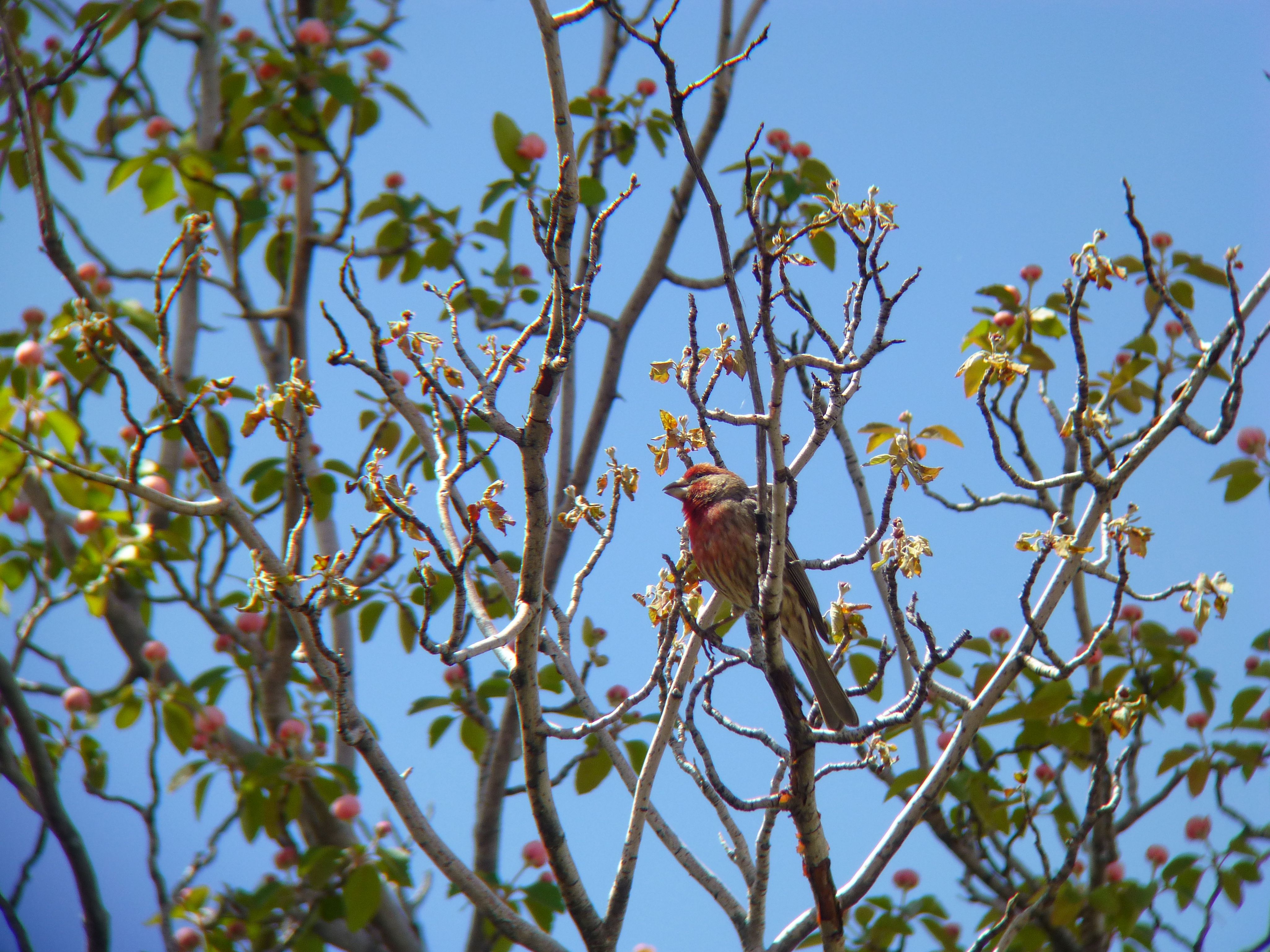 ---
Listening to your surroundings is a great way to finding birds wherever you go, and as you practice active listening finding birds will become second nature.
If you are new to birding I recommend finding a good bird guide for your area. I personally use National Geographic's (North America) 6th ed. which includes accidental and extinct bird species, which I find interesting, as well as handy quick-find picture guide in the front and back cover. There are a variety of books you can choose from, the important thing is that what you pick works for you.
If you don't want a physical book I recommend Merlin, a free app from Cornell that will narrow down what you are seeing and help you develop good identification skills. (There may be other apps available in your area that I'm not aware of.)
---
Alright, once I have found my subject I focus in on them with the binoculars and make sure there aren't any obstructions between me and them that I missed with the naked eye. This insures that my camera will have a better chance of focusing on the bird instead of, say, the little branch in front of it.
---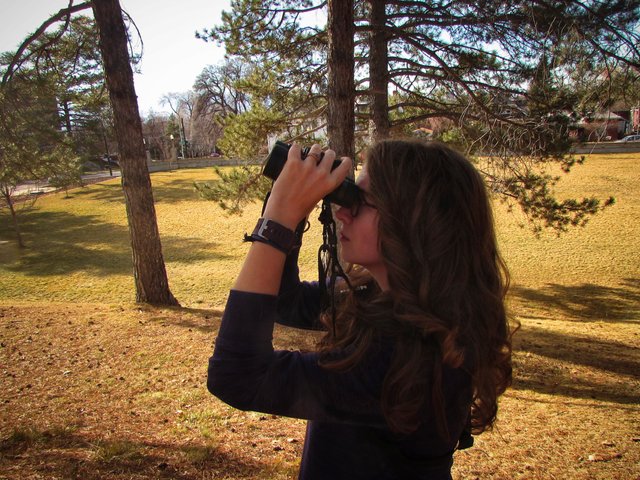 ---
The eye-pieces on the binoculars can be extended to sit tight around your eyes. For my photography they need to be retracted so the camera lens can fit close against the viewport. This also works just fine for me since I wear glasses and don't extend them anyway.
---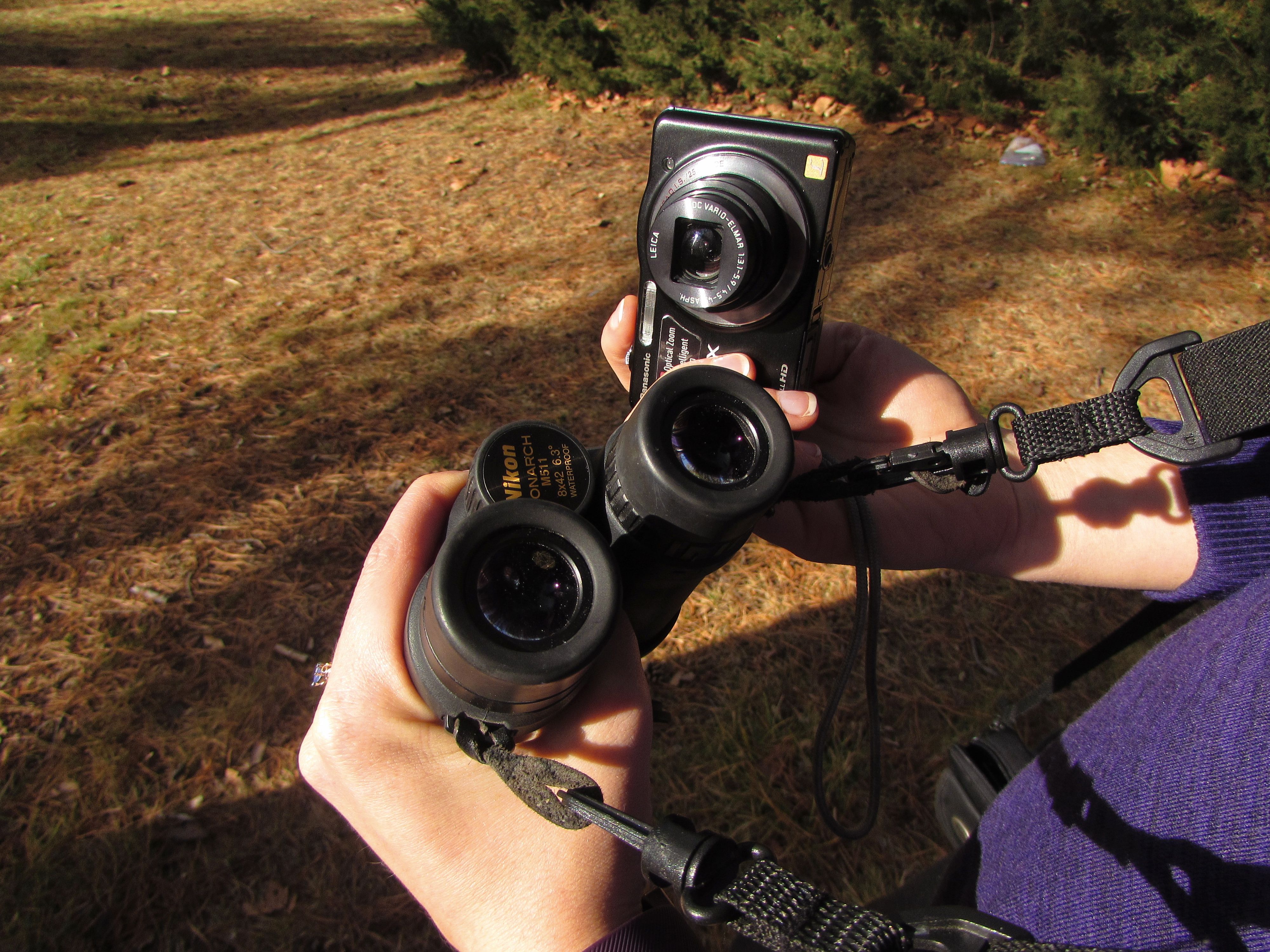 ---
I set my camera to burst mode so I can take many photos in a row, giving a better chance of a good capture.
I usually set my camera to Intelligent Auto to accommodate a variety of ever-changing situations, but I have been working with the manual settings as well. If appropriate I will adjust the brightness on my camera so I don't lose any data from anything in the photo being over or under exposed.
Of course every situation is different and one of the most important factors is making quick decisions and responding swiftly to shots that aren't turning out.
---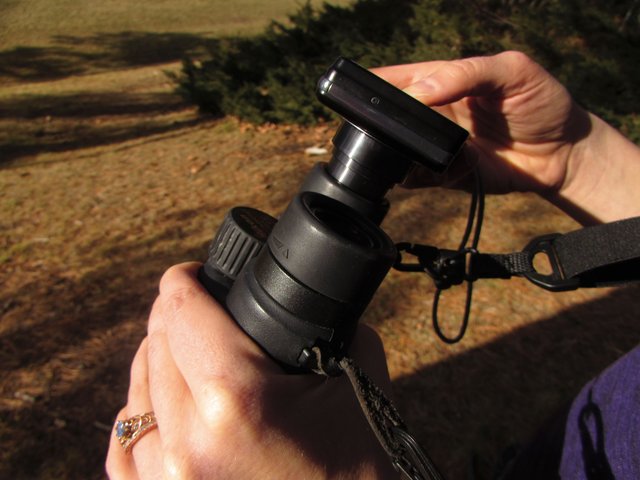 ---
There is a lot to do before the bird decides to move. I turn my camera on and then find focus with my binoculars. Keeping one eye on the bird, I line up the camera lens to the binoculars, making sure it is centered. Holding both I find the bird and zoom to an appropriate level, set up the shot I desire, and start shooting.
I am constantly monitoring the bird, the lens lined up with the binoculars, and the focus and lighting of the shots. If I need to adjust I do so and continue shooting.
---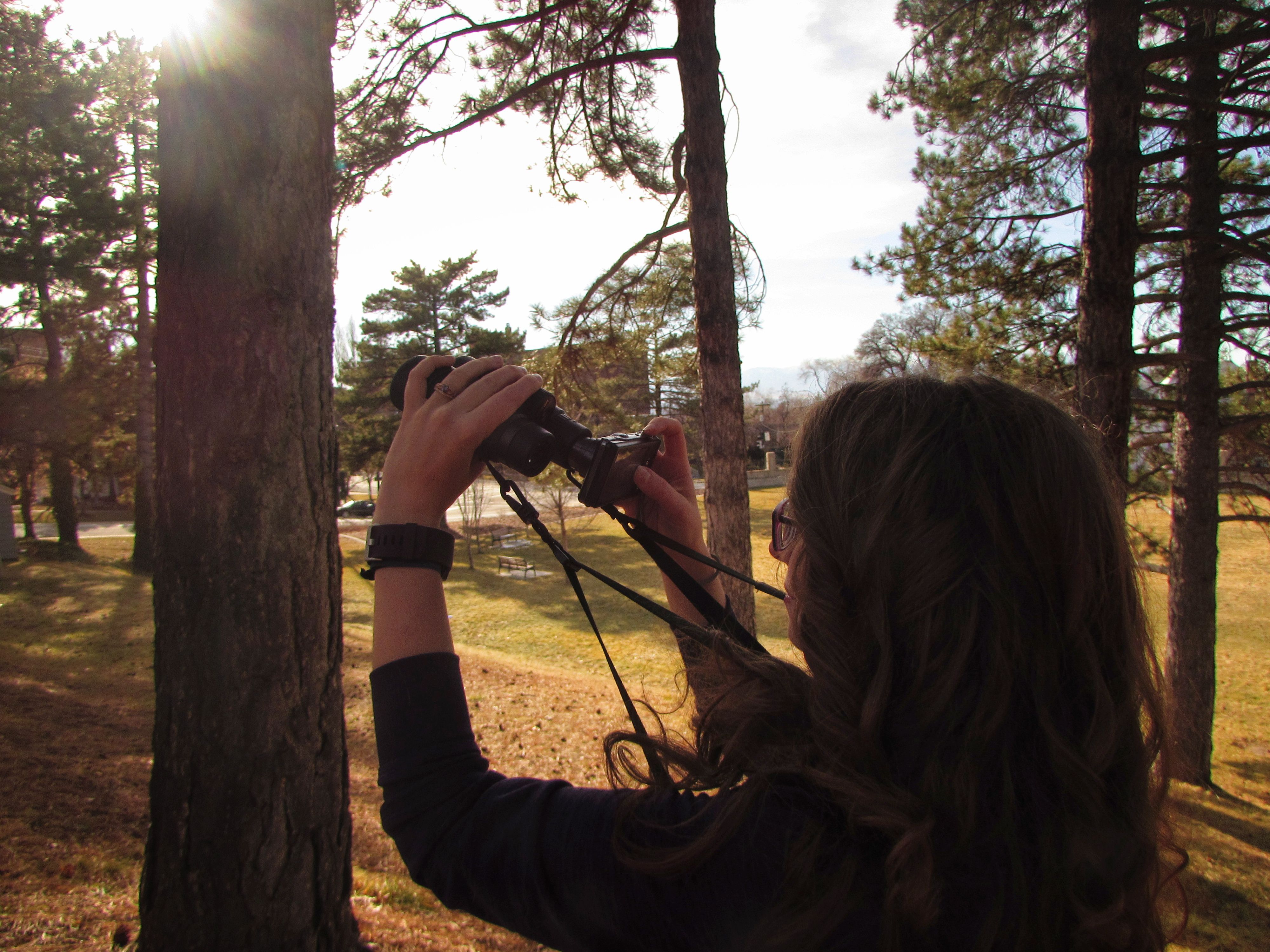 ---
This method takes patience, constant vigilance, and a fair bit of arm stability. :)
I also get some funny looks from passersby.
---
---
Examples of My Binocular Photography
---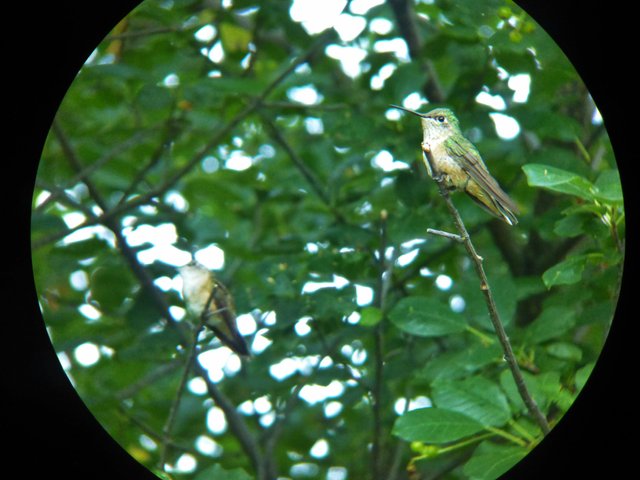 ---
This is a close range photograph that was just too close to zoom past the binocular ring. I think it is still a cute photo though.


---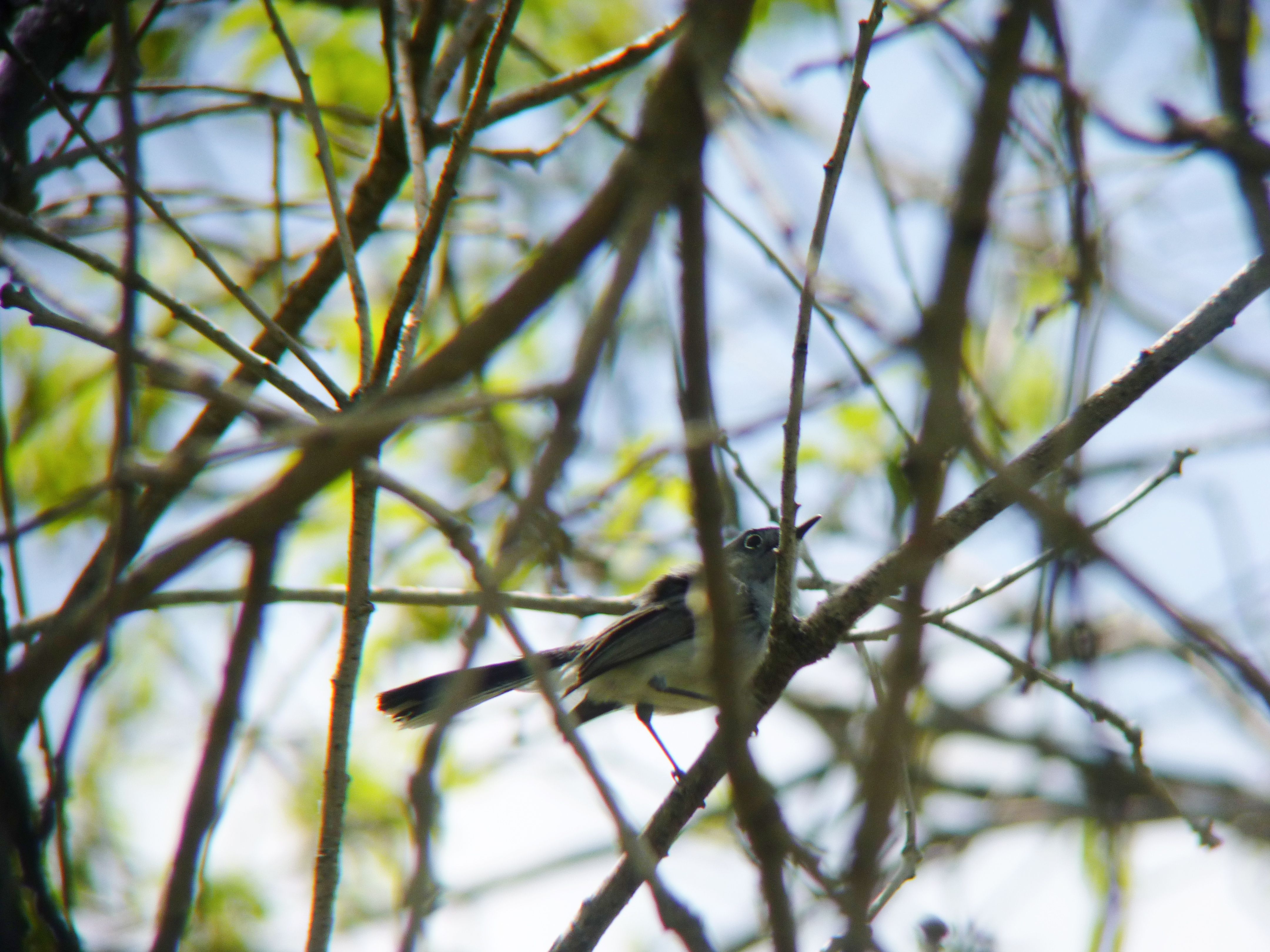 ---
Sometimes the tree you shoot through just has so many branches and the bird is so flighty it makes it impossible to get a clear shot.


---
---
This photograph was taken at close range through my binoculars and is one of my absolute favorites. It picked up a stunning amount of detail in the feathers and, with the natural lighting, there was very little processing to be done.




---
---
I post a bird photo every day and will be periodically posting a favorite photos collection. In every Daily Birding edition I include the location and if I took the photo through my binoculars or with the built in lens.
---
---


Yesterday I created a 'special edition' featuring many photos from one shoot: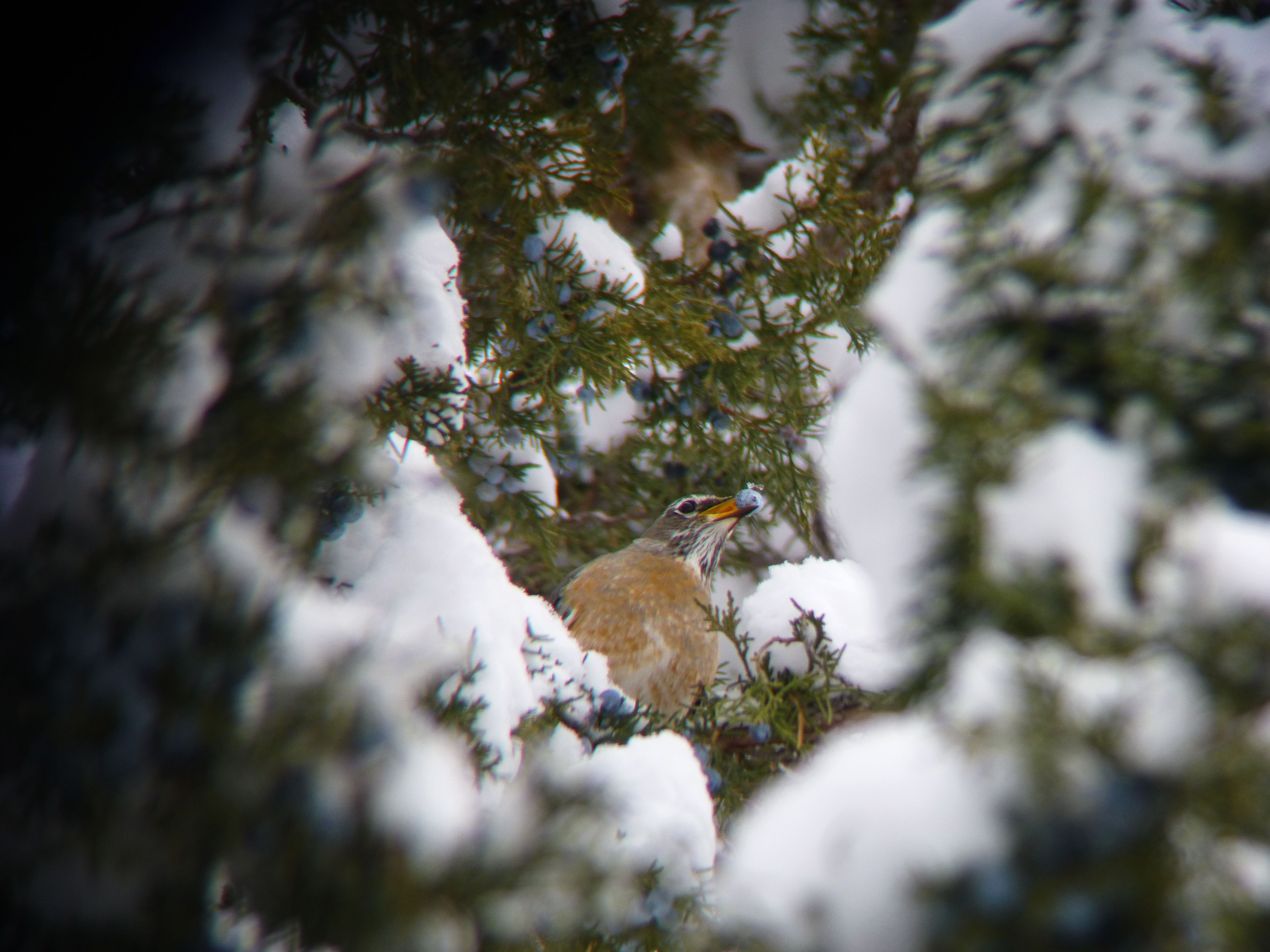 Birding in the Snow highlights the life of a bird in winter. All of the photos were taken through my binoculars.
---
---
If you enjoyed this, get to know a little more about me in my Introduction Post and stop in daily for a delightful bird photo or two. :)
---
---
Working closely with birds brings me a great deal of happiness.
On your adventures with birds make sure to give them their space, and do not pursue or harass them for a better look or picture, especially during their nesting season. These beautiful creatures deserve our respect as well as our love.
---
---
| Credits | . . . |
| --- | --- |
| Bird Photos | Taken by me, through binoculars |
| Dog Hair | Courtesy of Baxter |
| Photos of Me and of Baxter | Kassidy Giggey, a personal friend and Baxter's human |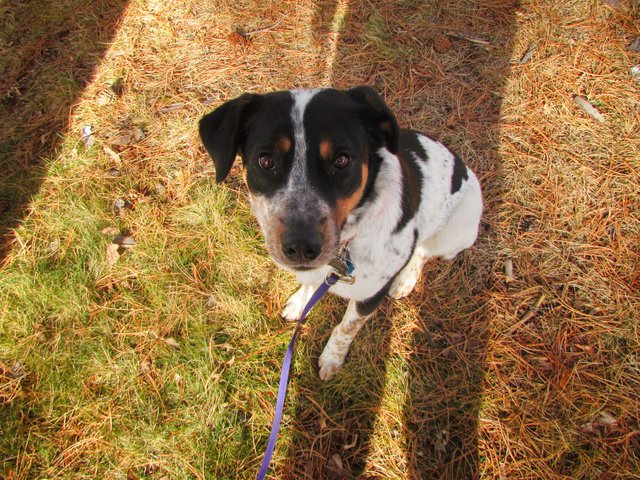 (A photo of Baxter for your viewing pleasure)