| | |
| --- | --- |
| Can you see how the fly agaric snuggles up against the other? | Könnt ihr sehen, wie sich der Fliegenpilz an den anderen anschmiegt? |
Fly Agaric / Fliegenpilz
Amanita muscaria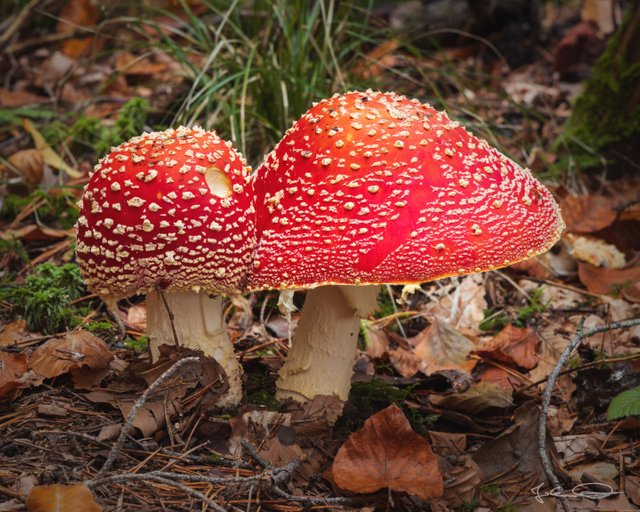 ❖ click the image for fullsize view ❖
Canon EOS R | RF 24-105mm f/4 L IS USM
ISO 100 • f/14 • 3.2 sec • @96 mm
I found these two in love toadstools last weekend on the hike around Lake Forst with my wife (The lake is dry / Der See ist trocken).
They were right next to the path and they were both almost complete alright even though they were right next to the trail.

Ich habe diese beiden verliebten Fliegenpilze letztes Wochenende bei der Wanderung um den Forstsee mit meiner Frau gefunden (The lake is dry / Der See ist trocken).
Sie waren direkt neben dem Weg und sie waren beide noh fast komplett in Ordnung, obwohl sie direkt neben dem Wanderweg gestanden haben.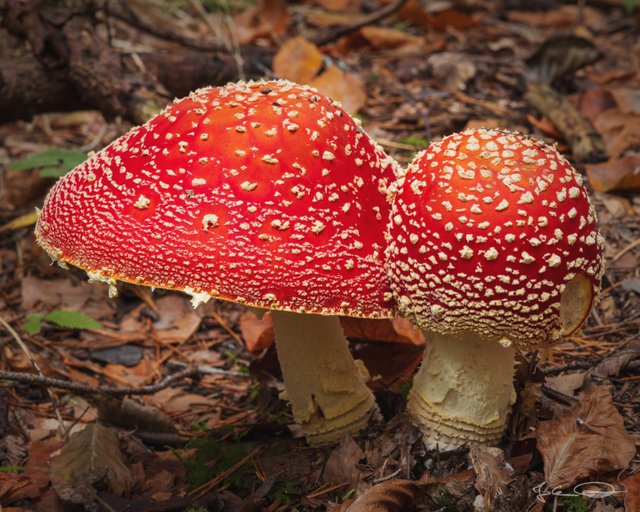 ❖ click the image for fullsize view ❖
Canon EOS R | RF 24-105mm f/4 L IS USM
ISO 100 • f/14 • 2.5 sec • @90 mm
Because I did not want other people to become aware of the two beauties and maybe separate of even destroy them, I just took two pictures quickly.
I did not care about exposure or composition because I saw too many destroyed mushrooms lying on the way.

My opinion is: if you don't eat the mushroom, leave it alone.

Weil ich nicht wollte, dass eventuell andere Leute auf die beiden Schönheiten aufmerksam werden und sie vielleicht trennen oder (zer)stören, habe ich nur schnell zwei Fotos geschossen.
Dabei habe ich mir keine Gedanken um Belichtung oder Komposition gemacht, weil ich auf dem Weg zu viele kaputte Pilze liegen gesehen habe.

Meine Meinung ist: Wenn du den Pilz nicht isst, dann lass ihn in Ruhe.
Information
---
If you like my photos I would appreciate an upvote, nice comment or a resteem 😊 ... and maybe you would like to follow me, so you do not miss a post from me anymore.
Thank you for visiting my blog,
have a nice evening,



Photos and Text: Johann Piber | All rights reserved - do not use without my permission
#originalcontent #originalworks