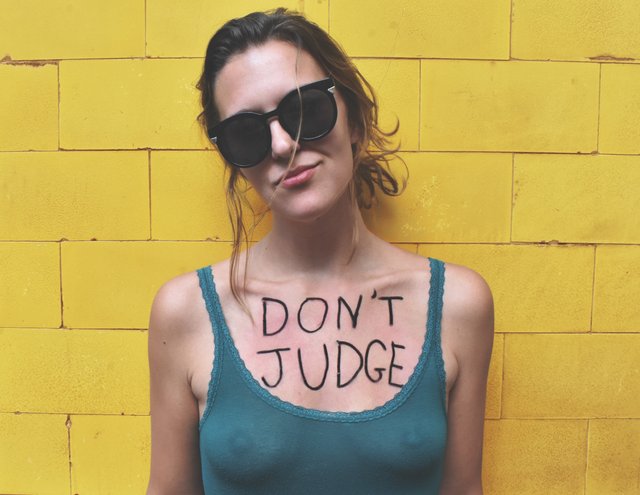 I went outside to take this picture, and I even walked around the block without a bra on, just like this. It's liberating, but it's also uncomfortable to feel people, all of them, men and women, staring at me. They're not just gawking because of the sexual appeal that female nipples have. They're also judging me. Who does she think she is walking around without a bra on, her nipples exposed? Is she some kind of slut?
There are a couple things that really bother me about this. One of them is the obvious thing, that people have been trained to think this way, and how unfortunate it is that female nipples have been made to be highly sexual by society and thus not appropriate to have out (whereas a man walking around with his shirt off entirely and his nipples exposed is 100% acceptable and not considered sexual at all).
The other thing that bothers me is another level of what I find wrong with society: that people find women expressing their sexuality as negative, as ugly, as incorrect. I'm not saying that walking with your nipples out as a women is a sexual expression, but if it were, so what? Is there anything actually wrong with a woman being sexually liberated, free to express her openness to sex in public? Why does such a derogatory word like "slut" have to be used for a woman who enjoys sex? What's the word for a man who enjoys sex? Just a man, that's all.
The only true problem with walking with your nipples showing as a woman is that it is dangerous, and could easily get you harassed, or worse, raped, because of the way society has positioned this action through all of modern history. Unfortunately, we haven't surpassed this yet, and the fact that wearing anything never means you're "asking for it," doesn't stop certain people from feeling that those women are indeed "asking for it."
=This hypocritical and unjust treatment of women and their nipples has got to stop. How can we change society? How can we normalize female nipples? Women and men alike, all feminists need to act together to make these changes. What will you do to fight the patriarchy and make things right?
What will I do? Walking around the block in a shirt that shows my nipples in Mexico City is one thing. Going on the metro? Going out on the town? I don't know. It seems so risky. But I guess if I am going to stand this ground, I will have to do it eventually. When I do, I will let you know how it goes. Until then, hopefully the power of the art I make and writing I do can do something.