Spring flowers & 'hornfaced bees'. / Frühlingsblumen & 'Mauerbienen'.
English

After waiting so long finally spring is approaching. Even if most of the days are still rather cool, some plants in our garden are already blossoming. I made a few photos and hope you will enjoy them as much as I did when I saw the first flowers of the year. :)

Deutsch

Nach langer Wartezeit kommt allmählich der Frühling. Obwohl die meisten Tage noch ziemlich kühl sind, blühen schon einige Pflanzen in unserem Garten. Ich habe ein paar Fotos gemacht und hoffe, ihr freut euch genauso darüber wie ich mich über die ersten Blumen des Jahres. :)
---
| | |
| --- | --- |
| A 'squill' (genus Scilla). | Ein 'Blaustern' (Gattung Scilla). |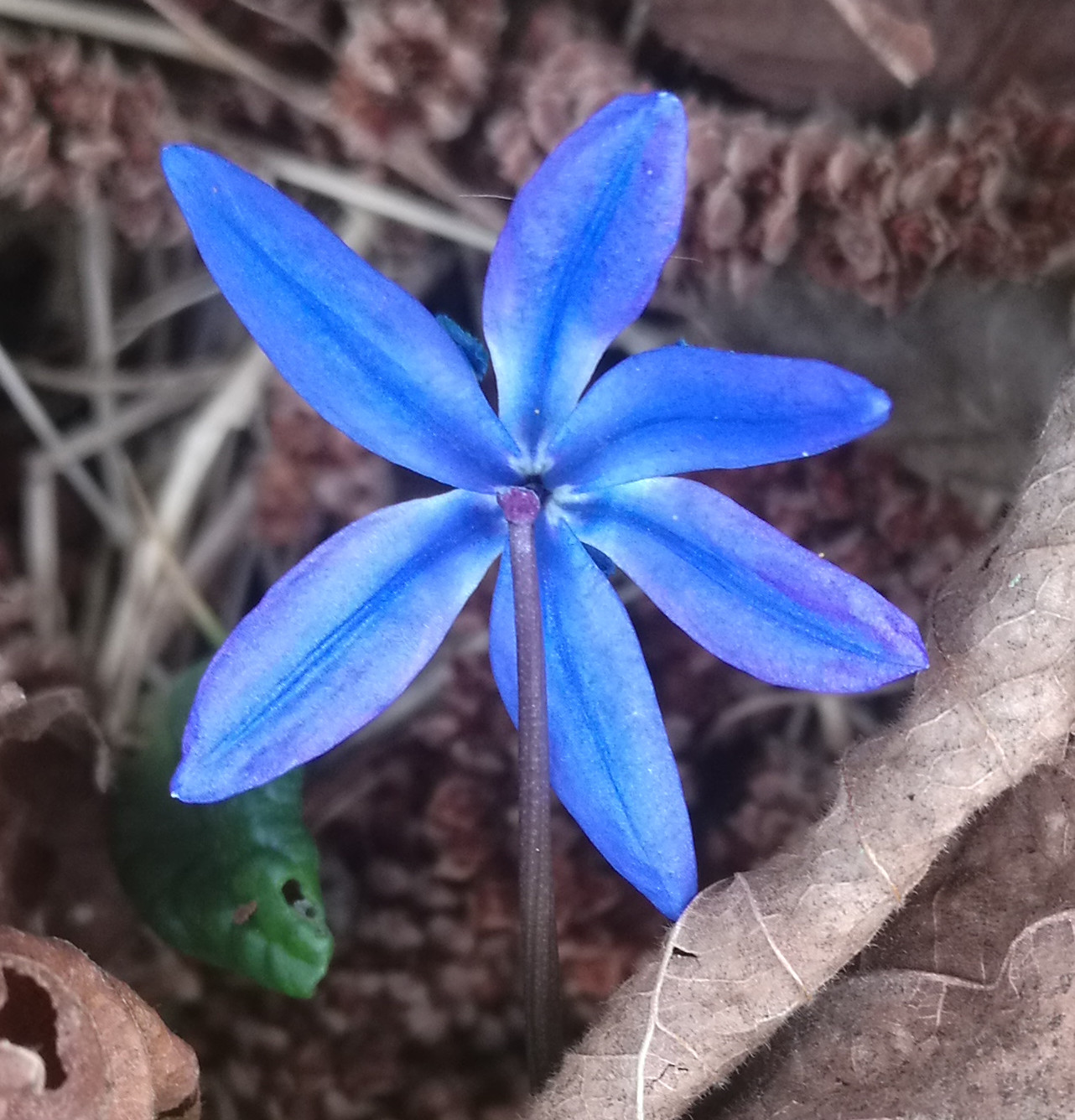 ---
| | |
| --- | --- |
| Violet crocuses (genus Crocus). | Violette Krokusse (Gattung Crocus). |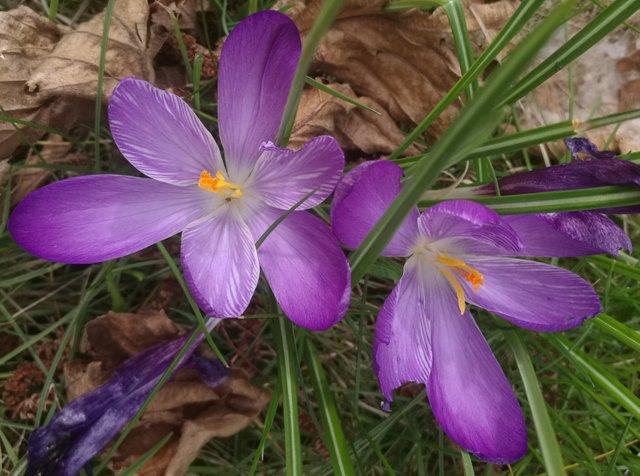 ---
| | |
| --- | --- |
| The flower of the 'dandelion' (Taraxacum officinale) is a valuable food source for bees and other insects. | Die Blüte des 'Löwenzahns' (Taraxacum officinale) stellt für Bienen und andere Insekten eine wichtige Nahrungsquelle dar. |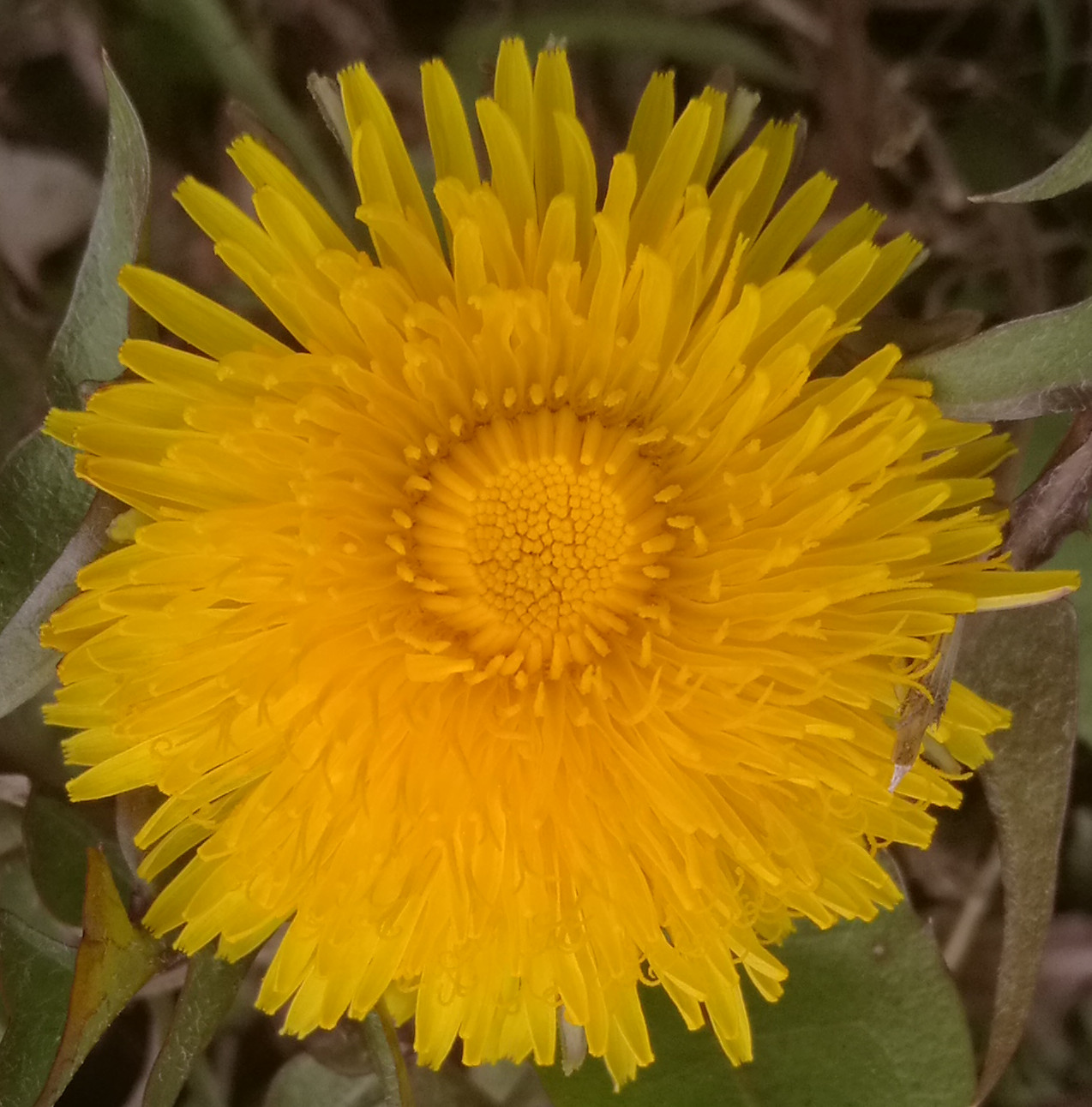 ---
| | |
| --- | --- |
| A plant of the genus Erica. | Heidekraut, Gattung Erica. |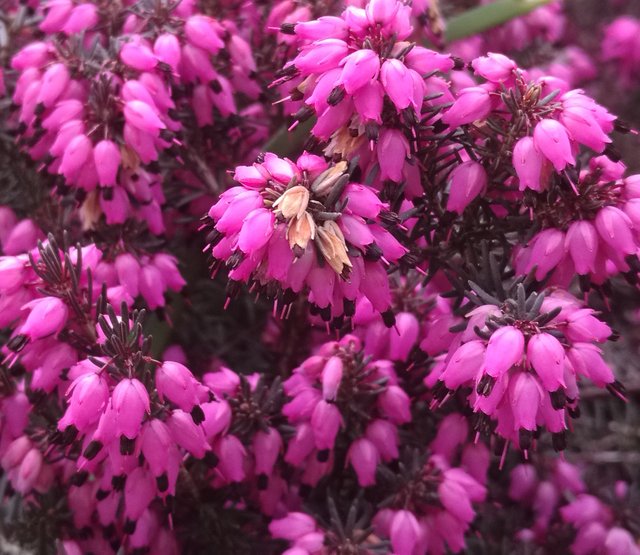 ---
| | |
| --- | --- |
| This species belongs to the genus Muscari. | Traubenhyazinthen, Gattung Muscari. |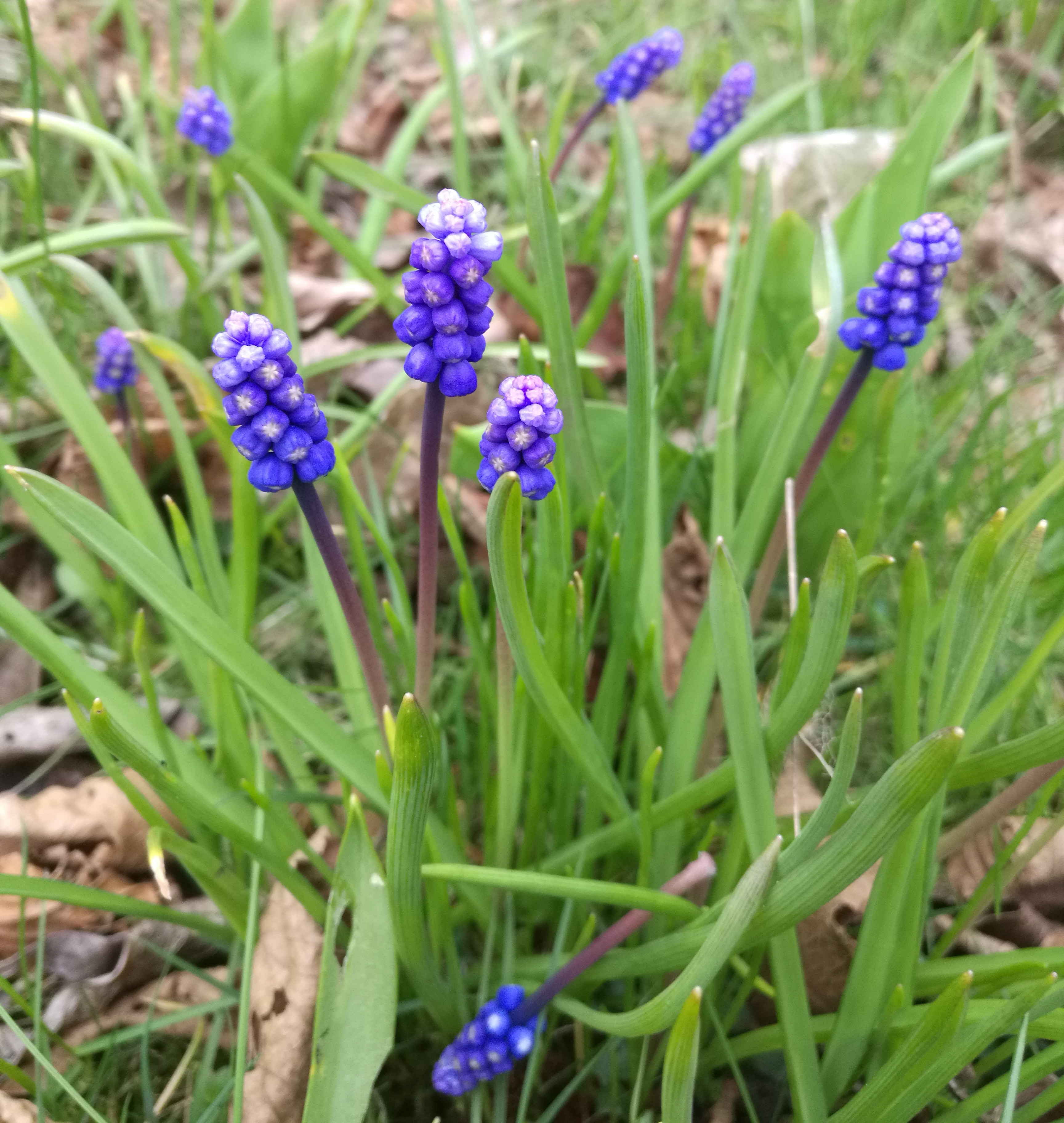 ---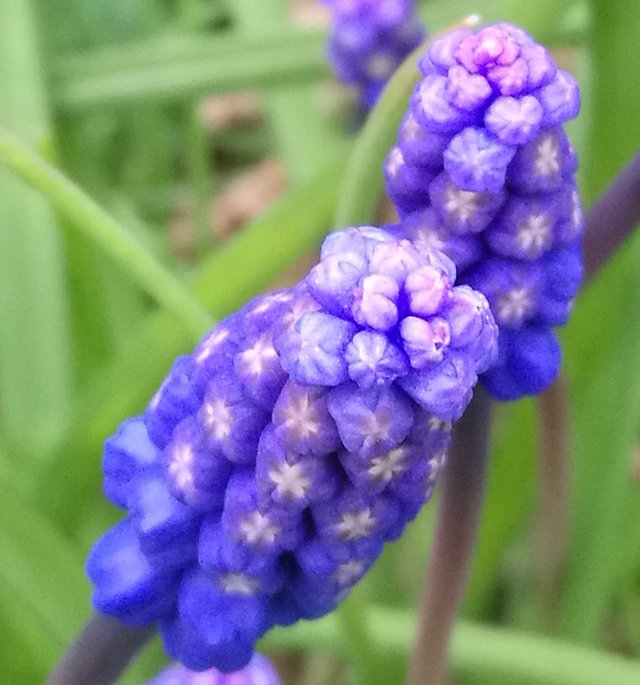 ---
| | |
| --- | --- |
| The next picture shows flowers of (Forsythia × intermedia) which unfortunately aren't interesting for bees but nevertheless very beautiful. | Das nächste Foto zeigt für Bienen leider uninteressante, aber dennoch sehr schöne Blüten der Forsythie (Forsythia × intermedia). |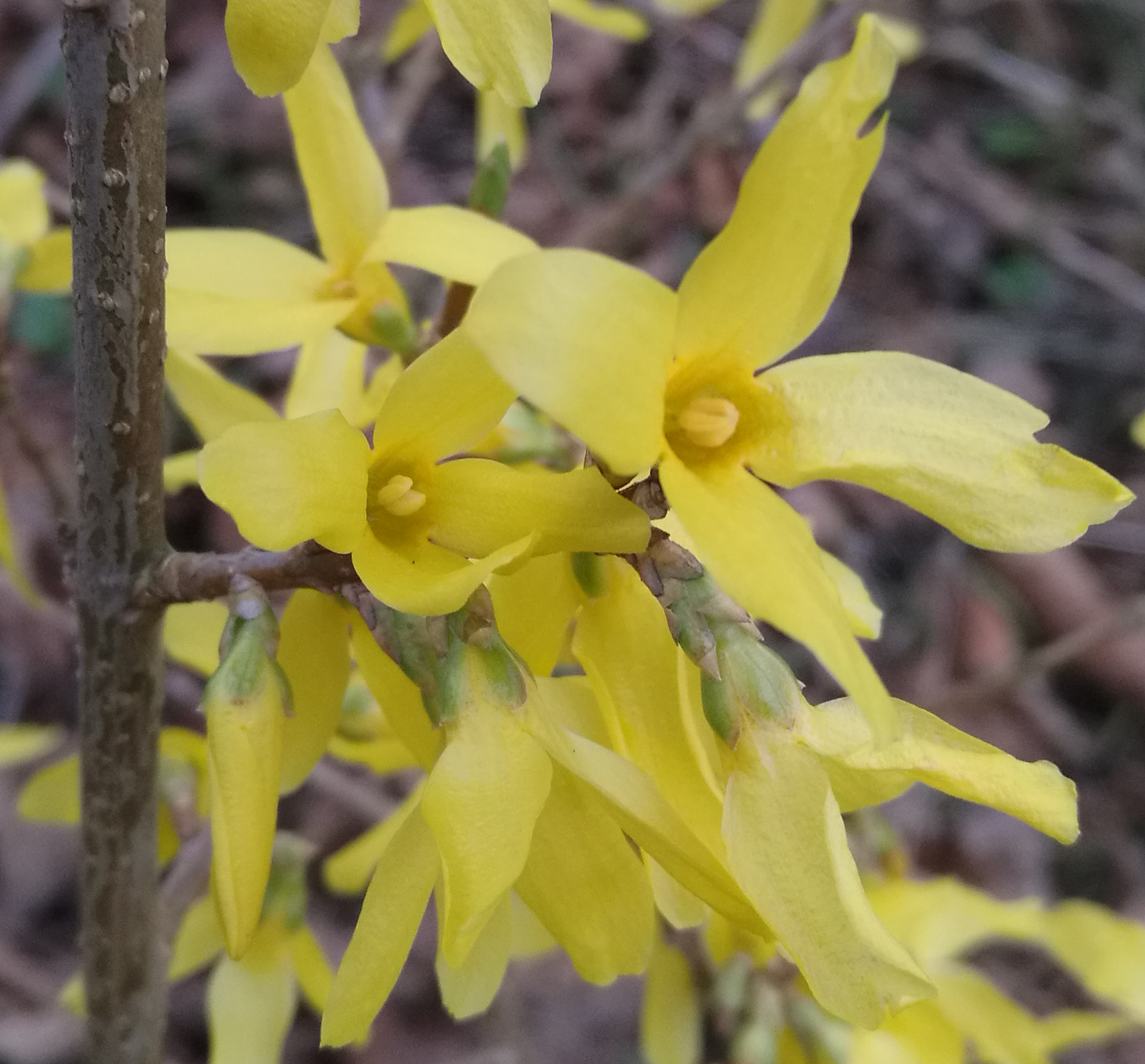 ---
| | |
| --- | --- |
| We had bought the bulbs of these hyacinths, genus Hyacinthus, in Barcelona. | Die Zwiebeln dieser Hyazinthen, Gattung Hyacinthus, stammen ursprünglich aus Barcelona. |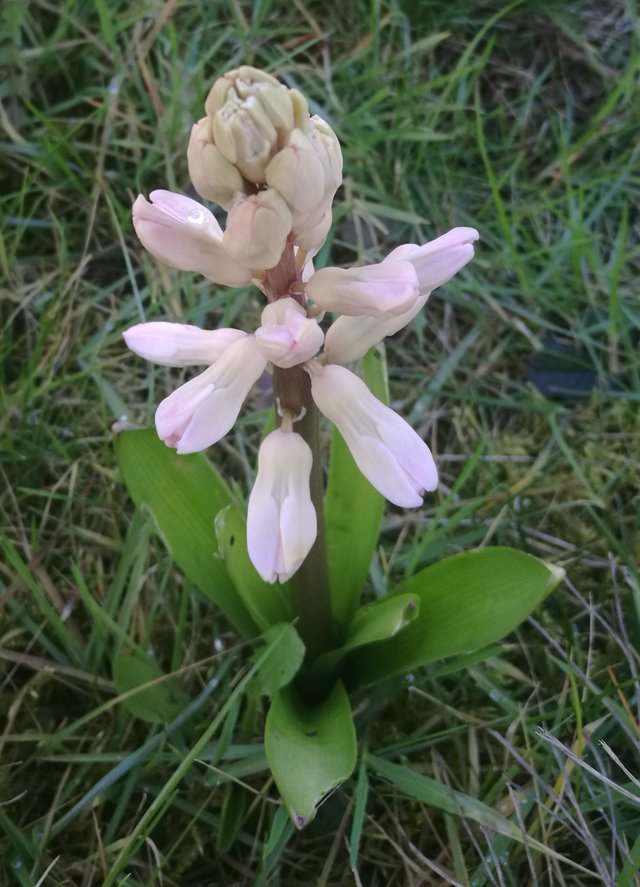 ---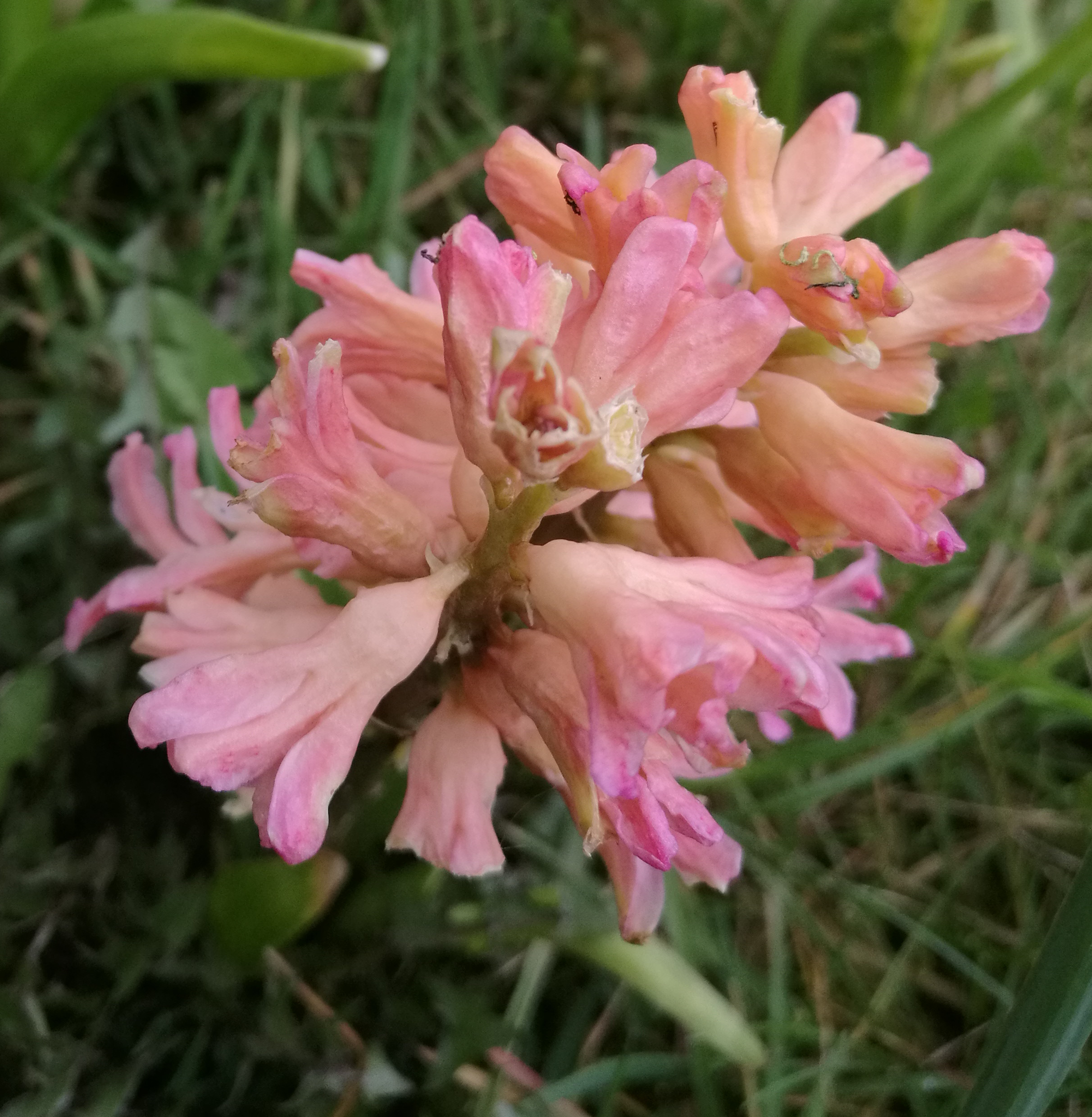 ---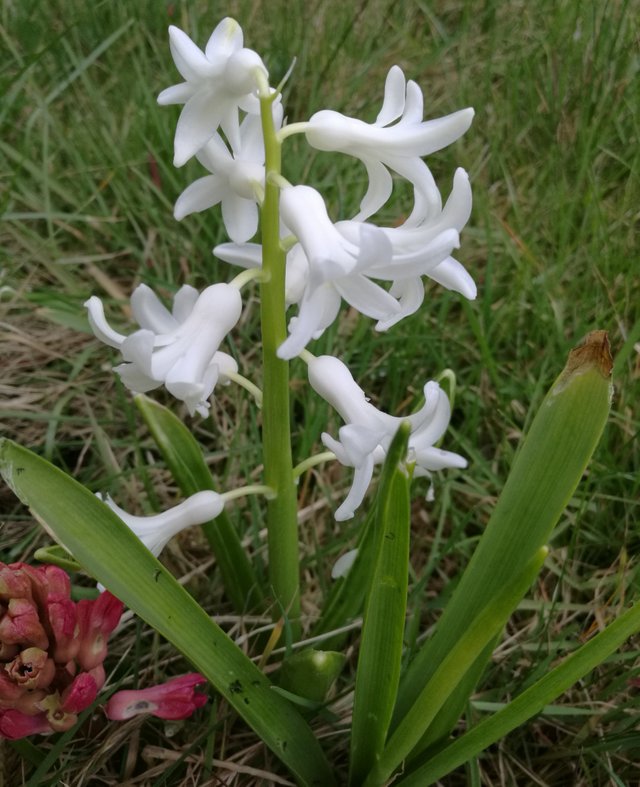 ---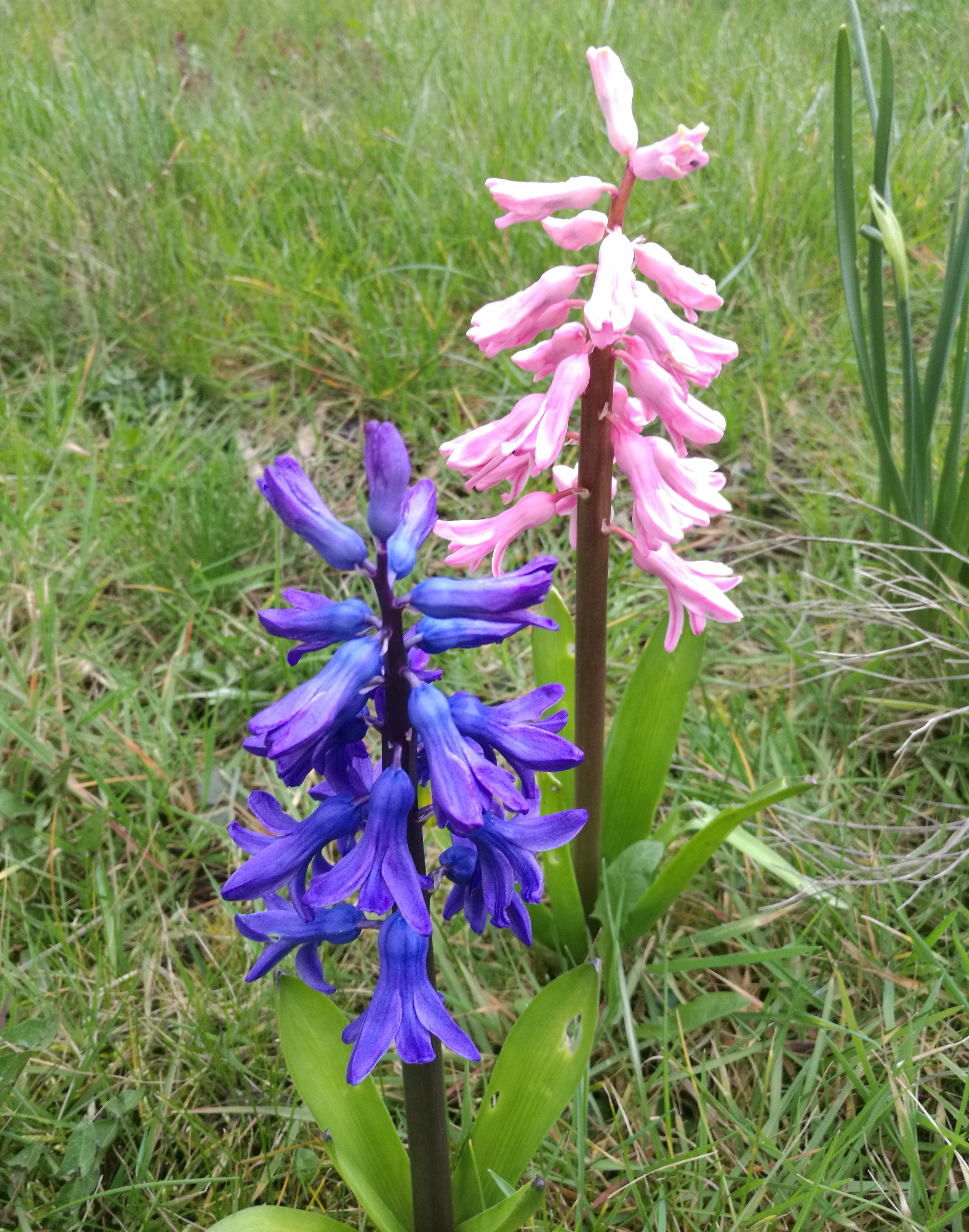 ---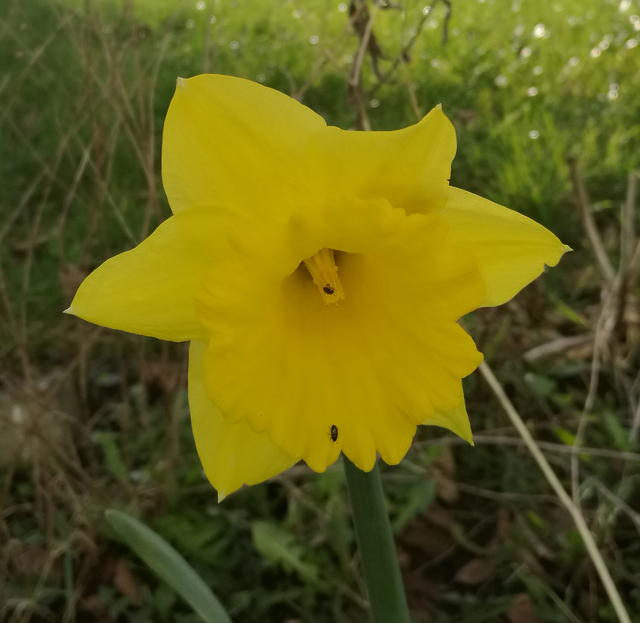 ---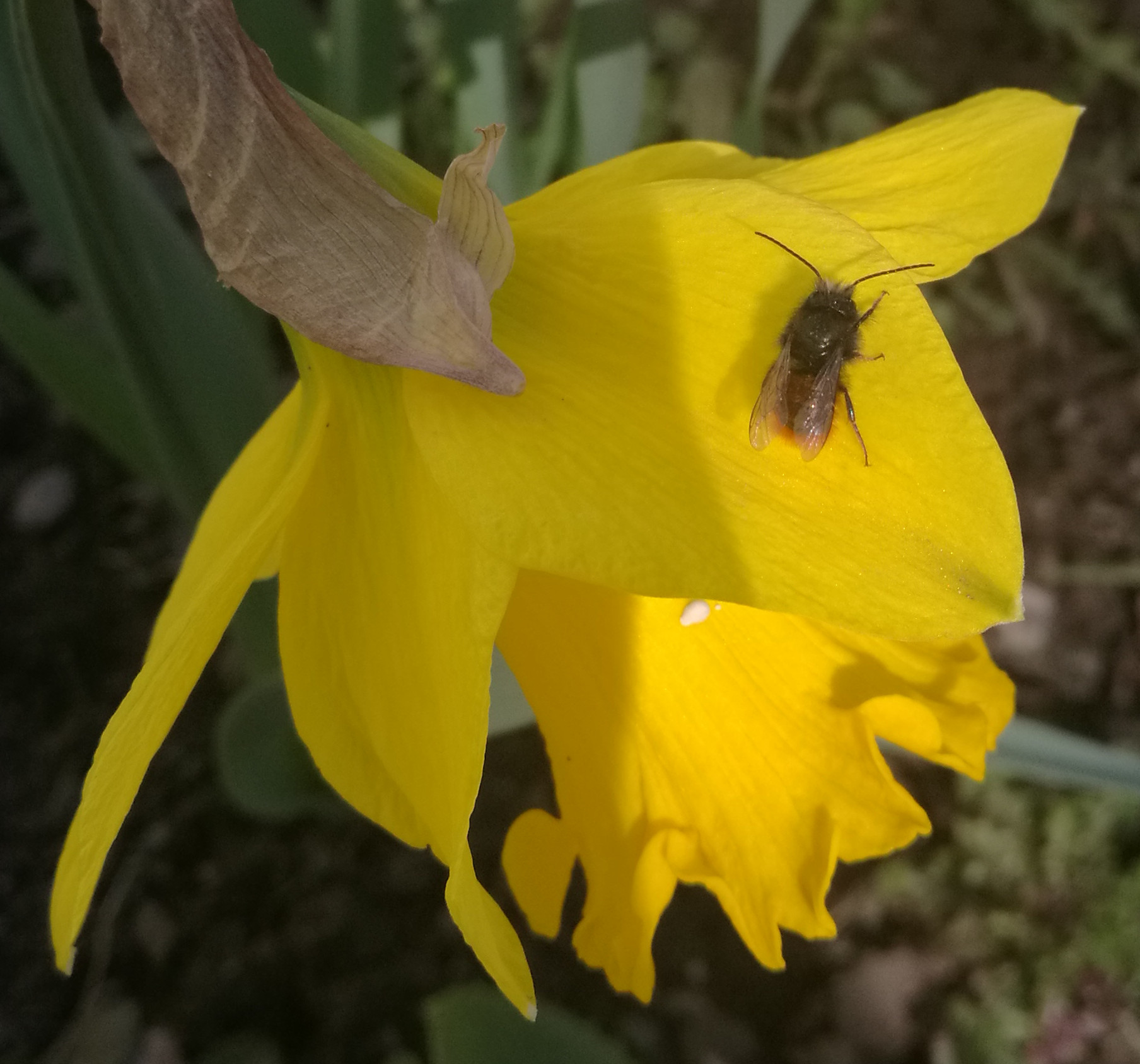 ---
'Hornfaced bees' (Osmia cornuta) belong to the solitary bees. One can observe them already in March.

These bees don't live in the nesting aids provided by us (below you can see some small tubes made of bamboo), but use the holes for egg deposition: one hole becomes divided in several chambers, each filled with an egg and some feed. The first chamber doesn't contain an egg so that birds, which pierce through the thick closure made of mortar, don't get anything to eat - clever insects. :) Out of the eggs hatch larvae which later pupate. The young bees eclose from the pupa and hibernate in their chambers. When spring is coming they break through the mortar closures and leave the nest. Straightaway male and female bees mate, and the females lay eggs, so that the cycle of life begins again.

'Gehörnte Mauerbienen' (Osmia cornuta) gehören zu den solitär lebenden Wildbienen und werden schon ab März aktiv.

Diese Bienen leben nicht in den von uns zur Verfügung gestellten Nisthilfen (unten seht ihr welche, die aus Bambusröhrchen hergestellt wurden), sondern nutzen deren Löcher zur Eiablage: Ein Loch wird, vorne durch einen dicken Mörtelpfropfen verschlossen, in mehrere Kammern unterteilt, in die jeweils ein Ei zusammen mit etwas Futter gelegt wird. Die erste Kammer direkt hinter dem Verschluss enthält übrigens kein Ei, damit hungrige Vögel ins Leere picken, falls sie den Pfropfen durchstechen - clevere Insekten! :) Aus den Eiern schlüpfen Larven, die sich dann verpuppen. Die aus den Puppen schlüpfenden jungen Bienen überwintern in ihren Kammern, brechen im nächsten Frühjahr die Verschlüsse auf und verlassen ihr "Nest". Dann paaren sich sofort männliche und Weibliche Bienen, die Weibchen legen Eier, und der Zyklus des Lebens beginnt von Neuem.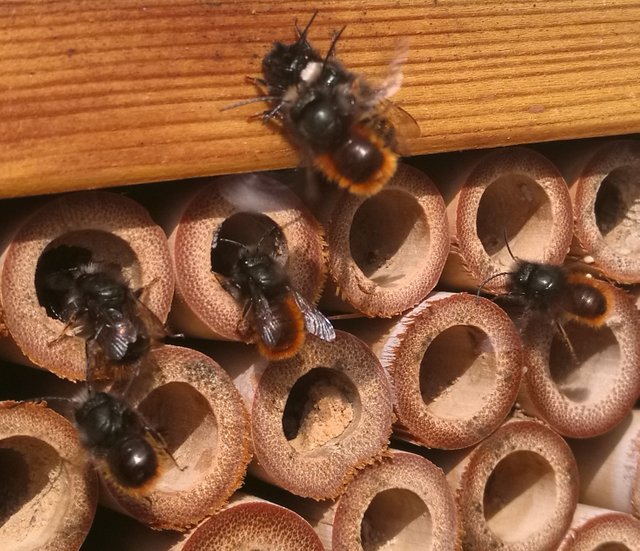 ---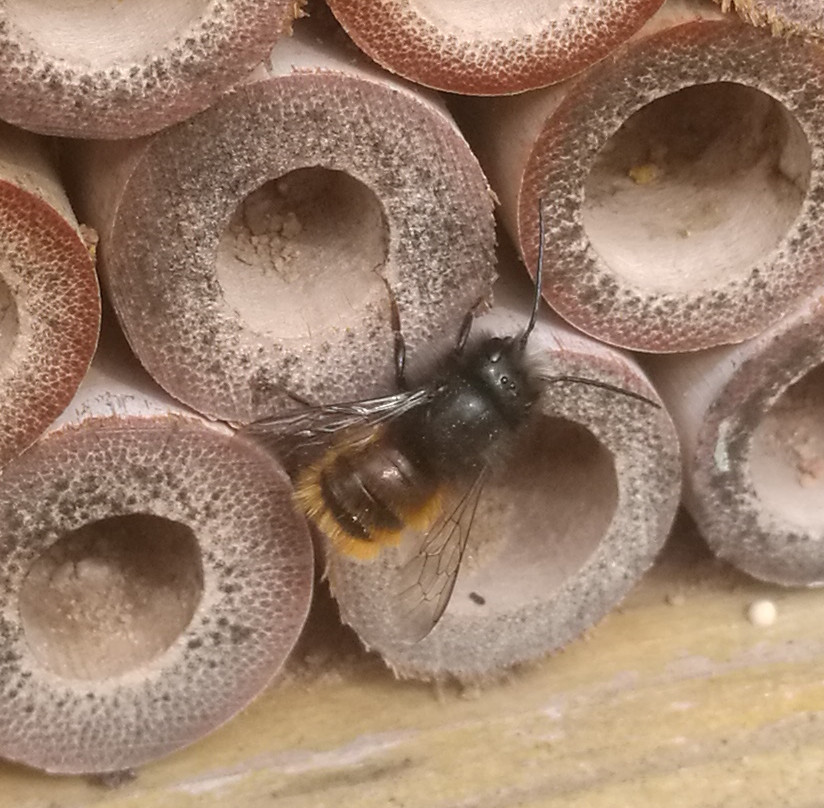 ---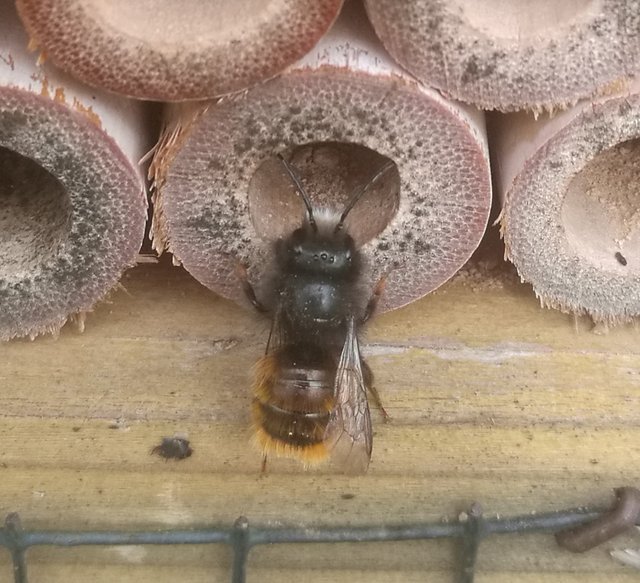 ---