A Dream Four Years in the Making - Shooting Aurora Over Denali
Moving to Alaska was one of the best things to ever happen to me. It has provided me with endless opportunities to explore and see the immense beauty our world has to offer. More so than I had ever had before. And knowing this, I spent almost every moment that I could over the past four years searching for my next adventure.
Alaska is the largest state in the US, yet it has one of the lowest populations. This has led to vast spaces of open, untouched wilderness being preserved for generations since its inception. The state has so much to offer, from glaciers to deserts, rainforests to volcanoes, wetlands to mountain ranges, and more. There is something here for everyone to experience and appreciate. One of the most beautiful things though that the Final Frontier has to offer isn't on land, but is in the sky: The Northern Lights.
Now, I've written about the Aurora Borealis before, but this time, it's a bit different. This is a story about fulfilling a personal dream of mine.
I had lived here for quite a while before I ever had the opportunity to see the lights. It wasn't until March of 2015 when a friend from work called me up late one night and told me to dress up as warm as I could and to bring my camera. I had no idea where we were going or what we were doing, but I had my suspicions. To my "surprise" we went out to chase the lights. It was almost 3 am (on a work night, of course) before we made it out to his favorite spot to watch them dance across the sky. Or so we had hoped that they would. We didn't really see anything that first night. And maybe we did, but I just didn't know what I was looking for. I felt pretty defeated, especially come the next morning when I woke up at 6 am for work, but he promised we would try again to find them.
Now, like I said, I didn't really know what I was looking for. And luckily for me, he kept his promise and we did eventually find them. Over time, as I saw them more and more, I began to pick up on the 'science' of it all. It got to the point where I would watch out a month in advance to ensure I wouldn't miss any grand displays of the solar energy that graced our atmosphere. I chased them every year, from August to April, from that point on.
Over the past three years, as we witnessed more and more displays, I got creative with my shots. We did portraits under the lights, light painting, campfires, time-lapses, live videos, etc. There were so many things to try and so many photographs/videos to take! But what I truly wanted was something that couldn't be replicated anywhere else in the world. I wanted a shot of the Northern Lights dancing over Denali and the Alaska Range.
I spent three long winters watching the forecasts, the weather, moon cycles, the indexes... everything. I watched it all and waited for the perfect conditions. Sadly, those conditions never came. Eventually, I kind of just let it go. I forgot about it and went on enjoying the shows we would get. But all of that was about to change...
As some of you may know, this is my last winter here in Alaska. I'm moving down to Southern California this summer, which will make it quite challenging to shoot the Aurora, considering they don't see it down there! So I really wanted this winter to be one to remember. But this year has been mediocre at best. Now don't get me wrong, seeing the lights for a few nights this year was still incredible and is more than most people in the world will ever see, but I really wanted to see something special. And as we come closer and closer to warmer, longer days, the chances of seeing the lights dwindle drastically. And yet, as fate would have it, on my very last weekend to chase the lights, something incredible did happen.
I was able to see three beautiful displays of the Aurora all in one night:
---
Northern Lights at Knik River Bridge

A timelapse created from a compilation of over 240 images. The moon was bright and helped to light up the foreground. I shot each image in series with an intervalometer at 24mm, f/1.4, 2.5 seconds, and ISO 1600.
---
Northern Lights at Willow, Alaska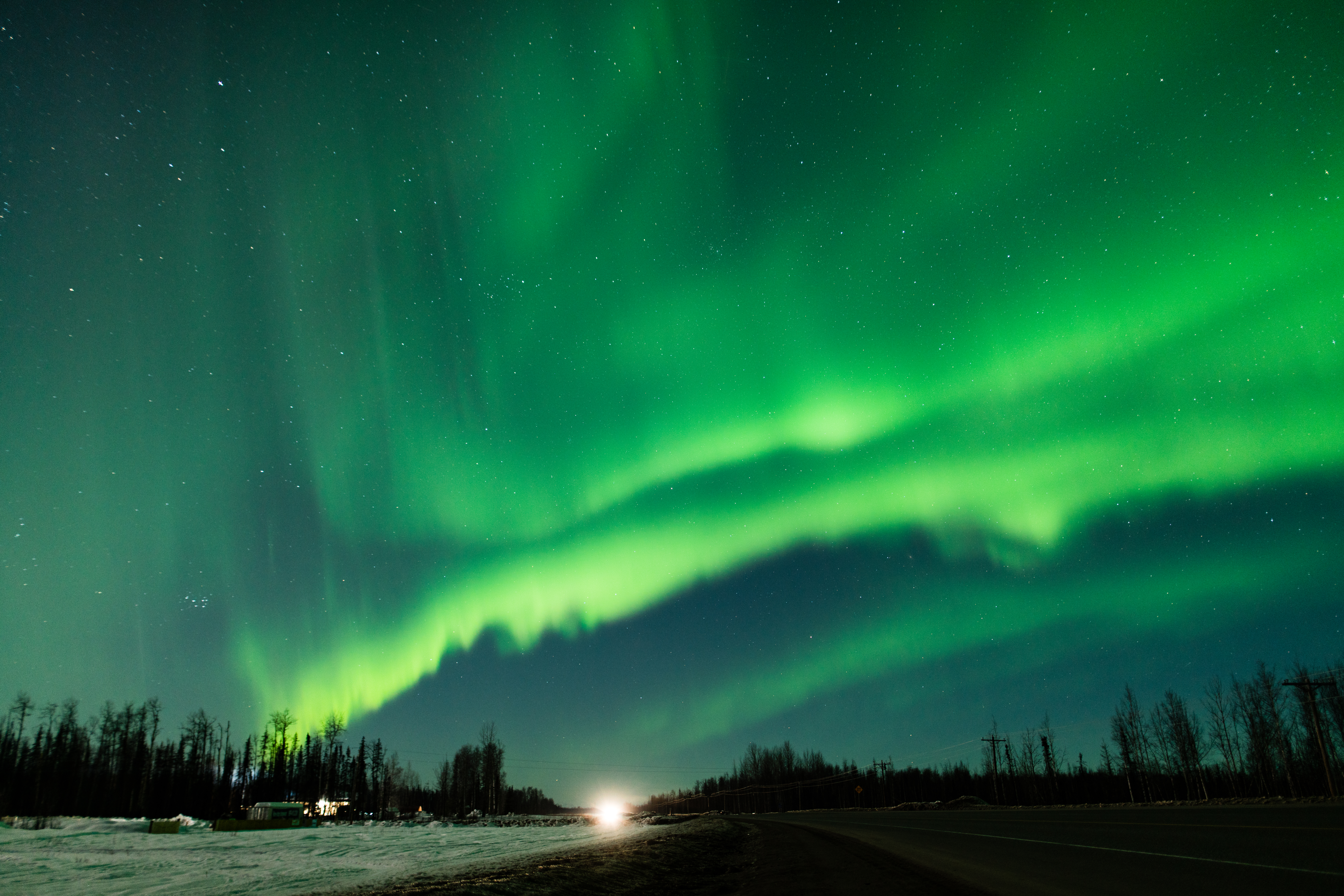 24mm | f/1.4 | 3.2s | ISO 640 - After we shot at Knik River, we continued north towards Talkeetna. Along the way, @chaseburnett spotted the Aurora. We decided to stop and were delightfully greeted with a beautiful display of aurora that originated from a Coronal Mass Ejection. The sky burst full of color and the lights danced everywhere we could see.

24mm | f/1.4 | 1s | ISO 1600 - Here's another one from that same spot, watching the same display. This was just taken moments later. When the lights are that active, they'll dance all over, changing color and intensity in a seemingly random fashion. These lights were a majority of green, as most aurora displays are, but sometimes red, magenta, yellow, and blue can be seen.
---
Northern Lights over The Alaska Range
A timelapse created from a compilation of over 310 images. The moon slowly crept in from the left and lit the mountain faces, creating beautiful contrast and shape across the range. Denali, the highest peak in all of North America, sat in the dead center of the frame and glowed green and blue under the Aurora. I shot each image in series with an intervalometer at 24mm, f/1.4, 5 seconds, and ISO 1250.
---
Chase and I had only planned on going to a couple of spots closer to home that evening, but a few friends of ours convinced us to go even further. After driving almost 3 hours away in the middle of the night, we reached the area near Denali View South to meet up with our group. However, we decided to just pull in and check out the viewpoint to see if we could see Denali. Sure enough, to my surprise, the conditions I had spent years looking for had all aligned and resulted in one of the most beautiful sights I have ever seen. We decided to stay and shoot for a while because this was a once in a lifetime chance.
After a while, our friends joined us there at the viewpoint and we set up a small tent to escape the wind and hang out for a while. Our friends ended up heading home, as the lights had begun to dwindle for the evening. However, chase and I stayed back to continue shooting. It was an incredible sight and we had a few compositional ideas that we wanted to try out.
---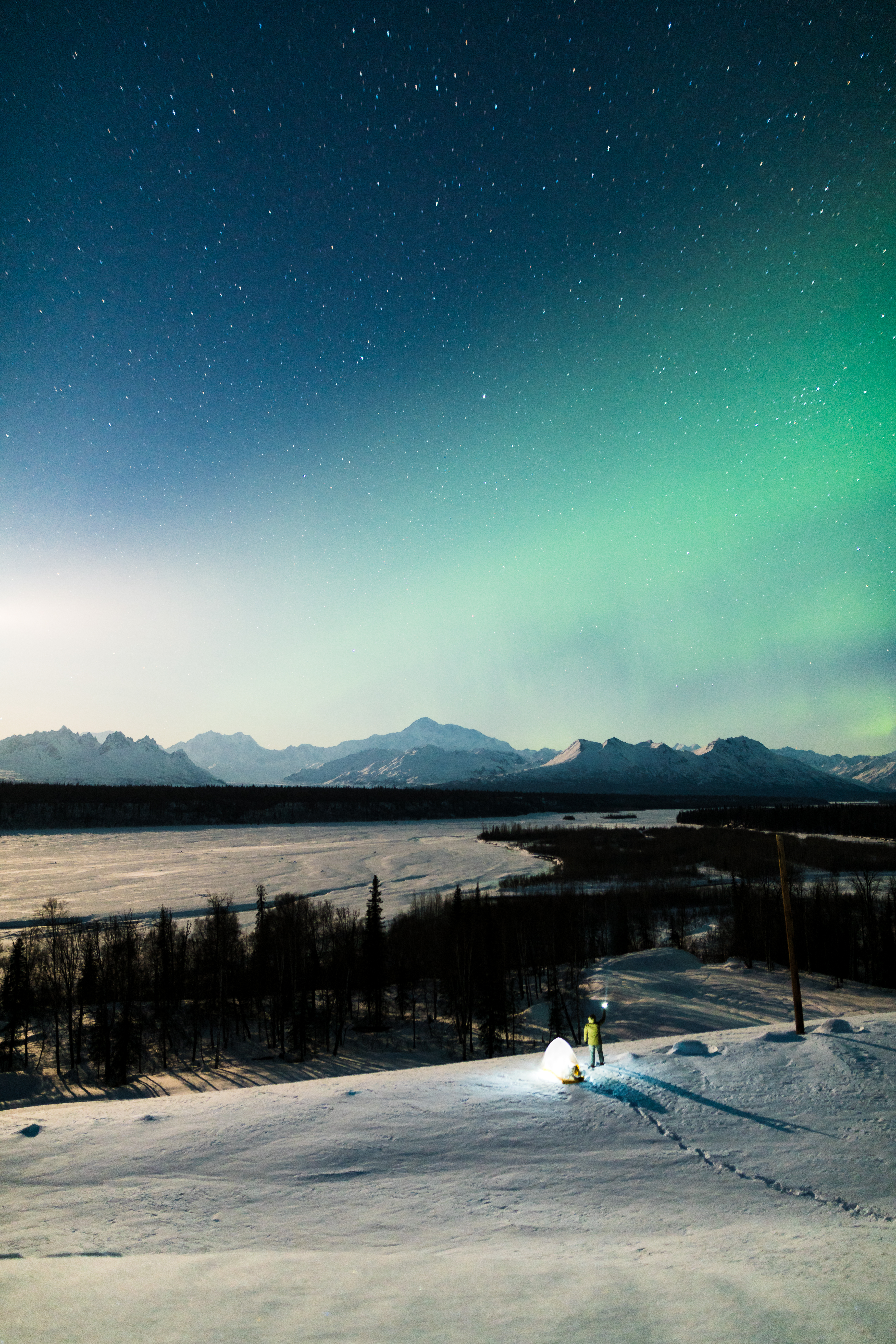 24mm | f/1.4 | 5s | ISO 1250 - Standing next to my tent along the cliff edge, overlooking the Alaska Range in all its glory.
---
We got our shots and took a few minutes to soak in what we were bearing witness too. Although, it was getting quite cold and very late. I think by the time we left, it was 4:21 am and just 4 degrees Fahrenheit! We piled our gear into the car and began the long drive home.
---
I have had many amazing experiences in this phenomenal state and I would suggest a visit to Alaska for anyone that can make it up here. There's just no other place like it and it has so much to offer. Shooting the Northern Lights over Denali was a dream of mine and it was finally fulfilled. This state has given me so much to remember and it's only been just a short four years. I will truly miss this place with all of my heart and I know I will be back many times.
Thank you for your read; I hope you enjoyed the fruits of my dream and pursuit.
Alaskan Resident and Aurora Chaser,
Dimitri