[Seven Day Black & White Challenge] - Day #1 - Alice in Wonderland & A Crash Course on Personality Types For You
"Why are you doing the B&W challenge on Facebook when you can do it on Steemit???"
That's what I thought when I saw the first people do this on Facebook.
But did I join when @detlev nominated me? Nope.
I was being a perfectionist.
Art
I love black & white photography. I really do.
But I also consider it art. And I'm not an artist.
And I only have an iPhone camera.
And I can't put up anything, just to "get it done".
Psychology
I have a lot of C (on the DiSC personality type model) and when we C's deem something worth doing, then we also want to do it properly. The C stands for Correctness (amongst many other things).
And since I have a lot of S in me, too, the correct and proper way in my case means that other people should like it, too. You could say the S stands for Service.
So. No pressure.
The downside of being a C/S (sloth) type is that unless you manage to find a way to do something that other people find absolutely perfect and will love, you won't even get started.
So I didn't. It's been days since @detlev nominated me.
"Either you do it right, or you don't do it at all." That's the motto of the task-focused C. There's no middle ground, or - OMG - room for mediocrity. (If this word gives you physical pain, too, then you're probably a C like me.)
Inner Conflict
But the S... you know the S always wants to belong. It's people-focused. And if it sees other people participating and having fun, it suddenly gets motivated to join, too. "Well, if everybody does it... maybe I should, too?"
So when @teamhumble started his challenge today, my S said, "Ooooh, I want to join!!! Can we? Pretty please???"
But my C was rolling its eyes and complaining (also a C trait) and said, "We don't have any good photos!"
S: "Then we take some!
C: "Where? When?"
S: "Anywhere! We'll just keep our eyes open as we walk through the city. It will be a great mindfulness exercise!"
C: "What if we find something for three days and then we suddenly run out on day 4? What then? Can we just stop??"
S: "I don't know... how long does this go for?"
C: "Seriously? You're asking me how many days the 7-Day Challenge goes??"
At this point the S turned around and left.
It's doing this challenge now with the i, which is way more fun and light hearted, and the D, which takes charge and gets stuff done, wether it's perfect or not. (It's also the business mind and rule breaker, which immediately said, "Hello? There's money to be made here! Let's just get some old photos out, drain the color and off we go!"
So here we are. Let's get started.
Photography (...finally!)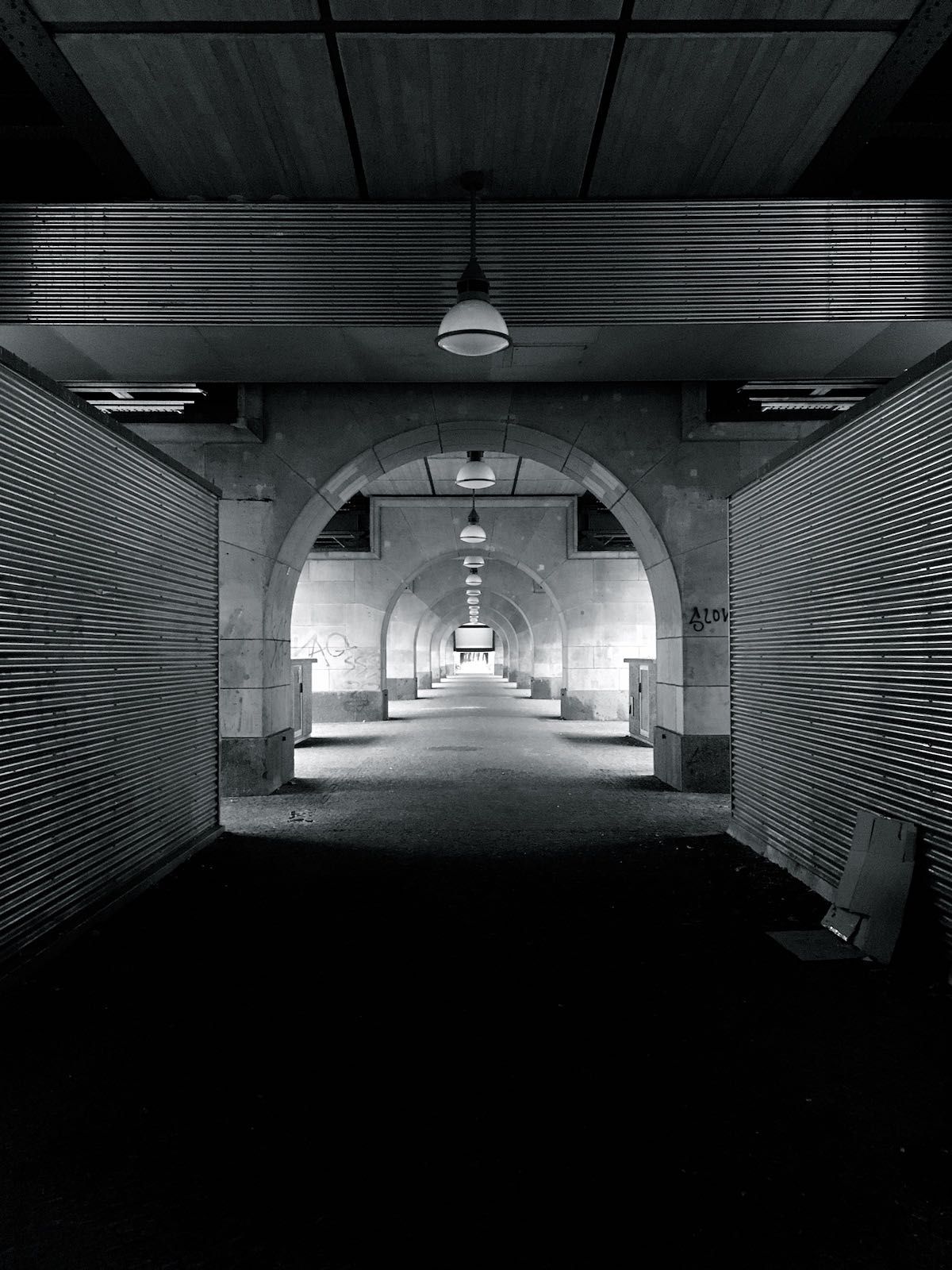 These are a few versions of the same thing - I couldn't decide which one is my favorite.
It's the tunnel of the U-Bahn - the Berlin Underground - which in true Berlin rebellious fashion actually goes overground for large parts of the way, like in this case. The trains go above this (open) tunnel.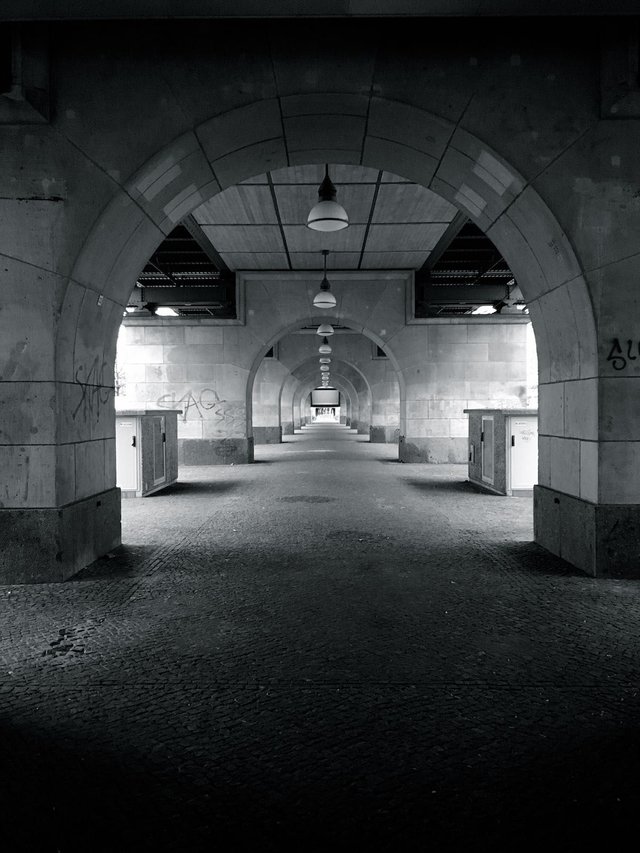 I've taken a gazillion pictures of this every since I moved to Berlin.
To me it looks like a modern Alice-in-Wonderland rabbit hole. I love getting lost in rabbit holes... I think I might actually be Alice in Wonderland in a parallel universe.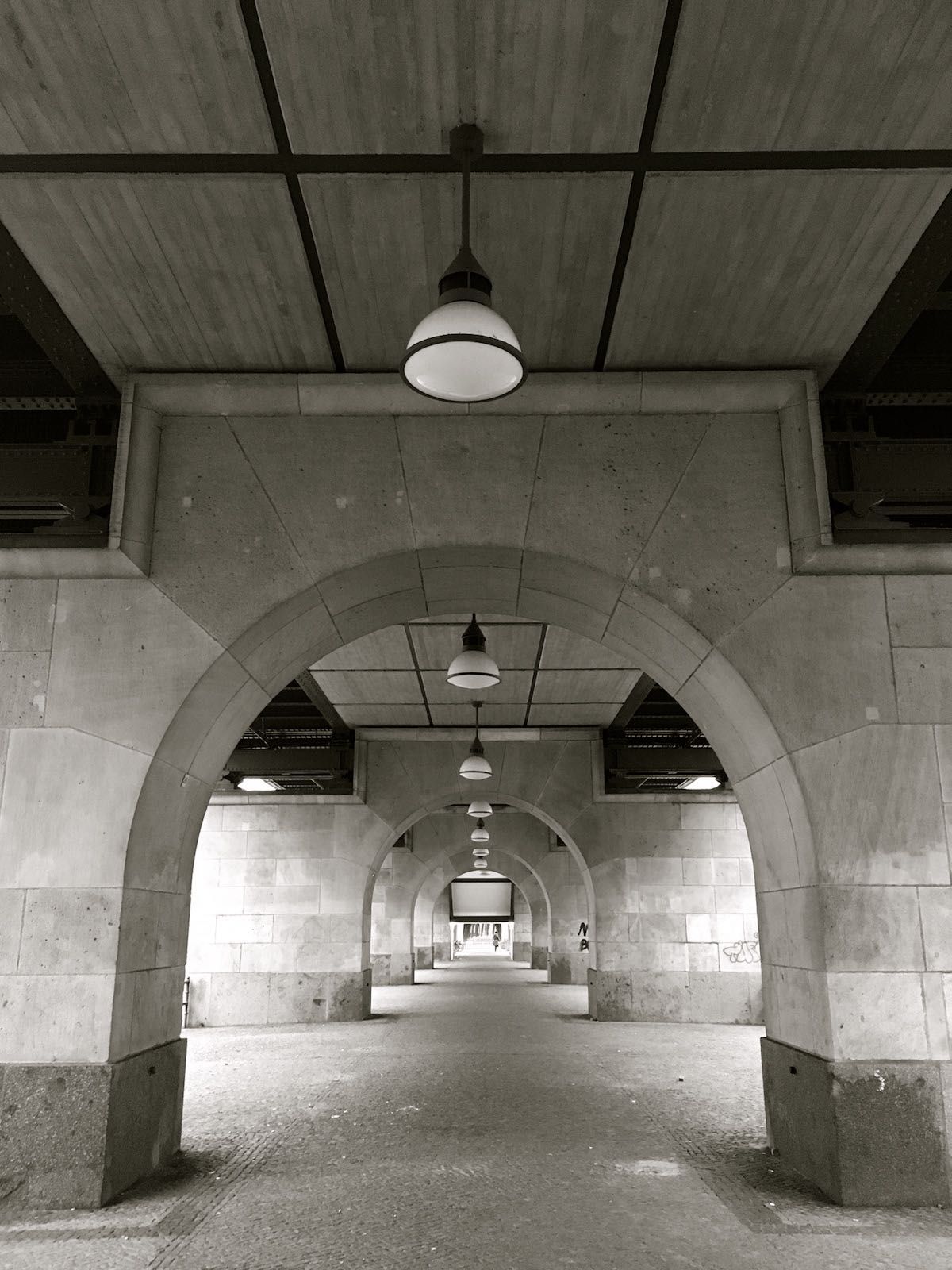 How to know which DiSC personality type you are
If you are a C, you'll enjoy the images, and the symmetry and the "art" part. You will also carefully read this post before you make a decision to upvote it (and for how much) and wether to leave a well thought-out comment or not.
If you are an S, you'll go, "Why are there no people in these pictures? What time of day did you take these? Did you photoshop them out?"
If you are an i, you'll think "I'd like it better in full color. Black and white is boring."
If you are a D, you didn't really look at the images and you only skipped the text and scrolled straight to the bottom line to see how much this post made. ;)
---
Unrelated
And just for fun, since I spotted this there, too...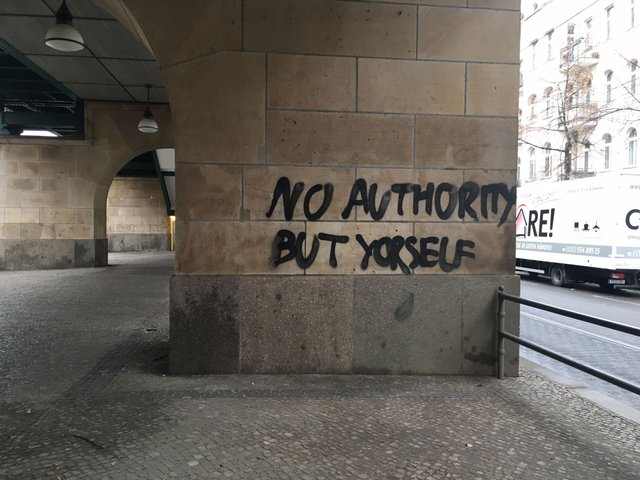 This struck me as a very crypto and pro-decentralisation statement at first, but when I spotted the spelling mistake I had to laugh and titled it "No one should get to tell us how to spell!!" LOL. Well, maybe not all centralisation is bad... ;)
So there we go, Day 1 completed, whoohooo!!!
Maybe I should share this on Facebook. Maybe we ALL should share our B&W challenges on Facebook? Do you think some people will start wondering what these $$$ below the posts and comments mean?
---
Day #2 - How I Start my Day as a Professional Coffee Drinker
---
!steemitworldmap 52.5426974 lat 13.4109842 long (overground) Subway tunnel between Eberswalderstr. and Schönhauser Allee Station, Berlin, Germany D3SCR